CYCLE SLUTS FROM HELL consisted of four tough, leather-clad "biker chicks" from New York, backed by veteran metal shredders as their band. Featuring vocalists Queen Vixen, Venus Penis Crusher, She Fire of Ice and Honey 1%er, the four ladies recorded only one eponymous full-length album (released May 7, 1991 through Epic Records). Although considered by some music critics to be a joke band or a parody — mostly due to their humorous "hit" song "I Wish You Were A Beer" — the band took their music seriously and created a kick ass record that still has legs after 30 years.

The album consists of 11 anthemic tracks decorated with tongue-in-cheek lyrics written by the four ladies, while the musical compositions were mostly written by guitarist Pete Lisa (credited as Lord Roadkill). The band featured well-known metallers such as guitarist Bobby Gustafson (ex-OVERKILL), guitarist Christopher Moffett (ex-WARRIOR SOUL) and bassist Tom Von Doom (ex-THE GREAT KAT).

Opening the record is "Conqueress" with melodic, harmonized guitar leads and prominent basslines, the track has a mesmerizing and engaging vibe. Penned by Lord Roadkill and She Fire of Ice, the groove-based riffs and the four ladies' unison vocal rumblings makes for a good start to the record. Next up is the all-out rocker, "By The Balls", decorated with a slamming opening drum pattern, infectious basslines, menacing guitar riffs and a massive, fist-pumping, gang-chanted chorus. The girls really grab the listener by the… umm, balls on this riveting track!
Third track, "Queen High Love" slows things down a bit with some catchy melodic riffs and tasty leads, decorated with the band's trademark gang-chanted chorus. Follow-up track "Dark Ships" just may be the most unexpected and deepest cut of the album. With its slow-burning and brooding atmosphere and super catchy chorus, it's one of the most memorable tracks on the record.
It goes without saying, "I Wish You Were A Beer" — the band's most famous track — made the CYCLE SLUTS what it is, and this track sums up its entire career. With it's humorous slant, catchy anthemic chorus and raucous riffs, this track will live in infamy. The video also garnered some airplay on MTV's Beavis and Butthead as well as on Headbanger's Ball.
"The director of the video came up with the storyline," Queen Vixen explained during a recent email chat with KNAC.COM. "At the time, there was a lot of argument on the scene about "poseurs," you know, METALLICA vs. G'NR kind of thing. So, "I Wish You Were a Beer" was riffing on that. I personally was and am of the opinion that it's all a pose, whether you're in cargo shorts or leather pants, and I liked the guys with hair and makeup. So originally, my line at the ending of the song was "I dunno, I think he's kind of cute…" But the rest of the band made me stop saying it because they didn't think it was cool enough. I still think it should have been in there, instead of 'Ya look good!,' which was something we always shouted to each other, meaning you're an idiot or you did something idiotic. It was part of our lexicon, but it wasn't really indicative of my personality or thought process around "poseurs".
"Soul Taker" follows with its melodic and catchy chorus. However, with the following tracks — starting with "E.R.K.S." — the album becomes a bit weaker compared to the first half. Production wise, the recording is crisp-yet-gritty — produced, engineered and mixed by Glen Robinson (ANNIHILATOR, GWAR, VOIVOD) and mastered by Bob Ludwig (ACCEPT, ANTHRAX, DEF LEPPARD).
"I think we were too hard on Glen, he had a hard time with so many belligerent cooks squawking in the kitchen," Queen Vixen remembered. "In retrospect, I think he did a great job, and I like the record now much more than I did when it first came out. Bobby came in at the last minute to help us out when our second guitar player had a psychotic break and refused to show up for some very expensive booked recording time. Bobby was our friend and we asked him to step in, he learned the songs very quickly and played them better than we could have asked."
Bobby picks up the conversation about his contribution to the album: "There really was no collaboration (between me and Pete or the girls). The songs were done and they lost a guitar player while they were in the studio, I just did the solo work. I remember going to the studio and was really into it. What history was made there. But rule No. 1 was, don't eat any of Paul Simon's popcorn!"
Queen Vixen confirmed legendary singer-songwriter Paul Simon's unwritten studio rules: "We recorded at night at the Hit Factory (NYC's famed recording studio), who were great to us. But we shared the same room with Paul Simon, who would be in there all day, and he got annoyed because we constantly ate his snacks. In our defense, we thought they were for everyone. So when we were told to cut it out, we put up signs that said things like, "Me and Julio ate all the popcorn!" and "Fifty ways to steal your Fritos." But he didn't find us nearly as amusing as we thought he should!"
The CYCLE SLUTS FROM HELL's career overall would be considered as just a case of the old adage of "too much, too soon," as the group disbanded shortly after the album release. In fact, the band was unexpectedly dropped by Epic records (owned by Sony Music Entertainment) before the record was even released. The CYCLE SLUTS FROM HELL enjoyed a quick rise to stardom, but unfortunately their fame faded away just as quickly.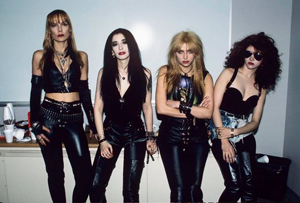 "We rose to attention so quickly and there were a lot of different temperaments at play," Queen Vixen said. "Then all of a sudden we were broke again and trying to do things on our own, and those different temperaments were clashing both personally and musically. Tony Martell (TJ Martell Foundation, who signed Michael Jackson) had signed us and was lovely and believed in us. But he was close to retirement and Tommy Mottola (Chairman and CEO of Sony Music Entertainment) came in to replace him and Tommy loathed us. Then NIRVANA and grunge happened and no one would touch the bands that came prior to that. So, we were dropped unceremoniously before the record was released."
In addition, the CYCLE SLUTS FROM HELL played only a handful of shows with its biggest gigs being a European tour with MOTORHEAD, with a couple of reunion shows taking place throughout the years as well. Although the band was short-lived, its only record has achieved cult-like status, making a lasting impression with its fans and band members alike — even after 30 years.
"I didn't expect it at all, considering how fast (the band) got dropped and blackballed after the tour," Gustafson reflected on the band's legacy. "Someone stepped over someone else to get us on (the tour), and it backfired. So, it's great to be remembered for such a short career. I think their legacy is being the first at what they did. It was a fun time and a new experience for me that I still cherish."
Queen Vixen gives a brief description of each track that appears on the band's 1991 debut album:
1. "Conqueress"
In my opinion, Virginia (She Fire of Ice) and Pete wrote the best of our songs, and this one is classic Virginia, with her dreamy, trippy lyrics.
2. "By The Balls"
My favorite to perform because I sing most of it and it's angry, which is an easy emotion for me to tap into. I didn't get songwriting credit because I didn't write the lyrics, but I put them together with Pete's music and in my heart it will always be my song.
3. "Queen High Love"
Another Virginia and Pete-(written track). Virginia and I always liked singing the difficult, more soaring parts together.
4. "Dark Ships"
I think this song is one of our best, and really fun to do on stage. Lots of heaviness and headbanging, and there's a part in the middle where we would lock arms in a circle and headbang and it always felt very uniting. But Virginia and I had harmonies and I am hit or miss at best, so sometimes it was great and sometimes it was off-key cacophony.
5. "I Wish You Were A Beer"
Our "hit". Donna (Honey One Percenter) and Pete wrote it. We didn't originate the line but we made it famous and you see it on tees, mugs, all kinds of crap that isn't credited to us. Pete and I had this game onstage where I would try to take him off his feet, knock him down, while he was playing the solo, which was riffing on the song "Singing in the Rain" and a reference to Clockwork Orange, which we were always quoting to each other when drinking. Bobby would always shout that line of dialogue, "Try the wine!" Pete was usually able to stay on his feet and get through the solo and he never got mad at me for making it so difficult.
6. "Soul Taker"
I wrote this song; I hate it. I think it's corny as hell and dated. I was brokenhearted and feeling quite dramatic at the time. And again, hit or miss on my ability to harmonize live. But people seem to love it and fans always asked to have it in the set list.
7. "E.R.K.S"
I think Vas (Venus Penis Crusher) wrote this one — Expel, Release, Kick, Seduce. Just us being silly, again. We loved mixing heavy music with our dumb sense of humor.
8. "Speed Queen"
This was one of the first songs we wrote; pretty throwaway, but our close friends loved it. The washing machine reference was kind of an inside joke.
9. "Taste The Flesh"
Virginia and Pete (wrote it); we would play it so fast we could barely get the words out. We'd all be gasping by the end of the song.
10. "Bad Ass Mama"
Donna and Pete (wrote it); another one of the first silly ones. It's not groundbreaking in any way, but it's one of my favorites.
11. "Blood Lust"
Virginia and Pete (wrote it); an easy one to sing and the screaming part was so much fun to do.