From Backbeat to Frontman: An Exclusive Interview With TODD LA TORRE

By Curt Miller, Editor at Large
Tuesday, May 4, 2021 @ 9:58 AM

| | | |
| --- | --- | --- |
| | | "Ultimately, a band's supporters want to hear songs the way they remember them...Something either resonates with audiences or it doesn't and, coming in new, the odds are against you." |
Live Photo By Larry Petro/Petrofyed Photography
Listening to Todd La Torre's powerful vocals as he fronts QUEENSRYCHE and on his latest solo release, Rejoice in The Suffering, one can only guess how many years he must have spent in music conservatories growing up developing his voice and honing his craft. As it turns out, that couldn't be further from what ultimately landed La Torre in front of the mic. And as much as his voice is showcased fronting QUEENSRYCHE, his full range can be more prominently heard on his solo album, where he takes off the gloves and does a bit of screaming and growling.
Digging into La Torre's background, I discovered that he has no formal training as a vocalist at all, but rather, began his musical career as a drummer. It then occurred to me that, when bands go through lineup changes, those I'd seen make some of the biggest impact on band dynamics were those to drummers and vocalists. Since La Torre is both and came into a new situation (QUEENSRYCHE) a few years ago, I was curious to know if he thought a lineup change involving drummers or vocalists carried more weight. I gave him a few examples of bands whose character and sound changed significantly after bringing in new drummers or singers to which he replied, "It depends. Randy Rhoads is gone and can never be replaced and neither can Eddie Van Halen. There are certain bands, such as BON JOVI with Richie Sambora that have singer/guitarist duos out front who get more attention. But there's no question that, if Tommy Lee weren't part of MOTLEY CRUE, it would change the whole dynamic of the band."
La Torre went on to explain that lineup changes impact bands on a case-by-case basis. Bruce Dickinson replacing Paul Di'Anno in IRON MAIDEN was a big change that proved successful, as was Brian Johnson taking over the helm at AC/DC. "There's an X factor that can't really be identified. Great singers have joined successful bands, but for whatever reason, it didn't work, such as John Corabi in MOTLEY CRUE or Gary Cherone in VAN HALEN. Both were terrific singers and did a great job in their respective bands, but sometimes it boils down to whether audiences accept a voice as being characteristic enough of the music. Ultimately, a band's supporters want to hear songs the way they remember them. You can have a different voice, such as John Bush in ANTHRAX, which I loved. There's an unknown variable. Something either resonates with audiences or it doesn't and, coming in new, the odds are against you. Arnel Pineda has done a phenomenal job in JOURNEY. Would audiences prefer to hear Steve Perry out front? Sure! But they either need to get with the program or listen to the CD and not go see live shows," La Torre went on to say.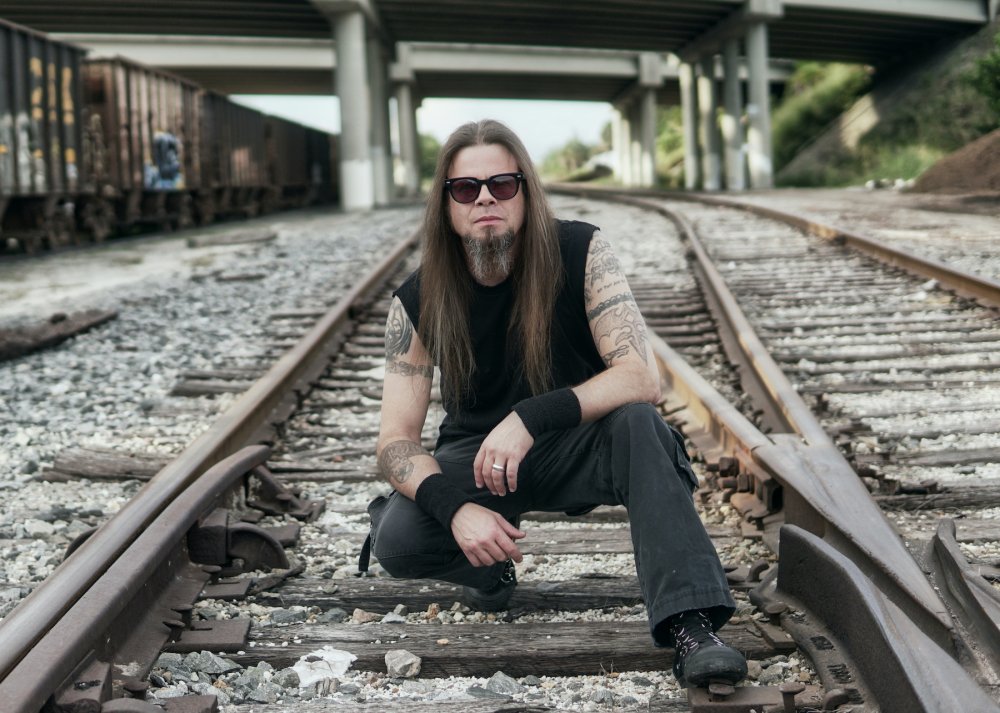 Our conversation quickly moved to Phil Collins, a drummer who never intended to front a band. Much like Collins, La Torre had no intention of becoming a singer, but was thrust into the role as the lead singer of CRIMSON GLORY. "I was a drummer my whole life who wanted to make it in music and wanted to be in a band that got signed," La Torre told me. A friend of his was rehearsing with CRIMSON GLORY for the ProgPower Festival in Atlanta, where the band was scheduled to play a memorial show for its original singer, Midnight, who'd passed away. After hearing him sing, La Torre's friend introduced him to the band and he began filling in as the band's vocalist during rehearsals. Before long, La Torre joined CRIMSON GLORY as its full-time frontman and began writing songs and touring with the band.
"I never set out to be the singer of a band," La Torre explained. "In fact, when I met Michael (Wilton) from QUEENSRYCHE I introduced myself as a drummer who also did some singing for CRIMSON GLORY. He told me he had some music he could share with me both as a singer and a drummer and it was one of those things that just kind of fit. I sing in that style, too, and though I didn't know there was turmoil in the band at the time, here I am 9 years later the lead singer for QUEENSRYCHE. But yeah! There definitely are drummers who go on to front band, such as Sully (Erna) from GODSMACK," La Torre added.
Moving on to the music and songwriting process, La Torre told me that being a musician – playing both drums and guitar – in addition to being a vocalist is a big help since he speaks the same language as the other members of the band. "I approach vocals with my musician hat on because I may want to emphasize certain aspects of a song or do a vocal phrase that exemplifies another instrument. I may sing the syllables that correspond with a drum fill. A lot of my melodies are written in a percussive way, as well. So yeah! Being a drummer and guitarist definitely play a role in how I approach songwriting and my ability to contribute to the material. I'm not just a singer. I'm a songwriter," La Torre went on to say.
Our discussion of songwriting led into La Torre's recent solo release, Rejoice in the Suffering, and his longtime friendship and working relationship with Craig Blackwell. La Torre has been writing and performing with Blackwell since the age of 14 when he joined Blackwell's eponymously named band. More recently, Blackwell handled all of the guitar and bass playing duties on La Torre's solo release bringing the two back together once again. "This isn't a totally different sound from what BLACKWELL sounded like since it's the way the two of us have always written together. It's the record we always wanted to make in our 20s, but we didn't have a real platform back then. The Internet was barely more than dialup and YouTube didn't exist. I have a better platform now and a larger audience, so the timing was perfect to get the material out there," La Torre told me.
In many cases artists' solo releases sound much like their primary band's material, but that's not the case here. La Torre's record is definitely heavier than QUEENSRYCHE's, featuring growling vocals interspersed throughout. La Torre explained that QUEENSRYCHE audiences have heard this during a few live shows, where he's delivered a guttural growl at the end of "Queen of the Reich", but it's not a common occurrence. La Torre went on to share, "I keep that style of singing separate from QUEENSRYCHE since most of the music would never call for those kind of vocals and it's important for me to do what I know and feel is right for the band. That's why you'll never hear the grittiness and growling I do on my solo release on a QUEENSRYCHE record. It doesn't fit the material."
Because Rejoice in the Suffering is heavier and darker than prior material I'd heard from La Torre, I was curious as to whether there was an overall theme or message he wanted to send with the record and was it perhaps related to much of the darkness surrounding the ongoing pandemic. He told me that the album covers a variety of topics, but first and foremost, he doesn't write songs about fast cars or chicks. He writes about social, religious and geopolitical issues, topics he considers to be timeless. La Torre also said, "We're still dealing with faith-based initiatives, infringements on people's rights based on theology and dogmatic ideals, so I write about things that are interesting to me and I'm passionate about." The subject matter on the record deals with topics ranging from the passing of La Torre's father, to the pandemic and blatant disregard for those who've spent their life's work in the sciences, to Internet trolls."
La Torre shared some of the specific themes behind certain songs on the record beginning with "Pretenders". The song is a commentary on religious charlatans who take advantage of people's weaknesses and fears. As La Torre explained, "These are the TV evangelists who sell people holy water that came out of the tap." He clarified by adding that this is completely different from someone having faith and he respects people's right to believe whatever they want as long as those beliefs don't infringe on the rights of others. La Torre makes no secret about being an atheist. He added that, "I cringe at the idea of people knocking on my door trying to sell me God as though He's a cheeseburger. I mock it and expose the hypocrisy in some of the songs. "One by One" discusses religious extremism and "Dogmata" addresses everything from flogging, to suicide bombers. There are phrases and lyrical content in all of those songs that touch upon the idea that people's faith gives them license to do whatever they believe God is calling them to do."
La Torre and I had an interesting discussion about "Crossroads to Insanity". After hearing the song and seeing the accompanying video it seemed to me that it was a commentary on the negative psychological impact of the isolation people experience during lockdown. In actuality, that's not what the song is about at all; however, La Torre liked the fact that people interpret things in their own way. He told me, "If people want to interpret the song that way because they're trapped inside four walls and can't leave their house, that's great. It was actually written about someone who becomes institutionalized even though he's not crazy. He's reached a fork in the road where being institutionalized may cause him to lose his mind. And just about the time he tries to explain to his doctors that he's not crazy and doesn't belong there, they tie him down and drug him. All the while, his doctors perceive his belligerence to their treatment as proof of his insanity.
"Critical Cynic" has more to do with the pandemic, but if someone wants to interpret "Crossroads to Insanity" as being about the times we're living in now, that's cool, as well. What a great story. I like your interpretation! Think of it like a magic trick. I can blow your mind with an illusion, but the minute I show you how I did it, you're disappointed. You wanted it to be true, even more than it was. Sometimes people interpret a song in a really awesome way, but when you tell them it actually has nothing to do with what they believed, it takes away the magic. Art is subjective and the fact that there's enough ambiguity in it and you found your own story within in, I think is even better."
After discussing a few of the songs on the release, La Torre and I talked a bit about whether there were any particular challenges to recording the album in quarantine. Because he lives in Florida and the rest of v is based in Seattle, much of that band's recording process is done via email and file sharing with band members sending ideas and song parts back and forth electronically. "During the initial lockdown, Craig and I couldn't go out or get together, so we shared a lot of ideas electronically, over the phone or via Skype, but eventually, we were able to record together. By the time he emailed me something, I got it, added my ideas and sent it back, it could take a week. Nothing compares to being in the same room jamming together, especially since some of the best ideas happen as a result of a mistake. If we're in the same room, I show you a specific note, chord or transition, so we can do in an hour what would otherwise take a week electronically," said La Torre.
Blackwell and La Torre made the decision to produce Rejoice in the Suffering themselves after which they sent the recordings to Zeuss (Christopher Harris) for the mixing and mastering duties. Although, Zeuss didn't produce La Torre's solo effort, he did handle production of the last two QUEENSRYCHE records and is doing so for the album the band is currently working on. As La Torre explained, "The whole point of doing my own record was not wanting to hear what anyone else had to say about it. I wanted to do what I wanted to do. I understand that there will always be someone who'll want to make changes and rightfully so, but I didn't want to give that level of control to a producer on this particular release. No disrespect to Zeuss or anyone else, but I didn't want anyone putting boundaries on us or telling us what to write. This album is the result of Craig and me being free to write what we wanted to without anyone checking our work if you will. I did the drums and vocals on the record and Craig did the guitar, bass and keyboard. We had a friend, Al Nunn, provide some atmospheric stuff on keyboard on "One by One" and Jordan Ziff, who's an amazing guitar player who also plays for RATT, contributed part of the guitar solo for the title track to the album. Jordan is a good friend of mine and I knew he'd throw down the prefect part for the section I had in mind, which he did."
In terms of supporting the record, La Torre is waiting for the world to open up again and touring to resume. At that point, he plans to be out with QUEENSRYCHE with hopes of possibly playing his solo material live if there's a break in that band's tour schedule. He told me he didn't release his solo album contingent on touring because QUEENSRYCHE is his top priority. He and Blackwell wrote the record for the love of the music. They want to share it with as many as possible and hope people enjoy listening to it as much as they enjoyed creating it. "Everyone hears music differently and it's better experienced than explained," La Torre offered.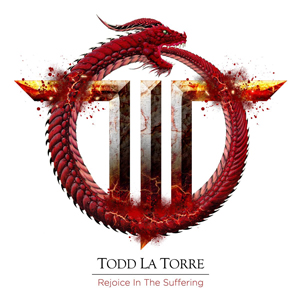 As we finished our discussion, we found ourselves back to where the conversation began, talking about his successful transition into his role as QUEENSRYCHE's frontman. I mentioned singers, such as Ronnie James Dio, who successfully transitioned into BLACK SABBATH with a completely unique voice and wondered if, after 9 years with QUEENSRYCHE, he'd grown weary of hearing comparisons. I've heard countless people over the years mention who they thought he sounded like as had he, but perhaps it was time for people to accept the fact that Todd La Torre sounds like Todd La Torre. "Yeah! It gets old and a little annoying, but I understand that in order for someone to convey what something is like, they'll use something familiar as a comparison. If someone asks what a particular car looks like, the response might be that it looks kind of similar to a Lamborghini because that's a familiar frame of reference. We're pattern-seekers as people, so I get it. But hell, maybe one day someone will say, 'That sounds like Todd La Torre'. Flatter me once," La Torre concluded with a chuckle.
Todd La Torre has made transitioning from behind the kit to behind the mic seem simple and taken over the helm at QUEENSRYCHE during a very tumultuous time for the band. His solo release offers fans an opportunity to get a glimpse into his roots and the versatility of his voice. Ultimately, La Torre makes it clear that QUEENSRYCHE is his top priority, but that being the case, Rejoice in the Suffering is proof positive that he sounds like Todd La Torre and QUEENSRYCHE and fans of his solo material are all the better for it. Rejoice!
Please log in to view RANTS