The Next Big Thing: An Exclusive Interview With DIRTY HONEY

By Kelley Simms, Contributor
Monday, April 12, 2021 @ 12:14 AM

| | | |
| --- | --- | --- |
| | | "We stayed away specifically from places like the Roxy and the Whisky. We stayed away from the Sunset Strip as much as possible, because honestly, those places are out to fuck you." |
Some bands seemingly come from out of no where.

Los Angeles rockers DIRTY HONEY — featuring vocalist Marc Labelle, guitarist John Notto, bassist Justin Smolian, and drummer Corey Coverstone — are one of those bands poised to be the "next big thing" in rock 'n' roll with the release of its highly anticipated self-titled, debut full-length album. Consisting of 8 tight compositions, the new record possesses a great combination of the old school '70s blues-rock swagger with a modern flavor. Since DIRTY HONEY's 2017 formation, the band has generated quite a buzz within the rock world.

"We've been doing our thing as individuals before we came together (as a band) for several years," Corey explained the band's quick rise during a recent phone interview. ("We were) slugging it out and trying to make something happen. It happened pretty quickly."

Marc continues the conversation: "I think all the stars aligned and the people aligned," he said. "Timing is everything, and obviously there's a little bit of luck in there. But I think a lot of it comes down on the music, really. And that's the important thing to remember going forward is that nobody would care about what we were doing if the music wasn't what it is. We were passionate enough about what we were doing. We didn't know anything about getting a booking agent, but certainly going on the road with somebody like SLASH and ALTER BRIDGE and GUNS 'N ROSES, it helps to give you a little bit of legitimacy in the rock community, and people start pricking their ears up to give you that boost to carry out your mission."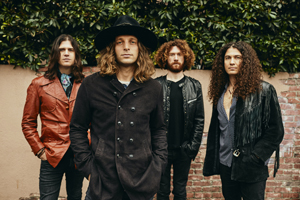 DIRTY HONEY became a reality after Marc moved to Los Angeles from upstate New York to pursue a career in video production and met John. After performing a gig of cover songs together at a bar, they then played on the sidewalk of Sunset Boulevard in front of about 100 people. It was after this second performance that they decided to officially form a band.
"I moved out here with the sole purpose of trying to get a real job in film and TV," Marc remembered. "My friend who was here attending jazz school said I should be a singer and that people out here don't really do what I do. He was a buddy of mine from New York and he started injecting me into the music scene and I was getting introduced to really good players pretty quickly. That led me to meeting John, which led me to meeting Justin, and Justin introduced us to Corey. We sent Corey some original tunes to rehearse and we did a gig together. I'll never forget Corey got up from the drum set at that gig and said, 'Can I be in this band?' We were waiting for a drummer to say that! So, it took a minute for all that to happen."
The L.A. music scene in the 1980s was thriving with the glam metal ("hair metal") explosion that was sweeping the Sunset Strip and its famed venues such as the Roxy Theatre, Gazzarri's and Whisky A Go-Go. According to DIRTY HONEY, the current L.A. bar circuit scene is much different from the glam metal glory days of the '80s. "I think there's been a lack of a rock scene here for a long time," Marc admitted. "There's a whole hipster movement of bands like Vampire Weekend; everybody was chasing that sort of sound. So, we started writing more bluesy rock and roll and it started to move very quickly, which was unique, but nostalgic. We didn't really play the clubs. We would go and play bar gigs all over town and play a couple originals, play a couple of covers for like four hours straight. We stayed away specifically from places like the Roxy and the Whisky. We stayed away from the Sunset Strip as much as possible, because honestly, those places are out to fuck you."
Corey picks up the conversation: "We didn't experience it in the '80s, so it's hard to compare. The club scene now is… frankly, it feels like no one gives a shit at all, regardless of if you're in a rock band or a jazz group or whatever. L.A. is super competitive and there's tons of really talented people all trying to make it."
The so-called "retro rock revival" that exploded in the past decade or so — which spawned bands such as RIVAL SONS, HALESTORM, GRETA VAN FLEET, BLACKBERRY SMOKE, JOYOUS WOLF, etc — has struck a resounding chord within the hard rock community. And DIRTY HONEY fit right in with their raucous rock peers with the attitude and sound of '70s rock in the fashion of Led Zeppelin, Aerosmith and the Black Crowes.
"We think the current rock scene is pretty diverse, actually," Marc said. "There's just a bunch of different flavors there. I think our influences lean more toward authentic rock and roll from the seventies. I know Corey's a big jazz guy. I don't listen to a lot of modern stuff, but I'm certainly aware of those bands."
In 2019, DIRTY HONEY opened for THE WHO, GUNS 'N ROSES, SLASH, and ALTER BRIDGE and gained loads of experience along the way while also appearing at major rock festivals such as Welcome to Rockville, Rocklahoma, Louder Than Life, Heavy MTL, and Epicenter. On its first U.S. headlining tour in January and February 2020, the band sold out every date. Then in mid-March, Covid-19 wiped everything out. The global pandemic shut down DIRTY HONEY just as its momentum was rapidly building. In place of live shows, many bands turned to performing live streaming events, and DIRTY HONEY was no exception. The band's live streamed quarantine concert in July, Lockdown Live at The Viper Room, was one of the coolest live streams that aired during this concert/touring downtime. With Marc's background in video and film production, the 43-minute presentation was expertly shot, produced and performed.
"I'd been watching a lot of… and this is in no way a knock on Dave Grohl, but I remember seeing pretty early on, some network broadcasts that quarantine concert with Lady Gaga on the piano and Dave Grohl played an acoustic and Billie Joe Armstrong (GREEN DAY) was playing an acoustic," Marc explained. "And I was like, 'I don't want to see these artists playing acoustic, I want to see them rock the fuck out! They were doing stripped down, pensive performances and I just was never interested in that sort of thing for us. So, when it came time to do a live stream, we were going to do our best to bring our energy into your house and I talked to the cinematographers how to best capture that. I thought they did a pretty good job, honestly. It felt energized, it felt like a real show to me."
The band's 2019 self-titled EP was met with high praise from fans and critics alike. Recorded in Australia with producer Nick DiDia — who also fills in as the band's manager — the first single "When I'm Gone" topped the Billboard Mainstream Rock Songs chart, making them the first unsigned band to ever top the chart. Their second single, "Rolling 7s", went into the Top 5. When it came to writing and recording this current record, the band continued its bluesy rock and roll vibe.
"I think we added some interesting elements this time around; there's a slight little bit of evolution," Marc said. "I think ultimately always what we're trying to do is write great songs and whatever instrumentation helps to facilitate it at being good is what we're going to do. We're not going to throw in a violin or a string section. It's going to be appropriate to an authentic rock and roll sound."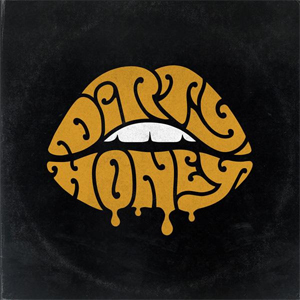 Corey reiterates: "We were definitely trying to one-up ourselves. I think we did it. I think the songs are stronger. We got better just from touring and playing a lot together. We got better at playing together and writing new songs. We were going at it again, trying to just make a really raw, kick-ass rock album. We were trying to one-up the EP that we did, but still keep the same general feel of it being live and raw. We recorded it L.A. and Nick who produced the EP was with us over Zoom the whole time. So we had pretty much a laptop or a camera view in every room and using our headphones. It worked pretty seamlessly for us to communicate with him live and he was able to hear us tracking through this app that we had set up in the virtual session."
Marc explained how the band went about writing and recording the songs that make up the new record. "Learning how to get the songs to the finish line is an art form in and of itself," he said. "The band has to agree that the riff is strong enough, that a melody is strong enough and then everybody's got to be into it. And then really finishing the arrangement and the lyrics is always a challenge. But like Corey said, I think we wanted to one-up ourselves and then just play the shit out of it. That might've been the goal if we had recorded it when we were originally supposed to, but I think that the pressure was on us even more so to do that because we had written some better songs in that pandemic free time that we were given. So, getting it just right in the studio was paramount."
Due to this ongoing pandemic and the uncertainty of future shows and major tours — which are slowly starting to come back — DIRTY HONEY have plenty of projects to focus on next.
"We're always writing and feeding each other ideas, but I think we're all focused on trying to get back out on the road because that's where a lot of the writing happens, too," Marc said. "And rehearsing and trying new ideas, just trying to step out. And quite frankly, those are some of the most fun moments; doing the live show and being on the road. It's just hitting on an idea that everybody's psyched about and see where it goes. Other than playing for fans and meeting everybody, getting on stage with the guys and playing and creating music, that's one of the most fun parts of being in a band."
Please log in to view RANTS