Live Photos By Larry Petro/Petrofyed Photography
From his initial stints of touring/playing with NIGHT RANGER and his work on the critically-acclaimed Broadway show Rock Of Ages to his current gig as the guitarist for WHITESNAKE and TRANS-SIBERIAN ORCHESTRA – back when touring existed – Joel Hoekstra continues to be fully active in the music business as both a touring/recording musician and as a music mentor/teacher even long since the pandemic had started. With his fourth solo album titled Running Games under his side project name of JOEL HOEKSTRA'S 13 featuring several of hard rock and metal's most prolific names, one has to wonder how such a collaboration of top names could come about so easily. Chance? Luck? Or just simply keeping busy? Yours truly got the chance to chat numbers, music, quarantine jam sessions, David Coverdale's tour case – and boast about whose kids know the most song lyrics. Here we go again:
KNAC.COM: Hi Joel. How're things?
HOEKSTRA: Hey. Things are going great. Yourself?
KNAC.COM: Going good. I'd actually just checked out your recent side project, JOEL HOEKSTRA'S 13 – I pronounced your last name correctly, right?
HOEKSTRA: (correcting me on pronouncing his last name): It's Hoekstra. Well, Howek-STRA.
KNAC.COM: (relieved): Ah. Perfect. Thank you. Sorry. My Dutch is not very good. (laughing). But getting back to that, anyway, I checked Running Games out and, in my opinion, it's a really strong contender for one of my favorite albums right now of 2021. It's pretty much got a lot of the melodic influences that you'd derived from your time from playing with WHITESNAKE and TRANS-SIBERIAN ORCHESTRA. I just wanted to know, first off, what started off this whole creative process in getting this album put together?
HOEKSTRA: So, It's really a follow-up under that side project name, so JOEL HOEKSTRA'S 13, is because this stuff sounds like a band, but I write it all, hence the project name. So, the first one under the project name came out in 2015 – the album was called Dying To Live. So this is really the second one, and I really wanted to do one, and it just took a while for the schedules and the business deals to fall in place, and COVID helped fast-track it at the end of the day, y'know, once everybody's schedules got a little bit freed up, we got everybody to get it done, and I'm very excited to have it see the light of day.
KNAC.COM: Awesome. So that brings me to my next question: What have you been up to since COVID went down? You've been busy with quite a lot of side projects, and I know that, especially with TRANS-SIBERIAN ORCHESTRA, you've toured with them for a number of years as well, and their most recent tour has kinda been kiboshed, so to speak, because of COVID. So, you've been keeping yourself busy during all that time?
HOEKSTRA: Yeah, absolutely, man. I'll try to be as brief as possible to describe it, but…(laughs).
KNAC.COM: (laughing): Take all the time in the world.
HOEKSTRA: I had the ECHOBATS project with Tony Harnell, I got that out….teaching 30 students one-on-one a week…
KNAC.COM: Wow!
HOEKSTRA: Master classes for Rock 'N Roll Fantasy Camp and some other outlets, and cameos – I seem to do a lot of those, about 10 to 15 of those a week – sessions for people playing other people's stuff – I'd say that I play on about 3-4 songs a week, been doing writing with people, so I just turned in some songs for a project with Michael Sweet and Nathan James, which I think it's out later this year, I'm pretty sure.
KNAC.COM: Oh, cool! Nathan James from INGLORIOUS.
HOEKSTRA: Yeah
KNAC.COM: I reviewed one of their albums from 2017. It was really good. How did that meeting come about with Nathan James? Because I think you were kind of mutual friends, I guess, with one of your TSO touring partners – I think her name was Jodi Katz – and she's actually a Facebook friend of mine.
HOEKSTRA: Ah
KNAC.COM: So how did that actually fall into place?
HOEKSTRA: Well, Nathan actually was in TSO West. I tour with TSO East. There were two of us out at the same time. We did get to know each other there, and I co-wrote a song with him on the first Inglorious album, and then this new one, I co-wrote two of the songs with. In fact, the one that's Classic Rock magazine's seller of the week right now, I co-wrote with them, so I'm happy for them and happy for me on that one too. It's kinda cool. So, yeah, I've been doing that and, y'know, I've been doing those quarantine videos that everyone's been doing.
KNAC.COM: Yep.
HOEKSTRA: I've had some really fun ones, covering "Jane" with Mike Portnoy and Dino Jelusick.
KNAC.COM: Sweet!
HOEKSTRA: It's kinda a fan's favorite. And with Jen Majura's jam sessions, where I got to play with Nicko McBrain on there.
KNAC.COM: Awesome!
HOEKSTRA: So, lots of cool ones. Some of these shred compilations…I played on Bumblefoot's Planetary Lockdown challenge thing, so I've been having a good time with that stuff too, but I'm very, very busy, so if you put all of that together, combined with the fact that I've got two little kids at home, and I'm goin' nutso! (laughs)
KNAC.COM: Fair enough. I got one little kid at home right now in Canada, or at least in Ottawa right now, we just started going into a stronger lockdown because our cases unfortunately have been starting to skyrocket a bit, which I guess is usually kinda common over the winter – and funnily enough, I guess COVID really took off in Canada because of the winter. Have you been finding that it's been kinda relatively easy to adapt despite the occasional tumultuous environment?
HOEKSTRA: It's interesting, and I get what you're saying. I'm really grateful to still be able to make a living right now, so number one with my guitar, the teaching and the cameos and things like that, to still have this little version of performing with the quarantine videos and releasing recordings and writing, I still feel like an artist, so I'm doing really well, all things considered. I definitely miss getting out and touring; as I do these interviews, I answer this question quite a bit, and I have to say, that getting paid to travel the world and play for thousands of people, that's hard to beat. So, of course I miss it.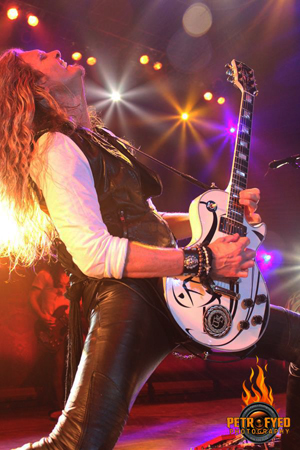 KNAC.COM: Yeah…as much as the audience does for sure. I mean, I really hate to kind of admit to this, but I've never seen WHITESNAKE in concert at all, unfortunately. It's something I hopefully want to try and remedy one of these days. So, what's actually been the plans with WHITESNAKE? I know they've obviously been on hold, but has there been any interest in doing a follow-up to 2019's Flesh & Blood? I know at one point that there was actually a bit of a push to get that tour going….remind me again who was going to be touring with WHITESNAKE around the time that Flesh & Blood came out?
HOEKSTRA: (thinking) To answer the first part of your question, David's been releasing a trilogy of compilation albums over the last year, so The Rock Album and Love Songs and now it's The Blues Album which I'm a little bit a part of, so a couple of tracks on each I've actually played on. It's great to still be a part of it and have the band be active in its own way during this over the time. Now, Flesh & Blood….gosh, you're gonna challenge my knowledge in terms of when it came out here, but I think that we did go out and support it. However, we got cut short – I mean, we had a huge year planned this year. I mean, we were gonna tour (correcting himself)…2020, rather.
KNAC.COM: Yeah.
HOEKSTRA: By this year, I mean 2021. So, we did start it out. We were in Australia with the SCORPIONS, and we played Indonesia and Singapore, and when were ready to go to Japan on our own, everything hit the fan and we had to come home. That was disappointing, because we had a big European tour lined up with EUROPE, and then we were doing the States with SAMMY HAGAR and NIGHT RANGER, and then were set to do the UK with FOREIGNER.
KNAC.COM: Aw, man…that would've been a boss concert to go and see because I like all three bands – SAMMY HAGAR, WHITESNAKE and NIGHT RANGER – and I was hoping it could be like a headlining act at Bluesfest. We have this festival in Ottawa that we do every summer called Bluesfest. Last year it was mostly going to be just more latter-day acts like RAGE AGAINST THE MACHINE to headline, and, I believe Alanis Morrissette, who was actually the original headliner, but I'm actually hoping to make more of a push to get more established acts. For example, I remember Tom Petty had headlined Bluesfest in 2017 and then about a few months later, that was when he'd passed away. Have you ever considered any kind of festival touring it that similar manner?
HOEKSTRA: Are you talking about with JOEL HOEKSTRA'S 13 or are you talking about with WHITESNAKE?
KNAC.COM: Either/or. (laughs) I'm not picky! (laughs)
HOEKSTRA: I mean, I have very little to do with where we play with WHITESNAKE. That's all the management and the booking agents and with David. I just play the songs. (laughs) As far as JOEL HOEKSTRA'S 13 goes, we had one show to support the old album – the first album – on the Monsters Of Rock Cruise, and that went really really well. So, you never know. When we get the world open, I'll definitely look into every avenue possible and try to get out to support this live.
KNAC.COM: Cool. So, moving on to some more questions that I have, I've noticed that you got a really vast list of performers on your latest album, including Tony Franklin on bass, Vinny Appice and Derek Sheridian and Russell Allen of SYMPHONY X on vocals. How did this all-star lineup just come about?
HOEKSTRA: So, it's the same lineup, really, as Dying To Live from 2015, so it was put together back then, and I just wanted on this album to use the same people so it had a consistency, so people can know what to expect when they buy an album with this project name on it, right? So it came together when Tony Franklin and I had just done the VHF project together, and I told him what I wanted to do – to release a straight-ahead rock album, like a band, but I'm writing everything, and I asked him if he wanted to do it and he said yes. I asked him "who would you want to use on drums?", he recommended to me Vinny Appice, and Russel Allen had joined from TSO, and I heard them and I was like "this guy's gotta be the singer on this. He's amazing!". And Derek Sheridian is just the master of being able to provide the perfect sounds and parts for this stuff, and also a great soloist, to have someone to go back and forth with against, which I did quite a bit more of on Running Games than I did on Dying To Live. So, the new album has some cool keyboard solos from Derek. And Jeff Scott Soto, man…I mean, he's the most overqualified background vocalist there's ever been. (laughs) I mean, he's just an amazing lead singer, a very good friend of mine and he helped me out on this and has a lot to do with the sound on the album. He did a tremendous job with the background vocals on this.
KNAC.COM: Jeff Scott Soto….he's got….how many solo albums does he have out? He must have at least 7 or 8.
HOEKSTRA: (laughing) Yeah…that's part of it. Jeff has got so many projects and solo albums and he needed another project like he needed a hole in the head (laughs). But he was ready to help me out and sing amazing backgrounds on this. And it worked out perfectly.
KNAC.COM: I did happen to notice that you have a lot of special guests from different music backgrounds on the album – you got Lenny Castro from TOTO on percussion, and cello player David Egger from EVANESCENCE and COLDPLAY, and Katie Kresek, who's the violinist for Adele and FIVE FOR FIGHTING. How did those last two names come up? Did they approach you or did you approach them?
HOEKSTRA: David and I have known each other for a while now. He played on my acoustic album back in 2006. He's amazing. Just a great musician and a New York City guy with many mutual friends, so, he got me on a track on Amy Lee's solo album from EVANESCENCE at one point. Now, I've hired him to play on a few songs on Dying To Live and on this now. Anyway, we've had a pretty good long-standing relationship at this point in time in terms of liking and bouncing new music off of each other, so, really, an amazing musician and I'm happy to have him.
KNAC.COM: I think I recall hearing some of his earlier work on a couple of the earlier EVANESCENCE albums, or, I guess at around the time when he joined – that was probably a bit later on – but I remember thinking at the time, EVANESCENCE, to me, were like a decent cover version of LACUNA COIL, but they've become a band that's really grown into its own thing over the years.
HOEKSTRA: They're good friends of mine, that's such a great camp of great people in that band, and great talent, and Amy's a sweetheart, y'know. She's awesome. I went to go see them one day I had off from the WHITESNAKE tour when they were playing and I went to go see them and they just treated me like I was a million bucks. They were so nice, they had me backstage – just a great group of people in that band, they're all so friendly. And Jen Majura, like I said, she had me on her jam and invited me to come do that. And Jen's come out to a WHITESNAKE show or two along the way. They're just cool people, y'know? Will Hunt, the drummer in that band. A good group of people. I like me some EVANESCENCE. (laughs)
KNAC.COM: Have either of you ever entertained the idea of maybe doing some sort of a joint album, like EVANESCENCE covering WHITESNAKE songs, or maybe WHITESNAKE covering EVANESCENCE songs?
HOEKSTRA: That's never been mentioned. I do think that Amy's road case, if I'm not mistaken, used to belong to David Coverdale.
KNAC.COM: Oh my!
HOEKSTRA: I'm pretty sure there's some story like that that she has a road case that used to belong to WHITESNAKE.
KNAC.COM: (laughing)
HOEKSTRA: So there's the cosmic tie-in! (laughs)
KNAC.COM: That's as good a tie-in as it's ever gonna be! (laughs) Never thought that these two bands were ever gonna be connected! (laughs)
HOEKSTRA: (laughs)
KNAC.COM: I do recall reading in your bio that you had originally started out playing classical music and then afterwards after listening to your first AC/DC album, you decided that hard rock was really the way for you to go. Had that been much of a bone of contention with your parents at the time?
HOEKSTRA: Not really. They knew I didn't really care for the music lessons that I had at the time, and I think they were happy when I said that I wanted to play guitar, so, I think they were shocked as to what direction I took it, but it's been great and fine, so no worries there.
KNAC.COM: Cool, because I mean, that kinda ties in now with what you're doing because you're doing Rock 'N Roll Band Camp, so I guess you were able to divulge a lot of your own experience, I guess, with growing up and the whole concept of music in schools and everything. How long have you been with Rock 'N Roll Band Camp, if you don't mind my asking?
HOEKSTRA: (correcting me) You mean Rock 'N Roll Fantasy Camp?
KNAC.COM: (embarrassed): Rock 'N Roll Fantasy Camp! Geez!
HOEKSTRA: No worries.
KNAC.COM: Sorry. It's been a long day for me! (laughs)
HOEKSTRA: I've done a couple of those actually in person back when people could actually be around each other, and then, uh…now I think I've done, I think, three master classes, maybe four master classes for them. I think I have another one coming up, so, they're great, they got a great scene always happening there, and David's always been cool with me, so it's nice to be able to work with them and have a good relationship with them.
KNAC.COM: What would you say has been one of the more memorable Rock 'N Roll Fantasy Camps that you've taken part in?
HOEKSTRA: Those are just cool because, when you're a counselor, you spend a lot of time working with people and whip them up and get them ready to play, and you're part of their band, and it's fun and you see the enthusiasm that they have for being there, and that's something that, even though as a pro, it doesn't totally go away. You recognize when people are barely on stage just how excited they get about that and what a big deal it is for them. It's a lot of fun to be around, I love the enthusiasm and I just try to do the best I can and teach them and mentor them in their process and it's great because there are a lot of counselors that hang out, so you hang out with a lot of your peers too. There's also other counselors there too from the rock scene and you get to hang out for a few days and say hello and connect. So, it's a good time.
KNAC.COM: That's cool, actually. I think there was this music school, I think, in Ottawa (the Nepean School Of Music), and they had a contest about 3-4 years ago, in which the students would form a band and the lucky winners got to open up for THE IRON MAIDENS and quite a lot of their material – albeit mostly covers – was actually pretty cool. Have you ever recalled any stories of any of your musical proteges being able to play or perform for a major act – like even for yourself in some cases?
HOEKSTRA: I've had students over the years who have gone on to play in bands, playing professionally, but I don't know if I could cite anything off the top of my head there. But it's happened.
KNAC.COM: Over the years, you had actually played with a number of bands. Would you say that the creative process with a lot of your solo projects has a lot of fluidity compared to your regular gigs with WHITESNAKE and TRANS-SIBERIAN ORCHESTRA? How would you say they differ, I guess, in terms of being able to produce music a bit more faster?
HOEKSTRA: I mean, I carry a lot more of the load on these albums. That's what it's about. Basically, writing everything and being the person that's in charge of the mix and the production and basically the boss. That being said, I love the democratic process in being part of the collaborative process of the bands that I'm in, with WHITESNAKE and TRANS-SIBERIAN ORCHESTRA. So, it's just apples and oranges at the end of the day. I don't sit around and wish that I was that guy running 100% of it ever. (laughs) But it gives me an opportunity to do this, which is fun.
KNAC.COM: Are your two kids into music as much as you are? Have you been able to get them to go into that particular direction or do they have their own interests?
HOEKSTRA: They're really young. I mean, my son is taking classical piano right now and he loves to pretend he's a rock star too. He does lots of air drumming and lots of air guitar.
KNAC.COM: Nice
HOEKSTRA: And I mean lots! He's got his shapes down, he likes all the bands, he likes to talk and listen to the bands. He's into IRON MAIDEN right now. Yeah. He's almost nine. But my daughter, she's really young – I mean, she's five, so lots of singing so she sings quite a bit but no instruments just yet. We're probably gonna start her on piano next year.
KNAC.COM: Cool. My niece, she's eight years old and she's actually got a pretty good voice and not only that, she can actually remember the lyrics quite well. I think one of her favorite bands she was into at one time, there's a Canadian band – I believe they were they're called the STRUMBELLAS – and they had a song called "Spirits". They're more of a catchy/kitschy/indie type band – kinda like our own version of ONE REPUBLIC for example – but they have some really catchy beats and my niece Nola, she just really gets into it and can sing the song, like, outright memorizes the lyrics just like that. (snaps fingers). It's unbelievable.
HOEKSTRA: Cool!
KNAC.COM: Has your son been able to sing any songs himself note for note?
HOEKSTRA: He's playing classical piano right now, so that's what we're working on, but in terms of the other stuff, yeah, he knows all the words to the songs and sings along, and he likes to do his rock star moves and stuff, but he's more into air guitar than singing. Air guitar and drums. He's got all the moves, he spins the sticks, he does this Tommy Lee thing (laughs).
KNAC.COM: Adorable! (laughs)
HOEKSTRA: He's got all that stuff going on.
KNAC.COM: Has he ever tried to play in front of a crowd? Or is that still in the basic stages?
HOEKSTRA: No. Basic stages.
KNAC.COM: Literal baby steps always helps. And since I'm officially all out of questions now, I want to thank you very much for your time and for being a trooper and doing the interview.
HOEKSTRA: All good, man. Thanks for taking the time out and thanks for promoting the album. I appreciate it.
KNAC.COM: All the best and looking forward to seeing you onstage someday with WHITESNAKE or JOEL HOEKSTRA'S 13 or TRANS-SIBERIAN ORCHESTRA or whatever the case may be.
HOEKSTRA: Awesome. Thank you so much for your time.
http://www.joelhoekstra.com/
https://www.instagram.com/joelhoekstra13/
https://www.facebook.com/JoelHoekstra13