Pure Bliss: An Exclusive Interview With Bassist JESSE VEST Of BLISSKRIEG

By Kelley Simms, Contributor
Thursday, February 11, 2021 @ 12:05 AM

| | | |
| --- | --- | --- |
| | | "I thought we were going to get together and hang for a weekend, have some fun, have a few drinks and play some music. But here we are six months later getting ready to release an album." |
Three-fourths of seminal í90s post-grunge/rock bands DAYS OF THE NEW and TANTRIC have reunited to form a new band called BLISSKRIEG. Guitarist Todd Whitener, bassist Jesse Vest and drummer Matt Taul have joined forces with vocalist Donald Carpenter (SUBMERSED, EYE EMPIRE), creating an electrifying new entity within the active/modern rock arena. On its debut full-length album, Remedy (released independently on Feb. 22), BLISSKRIEG has created 10 vibrant and diverse tracks. In early January, the band released its first single and lyric video for ďInside MeĒ to overwhelmingly pleasing results from fans and critics alike.

If it wasnít for the global pandemic that struck in 2020, BLISSKRIEG as we know it, might not exist. The band formed during the Coronavirus lockdown when Whitener and Carpenter were already working on a new project, while Vest and Taul suddenly had some free time available to join them. Vest recently spoke with KNAC.COM writer Kelley Simms about how the band formed, its new album, his time in DAYS OF THE NEW and TANTRIC and BLISSKRIEGís future plans.

KNAC.COM: What are the origins of BLISSKRIEG?

VEST: Myself and the drummer Matt (Taul) live in Indiana, not too far from our hometown where we grew up. Todd (Whitener) has been living in Tennessee going on eight or 10 years, and Donald (Carpenter) the singer lives in Texas. So weíre kind of spread out. It came together kind of by accident. Todd and Donald had been talking about putting something together and were writing some tunes. And Matt and I were not even being thought of because we were doing our own thing and just didnít have the time. But then all of a sudden here comes the pandemic, and it pretty much cleared my calendar. All of my shows got cancelled and everything I was doing got cancelled. So, I found myself with all this time on my hands and the chips kind of fell into place. I think the real impetus for it was Todd or somebody shared a YouTube video with me of Matt playing drums some time back in the TANTRIC days. I remember watching that video and thinking it would be cool to do something like that again; to get these guys back together and just write some songs and have some fun. So, it just started falling into place. We decided to get together and write a couple of songs just to see how it goes. Speaking for myself, I had no inclination that we were actually going to put an album out. I thought we were going to get together and hang for a weekend, have some fun, have a few drinks and play some music. But here we are six months later getting ready to release an album.

KNAC.COM: Whatís it like to be back in a band with the other guys, sort of like a reunion? Youíve been playing together since teenagers. Whatís the camaraderie and musical chemistry like between you three?
VEST: Itís very much a reunion, yes. Matt and I, weíve played together since weíve been playing (musical instruments). We were kids in middle school when we started playing together. Todd came along when we were high school age. We went throughout he DAYS OF THE NEW phase and then we went through the TANTRIC phase, then we just sort of went our separate ways for a while. We always stayed very close friends and there was no falling out, we just didnít really spend time making music together. So when we didÖ itís just like the old cliched metaphor, itís just like riding a bike. We got back into the room and all of a sudden we might as well have been kids again. It was the same sense of humor, same creative spark. It was exactly like we never stopped playing together. I couldnít have imagined it going any smoother.
KNAC.COM: Who came up with the band name? I assume itís a play on the word ďBlitzkriegĒ, but what does it signify?
VEST: That was me. Iím a stickler for words and I like to play with words. In 2019, for the first time ever in my life, I learned how to sing. Iíve been a musician my whole life and never knew how to sing. In 2019, I made it my focus to at least be able to do it to the best of my ability. That process was so much harder than I thought it was going to be, Iím not a naturally great singer. Somehow, my brain made that connection to put that word together, ďBlisskrieg.Ē The original word ďBlitzkriegĒ means ďlightening war,Ē itís the German word. So, ďkriegĒ means ďwar. When you put the word ďblissĒ in front of it, it was like when I was trying to singÖ that sometimes it really did feel like bliss. Sometimes I reached the point where it was the beautiful feeling and then other times I felt like I was at war with myself and everything sucked and it was horrible. So, it was just a word that stuck with me in the back of my mind for a couple of years. And then when we were putting this band together we were talking about what we could call it. We threw a lot of different names and ideas out and we talked about it a lot. I happened to mention (the name) to the guys and everybody seemed to dig it. So, we went with it.
KNAC.COM: Are you signed to a proper record label or are you self-releasing Remedy?
VEST: Yes, weíre self-releasing this. Everything from its inception has been self-funded, self-guided; no management, no label, no anybody. Itís 100% self-released. And Iíd say thatís mostly by choice, we like the freedom that affords. So, we decided to do it that way.
KNAC.COM: What was your mindset during the writing sessions and how did the songs generally come about? Were you able to all get into a rehearsal room and jam together?
VEST: We actually did get into a room together. Todd has a studio down in Nashville. The album was written over the course of about three weekends. It was not the type of situation where everyone would pick up instruments and were jamming at the same time. It was much more quiet, laid back and intimate than that. Somebody, usually Todd or me, would bring in a guitar riff and we would start thinking of what kind of groove would go there. It was very conversationalist; the songs almost wrote themselves. It was so easy and it just flowed like water. It was almost like we werenít working at all, like we were just sitting around and these songs came out.
KNAC.COM: Who produced, engineered, mixed and mastered the record and what were you going for sound wise?
VEST: Again, we did it all ourselves. With the technical aspects that had to be dealt with, 99% of that stuff was Todd. It was his studio and heís the most well versed when it comes to this stuff. When I think of a producer in a traditional sense, I would say the band produced the album. But as far as engineering, mixing, mastering, all those things Todd did the grunt work on that stuff. Even that was a process where weíd work together as far as the mix and sound went. He spent so much time in the studio, which is great for him because thatís what he loves to do. Iím really proud of the fact that we literally did everything and didnít bring in anybody from the outside.
KNAC.COM: Since three-fourths of the band are from DAYS OF THE NEW and TANTRIC, was it a conscious effort to diversify BLISSKRIEGís sound from your previous bands?
VEST: No, Iíd be lying if I said it was a conscious effect. I think that is just a natural byproduct of the fact that weíre a little older now. Weíve matured in general, but also musically, and I think our tastes have diversified a lot. When we were young, we basically worshipped METALLICA and ALICE IN CHAINS. Thereís a reason that DAYS OF THE NEW and TANTRIC sounded the way that they did, because we were focused on these certain types of music and certain types of sound. But as weíve grown older, my tastes in music has expanded greatly. Itís been an explosion of different influences in my life. I think this is a very diverse record, thereís a little bit of something in there for everybody and I think that thereíll be some people who are hopefully pleasantly surprised about the album.
KNAC.COM: How did you decide that ďInside MeĒ should be the first single?
VEST: Iím not going to lie, we did debate quite a bit. I may be a bit biased, but there are a lot of really good songs on the album. And I almost feel like we could have almost picked any one of the songs that are on the album and released it first and I think people wouldíve enjoyed it. For ďInside MeĒ, we picked it because, we listened to it and thought itís a genuine representation of a lot of the elements that people expect to hear on this album. It had vocal harmonies, it had heavy bass grooves, it had Matt Taul being Matt Taul; throwing in weird tom things. And of course Todd on guitar. We felt like if any song was going to encompass the overall vibe of the album, it was going to be that one. We realized that about half way through the writing process that those songs were going to have to be placed in a specific order. ďInside MeĒ is the first song on the album, and we felt like releasing that song first also would be a good starting point so people can start getting that vibe and when the album gets released, they can continue on the journey.
KNAC.COM: Back in the day, was there a big fallout with Travis Meeks in DAYS OF THE NEW and thatís what led to the three of you forming TANTRIC in 1999?
VEST: Yeah, there definitely was a fallout. And it was for a lot of reasons that a lot of bands split up. There were some financial reasons. Long story short, the three of us really got screwed financially on some of that stuff. But there were also creative reasons; there were inner personal relationships. I donít want anybody to misconstrue me right now and think Iím talking crap about Travis because I consider Travis a friend now and he and I have talked. In fact, I was texting with him today, so he and I have a pretty good relationship. But back thenÖ itís no secret that he struggles with mental health issues and he also struggles with substance abuse issues, and I think the culmination of all that stuff just made it impossible for all of us to work together. People ask me if we got fired or if we quit, and Iím not able to give anybody a clear answer because Travis called us into the studio with the intention of firing us. But I donít think he knew when he called us that we were in another studio working on TANTRIC songs. As much as it was possible, it was sort of a mutual separation; the three of us wanted to leave and he wanted us gone. So, it kind of worked out. There were definitely some hard feelings for a while and I went a lot of years without talking to Travis, which was difficult because he was like my little brother growing up. Iíve known him since I was in elementary school. Looking back now I feel that a lot of it was petty. When youíre young and youíre not able to see the full picture, you just do what you thinkís best in the moment.
KNAC.COM: But you all four did reunite in 2014 though.
VEST: We did. It was ďsecond verse, same as the firstĒ. In 2014 we booked a reunion tour and I think we did 13 shows, and 12 of those shows were just horrible. I think people who were there enjoyed it more maybe for the novelty because the performances werenít great. Travis was just not healthy, he wasnít taking care of himself. It just did not work out, unfortunately.
KNAC.COM: You left TANTRIC in 2005 to spend more time with your family. Were you involved in other projects and what did you do up until now?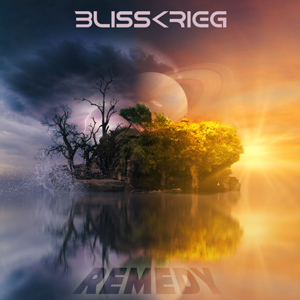 VEST: I had some personal family issues that I felt needed my attention at home and I didnít want to be on the road anymore. I have to imagine it was a solid two years where I didnít even pick up the bass guitar. I just didnít play at all and I just tried to focus on my personal life and my family life. I ended up after a couple of years, a buddy of mine wanted me to come fill in for him at his church where I worshipped at. Iíve never been a big church person and Iím really still not. But going and doing that, it sort of lit the fire underneath me again. So, we put a band together called the CRASHERS. Itís worlds apart from what DAYS OF THE NEW, TANTRIC or anything I was previously involved in. Itís really a band that we put together that specializes in entertaining people at corporate events; itís a party band. A lot of pop, a lot of country. Itís an entertaining kind of band. At first it was something we did for fun but then it turned into a surprisingly profitable venture and Iíve been doing that for over a dozen years at this point. And Iím still involved in this project, but of course Covid-19 shut everything down and we havenít really done much lately. But I canít tell you how happy Iíve been to be able to have a chance to work with Matt and Todd again. Itís been so much fun putting this album together.
KNAC.COM: Realistically, due to the ongoing pandemic and uncertainty of major tours, what do you guys hope to achieve with BLISSKRIEG?
VEST: Anything that we do is a big challenge and it requires planning ahead; travel arrangements. To be honest, we never really rehearsed at all. Itís tough to get us all together. I am definitely not eliminating the possibility that we would do some shows or if the stars align and the world opens back up, maybe we could go out and do a tour. But as for right now, our goal is to keep writing. We would love to put out another album, or at least an EP. Of course, weíre going to do the push and try to get this album in front of people and hopefully they can appreciate it and hopefully it brings something into their lives. Thatís what weíre focusing on right now. But after that? Weíre trying to figure out whenís the next writing session. We donít have any dates on the books yet, but itís something weíre talking about. No matter what happensÖ Iím happy. Weíre proud of what we created and I had a good time doing it. If we only sell one copy and that copy is bought by my mom, Iím going to be fine! I would encourage people to give it a listen.
Please log in to view RANTS