Guitarist Doug Aldrich is no stranger to KNAC.COM readers and listeners. He's worked with the likes of DIO, WHITESNAKE, HOUSE OF LORDS, HURRICANE, LION, REVOLUTION SAINTS and THE DEAD DAISIES. There was a shake-up of sorts in 2019 when singer John Corabi and bassist Marco Mendoza left the fold to pursue their respective solo careers. While it's well known that THE DEAD DAISIES are a collective put together by founder David Lowey, it was somewhat shocking that the 'voice' of the band left. Lowey and company consolidated the bass and vocal vacancy and picked up none other than Rock & Roll Hall of Famer Glenn Hughes, who we all know from his work with DEEP PURPLE, TRAPEZE, HUGHES/THRALL, BLACK SABBATH, CALIFORNIA BREED and BLACK COUNTRY COMMUNION. KNAC.COM caught up with the guitarist on January 8th, 2021 to discuss the new album Holy Ground due on January 22nd, 2021 via SPV/Spitfire. We kept this mostly to THE DEAD DAISIES but I have included some supplemental content from a conversation from 2011 about some of his other work. At the time Doug was working with WHITESNAKE and they were promoting the album Forevermore. Enjoy the interview. Support music by buying an album.

Ruben Mosqueda KNAC.COM: THE DEAD DAISIES had solidified a line-up that was loved by the fans and you managed to release a handful of records with the line-up. Having said that, the DAISIES is meant to be a band where there would be a revolving door of players. You had John Corabi, who is a hell of a singer, and Marc Mendoza, who is a killer bass player and also a great singer in his own right. They left, how did the remaining guys in the band deal with the departures?

ALDRICH: Like you said, it's kind of been set-up that way. The band went through a number of people before the band had a set line-up. Like you said, in recent years it's been pretty solid. It's similar to the original DEEP PURPLE, people came and went. They had a hit single with "Hush" then they had Mark II, Mark III and so on and so forth. I think this is DAISIES Mark IV.

KNAC.COM: How did you personally work with the departures?

ALDRICH: It hit me a bit as a shock that John [Corabi] wanted to sit out. He had been writing, recording and touring with them for a year or two prior to me joining the band. I think John just got a little burned out with it and he wanted to do his own thing. John has been my friend since we were kids. I've known John. I've known all of the guys for years. I think that's what has made this work is that we know each other and we're all friends. Marco [Mendoza] had probably been there for the longest time. He has been pursuing a solo career and he has been very excited about that. Marco was at a point where he wanted to step back and continue to pursue his solo career. As you know, Marco is a great performer, bass player and frontman.

When the opportunity came to work with Glenn [Hughes] I thought it was perfect. Again, we're friends, I've known him for years, I have worked with him in the past...I didn't think of Glenn! It was our management who said that they were thinking of Glenn and had spoken to Glenn, we were told that he was excited about the possibility. I was asked to give him a call. I did and the first thing that he said was, "Doug, I think it's time you and I make some music together from scratch". It's been all around a 'win-win' everyone is happy, it's amicable. Of course, you don't want to see change or make change, but this is a huge thing for the band. I see this like DEEP PURPLE like when [David] Coverdale and Glenn came in for Ian Gillian and Roger Glover, it was a whole new band in a sense.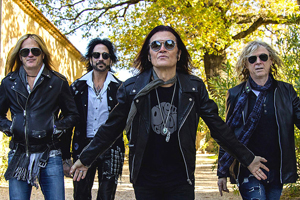 KNAC.COM: I believe you did a tour with Glenn when he was doing some solo dates. That tour didn't make it to the Northwest so I didn't catch it.
ALDRICH: I was a 'special guest'; he would normally go out as a four piece and included keyboards. On this particular tour that you're referring to, he wanted to do something that was a little bit more 'rocked-up'. He asked me to join him because his regular guitar player was busy either on another tour commitment or a studio commitment, I can't recall. It was a blast! You didn't see that tour but you'll see us now. You'll Glenn and I on stage. We play so well together.
KNAC.COM: How crazy that you've been in bands with two Rock & Roll Hall of Famers? Meaning Coverdale and Hughes from DEEP PURPLE.
ALDRICH: [laughs] I find me pinching myself! I've been super lucky bro! I started out with THE greatest heavy metal singer ever--RONNIE JAMES DIO. It's crazy! I've been under the umbrella of [Ritchie] BLACKMORE's discoveries! [laughs] It's incredible and I'm so grateful. You have all the people who went to RAINBOW and then went to WHITESNAKE. If you would have told me back when I was buying their records that I would be in a band with each of those guys I wouldn't have believed you. What great singers and frontmen. They're all so distinctive.
KNAC.COM: When I heard about the change I wasn't sure how this would work. I'm a fan of Glenn's work with [TONY] IOMMI, his work with BLACK SABBATH, CALIFORNIA BREED, and of course his solo stuff. Some of the stuff he's done on BLACK COUNTRY COMMUNION he just seems to 'over do it'. He loses me at times. So I was fearful as to how he would sound on Holy Ground. He sold me on this record with his smooth soulful vocals, he doesn't over do it. So what was the approach on this album for 'The Voice of Rock'?
ALDRICH: He can sing anything which is why as you stated he is known as 'The Voice of Rock'. He is like a vocal acrobat and a vocal virtuoso. He's been asked to as you say 'oversing' but oftentimes that is the direction of the producer and what he was asked to do. In this situation...I've been guilty of this too. I've been guilty of overplaying too! [laughs] I listen to stuff now, years removed and I didn't need to do that! [laughs] So, as you reflect on some of the work that you've done, maybe you would have arranged things a little differently or changed something about a song. Once you have a little distance you can look at it more objectively. My point being that we're all guilty of going a little bit too far with things. On Holy Ground Glenn wanted to lay down something that showed a different side of him. It's not BLACK COUNTRY, but it has a little flavor of that, it's not his solo but it has a little bit of that. It's a little flavor of other stuff that he's done like TRAPEZE or maybe something that would have fit in alongside that IOMMI/HUGHES stuff. We have some simple, heavy riffs and I think he sang to fit the vibe. You'd have to ask him about it to know for sure. I see what you're saying, if I were to guess, I'd say that he saw this as an opportunity to do something different. It's more about the song I think.
KNAC.COM: There are points where you're assuming he's winding up for the explosive display of vocal power, but he doesn't do it! That's just what you said, in that it's about the song.
ALDRICH: You're right. He does show off the pipes a little bit on "Come Alive" where he starts to do this sort of DEEP PURPLE scream. You can see where he's starting it, then you're like, he's going to try to make it! Then you're like, there's no way he's going to make it! Then he makes it! [laughs] He didn't have to do that, but I think that is just so cool. I do like albums like this where they are more song oriented. Glenn did a fantastic job. We're always trying to better ourselves and do the best that we can.
KNAC.COM: Talk about the riffs on the album, they are really crunchy and then there's the killer melodic solos. It's a great mix of modern and old school.
ALDRICH: It wasn't planned, but that's how it came out. I'm heavily influenced by the 70s. I got known for playing in a certain style in the 80s. You can say that I went full-circle with this album, where I leaned heavier on my 70s roots. I think that came to me very naturally. I think what you hear on the record is a mix of the producer Ben Grosse, Glenn, myself, the rest of the band and management. Everybody got a say on this album. I'm glad you enjoy it. It means a lot. Like you said earlier, nobody wants to see change but change is inevitable. I support people if they want to go do something else. Sure, it takes time to get over it and accept it. When we got Glenn on board it was a great change because we weren't replacing John and Marco, we were adding a new ingredient to the band. We're doing something totally different.
KNAC.COM: Who brought the idea to the band to cover "30 Days In The Hole". THE DEAD DAISIES have done covers on albums and Holy Ground is solid with or without "30 Days" on it. You could have trimmed the record down to 10 tunes that would be originals, which is also really old school.
ALDRICH: I agree with you, we could have left it off. It could have been a bonus track. It's weird, there's people that have told me that it's their favorite track. Then there's people that come up to me and tell me that they like that cover, but they love the original stuff the most. To answer your question, management is very involved in every aspect of THE DEAD DAISIES. It's a business and they take their business very seriously. So the song was brought in and we thought it would be a good thing to do because doing a cover has been a trademark of the band and they are fun to do. I did a little different guitar treatment on that song. We wanted to do that song justice and pay tribute to Steve Marriott because Glenn was a good friend of his. What I did at first was too close to the original so I got some feedback from the guys and I went back and 'toughened' it up a little bit.
KNAC.COM: A lot of bands have covered "30 Days In The Hole" but this version really hits the spot.
ALDRICH: Thank you. It's been DAISY-FIED. I've done a bunch of those tribute records over the years with the late Bob Kulick. The best advice I got from Bob was when he'd remind me to do something different, because if we're doing a copy of the original then people can just listen to the original! He was a proponent of musicians putting their stamp on the songs. That was the approach I took when it came to "30 Days In The Hole".
KNAC.COM: You just released the first single for the album back in the spring of 2020. I assume the record was delivered well into the COVID-19 pandemic and you waited and waited. In the meantime did you have any urges to change things around? Maybe take out a song or change something around?
ALDRICH: That's a really good point. It's hard because you always hear stuff and want to go back and change certain things. We're perfectionists! I am for sure. I know Glenn is. It's hard to let it go sometimes. What helped is that we kept writing during COVID. We have some more material that we're really excited about as well.
KNAC.COM: How will you be approaching the set once you get the green light to hit the road? You have a lot of material to pick from, but Holy Ground is such a solid album that you could feature most of that album and I don't think you'd get many complaints. You are still building this thing little by little in North America. I'm excited to see this live.
ALDRICH: I think we're featuring the new stuff the most in the set. I don't know that for a fact, but that's what has happened over the years, the new stuff is featured prominently then some stuff from the Jon Stevens era was added in there too. I'm excited for the fans to hear the new material live for sure, but also the classic stuff with a new treatment with Glenn on vocals. John is a great performer and I love his voice and the way he sings. I also love the way Glenn sings and performs. I think fans will love Glenn's take on songs like "Make Some Noise", "Longway To Go" or "Lock 'N' Load". We'll see what happens. I have no expectations, it's a new album with a new singer---we definitely want to feature that. We're chomping at the bit to get out and play for people. This pandemic has just been brutal. I'd just like to say that music isn't just what I do for a living and put food on the table but it's great for my mental health. Listening to music is a great escape from what is happening in the United States. Playing music is another escape and to be able to work from home to a degree has been great too. I thank you for what you do to keep people's minds occupied on other things. Thank you for your support and for spreading the word about the record.
I know what you're thinking. You didn't ask Doug about some of the other bands he's been a part of? Well, let's check out what he had to say about them back when I spoke with him in 2011. Here's some supplemental Adlrich from the archives.
KNAC.COM: You played in a couple of my favorite bands in the past. You played on HOUSE OF LORDS' Sahara, HURRICANE's Slave To The Thrill and DIO's Killing The Dragon. What do you recall about the Slave To The Thrill album?
ALDRICH: HURRICANE started writing the album without a guitar player, then I came in and brought a couple of songs with me. My role was to help them finish out the design of the album that they had started without me. There were some fun times on that album and tour. That was my first real tour. I was pretty immature back then. I still see some of the guys in the band periodically — I saw Kelly Hansen last year.
It's funny, I was listening to the radio and "Can't Find My Way Home" by HOUSE OF LORDS came on. That album was recorded around the same time. I guess at that time I was the 'go to' guy for hard rock session work. I had some demos that I brought to HOUSE OF LORDS for the Sahara album and as it turns out they released the demo of "Can't Find My Way Home". The version that you heard on the album is my demo with drums on it. We cut that in a little house in Studio City, California in a garage that had a studio in it. HOUSE OF LORDS was a good time too.
KNAC.COM: At one point you auditioned for KISS didn't you?
ALDRICH: I did. I moved to Los Angeles and I was playing at Gazzarri's every couple of weeks. I met a girl who said she was Eric Carr's girlfriend and that KISS was looking for a guitar player and she thought that I might be a good fit. Eric came down and watched me play and eventually I wound up going down to jam with them three times, that was just surreal. I was stylistically a bit different than them. I love KISS more now than I did back then. In the end I was just very young, but that did motivate me to become a better musician.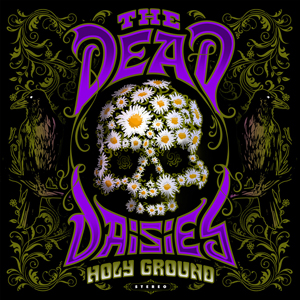 KNAC.COM: Why didn't LION make a big splash in North America?
ALDRICH: We were probably a couple years too late I think. A lot of labels passed on us — there was one label that enticed us, we signed with them and in the end it was the kiss of death. The deal was horrible and there was no way that we were going to make any money. The worst part is that there was no way to get the band on the road. In those days you'd release the album and you'd go on the road to support it vs. these days where the record helps promote the tour. We did have a label in Japan that took the album and worked it. Like you said, we did well there and some places in Europe. In a last ditch effort we got an attorney, he looked over the contract and said, "I can't work with you." We said, "Why?" He said, "You guys basically signed your lives away on this." We didn't know, we were just kids — that's the way it goes.
KNAC.COM: Lastly, you recorded Killing The Dragon with DIO. What was that like?
ALDRICH: It was awesome man. I wouldn't be in WHITESNAKE if it wasn't for Ronnie, he put me out there. I'm a late bloomer I guess, but he really helped me out. He was very good to me and he had so much faith in me and in my playing. We had a great time designing the album that would become Killing The Dragon. Once again it didn't work out with their guitar player and I was asked to come in and I started from scratch on everything. We put together an album that was, for him, a new beginning. In the end, through Ronnie and Wendy Dio, I was noticed by David and the rest is history. I will say that I miss Ronnie tremendously and we got close toward the end. He was upset when I joined WHITESNAKE full-time, but he kept asking me to participate in certain projects with him here and there. We were really tight. I was out of the country when he passed, but my wife and my son went to his service to pay their respects on my behalf. He was a great singer and an even better person.