What Could Have Been: NAMM 2020 Recap And The Cancellation Of NAMM 2021

By Krishta Abruzzini, Pacific Northwest Writer
Wednesday, September 2, 2020 @ 8:57 AM

| | | |
| --- | --- | --- |
| | | |
This has got to be the oddest piece I've ever written and rewritten only to write again. I've started it, edited it, put it away and was ready to send at least five times over the past few months with so many mixed emotions and confusion with each word written.

Who knew 2020 would be my last NAMM for (hopefully only) two years because the world would be in the throws of a pandemic? Up until a couple of weeks ago, NAMM 2021 was still hopeful and being planned as usual for 2021. I held up hope and was about to send an article with my recap of 2020 and the info about the 2021 show. It didn't feel right to me. I had a sinking feeling that the hope I had would be crushed at any moment. Turns out that feeling was correct. The average show brings in about 110K people, plus 2000 exhibitors. How could they possibly move forward with this volume of people from all over the world in one area?

In a recent announcement, NAMM just disclosed that NAMM 2021 in-person show is cancelled and will be replaced by an online event: https://attend.believeinmusic.tv/ The convention had been scheduled for the week of Jan. 18, 2021, at the Anaheim Convention Center. The annual trade show is the largest gathering for the $17 billion global music products industry. NAMM, founded in 1901, has more than 10,300 members across the globe, spanning 104 countries and regions.

In place of the in-person event, NAMM announced "Believe in Music", a weeklong virtual gathering aimed "to unify and support the people who bring music to the world," according to a statement. "Believe in Music" will be held starting Jan. 18 and will provide a mix of professional education programming on BelieveinMusic.tv, entertainment and interactive marketplace for buyers and sellers. This has been somewhat commonplace in the music industry with more and more virtual shows.

"While it remains unsafe for us to gather in person in January, 'Believe in Music' week will use new, intuitive technology to connect us all to harness the incredible energy that happens when we come together," Joe Lamond, NAMM President and CEO, said in a statement. I'm sure it's heartbreaking for all and a scramble to figure out how to present such a massive annual event all online.

I first heard of CV-19 at the NAMM show this year (late January). My friend Mike Inez (ALICE IN CHAINS) and I were talking as we were both heading out of the downstairs area of NAMM, often known for the "mom and pop" vendors that are set up there. He said he just came from LAX a few days previous to being there and that his wife had just called him, a bit panicked saying a couple of people flying in there had just tested positive for some odd virus from Asia. We both realized that many of the vendors in the downstairs area are from Asia, and wondered at that moment if it was something to worry about, never having any idea the sheer impact at how our entire planet would be literally shut down shortly after.

We spent the rest of our days there without much worry. Afterall, we have seen SARS come through our area without much consequence. This certainly wouldn't be any worse, right?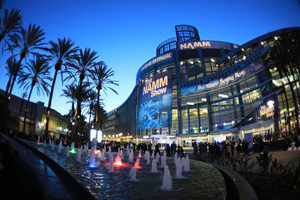 Looking back at the 2020 NAMM show brings up so many emotions. The question of whether in our lifetime we will be able to freely enjoy shows such as this without the worry of contracting a potential life-threatening virus. Will the new norm be to wear masks and keep distanced? NAMM has always been a huge, expanded family coming together every year. Many hugs, many shoulder to shoulder events with music and a close camaraderie of people all with the spirit of music in common. Everyone has their own experiences there. Whether it be buying the perfect instrument for your shop back home, being on the floor all day as a vendor, the super fan getting in line to meet his/her favorite musician, or even randomly walking by the likes of Stevie Wonder. Nothing compares to this annual show. My heart is broken in two and I'm hopeful our world mends enough to bring humanity back together.
It is odd and somewhat foreign to revisit some of the images and video I captured from this year. On opening day, it was such a highlight to see Gibson Guitars back with a major comeback after their Chapter 11 bankruptcy. James "JC" Curleigh was appointed as president and chief executive officer. "As a musician, I have always treasured my Gibson guitars and I have the utmost respect for the iconic Gibson brand and those who choose to play Gibson guitars," said Curleigh. In an opening NAMM party, that just happened to be JC's birthday, it was apparent that this personable CEO would bring back Gibson to being one of the most respected guitar manufacturers in the world.
The party was a fun soiree with an open bar and a ridiculous prime rib buffet (doubt that will be a thing that'll be back anytime soon), and birthday cake for JC. A little band named LOS LOBOS played as we all ate, drank and enjoyed every minute. On display were beautiful signature guitars. I guess if this were one of my last social moments honestly, this would be the way to make that exit. I'm looking forward to the future of Gibson, and so grateful they're back.
I was a bit disappointed to not see the John Lennon Tour Bus this year. It was my understanding that they chose to visit the Grammy Awards instead. It's always been such a highlight to have them at the NAMM Shows, and I'm hoping they will return in the future.
The show this year was a lot more streamlined upon entrance. Everything seemed like a very well-oiled machine that moved very seamlessly. As always, there were many sights and sounds and I'm just hoping this will be something we can revisit in 2021 without a lot of protocols. We will all be nearly 2-years older and I'm hoping with grace, we will have a sense of normalcy as well. There were so many things I wanted to write about regarding my 2020 NAMM experience, but they all seem so inconsequential right now. I think the photos and video capture our world that once was, with the hope it will return.
Please stay safe everyone.
Krishta Abruzzini
KNAC.COM
Please log in to view RANTS