Winner Takes All: An Exclusive Interview With TOKYO MOTOR FIST/TRIXTER Guitarist STEVE BROWN

By Ruben Mosqueda, Contributor
Tuesday, July 14, 2020 @ 8:54 AM

| | | |
| --- | --- | --- |
| | | "We're a 'real' band, we're not one of these 'fabricated' Frontiers [Records] or Golden Robot [Records] 'supergroups' where they get a guy from this band or that band, they do one album and basically a quick 'cash grab'. " |
"I'm not a democratic band member, when it comes to music and decision making. I'm the band leader, producer, manager, art director, the guys in the band trust me with the vision. I'd say that it's similar to how JON [BON JOVI] runs BON JOVI. That's just how it is, there are no gray areas. The last track on the album "Winners Take All" was written by [drummer] CHUCK [BURGI] over 30 years ago, it's very 80s and his wife sang on the demo. It was so great to have that one on to close the record. While I bring the songs to the table, I'm open to hearing what anyone in the band has song ideas. I'm open to song ideas or even a completed song", said guitarist STEVE BROWN. The guitarist sat down to speak with KNAC.COM on July 2nd about the new TOKYO MOTOR FIST album Lions on FRONTIERS RECORDS, it's due on July 10th.Foe those that don't know BROWN filled in for VIVIAN CAMPBELL and PHIL COLLIN in DEF LEPPARD over the years, while VIVIAN was going through cancer treatment and PHIL when he had to step away for the birth of his child. BROWN, of course, was first heard from when he was the guitarist in the band TRIXTER who had a pair of MTV video hits from their self-titled album. BROWN is also currently the guitarist in DANGER DANGER, which as you know also features TOKYO MOTOR FIST vocalist TED POLEY. Enjoy the interview.

KNAC.COM: You're back with another TOKYO MOTOR FIST album. So glad you did another album.

BROWN: We're a 'real' band, we're not one of these 'fabricated' Frontiers [Records] or Golden Robot [Records] 'supergroups' where they get a guy from this band or that band, they do one album and basically a quick 'cash grab'. We are a 'real' band, always have been. This band has 'real' history. We are all like brothers, we all grew up together. CHUCK [BURGI] and TED [POLEY] are North Jersey guys, like I am. We have all known each other for like 35 years. I knew Chuck back when he was the drummer in RAINBOW. Ted I have known back when he was the drummer in the New Jersey band PROPHET, then he went on to front DANGER DANGER, so you see we have a lot of history between us. That goes for GREG [SMITH] as well. People that have seen us live...oh yeah, that's another thing, we actually play live! People see the chemistry when we play together. Listen, I don't blame people for doing what they need to do with their bands, but we play live, we are a band and I think that puts us way ahead of these other 'supergroups'.
KNAC.COM: The debut was critically acclaimed and you have Lions coming a little over a week from today. It's a great album, you've given the audience a little bit of a taste with the clips for "Around Midnight" and "Youngblood". What can fans expect on this one?
BROWN: I think this album exceeds the last album, so I can't wait for the fans to hear this one. Like you said, the response by the fans was great for the debut and so far the reaction to the clips we've put out there has been even better. I think if you're a fan of melodic rock, this IS your band! If you love TRIXTER, DANGER DANGER, VAN HALEN, BON JOVI, MOTLEY CRUE, CHEAP TRICK, you came to the right place! This is what we love to do, this is our favorite kind of music. For me as a songwriter, this is what I do best. I'm fortunate that I have three other guys that take my songs and inject their own personalities into them and make them . I take the songs, I sing them, then I hand them to Ted and he's able to make it his own, as does Greg with the bass and Chuck with the drums. I'm so excited about this album, here I am 30 plus years into my career and I think that Lions IS the best record of my career. I'll go out on a limb and say that this IS the best stuff that Ted has ever done, it's that good.

2019 was a weird year for me, three of my best friends died during the course of a couple of months. It was tough emotionally for me, but I think a lot of that sorrow helped my focus on making this record. I think putting my nose to the grindstone and getting to work on this record helped me a lot during that time. I was doing everything from engineering, producing, playing guitar, writing the songs, I gave 1000% on this one.

KNAC.COM: So this album has some uplifting stuff, I can see what inspired that. No dark stuff there.

BROWN: Yeah, there's certainly uplifting music on this album, there's a little darker stuff but not a lot. The other thing that happened to me in 2019 was that I got sober. I'm now 14 months sober at this point in time. I just needed to kick that rock & roll 'party' lifestyle. My friends passing away was an influence, but you're right I could have certainly gone down a really, really dark path. I celebrate the lives of my friends that died, it's all positive and that's the message of Lions. It's incredible the situation we are in our country right now, this record is 'feel good' and the overall message is positivity. Go out and make something happen, no matter what you have going on, there's always a chance to make it better. Don't be a sheep, don't be an armchair quarterback, if you want to make a change, go out there and do it, be a lion, be a leader.

KNAC.COM: TOKYO MOTOR FIST was on the 2020 Monsters of Rock Cruise, I believe.

BROWN: Yeah, we were and thank God we were on that because those two performances on there were the last two shows we've done in 2020, thanks to the pandemic.

KNAC.COM: You mentioned the pandemic. I think this kind of music is the best kind of stuff to listen to when you have that going on and the 'unrest' in the United States. Listen, I'm a SLAYER, TESTAMENT, DEATH ANGEL and a huge fan of thrash metal, but I can't listen to that all the time like I did leading into this year. Melodic rock takes you away from the reality of life in 2020.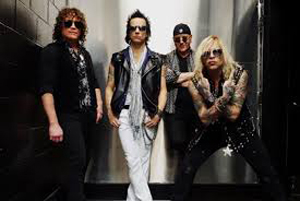 BROWN: I totally agree! Listen man, you've known me a long time, I'm the guy that's always on stage, running around, jumping, smiling and having a good time. Melodic hard rock is in my DNA. I think that helped me get the gig filling in with DEF LEPPARD for the last 7 years. I grew up with the BON JOVI and SKID ROW guys. TRIXTER we were all about the 'happiness and fun' aspect of rock music. There's not much that is different here. Frontiers have a very black and white description of what they want, they want 80s inspired music with modern production, that's exactly what TOKYO MOTOR FIST are. That's what we do best! The record is positive, uplifting, fun and it will take you away. No matter what you have going on in your life, if you take 45 minutes and listen to this record, you will feel more positive, you will feel better and you will walk away singing these songs.

KNAC.COM: The sequencing on records is key. I'm curious if you went with the 'old school' feel for this record, because it has that in a couple of runs I have taken through it. How much playing around with the sequencing did you do on this album?

BROWN: I love that question, thank you Ruben for that. I'm a product of the 70s, I grew up in the 70s, I was born in the 70s, was a teen in the 80s, so I bought albums. I am a huge believer in the full album concept. These days it's all about singles. It's like no one cares about the rest of the record, it's all about one song! I have never believed that and I still don't! If you listen to the first TOKYO MOTOR FIST album and then Lions, every song counts! Every song is great in its own right and that is the most important thing for me. I love buying CDs, it takes me back to when I was kid and I bought the KISS Rock & Roll Over LP and I would put it on and read all of the liners. I still do that but with CDs. I look through the booklets, I read the lyrics and see who wrote what, who engineered the album and who produced it. When I was a kid I was the biggest KISS and VAN HALEN fan and I would learn stuff about the band by reading the liners, I love all that kind of stuff. With the sequencing I moved things around a few times until I got the right flow for the album, which has that 'old school' feel that you're talking about.

KNAC.COM: What were the pros and cons to putting out new music during a pandemic?

BROWN: We've never been in this sort of situation ever, my parents are 85 years old and they're never been through something like this. I don't know. I'm not the record company. Frontiers chose to put it out on July 10th and it's coming out. I know a lot of friends in bands are holding on to their records because they aren't able to promote it with a tour. It's not my call. I will say, which is something you brought up, this record is coming out at a time when people really need this record and the message of Lions. I don't know if you know but we have DENNIS DEYOUNG formerly of STYX on the title track playing keyboards. The first two lines in "Lions" is "The world is in chaos. The rats are running the race". If that doesn't speak to the times that we are living in 2020 both socially and politically, I don't know what does. Keep in mind that song was written a year ago. I'm no prophet, but wow! I don't know how that happened Ruben, but I can tell you that this record WILL make you feel phenomenal. This album features by far the best guitar work that I have ever done. It's the best sounding album that I have ever done. The great BRUNO RAVEL of THE DEFIANTS and DANGER DANGER mixed the record. This is everything that a melodic hard rock fan loves in an album. We've left no stone unturned on this rock.

KNAC.COM: Speaking of you being 'all smiles', I remember seeing TRIXTER open for SCORPIONS on the Crazy World Tour in Portland, Oregon. You're not kidding when you say you're running and jumping around the stage with a huge smile on your face.

BROWN: Yeah, that's what we were man! TRIXTER was modeled after VAN HALEN. I wanted the band to be a 'kid' version of them. We brought in the good times, party vibes and lots of laughs and smiles. We love what we do, there's no reason not to have a huge smile on your face.

KNAC.COM: As you mentioned earlier, you've known Ted for years. How did he approach you about being part of DANGER DANGER?
BROWN: That came as an emergency type situation which has been my calling card as of late, the past 7-8 years with DEF LEPPARD and playing with DENNIS DEYOUNG's band. In 2016 DANGER DANGER's great guitar player ROB MARCELLO, who lives in Sweden, couldn't make it to the U.S. for whatever reason. They had some gigs lined up and Bruno called me up and asked if I could fill in for the shows they had booked. I was the guy! Like I said earlier, if you need a guy that can learn 14 songs in two days, that can sing, look great, play great and fit in seamlessly, I'm your guy! I'm always there to help my friends. The DEF LEPPARD guys are great to me. I have known JOE [ELLIOTT] and PHIL [COLLEN] since I was 17 years old! They are like family to me, they called me because I'm part of the family. Obviously, playing great and the ability to sing great helped. Everything that I have been doing, starting at the age of 8 has led to this, me getting calls from people like DEF LEPPARD, DENNIS DEYOUNG and DANGER DANGER to fill in when they are in a pinch. There have been others, big bands that have called with emergency fill ins or they're having problems with band members, which I can't and won't mention. I'm always there when someone is sick or has a family situation, ready to go, because as they say "the show must go on".

KNAC.COM: What's been the biggest thing that you've taken from the time you've stepped in to help DEF LEPPARD?

BROWN: The coolest thing about LEPPARD is the guys. They have been together for 40 plus years and they still share the same dressing rooms. I can't tell you how many bands use separate dressing rooms and at times don't even talk to one another. The organization from management to the crew to the band, they are all great people. The biggest take away is their humility that they have. They always have time for their fans to take a picture, say hello, and sign an autograph. They are great ol' chaps! [laughs] They have people who have been working with the organization for 20 plus years and they are loyal to their crew. When I filled in VIVIAN [CAMPBELL] or PHIL [COLLEN] they took care of me like I was in the band. I traveled with them, I ate with them, I got changed with them, I was included. The only thing that I didn't get was one of those DEF LEPPARD bathrobes! [laughs] Hey guys if you're reading this, I'm still waiting for that! [laughs] They are wonderful people and I'm proud to call them friends.

TOKYO MOTOR FIST Facebook: https://www.facebook.com/TMFband
Please log in to view RANTS