Live Photo By Larry Petro/Petrofyed Photography
KNAC.COM readers are familiar with CHRIS JERICHO from his work in the wrestling industry and his work with his band FOZZY. While the country is locked down from COVID-19, he was approached by drummer KENT SLUCHER who plays with country artist LUKE BRYAN. Slucher had spoken with JOE MCGUINNESS from the band KLASSIK '78, who writes and performs original material in the style of KISS circa 1978. Together the two recruited TRIXTER bassist PJ FARLEY and then approached Jericho about taking part in KUARANTINE, a band that pays tribute to 80s KISS. They released a cover of "No No No" a few weeks ago. KNAC.COM spoke with Jericho on the eve of the release of "Heart of Chrome", a song from the KISS Revenge album. They have a special guest on guitar, a guy that played on the song, BRUCE KULICK. Enjoy the interview.
KNAC.COM: You were approached about being a part of KUARANTINE by who?
JERICHO: It was KENT SLUCHER who is the drummer in LUKE BRYAN's band. It's crazy that in this pandemic, I haven't even met the guys in the band! It's also crazy to think that we formed a band and we're paying tribute to non-makeup KISS.
KNAC.COM: I assume when you were approached about being a part of KUARANTINE you didn't have to think too hard about being a part of it?
JERICHO: Oh, no! I try to keep busy even before the pandemic between music, wrestling and podcasts, so when this came up it was perfect because I could do that right now. I don't think we have been able to do this had we been living our normal daily lives prior to the pandemic. I jumped on it very quickly because those are awesome songs, we love that era of KISS and during this time no one is touring, and people want to get new music. I see this as new content, sure we're doing stuff that has been done before but it's fun and these songs haven't been performed by KISS in a long, long time.
KNAC.COM: The first clip KUARANTINE released was "No No No", which is a deep cut from KISS' Crazy Nights album. How did you guys land on that one, did you pool songs and pick from that?
JERICHO: That one in particular the guys had already selected that one. What's really cool about that era of KISS is that I'm such a huge fan of the non-makeup era of the band. There's just so much material to choose from that no one knows or doesn't know really well. I think there's such a wealth of material to cull from that we could do this for years if we wanted to. I like the 'gimmick' behind KUARANTINE which is a band that covers non-makeup era KISS.
KNAC.COM: Crazy Nights gets its fair share of flak for being a keyboard heavy album, but if you listen to the guitar there's some pretty heavy moments on that.
JERICHO: That album is a sign of the times and I think it's been unfairly bashed by rock fans and critics. I think Crazy Nights is Paul's [Stanley] response to Slippery When Wet, he wanted the band to head more into BON JOVI territory. Is there a lot of keyboards on that? Sure, but if you take a song like "My Way" and you remix that you'd have a heavier sounding song. I remember buying that record and loved it. I think Crazy Nights is a sign of the times much like Dynasty had disco trappings, because it's what was going on at the time. I never had a problem with the amount of keyboards used on that record. I'm a huge fan of all of those records from Animalize, Asylum, Crazy Nights, Hot In The Shade and Revenge.
KNAC.COM: You are about to release the clip for "Heart of Chrome" tomorrow, from the RevengeRevengeKISS?
JERICHO: Revenge is my favorite KISS studio record, KISS Alive! is my favorite KISS record overall. I like RevengeKISS studio records overall. In my opinion, Revenge, Creatures of The Night, and Rock And Roll Over quite possibly are the best KISS studio records they've ever recorded.
KNAC.COM: What's next for KUARANTINE after "Heart of Chrome"? I understand you've cut two songs, being "No No No" and "Heart of Chrome". You'll be moving forward with this?
JERICHO: The response we got was great, it was fun to do in the middle of all these other things that we have going on at the moment. We'll be doing more, I didn't want this to be something that we record, we put up on our Instagram and it's forgotten about later. I want this to be on Spotify and give it some juice. We want it to be special and we want to build this properly. We want to continue to put out songs and stretch things out. We have a couple more songs that we're going to be working on. I have to say that "No No No" is a difficult song to play and "Heart of Chrome" is one of the highest Paul Stanley vocal performances of his career. When I told Paul that we were doing that song he said, "If you can do that song in the original key, then you've got something special going on". That is what we went with, I wanted it in the original key. I didn't want to downtune. I wanted a vocal challenge. It was a great exercise for my pipes and challenged what I could do vocally. I didn't have any gigs going on and we're recording a new record, so to practice with a song like that, it allowed me to sing in a different way than I sing in FOZZY.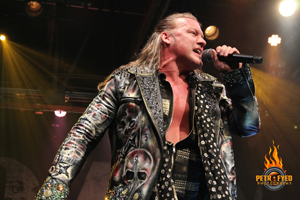 KNAC.COM: It sounds like you're in favor of putting together an album's worth of material and putting it out there on streaming platforms.
JERICHO: Yeah, I think we do 8-10 songs when we can, we can do the videos and release them as we go and then put them together as an album under the KUARANTINE banner for people to listen to, before you know we'll have a handful of tunes and you can listen to it as a record.
KNAC.COM: What would be your argument to flip someone over to the 80s KISS camp?
JERICHO: It's hard, because you love the era of the band that you discovered. The first record I bought was Animalize so that's when I discovered the band and that's the band that I fell in love with. I had to go back and discover the 70s KISS. I still love it but I love 80s KISS better. I don't think I have the power to convert somebody from one era to another, but all I have to say is listen to the musicianship in a song like "No No No". It's almost 'proggy' at times! I also think Paul's vocals were better during the non-make up era than on the first six records, because he knew how to control his voice and it was stronger during that era. The songs are great, but my argument would be to listen to the musicianship during the non-make up era, the songs are there, the vocals are great and the musicianship is better because they're better players.
KNAC.COM: You first introduction to KISS was...
JERICHO: It was the "Heaven's On Fire" music video. I saw that video and that is what really set it off for me. Animalize was the first album I bought.
KNAC.COM: What's your take on the Asylum album?
JERICHO: I love that too! I think that is the best collection of Gene [Simmons] songs, that's another great record in my opinion. I don't think there's a bad song on that record. I'll give you a little scoop, one of the new KUARANTINE tunes that we'll be doing is from Asylum for sure. One thing from the Asylum era is that you can't find concert footage. You can go online and find stuff from Crazy Nights and Animalize, but there's a huge hole as far as concert footage from that era. I remember Gene looked so out of place during that era as far as what he was doing, and all the fluorescent costumes! I think it's a great record! Paul's songs are tremendous. It's a great album from top to bottom.
KNAC.COM: We're at the mid-point mark of 2020, what's the plan for you for the next six months? I know you mentioned that you're working on new FOZZY music and prior to the lockdown you were touring in 2020.
JERICHO: I want to stay creative, part of it includes stuff like this, working with FOZZY, working on my podcast Talk Is Jericho, I know musicians are getting bored because they make their money touring and being out on the road and interacting with people. I'm not one to remodel my house or work on buling a fucking bird feeder or something like that. What I do is I create, I entertain and I like to make music. I do what I can do to help entertain people and share what I do and what I create with them.
KNAC.COM: You have your own cruise where you mix rock and metal music and wrestling. Is that still on for 2021?
JERICHO: Yeah, it's still a go. Of course, who knows, we don't know what the future holds, but right now it's still scheduled for February of 2021. We're fullsteam a ahead for the 3rd cruise at the moment, which sold-out in three days. It's incredible. I think people are going to go nuts on the cruise after going through all of this.
KNAC.COM: You and your bandmates in FOZZY are very 'fan friendly'. I got a chance to meet you a few years ago when you supported SAXON in Portland. How do you feel about meet and greets at this point? I suspect you'll change how you do those or maybe do away with them altogether?
JERICHO: I've never been 'isolated' during this whole Coronavius thing, we've been working every week, we've been talking with people and meeting with people. We haven't been shaking hands or anything like that. I'm not as 'terrified' of the virus as some people are. I'm not saying that in a reckless way, I meet people out on the street, we're not spitting in each other's faces and we're not shaking hands or tongue kissing or anything like that. Since I'm taking these steps, I'm just not as worried about it.
KUARANTINE Official Facebook: https://www.facebook.com/kuarantineofficial/
FOZZY Official Facebook: https://www.facebook.com/FozzyRock/
Talk Is Jericho Podcast: https://www.facebook.com/ChrisJericho/