Sick & Twisted: The Disturbed Interview

By Frankie Perry, Contributor
Monday, February 4, 2002 @ 7:18 PM

| | | |
| --- | --- | --- |
| | | Disturbed Talk Of Penis Pumps, |
Fast and furious? Mindless ranting? Not Disturbed – toting a menacing demeanor does not mean you lack the intelligence it takes to show your passions. Most of today's new metal (or so they are dubbed) relies on fast, loud and repetitive sounds to make their point. You can't distinguish one band from another, all sounding angry because Mommy didn't give them a cell phone on time. This is where Disturbed takes over.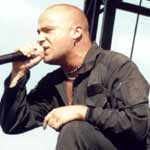 The four-piece band from Chicago, David Draiman (vocals), Dan Donegan (guitarist), Mike Wengren (drummer/programmer) and Fuzz (bass), got together four years ago as Disturbed. Dan, Mike and Fuzz had been long time friends. Not able to find the singer that would make the magic happen, then they came across David. "Since Dave joined, the three of us have developed incredibly," states Fuzz. " He was the first singer who came in and said, "Let's improvise"" adds Dan. "That took some balls. No other singer we worked with had done that. They all wanted to sing covers of other bands' songs."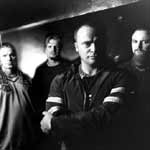 Disturbed has certainly kept the integrity to a real metal-sound and added their own ominous tone. Their lyrics have attitude, showing the values that they believe in, giving the people the most honest music produced to date. The abrasive, yet melodic sound was built from each members taste in music. Their unification of musical backgrounds range from the Sex Pistols, Pantera to Black Sabbath, giving Disturbed's sound the crunch and grind that separates them from the derisive accumulation of bands. Their release The Sickness is proof. Simplifying the meaning and passion behind The Sickness, David explains, "It represents the philosophy of individuality, the development of self, and finding the things in life that you are passionate about that brings you meaning."

You only have to look at Disturbed's ever growing fan base and the fact that they have stayed on Billboard's Top 200 albums chart for over 52 weeks. The platinum release, The Sickness was also certified gold in Canada, earlier this year, thanks to the fiercely memorable singles "Stupify" and "Voices." Both songs have been in permanent rotation Worldwide.



"There is no justification for a penis pump."

To promote their platinum music, Disturbed had their own 28-city headlining tour in the beginning of the year, ending May 11th at New York City's Hammerstein Ballroom. The power line-up included Mudvayne, Spineshank and Nothingface. "We loved our tour billing. We chose very strong, rock oriented acts that are full-on aggressive," states David.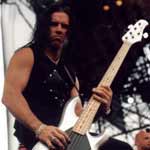 From there they took a breather before returning to their second year on Ozzfest. This year they will headline the second stage, which accommodates 15,000 screaming fans. Disturbed passed on the offer to play the main stage. "This is a full contact sport. This is not something you sit by on the sidelines and watch. You have to be involved in it. We don't want to play to people in seats. It's just that simple. I mean the whole vibe of the second stage is, in our opinion, a hundred times cooler. Granted that with the main stage you have the benefit of the Pavilion's enclosure and the production, and there's the sonic element-it does sound better at times. But, at the end of the day, you don't have the sea of people moving as one to the beat of the song."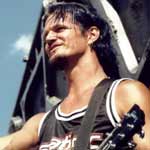 After Ozzfest, and a rest, we can look towards a new album to come out. "We write on the road all the time. It's a collaborative situation. When will you see the new album? That information, I can't tell you. It took our whole career to write the first one," explains David. "Since then, we have grown. The new lyrics, which we have been working on, show the growth. It's not as dark as the first work. We are going back to a more rock based root."

Recently the band has had a small modification. Their label "Giant Records" went through some changes and Disturbed can now be found on "Reprise Records." "I don't know if it is good or bad," says David. "I have no opinion on the switch, it's too early to tell. Hopefully it will not have a negative impact on us."


In asking David his opinion, on my discovery of many bands using penis pumps, on the road, he had some very specific thoughts on the subject. "There is no justification for a penis pump," explains David. "It's not always good to be long. If you have 12 inches, it's not going to fit in all the way. Girth is what is important. I get no complaints on that." Bless the man with a wide-load!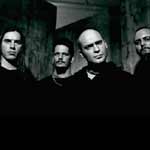 If you haven't seen Disturbed in concert, then you better get your Ozzfest tickets now. These guys will mesmerize you with their in-your-face heavy riffs and melodic tones. They are the most straightforward rock to hit the industry in a longtime. For their tour schedule and more information on the guys, go to www.disturbed1.com.

Live photos by Diane Anderson
Please log in to view RANTS