Chester Photo Credit: Tom Preston

In October of 2016, Chester Bennington and Sean Dowdell planned to get their old 90ís band GREY DAZE back together for an epic return and to play at a Club Tattoo Party in Arizona. They decided to re-record their past 90ís jams. As many of you know, Chesterís devastating passing took place shortly after that. Sean decided almost a year after Chesterís passing to go through with finishing the album in honor of Chester and to keep his music alive which all comes together in Amends, featuring a total of 11 songs with new instrumentals but Chesterís same original vocals along with several guest including KORNís Brian ďHeadĒ Welch and James ďMunkyĒ Shaffer, HELMETís Page Hamilton, BUSHís Chris Traynor, BREAKING BENJAMINís Jasen Rauch, Benningtonís other past band, DEAD BY SUNRISE bandmate Ryan Shuck, and even Chesterís son Jaime Bennington to wrap up and make this album everything Chester would have wanted. Luckily, I was able to talk to Mace Beyers, the original and current bassist for GREY DAZE for a bit to ask him some questions regarding the album and what it was like finishing it without Chester.

KNAC.COM: Hey Mace! How are you doing today?

BEYERS: Hi Krystie! Iím doing good, Same as yesterday. *Laughs* With this whole shut down thing I just wish I had the correct data to make an educated decision for myself on what exactly I should be doing *laughs* You know?

KNAC.COM: I feel you! I'm definitely ready for this to all be over so we can get back to normal.

BEYERS: Yep...Youíre in Houston right?

KNAC.COM: I sure am! Where are you at these days?

BEYERS: Very cool, I'm here in Arizona. It's silly to say but we actually just had a heat wave here this week. It was actually hotter then what it should have been. *Laughs*

KNAC.COM: Holy smokes! Nothing like that desert heat huh?

BEYERS: Yep! *Laughs*
KNAC.COM: Well thanks for taking the time out of your day to talk with us over here at KNAC.COM.
BEYERS: Of course! Thanks for having me.
KNAC.COM: So, take us back to the time of the planned reunion and how that all transpired.
BEYERS: So Sean and I opened up Club Tattoo Shop back when we were in the band together originally, things ended up changing with that and so forth and eventually once Chester joined his band and became established and had money he went to Sean and said ďHey let me in, i'll throw in some money and get involved with the businessĒ. So eventually he became a business partner with Club Tattoo and we ended up doing these anniversary shows, and I mean we would play, you know, jam bands, national acts and more. So, a bigger anniversary was coming up and Chester had talked to Sean about him wanting to do a GREY DAZE anniversary party and get us back together to do it. So that turned into us sending our original guitar player up to Washington with the producers to re-record. So anyways, really the whole thing happened because Chester wanted it to happen. It was great.
KNAC.COM: At the time of Chester's passing, did you ever have a moment of 'what do we do now'? At what point did you all decide to push forward with the project?
BEYERS: So Iím sure we all have different answers for that, you know for me, I was coming from a place where even Iím sure Cristin has a similar answer as me since he had recently lost his mother and I had recently lost a couple close friends and then I lost my father December 5th, my mother February 15th and then Chester, I mean it was just a tough time. This album was a cool thing coming at me to play with Chester and Sean again, having a re-do which you donít get as a musician at my age, so the devastation of the passings was a big combination for me so at this point I had a year or two of a rough patch and fogginess from all of that. So obviously the ďwhat do we do nowĒ part didnít really cross any of our minds right away at all but eventually Sean opened back up with it and wanted to finish it. It was like an internal quest for him so once we talked with everyone and got the blessings we went forward with it to what you guys have today.
KNAC.COM: Was Talinda on board with the idea from the outset?
BEYERS: So you know, After Chesterís passing there were a lot of people involved with this record. Talinda was obviously in charge of his estate. I mean, our plans were definitely going to be under the blessing of his family, we didnít want to do anything unless we had that blessing. Why would we want to upset anyone? So yeah, it was a big decision to go through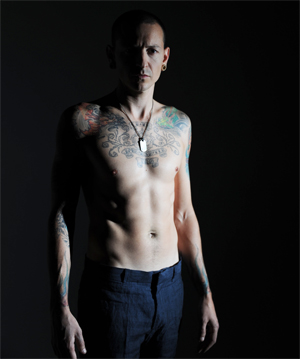 with it. Sean called a few different people, I called a few different people, and we kind of split up the connections and it took about 6 months to get all the connections together, so it definitely took a bit of time to get in touch with all the people, the friends, and of course the family.
Throughout the whole process Talinda was not able to listen to any of the music that we did. So, she respected everyoneís opinion, she knows everyone involved, so that part was coming out good but as far as listening to it, it was way too hard for her so we would meet her out for dinner and stuff down the street from the studio. It was hard for her that she couldnít come into NRG, which is where we did the majority of this release and where Chester did the majority of his recording.
KNAC.COM: What was it like working with Jamie, was it almost like working with Chester?
BEYERS: No, it was completely different. I had met Jamie a couple of different times with the recording but honestly the feeling is hard to describe because I guess knowing heís singing in the same microphone in the same studio as Chester, was just very heavy for me. So, for me, that part of the session was a really just very heavy and emotional time. It was the serious time to be in the studio when he was in there dropping the tracks. But at the same time, to see that he was hanging out with Draven and watching them hanging out, playing guitar together, goofing around, that was very cool to see. They all kind of grouped up in the studio and hung out together you know? So yeah, Jamieís a very well spoken and cool kid.
KNAC.COM: Now that it's been re-scheduled for release, what happens next?
BEYERS: I have no clue, I canít even tell you what will happen tomorrow with how everything is going on in the world. I would think after everything calms down, then we would hopefully have listening parties like we were wanting. To listen in-person and meet with people while connecting with all the fans, all of that. Obviously, that is totally different now but we are still interested in doing it. The label is pretty creative over there so Iím assuming when they come out with the listening parties around the world, I would have faith in Loma Vista that they will figure something out for June that is safe for everyone and we will work with however we have to handle it at that point with whatever is going on at the time. Sean was actually supposed to go to Europe for his promotional tour. He had the tickets booked, he was going to be promoting you know? His European fans are the most hardcore. *laughs* So really everything is still up in the air. Iím going to say it's probably going to come down to online live things. Or maybe it will calm down sometime soon in LA or other parts of the world where we can have some kind of minimal release parties. Who knows? I mean if there was a release party right now I wouldnít even go *laughs*
All I do now is video chat with everyone. Itís so fun. *Laughs*
KNAC.COM: Do you think Chester would be proud of what GREY DAZE has accomplished?
BEYERS: Absolutely. This is what he wanted. Absolutely.
KNAC.COM: If you could talk to Chester one more time what would you say to him?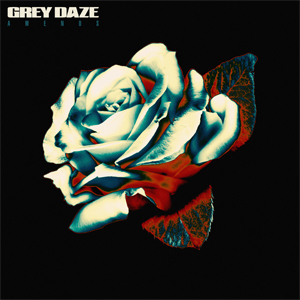 BEYERS: Well like I said before all of us would probably have a different kind of answer to that question due to the fact that we all had different types of relationships with Chester. But for me, it would be more of a conversation coming from an addict/alcoholic personal discussion level. I couldnít even come up with a question other than me just saying I wish I was around then to help him get through what he was going through in however many ways I could. You know, thatís kind of what the program is all about with helping addicts... is helping other addicts and alcoholics helping other alcoholics and so forth so it would be on that level which in mind, always contributes to depression or symptoms of which is all connected somehow. So, I always go to that point of view in my headÖ not that I know where he was coming from at the time at all but thatís all I can bring to the table so to speak, you know? Coming from my past experiences. Obviously for me it was the ďwouldíve, couldíve, shouldíve, what could I have doneĒ basically in a nutshell.
KNAC.COM: I do want to congratulate you on being sober, I know itís not easy and Iíve been through it myself. Iím sure it wasnít easy with everything youíve been through so I definitely want to take the time to say congrats as well as congrats on the album. Iíve listened to it about 20 times now and its absolutely everything I hoped it would be.
BEYERS: Thanks so much Krystie. Iím glad you are a fan of the album. And on another note, if I was still using or drinking it would have never gotten past the first phone call. In other words, when Sean reached out to me to do the reunion with Chester. At that point we actually hadnít talked in a while because, you know, I had done some stupid shit. But basically, because I was sober, we talked, we made ďamendsĒ so to speakÖ and that was because of sobriety so thank you, I appreciate that. In the end, it's all part of the story.