Life Of Splendor: JUNKMAN's Audio Interview With CHERIE CURRIE

By Junkman, On-Air Personality
Sunday, April 26, 2020 @ 11:46 AM




Cherie Currie is back with a new solo album, Blvds of Splendor, produced by Matt Sorum (GUNS N' ROSES, VELVET REVOLVER). Blvds of Splendor will be released April 28 via Blackheart Records - You can pre-order the album HERE.

You can watch "Behind The Scenes" footage of Cherie & Matt during the making of the album on YouTube HERE

Blvds of Splendor features guest collaborations with Billy Corgan of SASHING PUMPKINS, Slash and Duff from GUNS N' ROSES, as well as Juliette Lewis, Brody Dalle, THE VERONICAS and drummer Matt Sorum

The special digital only release features three bonus tracks (including a remake of THE RUNAWAYS classic "Queens of Noise" featuring Brody Dalle, THE VERONICAS, Juliette Lewis and Matt Sorum paying homage to late RUNAWAYS drummer Sandy West). "Queens of Noise" is offered as an instant grat track when you pre-order the album.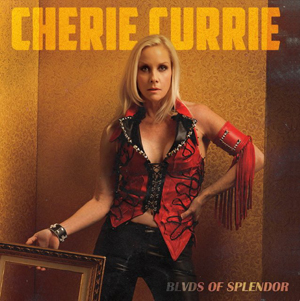 Please log in to view RANTS