FRAMING HANLEY, back from their 2015 hiatus and fully loaded with full force to come back into the music scene and release what some would say is their best album to date, Envy. I was lucky enough to get the chance to talk to Kenneth Nixon, the vocals behind it all, to discuss the new album, motivations, and the future for FRAMING HANLEY.

KNAC.COM: I do want to say, Iíve been a longtime fan and have loved every song Iíve heard from FRAMING HANLEYbut this album Envy is absolutely incredible. I feel like you guys took it to a whole new level, youíve all grown up so much and it really shows on Envy.

NIXON: Thank you! I think thatís one goal that we have always had, to be a band that can continue developing and never wanting to become stagnant you know? A lot of this album is built from the fact that we wrote it with this lineup of guys and personal experiences which I think has everything to do with the scope of the album and the strength of the album itself.

KNAC.COM: I definitely agree, I think I would say my favorite track from the album would still be ďThrowing KnivesĒ. I donít know what it is about it, but it definitely hits deep for me.

NIXON: Yeah! Itís funny cause we released that song a year or so before the album came out and it didnít really see quite the reaction that "Puzzle Pieces" saw as far as streaming numbers and stuff but once the entire album was released it was like a ton of people came out and said that "Throwing Knives" was definitely their favorite song on the album. I think not many knew it was already out.

KNAC.COM: I knew it was out and I heard it before but honestly for me, it was when I reviewed the album as a whole is when I appreciated it more. Usually when Iím reviewing an album, I actually take the time to sit there, block everything out and completely focus on that album and that album only until Iíve heard it all and sunk it in. Thatís honestly what can make someone understand it more so itís different, at least for me it is.

NIXON: Exactly, it is different for sure, itís one of the first songs that we wrote that Ryan came up with and was one of the first songs that he brought to me and was like ďhey letís do something like this!Ē This was back in 2013 or 2014... so, we planned on putting that on our next album before we even went on our hiatus. Itís an oldie but a goodie for sure, so Iím glad it is getting the response it is getting.

KNAC.COM: What would you say helped inspire you with writing these songs? You can obviously tell the intense emotion being poured out into each lyric, I think thatís honestly why I was drawn to them so much.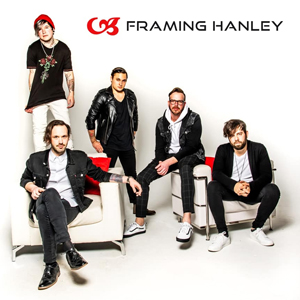 NIXON: It was about not creating songs that were supposed to be singles anymore, it was more about the shit I was going through and seeing my best friends go through and real-life experiences. I mean, not to shit on our previous catalogs (because we had some great songs that mean a lot and that Iím definitely proud of) but we didnít go into this saying ďwe have to have a song come out soonĒ you know, like "Stupid Girl", when we wrote that it was a lot of ďhey we need this out there on the radio as a single.Ē So, we didnít do that this time, it was more of an actual honest experience creating this album.
KNAC.COM: What was the process like making this album and being able to come back in full force since the past break up in 2015?
NIXON: Iím not sure if there was a ďprocessĒ but more like us really just getting together and writing songs. That was one thing we wanted was to make it strong from top to bottom. It wasnít about meeting a deadline obviously, we definitely didnít put this out in a timely manner, I mean it took 3 years to even get this album out.
KNAC.COM: Totally worth it.
NIXON: Thank you! We wanted to make sureÖ and when we did finally release a date for February 2020, that was November or December of 2019 even then we thought we had it finished but we kept writing anyways and ended up coming up with "Jokes On Us" and "Forgiveness Is An Art", which were the last two tracks we wrote and actually finished two months before the album even came out. Iím definitely proud of the fact that we never said ďalright the album is doneĒ until we actually felt it was done. We never once said ďhey we need to put this out to meet a deadlineĒ or anything like that, it was more of us really creating. We fell in love, or I personally fell in love with the whole creative process which has always been my favorite part of the music process. I love creating so it was a blast to continue to do that over the course of three years. We will see how long this next one takes us...*laughing*
KNAC.COM: Well I can definitely say you for sure have the creative mind, and itís incredible.
NIXON: Thanks so much, that really means a lot.
KNAC.COM: Can you possibly tell me your favorite song from the album if you had to choose one?
NIXON: Man, I donít know if I can just pick one, I mean "Say You Ever" is definitely up there for me. "Counterfeit" and "Jokes On Us" are definitely up there too. I love those three but itís hard to choose because I absolutely love all the songs, they are all great in their own way.
KNAC.COM: I know itís hard *laughs* thatís why I wanted to know what your answer would be. Every single song is mind-blowing.
NIXON: Good, Iím glad you feel that way. Hopefully others feel the same way! At the end of the day we didnít write these songs for anyone really besides ourselves so if other people like it, thatís amazing but if not, itís fine cause it means a lot to us personally either way.
KNAC.COM: Even though we donít know when things will get back to normal from the coronavirus pandemic, what can you say you are you looking forward to the most with the upcoming tour?
NIXON: Just to get back out on the road you know? We are at this point right now where we are kind of firing on all cylinders and still figuring out the chemistry of all five of us when it comes to writing together so honestly I just canít wait until we can all finally get into a room together since all the isolation we are currently having to deal with. Currently, we all have to stay away from each other for the most part unfortunately so I guess Iím mainly excited to just get back to normal and get into a room with these guys and start writing again. Last Tuesday, Nic and I started a new song that I am really excited for and have high hopes for so Im also excited about that. You know, we went through this length of time where I had to separate myself from music and the band and literally did not want to even talk about music at all but when I came back around and it happened again, it was the right reasons. I got back into writing songs in a form of therapy to support myself AND my family, and that alone made a huge difference with my writing. I really just love the process of song writing and creating again. So yeah, Iím excited for this coronavirus shit to blow over so everyone can get back to normal and we can play some shows!
KNAC.COM: Is there any artist out there you would love to go on tour with?
NIXON: I would definitely say BIFFY CLYRO.
KNAC.COM: Really?!
NIXON: Definitely. Thatís my favorite band in the world. We really always loved the fact that we sort of transcend different genres you know? For a long time we were too ďemoĒ back in the day for the ďactive Rock and Nu-Metal sceneĒ so because of that we toured with bands all across the board, for example, bands like THEORY OF A DEADMAN, HOLLYWOOD UNDEAD, and even GOOD CHARLOTTE, so there is never a type of artist that we feel we are stuck with, I feel like we adapt our setlist to fit whoever we are out on tour with. So, for me, BIFFY would be number one, but also if there was a different kind of artist or genre I could choose from it would be HARRY STYLES for sure. I think that guy is going to go down as a huge icon in music from this generation when all is said and done. He is a pretty special artist and I fucking love both of his albums, so that would be pretty dope to play arenas with that guy for sure! *laughs*
KNAC.COM: He is definitely getting bigger and bigger by the minute.
NIXON: Deservedly so, I mean he reminds me of BOWIE meets THE BEATLES meets JUSTIN TIMBERLAKE. Thatís a pretty damn cool recipe.
KNAC.COM: I totally agree with you! *laughs* What do you think is in store for the future of FRAMING HANLEY?
NIXON: I know we will put out a new release this year. Either itís a full-length album or an EP or just a couple singles. Who knows but itís just fun again for us because we are all fully invested, creating, and not stopping short of a song or ideas potential. "Forgiveness Is An Art" was the last song we did for our album and Stoye, who is usually our bassist, played guitar for that song and it was also the first song he and I ever sat down and wrote together so I think moving forward he and I will write much more. Like I said before, thatís one of my favorite songs on the album, so to feel that way about a song that is the first song I ever wrote with that dude has me pretty fucking stoked for the future.
So, we will definitely put out some more stuff this year, continue writing, playing some shows, and for me, Iíll continue with my solo stuff I have going on as well. So, it can only go up from here and itís going to be nice playing at places I havenít seen in 6+ years. Itís going to be great for sure. Iím stoked!
https://www.facebook.com/FramingHanley/
Twitter: @FramingHanley