Shaking The World: And Exclusive Interview With BLACK SWAN Vocalist ROBIN MCAULEY

By Ruben Mosqueda, Contributor
Saturday, February 29, 2020 @ 9:17 AM

| | | |
| --- | --- | --- |
| | | "...we didn't want WHITESNAKE meets DOKKEN meets WINGER meets FOREIGNER meets M.S.G." |
Live Photo By Geoff Ketler/Aces High Photography
Frontman ROBIN MCAULEY is happy to be alive, having recently suffered a health scare when he contracted a virus, which landed him in the hospital and in the intensive care unit. "I didn't see it coming, I was packed and ready to leave for the 70,000 TONS OF METAL cruise with Schenker, I got cold and within a 20 minute window my body went into total shock! One of my boys called 911, next thing I know I'm in the ER, then I'm being transferred to the I.C.U., the long and short of it is that I contracted the E Coli virus then it became a bladder infection, which then became septic and tried to knock the old man down"!, recalls McCauley. "I'm grateful to be here, I was told by my doctor that because I was healthy I was able to pull through better than most people. I'm feeling great I'm back doing RAIDING THE ROCK VAULT here in [Las] Vegas and I'm getting ready for SCHENKER FEST which will go to Japan in March, then we head to the U.K. and Europe through April. Dead man walking"! In addition to his regular gigs, McCauley is getting set to release a new album with BLACK SWAN, the title of the album is Shake The World, due on February 14th on Frontiers. BLACK SWAN also features guitarist REB BEACH [WINGER, WHITESNAKE], bassist JEFF PILSON [DOKKEN, FOREIGNER, M.S.G.], and MATT STARR [MR. BIG, ACE FREHLEY] rounding out the band. <KNAC.COM caught up with McCauley who was doing press to promote the release and in addition to BLACK SWAN we also talked M.S.G. and he shared a short story about the late great producer ANDY JOHNS.
KNAC.COM: You're releasing a new album with BLACK SWAN, Shake The World. The band features JEFF PILSON, who you have history with since you both played in M.S.G. together.
MCAULEY: Yes! On Valentine's Day! I love working with Jeff. As you stated we worked together on M.S.G., he initially just wanted to produce the album.
KNAC.COM: Is BLACK SWAN a Frontiers project or are you hoping that this will be an ongoing thing?
MCAULEY: Well, I was initially approached by SERAFINO [PERUGINO] at the label [Frontiers], he said "I think we should do something, we haven't done anything with you yet!" I said, "That would be great, I wasn't taking it personally!" At the time that I was approached the timing wasn't the best, because I was doing the Schenker thing and was busy with THE ROCK VAULT, we wound up putting that on the back burner. Jeff called me about a year ago, he said that Frontiers had contacted him about putting a band together, he mentioned that he had worked them quite a bit on a production level, he mentioned that his go to guy
was REB [BEACH] because he has done some work in DOKKEN with Reb, then then said he'd love me to be a part of it. He asked what I thought about it? I didn't have to think about it because Reb is just awesome! I was surprised that Jeff didn't want to play bass in this band, he had a bunch of bass players lined up and drummers. We compared schedules and we looked them over, hoping we could find a time when we could all be in the same room together to get to work. In the meantime, Reb had come over to Jeff's studio in L.A. and they had worked on a couple of ideas and they sent them to me. That jumpstarted the project. The label really wanted a 'classic rock' record, it was more of the same. I don't want to do more of the same. We left that hanging until I was able to make it into the studio, I shared with them what I had been working on and sang to them what turned out to be "Big Disaster". Reb found that comical he said, "That's just great! This is the first time we're writing together and you come in here singing about this big disaster"!, I said "You know I didn't even think of that"! I thought it was a cool song and it has a great chorus, they agreed, that was the first song that we wrote as a band. That helped push the writing process forward, they continued writing and I continued writing and before you knew it we had 12 songs. It was hard matching our schedules, but we made it work. I love the production of the record. It's very organic sounding and the songs are great. Plus we got him to play bass which makes it even better! As we started recording the bass players that Jeff had lined up became unavailable, the same goes for the drummers that he had in mind. We got MATT STARR and he was 'the guy' for this band. I had worked with him in RAIDING THE ROCK VAULT and Jeff had worked with him too. It worked out just like it was meant to be, Reb and I were NEVER going to have another bass player in this band, whether Jeff liked it or not! [laughs]
KNAC.COM: BLACK SWAN does have a contemporary hard rock sound.
MCAULEY: Yeah, we didn't want more of the same, we didn't want WHITESNAKE meets DOKKEN meets WINGER meets FOREIGNER meets M.S.G. We really wanted to do something different that what people would expect or that we'd even expect from ourselves. I'm not saying that it doesn't have some 'classic rock' elements but it's our version of 'classic rock".
KNAC.COM: Who suggested to MICHAEL SCHENKER to change the name of the band to MCCAULEY/SCHENKER GROUP when you came on board?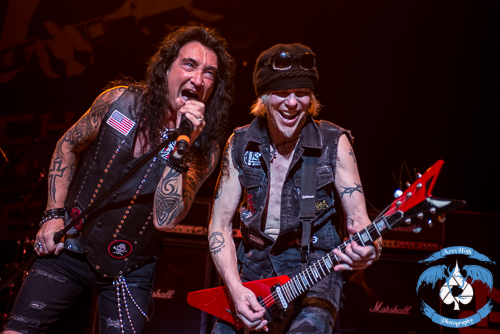 MCAULEY: I was auditioning at Rudolf's [Schenker] studio, I was the last of 17 singers, I had previously turned down MICHAEL [SCHENKER] four years prior when he came down to see me in my previous band GRAND PRIX. He was with COZY POWELL, CHRIS GLEN and ANDY NYE, they asked me to come in and rehearse with them, like with everything else timing is everything. When I got the call to come to the studio four years later, Rudolf and KLAUS [MEINE] and management were there and Michael says, "Interesting that your last name starts with an 'm' and my first name starts with an 'm', I have decided that I'm calling this band MCCAULEY/SCHENKER GROUP! I was like, "No, you can't do that! I don't feel comfortable doing that"! I thought that the idea was just crazy because M.S.G. was already a well established band and the logo was identifiable within the rock world. Michael said, "You've got the gig and I get the name". So that was that! [laughs] I was never up for it, I was never up for it, but Rudolf and management liked the idea. 30 years later we have included some of the songs from the MCCAULEY/SCHENKER era in SCHENKER FEST.
KNAC.COM: You wrote two of the M.S.G. hits, "Gimmie You Love" [from Perfect Timing 1987] and "Anytime" [from Save Yourself 1989] which got airplay on MTV and got the band on the radio. Did you get any push back when you brought in these or other songs in, that might have been slightly uncharacteristically Schenker?
MCAULEY: Well, the label and management were looking for radio play in America and they wanted to get videos played on MTV. When I became part of the band that was the first time that Michael got any of that. I think everyone was thrilled with the songs that I brought to the table because they helped to hammer away at getting airplay on radio and MTV. We needed to get the 'hit' video on MTV to get the good tours, but at the sametime there were the hardcore fans that would be like, "this new singer has just destroyed everything that was M.S.G."! Years later I have to point out I didn't write the music, I wrote the melodies and the lyrics! MICHAEL SCHENKER wrote the music! [laughs]
KNAC.COM: You told me a story a few years back about working with Andy Johns, he got the snare drum sound by firing a gun into a sandbox in the studio?
MCAULEY: Absolutely! [laughs] When Michael and I were looking for a producer [for Perfect Timing], we thought of Andy because we loved the snare drum sound that he got on the CINDERELLA album [Night Songs]. So we got Andy for our record, we were recording the album in Hollywood, Andy has someone deliver a huge box of sand. Andy comes in and he is micing up the sandbox! We look at each other and we're like, "What the hell"!? So Andy then produces this Smith & Wesson Colt .45 and he sticks an old snare drum skin to the top of the box, he takes a couple of overhead mics and he says "Alright! Let's record this thing"! He fires off a couple of rounds, he records them and he triggered the gunshot with a snare drum sound! [laughs] I couldn't believe it! I have to say the sound is bitchin'! [laughs] You've never get away with something like that in this day and age! You'd have a S.W.A.T. team outside the building with their guns drawn ready to break down the door! [laughs]
KNAC.COM: You've been doing RAIDING THE ROCK VAULT for how many years now?
MCAULEY: 2020 will be our 7th year and it's been a pleasure doing show, if you can believe this at the present time we have performed almost 1500 shows to date. It's a great 'classic rock' show.
KNAC.COM: Lastly, I know you're into vampires and you're probably a yourself, how does a vampire celebrate the release of their new album on Valentine's Day?
MCAULEY: Oh dude, by taking the biggest bite possible, of course! [bursts into laughter]
BLACK SWAN Official Facebook: https://www.facebook.com/BlackSwanRockNRoll/
Robin McCauley Official Website: http://www.robinmcauley.com/
RAIDING THE ROCK VAULT: https://www.raidingtherockvault.com/
Please log in to view RANTS