BRIAN POSEHN is known for his work as a stand-up comic, he's also known for roles on television [THE BIG BANG THEORY, SARAH SILVERMAN PROGRAM, MISSION HILL] and film [THE DEVIL'S REJECTS]. Posehn has released four comedy albums all of course reflect his love of metal music. Posehn has dabbled in music on his comedy albums and has added a song or two, such as "Metal By Numbers" from Live In: Nerd Rage [2006] and "More Metal Than You" from Farts & Weiner Jokes [2010]. Poshen is due to release his first ever all musical record, titled Grandpa Metal, that's due on February 14th, 2020 on Megaforce Records. The first single off the album is a cover of A-HA's "Take On Me". Poshen caught up with KNAC.COM on January 20th to give us the low down on the album, amongst other things.

KNAC.COM: This is your first full musical venture as far as albums go. How long has Grandpa Metal been in the works?

POSEHN: [laughs] So, it has been almost embarrassing to say how long this took! [laughs] It took me about 6 years from the idea to the completion of the last song. It was always after SCOTT [IAN] and I had done those other songs that we had the intention of doing a full-length album at some point. We hooked up with Megaforce Records about 5 years ago to do the record if you can believe that! We've been calling this the Chinese Democracy of comedy records! [laughs] This didn't cost 13 million dollars to make like his did! [laughs] I worked with a super patient producer JAY RUSTON, I had worked with him before doing this record, he lives nearby and Scott isn't too far either, so it was done whenever we could get together. We'd cruise over to Jay's place and work on the record. Megaforce was very patient with us, but it did get to a point where they asked, "Hey are you going to do this?", so I wound up getting help from other people to get the record done.

KNAC.COM: You have tons of guests on this album, but the one that stands out to me of the two tracks that you have the late JILL JANUS, who is featured prominently on the first single "Take On Me" which is a cover of the A-HA hit from the 80s.
POSEHN: All of the people featured on the album with the exception of 1 or 2 are friends. JEFF PILSON I didn't know personally but he was working with my producer and he was asked to be a part of it and he agreed. Everybody else was me asking friends for favors and they agreed.
JILL JANUS I had asked early on, she wanted to be on the record, but she wasn't so sure if she could do the comedy thing. I had written "Goblin Love" with her in mind specifically. She is one of my favorite vocalists, she killed it on "Goblin Love". She was a dear friend, she was just so talented. I was fortunate to have gotten her to sing on "Take On Me" as well, what a bummer when I found out she passed. I'm so stoked for people to hear her on this album.
KNAC.COM: How did you go about selecting "Take On Me"? It's an interesting choice.
POSEHN: I've always said to my friends that all songs are always better with metal! [laughs] If you cover a song, whatever it is, it's made better by making a metal version of it. I'm half joking, but then I'm not! [laughs] You know what I mean? I just love metal so much. Like what I did with "The Gambler", I gave it a twist. I have covered songs that I grew up with and made them metal. I mean have you ever heard someone cover "Take On Me" like this? I have CHUCK BILLY from TESTAMENT and STEVE 'ZETRO' from EXODUS on this! [laughs] And I get to do the 'silly' COOKIE MONSTER thing that I do with two of my all-time favorite singers on my record! I know it sounds cliche and silly but this was like a dream come true, actually the whole record is.
KNAC.COM: Will there be any 'one-off' gigs to promote Grandpa Metal?
POSEHN: We're trying to figure that out. Scott and I have performed "Grandpa Metal" once already on the MEGACRUISE last fall. We're trying to figure out how we could do some standup and speaking engagements and where we could then do some performance stuff from Grandpa Metal. We don't have anything on the books as of yet, but we hope to do a number of them this spring and summer. I'll do standup, he'll tell some stories, we'll them come out together and tell some stories and then we'll do a handful of songs. Right now, we're planning on doing a performance at AMOEBA RECORDS in L.A. on the release date and we'll have [bassist] JOEY VERA perform with us, should be very cool.
KNAC.COM: You're no stranger to the stage, having 30+ years of standup under your belt. How was it for you to hit the stage to perform music?
POSEHN: I'm NOT comfortable doing the singing! [laughs] I mean, I only did one song on the MEGACRUISE, I really rehearsed it and was prepared, but I was super nervous! It was just out of my wheelhouse, I didn't get into this business to sing! It just sort of happened, I don't...I'm not going to be FOZZY, you know what I mean? It's not going to be a fulltime thing, that isn't the intention, I don't think I would ever 'tour it', and I don't think I would ever go out with a band, but there will be songs in the future performed live.
KNAC.COM: I remember watching THE DEVIL'S REJECTS in the theater years ago and saw that you were featured in it. My first thought was "fuck, he's going to die". What was that experience like?
POSEHN: That was the opposite of what I did for my record. I asked people to be in it, this was ROB ZOMBIE asking me to be in his movie. I have been a fan of his for a while leading up to my appearance in THE DEVIL's REJECTS. Like you said, he asked "Hey do you want to be killed in a horror film?" Of course I said "Yes", then the next thing I know I'm on the set. I was jealous of my friend CHRIS HARDWICK who got to be in HOUSE OF 1,000 CORPSES. He's not a huge metal fan but there he was! To see Chris get killed in the first film, I was like "Dude, I wanna do that"! It took a couple years but I got my chance.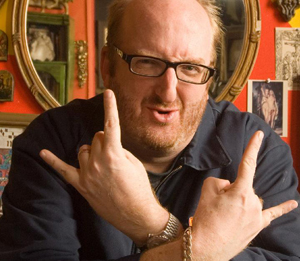 KNAC.COM: On your album Farts & Weiner Jokes you have the bit you do about SLAYER. Have either TOM ARAYA or KERRY KING ever heard that to the best of your knowledge and if so what did they think?
POSEHN: [bursts into laughter] You know those guys DO have a sense of humor! I have hung out with both of them over the years, I'm not going to say that I'm super close to them, but I know them and have gotten to know them. Kerry's wife Ayesha told him the joke backstage a while back. It's funny that you brought up Zombie because this goes back to when SLAYER and ROB ZOMBIE did their co-headlining tour [HELL ON EARTH 2011]. I remember it was the show up in Seattle, we were backstage and Ayesha said "Hey Kerry have you heard Brian's joke?" [laughs] She proceeds to tell him the joke on the spot! [laughs] He gives me this look! [laughs] I mean the guy already thought I was a big weirdo! After that I don't know that he knew what to think of me! They know that I'm a fan and I was coming from a place of love on that one! [laughs]
KNAC.COM: There was some 'weirdness' about you meeting METALLICA for the first time when you were a teen.
POSEHN: [laughs] They had just played The Kabuki in San Francisco, it was in the early days, in fact they might have just been signed by Elektra Records. Anyway, they were blowing up, they weren't 'massive' yet but they were starting to get a buzz in the metal community. My friends and I knew who they were and we were huge fans, my buddies and I, straight out of Sonoma High School we approached the band. We were about an hour away from the Bay Area and there we were in our brand new denim jackets...my friends had started growing out their hair. Me, I didn't have long hair, my mom wouldn't let me, but I had a little bit of a perm with some growth to it. We looked pretty bad! [laughs] So, we went up to METALLICA, I was the spokesperson for some reason, I said, "Hey my buddies are going to start a band, what do you think they should call themselves?" James looks over and says, "Almost". [bursts into laughter] I mean, he should have just called us 'posers', he didn't but after that, he didn't have to! [laughs] CLIFF BURTON was standing there watching and he was laughing and shaking his head! [laughs] That all happened after KIRK HAMMETT made fun of us first because one of us said "You shred!" He gives us this look and said, "I don't 'shred', I don't even cook!" Oh my god, dude! [laughs] That used to sting a lot over the years, but I can laugh at it now. [laughs] I'm still their fan and they are great guys.
KNAC.COM: Since we're talking METALLICA, I saw METALLICA in December of '18 on the second leg of the 'Hardwired Tour'. They did something interesting and brough JIM BRUEHER on board to open. Like the guy or not, that was a tall order since comedy sets don't last around 90 minutes. That was a tall order, in my opinion.
POSEHN: I didn't see that, but when I heard about it...I just thought how can you fill 90 minutes opening for METALLICA? I've done my fair share of appearances...I opened for SLAYER at a festival in Austin, Texas that was only 20 minutes and the whole time I was apologizing, because I knew people were there to see SLAYER.
KNAC.COM: I don't know when the appearance was, but did you do 'The' SLAYER joke?!
POSEHN: [laughs] I did! [laughs] So, it was a while ago because I have since 'retired' it. That night there were some pockets of guys in the audience that were flipping me off the entire set! [laughs] I had opened for MASTODON before where there was a guy who was screaming at me the entire set! [laughs] During the festival appearance opening for SLAYER there were a couple of guys screaming at me along with the guys flipping me off! [laughs] Opening up a metal show can be tough, but I enjoy the hecklers to a certain degree. I get it, I'm a fan too.
KNAC.COM: You're on CAMEO, is there anything that you won't do on there? Where do you draw the line?
POSEHN: It's already kind of cheesy as it is! It's a cool thing if you do it well, in my opinion. The ones I won't do are the ones that are blatant advertising. I stay away from those. There's one where this kid was going to a marketing interview and he hired me for his interview! [laughs] I thought that was clever!
KNAC.COM: So was he having you recite his resume via CAMEO?
POSEHN: Exactly! [laughs]
KNAC.COM: You always hear people saying this is the new this, this is the new this. Is 50 the new 40?
POSEHN: [bursts into laughter] No! I think for me, personally speaking, I think that it is. I haven't changed much since I was a kid. I have always felt younger than most people that are my age. I feel at least 20 years younger than I am. I go to reunions and see people that I grew up with and I don't feel as old as they look! I don't think I act as old as they look either, you know what I mean? So, I'm 53 and I act like I'm 46! [laughs]
KNAC.COM: Would you not agree this music keeps you preserved to a degree?
POSEHN: Definitely! Absolutely! I'm into metal, STAR WARS, comic books, it's all of that.
https://www.facebook.com/TheBrianPosehn
http://brianposehn.com/