A New Era: An Exclusive Video Interview With ROUGH CUTT

By Krishta Abruzzini, Pacific Northwest Writer
Monday, January 6, 2020 @ 10:21 AM

| | | |
| --- | --- | --- |
| | | Dave Alford On The New Lineup: "All I can say is, it's a cool new world." |
Band Photo Credit: Joe Schaeffer Photography
Formed in 1982, ROUGH CUTT has had a few lineups, with a few noteworthy musicians that included Paul Shortino (vocals), Jake E. Lee (guitar), Claude Schnell (keyboards) and Craig Goldy (guitar).
The original lineup featured vocalist Paul Shortino, drummer Dave Alford, guitarist Jake E. Lee, keyboardist Claude Schnell and bassist Joey Cristofanilli. Both Alford and Lee had previously been in RATT. Lee left ROUGH CUTT shortly after its formation to join DIO, and would later replace Randy Rhoads as Ozzy Osbourne's guitarist. Former RATT guitarist Chris Hagar stepped into Lee's place as guitarist for ROUGH CUTT.
Ronnie James Dio had a very instrumental influence on ROUGH CUTT. Wendy Dio managed the group and Ronnie even helped write a song. ROUGH CUTT were signed to Warner Bros Records in 1984. Unfortunately, the label prioritized a couple of their other signed acts (VAN HALEN, DAVID LEE ROTH), and after waiting for over a year to work with Producer Ted Templeman, the band decided to go another direction and work with Tom Allum (JUDAS PRIEST, BLACK SABBATH) and released their debut album, Rough Cutt (1985). The band toured in support of their release alongside KROKUS, ACCEPT and of course DIO.
Although the band never achieved international recognition, through the years, it has remained a semi-constant. 2016, the classic lineup of Shortino, Alford, Derakh, Hagar and Thorne reunited and went on to play The Monsters of Rock Cruise in 2018.
In 2019, Shortino went on to play with Carlos Cavazo's ROUGH RIOT, which was somewhat of a supergroup converging members of ROUGH CUTT and QUIET RIOT. Alford and Hagar soon started auditioning the new lineup, to reform ROUGH CUTT.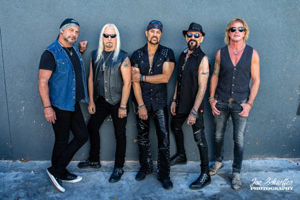 The new lineup, includes original members Dave Alford (drums), and Chris Hagar (guitar). Powerhouse singer Steven St. James (SARGE), Jeff Buehner (bass), and guitarist Darren Housholder (LOVE/HATE) complete the lineup.
Playing to a sold-out audience, the band debuted their first show in direct support of L.A. GUNS in Portland, Oregon on Nov. 29, 2019. While nearly 36-years have passed, ROUGH CUTT holds their own. With somewhat of a cult following, nearly as many fans that were there to see L.A. GUNS were there to witness the resurgence of ROUGH CUTT. They performed a powerful 10-song-set proving their rock & roll relevance in this brand new (cool) world and decade. The audience got a little teaser of new material with a song written by Hagar, St. James and Alford titled "You Wanna Be A Star" as the set closer.
In a very late night interview, the boys sat down with KNAC.COM to chat about their new material, recordings and a few road stories about Ronnie James Dio.
Please log in to view RANTS