Live Photos By Alex Yarborough
Band Photo Credit - Hristo Shindov
SONS OF APOLLO, the supergroup featuring DREAM THEATER members MIKE PORTNOY and DEREK SHERINIAN, RON "BUMBLEFOOT" THAL [ex-GUNS N' ROSES, ART OF ANARCHY], BILLY SHEEHAN [THE WINERY DOGS, MR. BIG, DAVID LEE ROTH] and JEFF SCOTT SOTO [ex-JOURNEY, ex-YNGWIE MALMSTEEN] will kick off the new year with their follow up to 2017's Psychotic Symphony, sophomore studio album, is appropriately titled, MMXX [2020]. KNAC.COM caught up with drummer MIKE PORTNOY on December 20th for a quick chat about the new album.
KNAC.COM: In 2017 I spoke with DEREK SHERINIAN for KNAC.COM and he had one of the best quotes ever, he said "Mike and I have have mastered the art of strategic wankery". I thought that was just wonderful.
PORTNOY: [laughs] That totally sounds like Derek! [laughs]
KNAC.COM: The new SONS OF APOLLO album MMXX is coming this January. Was the production on that one also handled by you and Derek?
PORTNOY: It is, it's teamwork between Derek and I handling the production, but I will give extra credit to Derek because he was extra involved this time around. He was very, very thorough with overseeing everybody's tracks.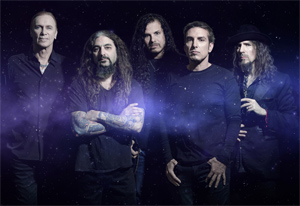 KNAC.COM: Psychotic Symphony was issued in 2017 and it's still fresh to me, you also managed to release a live album/concert in 2019. Great package, was that presented to you by the label? How did that come together?
PORTNOY: It didn't come from the label, I wanted to do something, I always do a live release for all the bands that I've been involved with. I love doing stuff like for the fans and for prosperity. As far as doing that specific show, I have to credit our manager ANDY FARROW, he also manages DEVIN TOWNSEND and OPETH. He had a relationship with that particular venue and promoter, every summer they've had a special concert at that venue, in years past he has done that with OPETH and DEVIN TOWNSEND and some of his other bands. It worked out that we'd be able to do it around our touring cycle in 2018, in the case with the other bands that have done it, they've revisited one of the albums and performed it with the orchestra in its entirety. In the case of SONS OF APOLLO we only had one album, so I had the idea of doing a set of covers too. I've always been a fan of doing covers in DREAM THEATER, TRANSATLANTIC or any of my other bands, it was a great opportunity to do something special. It was such a fun show, it's like all the stars aligned that night. It was a beautiful venue, it was a beautiful night, we had this excellent setlist of covers, we had the orchestra and the choir, we filmed it for a DVD and it's one of the best live releases that I've been a part of.
KNAC.COM: On "Comfortably Numb" you handle lead on that, then JEFF [SCOTT SOTO] handles a couple verses and then Bumblefoot handles the background vocals. Was the vision for you to open that with you in lead vocals?
PORTNOY: That's the beauty of SONS OF APOLLO is that we all share vocals. All of my favorite bands have members that shared vocals; THE BEATLES, QUEEN, KISS or like with this particular example PINK FLOYD. If you listen to the PINK FLOYD version ROGER WATERS does the verses and DAVID GILMOUR handles the choruses. I think because of that it was just the logical thing to do was to split it up here as well. And you see that throughout the show, as we shared lead vocals and harmony vocals that night.
KNAC.COM: Going into the new album, you got a jumpstart with two music videos, the first which was "Goodbye Divinity", which every time I watch that I become a bigger fan of SONS OF APOLLO.
PORTNOY: I'm shocked at how hot "Divine Divinity" came out right out of the gates. It's been out about two months right now and it's got over 2 million views. That's pretty massive for a band like ours which hasn't been established for very long. We're a prog-metal band playing an 8 minute song—- it's shocking! We're so grateful to you and all the other fans that get it. We also just released a video for "Fall To Ascend" and the reaction incredible for that too! It's been a hit right out of the gate.
KNAC.COM: Were there any challenges in making MMXX outside of coordination of schedules?
PORTNOY: Actually, there weren't any, like you said, coordinating schedules was probably the only challenge, when it comes to the music we work together really smooth, there's no lack of ideas, the process and the chemistry works really well. We had a similar experience the first time around, it was myself, Derek and Bumblefoot putting the music together, then handing it over to Jeff to handle the vocals and then Derek and I oversee the process. We knew we wanted an album out in 2020, so we started in January of 2019 writing the record and tracking drum tracks before I went out with THE NEAL MORSE BAND, then THE WINERY DOGS and then with FLY COLORS. Once I completed the drum tracks it allowed the rest of the band enough time to get their parts done.
KNAC.COM: Where do you find the energy to tackle all these different bands?
PORTNOY: Everyone is wired different, for me personally, luckily I'm a very organized, OCD person so I'm able to keep track of everything that I'm doing and stay professional. I think there's people who don't always answer emails or aren't organized enough to know what's going on from day to day. I'm definitely not that type, I'm hands on and stay on top of everything. Currently, I'm in six different bands and in 2019 I have been active in one way or another with all six! It's always crazy, but I've been doing this for many, many years so it's what I do. In terms of remembering the music, I always look at where my feet are, I take it day
by day, so today I'm with FLYING COLORS so I have to know these songs, tomorrow I will be out with SONS OF APOLLO so I need to know those songs. I look at where I am day to day, in terms of the music, the other side of the coin is scheduling and with that, I always have to be looking ahead. If I'm doing a 9 month tour, I need to know when the album will be out, when the album needs to be delivered to the label, there's always a deadline, so I always have to be mindful of what I'm currently doing so that I can do other things later in the year. So, there's the music side of things and the scheduling side of things and I seem to be able to balance both very well so far! My head hasn't exploded yet! [laughs]
KNAC.COM: How do you keep the egos in check in the band, as in everyone in this band is a virtuoso on their respective instrument, everyone writes and I'm sure there's some level of compromise that makes this all runs smoothly.
PORTNOY: Every band is different, but with SONS OF APOLLO, when Derek and I put the band together it was with the understanding that Derek and I were going to be the 'difacto' leaders. It's not like that with the other bands that I'm currently a part of, in those bands we're in an equal partnership, in those bands everyone has a say and everyone has equal input. When Derek and I put together this band, I said, "Listen, I can't be part of another band and have to answer 100 emails on every single matter and subject. I just can't handle it! It has to be different." So with SONS OF APOLLO the only way that it was going to work was if Derek and I took the reigns and oversaw things as producers and made final decisions. That's not to say that everyone in the band isn't an equal member, we do everything equally, but there has to be a chain of command, the buck has to stop somewhere so to speak.
There have been a couple of times in SONS OF APOLLO where this has created a bit of an 'abrasion'. Bumblefoot and Jeff for instance are very creative, very capable people, they can do stuff as strongly on their own as they can with this band, but there have been a couple of times when those two guys wished there wasn't this hierarchy within the band. At this stage in our lives we just want to keep moving forward. When you have five very strong personalities, you could get stuck going around in circles, it's hard to get people to agree and it's hard to get people to compromise. Sometimes you just need a couple of leaders to put their foot down, so that we can move forward. I think everyone knows their role in the band and they've accepted it.
KNAC.COM: As we wrap up, I want to name your band members and you tell me a song or piece on MMXX where they shine.
PORTNOY: Let's do it!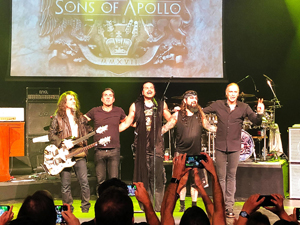 KNAC.COM: BILLY SHEEHAN.
PORTNOY: I now have the honor of working with Billy in multiple bands. He gets to shine in everything he's been a part of. In THE WINERY DOGS he gets to play a little 'loosy goosy' compared to SONS OF APOLLO where it's more about precision. There's a bass solo in the middle of "Resurrection Day" where he gets to do his thing, I think Billy is at his best when he's soloing, that's his trademark.
KNAC.COM: What about your partner in crime DEREK SHERINIAN?
PORTNOY: I would say "King of Delusion" because that started with this classical piano piece that he brought in. He's never done a classical piano piece on any of the records that he has ever recorded. In the middle of that there's also a great piano and drum piece that's really cool.
KNAC.COM: BUMBLEFOOT.
PORTNOY: We have a 16 minute album closer "New World Today", and there's two moments on that where Bumblefoot really shines. There's a part in the middle of the song that we call 'adventures in Bumbleland' because he does all these crazy, crazy riffs that he brought in that we incorporated into the song. He's the 'mad scientist' of the band for sure.
KNAC.COM: JEFF SCOTT SOTO.
PORTNOY: I love the soul that he brings to the band, which isn't something that you hear a lot of in prog bands. You just don't hear guys with that funky, AOR vibe in this genre. He brings a 'smoothness' to everything this band does. I think my favorite JEFF SCOTT SOTO performance on MMXX has to be "Desolate July". He wrote those lyrics about our friend DAVID Z who passed away a few years ago in an automobile accident while on tour with our friends in ADRENALINE MOB. There's a lot of heartfelt emotions in the lyrics and on the performance in that song.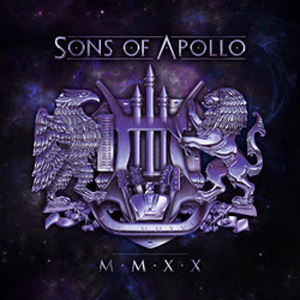 KNAC.COM: If someone were cast as MIKE PORTNOY to play you in a biopic, who would that be?
PORTNOY: Oh, man! No one has ever asked me that before. That's crazy! [pause] I got it! It has to be JOHNNY DEPP! He's the ultimate in cool, right?! Who doesn't want the ultimate in cool to play you in a movie? [laughs]
KNAC.COM: He could do it.
PORTNOY: He'd have to get a blue beard! [laughs]
KNAC.COM: 2020 will be the year of reunions, is there a particular one that you'd love to catch?
PORTNOY: I want to see RAGE AGAINST THE MACHINE. I'm a huge fan and look forward to that but for me, I'm seeing MR. BUNGLE in February when they come through New York. They're doing a handful of shows in New York, L.A. and San Francisco. They haven't done any shows in like 20 years and DAVE LOMBARDO will be sitting in on drums.
https://m.facebook.com/SonsOfApollo1/
https://sonsofapollo.com