Photos By Mike Lewis Photography
It's always exciting when prominent bands have members who join forces to create what one may call a symphonic power metal super group, but when you add to that fact that the band does an American tour based off nostalgia alone it can only be called incomparable. This is what happened this past summer when DEMONS & WIZARDS toured select cities in the United States on the simple promise that they would deliver an album of brand-new material in early 2020.
Vocalist Hansi Kursch and guitarist Jon Schaffer, along with backup members that included guitarist Jake Dreyer, bassist Marcus Siepen, drummer Fredrik Ehmke, and keyboardist Joost Van Den Broek crossed the US after a highly successful reunion show at Wacken Open Air Festival in Germany.
"We were very surprised to be asked to play Wacken because we hadn't done any new material in so long but the fans really wanted to hear it and ICED EARTH had just done a highly successful tour both in the US and Europe," Shaffer said. "We pulled together a line up that worked well for us because it was members of both bands and we have plans to work on the new album with the same format in mind as far as who will play on the record. There will likely be guest musicians from other bands in the genre that we enjoy working with as well."
Kursch seconded the motion and noted that BLIND GUARDIAN had finished their latest offering and had time to work on the new project as well as move forward with this past summer's tour. While the title of the album and the tracking listing has been recently released by Century Media Records, the band held the information close to their chest during the touring and writing process.
"The new songs have not been released and we've been somewhat secretive about what we're doing because we want everyone to experience the new music in an exciting new way," Kursch said. "We've written the songs and the tour consisted of only music from the previous albums and it's been amazing to us to see the fanbase so devoted to what we've done."
According to Shaffer, the album is a completely new concept but fans can still expect the mastery heard on 2000's self-titled Demons & Wizards and 2005's Touched By The Crimson King. Additionally, he also divulged that Wacken has asked the band to headline next year's show and that it was a unanimous vote by the advisory council who selects the bands for the festival every year.
"Based on the performance at Wacken this past summer, we were told that when the council went in to decide who was going to play on next year's festival and who the headliners would be for each day,that the vote was unanimous to have us headline," Shaffer said. This was based on how well it was received to be the reunion band for the year and the response that the audience gave to the performance.
"We've had a wonderful time on the road and playing these songs again," Kirsch said. "It's been several years since we've been able to do this and both of the albums were very well received when they were released. Being able to tour the US has been wonderful and we both stay so busy with our own bands that we sometimes wondered if we would be able to work together again."
"We knew we wanted to do another DEMONS & WIZARDS album, but time and effort and touring has been something that has been a little more difficult with our respective schedules," Shaffer said. "We don't want to give away what's in store for the fans but we do want them to know that it's brilliant an it's everything that they would expect from DEMONS & WIZARDS, and quite possibly there are some things that they won't expect."
According to Shaffer and Kirsch, the music on the now aptly named III is new, bold and heavy, and they believed that nothing was taken away from the excitement of the new music by not playing it at the shows.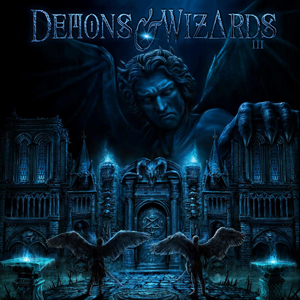 "We didn't want to give it away by playing anything new on the summer tour because it's not ready yet and we hope that we will be able to schedule another tour after it's release to showcase it in the way it should be played and that the attention will be focused on it because fans have heard the record and can relate to what they are hearing," Shaffer said.
"BLIND GUARDIAN currently has new material that's in release status and there will obviously be a tour with BLIND GUARDIAN in 2020 and we hope obviously that we'll be able to do shows as DEMONS & WIZARDS as well," Kirsch Said. Additionally, he said that it would make sense to try to do shows around their headlining slot at Wacken "A lot of this would be determined by our work with our other bands and who we're working with as far as guest musicians and touring musicians for the DEMONS & WIZARDS project."
The album is scheduled to be released on February 21, 2020 and is over an hour in length for total play time. Century Media Records plans a spectacular release for the project and it will be available to fans in multiple formats, including vinyl.