Photos By Thomas Coffman/Coffman Photography
THE IRON MAIDENS guitarist NIKKI STRINGFIELD released her EP Harmonies For The Haunted a couple of months ago. Before the year ended KNAC.COM had to catch up with her to talk about the new music. Please check out the REVIEW for Harmonies For The Haunted on our Reviews page, the EP is worth checking out.
KNAC.COM: Which happened first, did you pick up a guitar or did you pick up singing?
STRINGFIELD: Iíve always loved singing for as long as I can remember, so I guess you could say that was my first love! I never took it seriously, though. I only just started trying to be serious about singing within the past few years. Whenever Iíd write songs Iíd always hear vocal melodies and I decided I needed to give it a shot! Iíve been playing guitar since I was 14, so thatís much more natural and almost second nature.
KNAC.COM: Youíre in THE IRON MAIDENS as KNAC.COM readers are aware, so whoís your guitar influences? Who has influenced you as vocalist?
STRINGFIELD: Yes! Obviously Dave Murray and Adrian Smith, Kurt Cobain, Synyster Gates, Dimebag Darrell, Marty Friedman, to name a few. Amy Lee from EVANESCENCE is a huge inspiration to me as a singer. Their first album came out when I was in my early teens and I loved everything from her style, music, and her vocals.
KNAC.COM: Did you take guitar and vocal lessons early on?
STRINGFIELD: Iíve never taken vocal lessons and I tried taking guitar lessons, but they really werenít for me. Iím self taught and I wanted to take lessons for theory, but weíd always end up going over songs or something. Thankfully the internet now has all the information you need so Iíve just continued to teach myself!
KNAC.COM: With the non-stop touring with THE IRON MAIDENS, how long has this new music been in the making? Has the hectic tour schedule influenced Harmonies For The Haunted being a five track release, rather than a ten track release?
STRINGFIELD: It definitely has. I would have loved to release a full album, but just getting these 5 songs out has been difficult. It took about a year and a half from the time I started writing until they were released. Iíll have two new songs coming out on my vinyl release in the spring though! I not only had to work around my schedule but my producersí, Jesse Billson and Patrick Kennison, schedule as well. Jesse is always busy and Patrick tours with LITA FORD so it was a challenge to find time when we could all work on my project.
KNAC.COM: Thereís a lot of variety on this CD, I assume you didnít want to get pigeonholed into one particular sub genre?
STRINGFIELD: I have so many influences and love all types of rock/metal. I just wrote what I was feeling at the time and each song came out with a sound of its own. I didnít mean for it to be that way honestly. I knew that I wanted to have a few songs that were more guitar driven and a few that were more focused on the songwriting and vocals. A lot of people were expecting an instrumental album and were surprised to hear the vocals!
KNAC.COM: Do you have material for another release? If so what stage is that material at?
STRINGFIELD: I have two songs that will be included in my vinyl bundle that are done. Iíve been so busy getting all of this together and sending out the CDs, etc that Iíve barely had time to sit at home with my guitar and write. When I get home Iíll be focusing on songs for the upcoming HEAVEN BELOW cover album.. There are a few songs that are just waiting for me to add some vocals and guitars to. That should be released next year as well!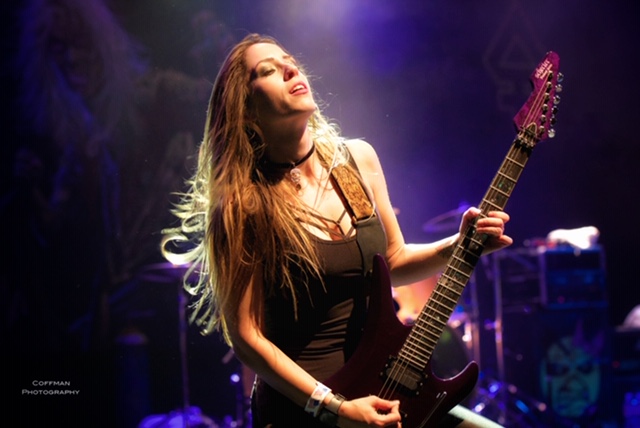 KNAC.COM: Where does the creation of a song begin, is it a melody, a riff or a lyric?
STRINGFIELD: So far itís been different for each song. I wrote ďWhen The Devil Comes DownĒ entirely on a plane. I wrote all the lyrics out and came up with the riff in my head. As soon as I landed I picked up a guitar and figured it all out. With ďHauntedĒ I heard the chorus lyrics and wrote it around that. Itís whatever Iím feeling at the time!
KNAC.COM: Aside from social media and via THE IRON MAIDENS show merch table sales, is it safe to say that there will be some live solo performances to promote Harmonies in the near future?
STRINGFIELD: I really hope so! I havenít looked into any of it yet because Iíve been so busy, but thatís the ultimate goal. Iíll need to get more original material together for that to happen haha.
KNAC.COM: With THE IRON MAIDENS alumni NITA STRAUSS releasing a solo album and COURTNEY COX working on music, would it be feasible for the three of you to team up to do some shows together? That would be groundbreaking and exciting.
STRINGFIELD: Iíve heard that from several people actually! It definitely would be awesome if that could happen one day.. Weíll see!
KNAC.COM: What are five albums that NIKKI STRINGFIELD canít live without and why?
STRINGFIELD: AVENGED SEVENFOLDís City Of Evil - one of my biggest influences as a guitar player
NIRVANAís Unplugged In New York - I love Kurtís passion and rawness.
PANTERA Vulgar Display Of Power - Dimeís guitar and killer riffs are unmatched.
IRON MAIDEN Powerslave - just one of my all time favorites! Love every song.
EVANESCENCE - ďFallenĒ - one of my favorite sing along albums of all time.
KNAC.COM: Is there a solo that you wish you could have created?
STRINGFIELD: Hmm.. PANTERAís ďFloodsĒ and AVENGED SEVENFOLDís ďSeize the DayĒ immediately pop into my head.
KNAC.COM: Whatís the most memorable SPINAL TAP stage mishap and how did you recover?
STRINGFIELD: Oh thereís been plenty of those haha. Thereís been a few times where I go up to play the first few notes and realize my amp hasnít been turned on, or Iím on standby. Thereís been a few times where I just totally space out and forget the notes in a solo and you just have to laugh it off. Weíre only human haha.