JUNKMAN Recaps The 2019 Aftershock Festival

By Junkman, On-Air Personality
Monday, November 25, 2019 @ 2:06 PM

| | | |
| --- | --- | --- |
| | | Discovery Park, Sacramento California 10/11-13 |
All Photos By Junkman
I recently made my yearly jaunt to our states capitol city, for the eighth installment of the Aftershock Festival and it was quite an eye and ear opener for me and the many others that were in attendance. Produced and promoted by Danny Wimmer Presents, Aftershock is one of the largest rock festivals on the West Coast, and this year was expanded to three days, and was attended by nearly 100,000 people. Over 50 bands performed on three stages. This year there were many bands that I witnessed for the first time. I'm all about that, but the headliners this year, TOOL, SLIPKNOT, KORN, and BLINK 182 were really what brought in the crowds.
To accommodate the masses that swarmed Discovery Park, just outside of downtown Sacramento, promotors DWP partnered with brands such as Ace of Spades/Punchline, Art is War Records, Blackcraft Cult, Captain Morgan Spiced Rum, Deep Eddy Vodka, Fearless Records, Fxck Cancer, Heavy Grass, Henry's Hard Sparkling Water, Kolas, Coors Light, Hop Valley, Monster Energy, Roadrunner Records, The Stash, Thunder Valley Casino Resort and Zippo. Fans attending Aftershock enjoyed the Monster Energy Experience (which included band autograph signings), The Music Experience, Take Me Home Animal Rescue, Dyin 2 Live/Fxck Cancer, Caduceus Wine Garden (featuring varietals from the winery owned by TOOL frontman Maynard James Keenan), SLIPKNOT Iowa Whiskey No. 9 and the Boilermaker Bar featuring METALLICA's Blackened Whiskey and Enter Night Pilsner, among other onsite experiences.
There were also tons of food and drink vendors, as well as lots of merchandise booths where one could purchase the official merchandise, such as T-shirts, hats, and hoodies. Local artists were hawking their wares as well. You could also purchase various band related swag at a variety of booths set up all around the park. An expanded VIP section gave festival goers a chance to relax in the shade and an option to get a comfortable look via large screens which showed all the action onstage.
This year's festival got an extra last minute boost when it was announced the day before that none other than METALLICA would be performing at ALL the DWP festivals in 2020. Not just once, but TWO of the three scheduled nights, with different set lists at each. A major coup for the good folks at DWP, and the excitement about it fueled the fire for the weekend ahead. As you can imagine, it was a blast. Now, I attend for the music, and there was plenty to "discover" for all at Discovery Park, when it came to the huge variety of acts at this year's festival.
Friday morning started out with the spooky sounds of DED, and the glam-grungy SANTA CRUZ, as well as the ever popular MOTIONLESS IN WHITE, who gave their fans exactly what they wanted. But the real fire was when former PANTERA frontman Phil Anselmo and his band THE ILLEGALS took the Monster Energy stage and literally destroyed a set of PANTERA favorites for a great mix of young and old moshers. Anselmo, sporting his famous scowl throughout the set, really seemed to be enjoying the chaos that he and his bandmates created, and he applauded the sweaty, frantic crowd numerous times.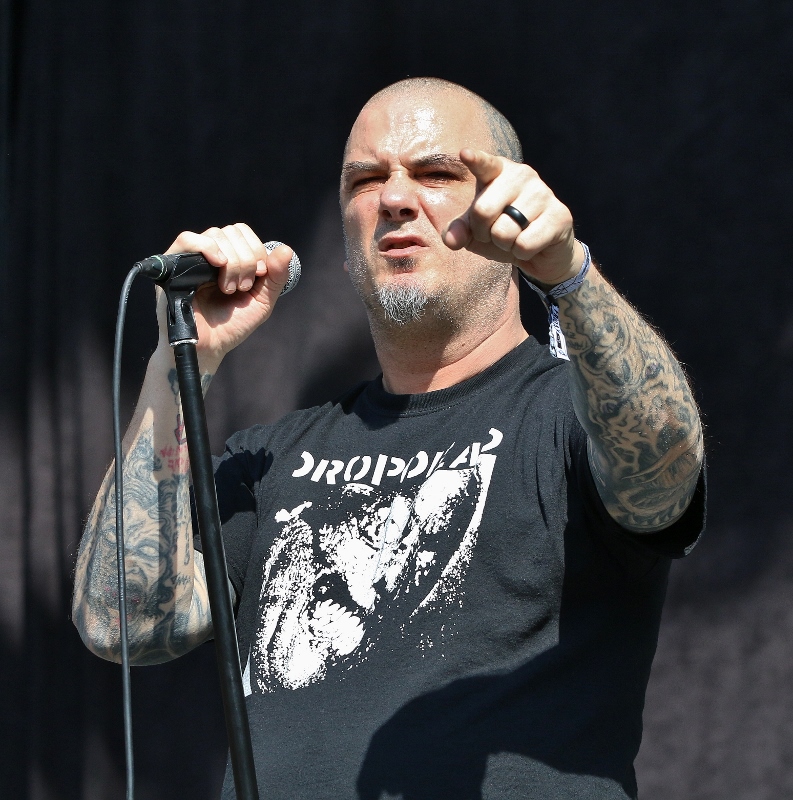 Bands as diverse as the hardcore punk of Columbus Ohio band BEARTOOTH, and the funky grunge of CLUTCH, led into a great set from the DROPKICK MURPHYS, who's brand of traditional Irish music/punk fusion got the crowd moving. Over on the Coors Capitol Stage, the pop-ska of THE INTERUPPTERS gave an even more diverse flavor to the festivals first day. As the sun started to set, cooling off was only temporary on the "Kolas Discovery Stage" as HALESTORM packed them in for yet another incredible set, which started with front woman Lzzy Hale being brought a cake, as the crowd serenaded her with a chorus of "Happy Birthday". After that, it was ready-set-go, as HALESTORM rocked a nine song performance that brought out all the stops, such as sing-alongs, guitar and drum solo's, Lzzy's gut-busting vocals, and a fan-friendly show that have made them one of the most exciting bands on the live circuit.
LAMB OF GOD followed on the Monster Stage, with an always heavy set that just crushed and pummeled their fans. Rabid singer Randy Blythe stalked and screamed his way through the set, with his fierce eyes set on his audience the whole time. As a matter of fact, the only time he was not stomping the stage or leaping about, was during "Walk With Me In Hell" when he paused to make sure that a crowd member who was being slammed about was alright, and brought to safety.
I think my biggest mistake of the day was watching a reunited STAIND slog their way through their set, which pleased many of their long-time fans, but honestly, outside of the final song "Mudshovel", they looked almost as bored onstage as I was in the audience. Meanwhile, SUM 41 was putting on a rousing set to close down the Capitol Stage. Oh well, with so many bands playing, I was bound to make at least one bad decision.
Finishing up the first day's action on the Monster Stage was none other than SLIPKNOT, and they certainly did not disappoint. The entire band was clad in all white uniforms and sporting their updated masks, which are not nearly as creepy as from past tours that I have witnessed. But to me, again, it's all about the music, and they rocked a seventeen song, two encore set which featured material from throughout their career. Singer Corey Taylor was in fine form, and delivered powerful vocals throughout. Highlights for me included the opener "People=Shit" and SLIPKNOT classics like "The Heretic Anthem", "Wait and Bleed" from their debut album, as well as the set closing "Duality". Combine that with lots of pyrotechnics, a flaming baseball bat, and a multi-tiered stage, it was balls-out entertainment from the get-go. SLIPKNOT encored with "Spit It Out" and "Surfacing" also from their first album which debuted 20 years ago in 1999. It was a great way to wrap up day one of the festival.
Day Two of the festival featured bands on the less heavy side than day one. The term "alternative music" has not been relative, in my opinion, since around 1991. Early sets by bands such as DEAD POSEY, SICK PUPPIES, PARLOR MOB, and the increasingly popular BADFLOWER could have easily fit under that genre way back when, and probably sold a butt-load of records, and received airplay on college radio. Today is a different story. It's all about the live act, as well as online views. I was glad to see these bands paired with classic acts like the legendary FISHBONE and rap-rockers GHOSTMANE, two high energy acts, who gave the afternoon a well-rounded entertainment jamboree for the still arriving festival goers.
A couple of revved-up sets by HIGHLY SUSPECT, punk rock legends BAD RELIGION, and the always entertaining ANDREW W.K. kept the crowd amped up and excited as the day wore on. On The Monster Energy stage, STONE TEMPLE PILOTS performed the tightest set of the day. Armed with a boat-load of radio hits, the band, featuring their energetic singer Jeff Gutt, gave the crowd their answer to a Monster Energy drink, as they blasted through an eleven song set, igniting them like a blast of Taurene. Gutt even jumped offstage and sang "Vasoline" to the fans from the guard rails, as the band played on, ending the set with the 1-2 punch of "Trippin' On a Hole In a Paper Heart" and "Sex Type Thing" which brought a deafening roar from the now packed house.
MARILYN MANSON followed, on the Kolas Discovery stage, and as always, you never know what you are going to get. He had previously dropped out of the Aftershock Festival in 2017, after injuring himself when a stage prop fell on him a few days beforehand. Tonight, he stuck with the tried and true, delivering a very uneven set, filled with lots of fog, and strobe lights, screaming, and bad makeup. Oh yeah, and his hits such as "Rock Is Dead", "The Dope Show" and his take on the EURYTHMICS' "Sweet Dreams (Are Made Of This)" that were both erratic and pleasing at the same time. This is the typical Manson formula. Always make your audience think "WTF?"
BRING ME THE HORIZON, brought their "A game" to the festival. It was a huge stage production, complete with dancers, smoke and fire, and matching suits. Singer Oliver Sykes actually wore his suit inside-out, and had the back emblazoned with the slogan "Gone crazy. Be back shortly". Lots of screams from the ladies in the crowd, and the British band delivered an eleven song set that encompassed their career output of six albums. Starting with "Mantra" from their latest, and ending with "Throne" from 2013, their fans were pleased with what they witnessed and the sold out venue was truly buzzing, long after they were done.
ROB ZOMBIE then delivered his spook show of a rock show on the Kolas Discovery stage. Lots of scary video of monster movies and flashing lights accompanied the band, guitarist John 5, bassist Piggy D, and drummer Ginger Fish, all decked out in spooky makeup, played the intro to "Dead City Radio and the New Gods of Supertown". ROB ZOMBIE then came dashing onto the stage, wearing a jacket with long fringes that made him look like a tidal wave whenever he moved, which he did, in constant motion, throughout the performance.
What followed was a hit-filled set of Zombie's brand of industrial metal. ROB ZOMBIE and WHIE ZOMBIE classics such as "Living Dead Girl", "More Human Than Human", "Pussy Liquor" even a John 5 solo song, "Ddd" and a cover of THE BEATLES' "Helter Skelter" were included in his crowd-pleasing set. As I mentioned, the lighting was intense and scary all at the same time, sort of like entering a haunted house at times. Considering who was onstage, that would be the purpose.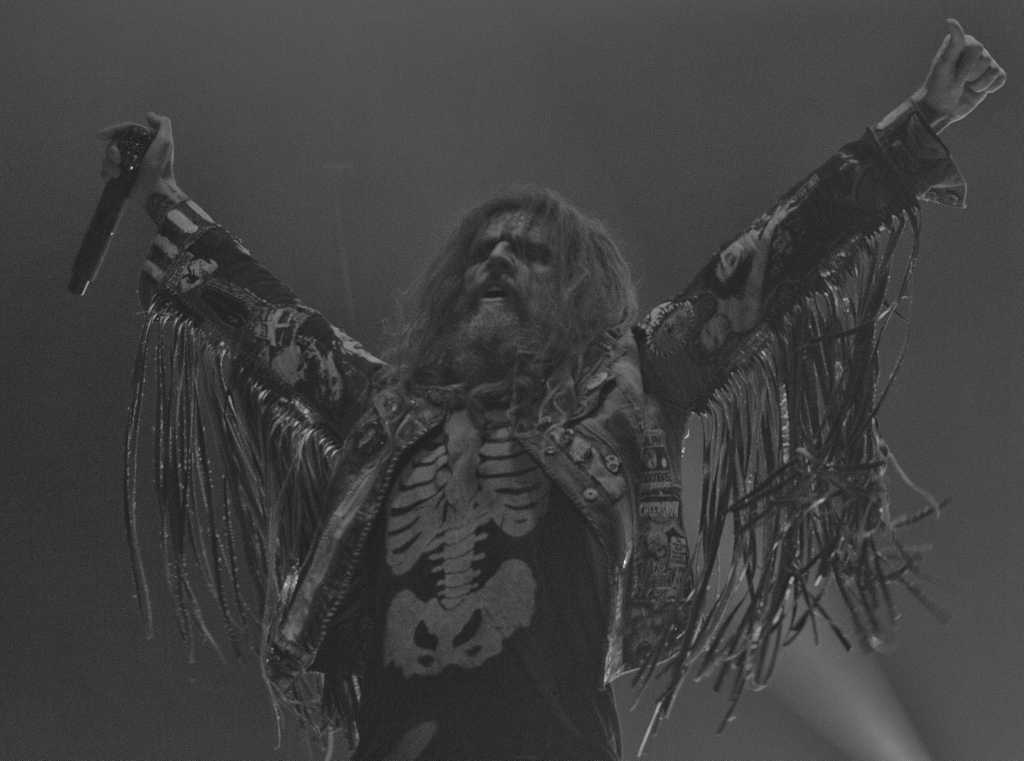 The last act for day two of the festival was the return of BLINK 182, who have taken a few years off from the concert scene. The band, bassist Marc Hoppus, drummer Travis Barker, and Matt Skiba, have a new record 9, but for the most part, stuck to their vast catalogue of past hits for most of the seventeen song set. Just one new number, "Darkside" was performed towards the last part of the show, leaving the rest of their stage time blasting out favorites like "What's My Age Again?", "Down" and the huge "All the Small Things". The crowd loved it and sang their lungs out throughout. By the time the band wound it up with "Dammit" most of the huge crowd was spent, and away into the Sacramento night, they retreated, back to hotel rooms and Air BnB rented condos for a good night's sleep. After all there was still one more day of the festival.
Day Three of Aftershock continued to open my eyes to new bands and new styles. Early on it was LA's dreamy BLUE MIDNIGHT who actually had a violin player, and a very awkward female singer who sported blue hair and was dressed as some kind of gypsy. Evan Konrad has a very "emo" style, and at times sounds like a female. His take on the SOUNDGARDEN classic "Black Hole Sun" was interesting. Toronto's BRKN LOVE are a straight ahead young rock band that had a sound that reminded me of many of my favorites from the 1990's and early 2000's. Their song "Shot Down" is definitely on my go-to list for cool new music. Their set was a pleasant surprise.
But the coolest new band I saw all weekend was THE HU. Hailing from Mongolia, this band just floored me. Using a combination of hot–rodded traditional Mongolian instruments and more traditional guitars and drums, it was as if the Huns had discovered metal. I have no idea what they were singing about, but it was powerful, enchanting, and the entire crowd was into it from the first note. They even incorporated Mongolian throat chanting into the mix, and I must say I will be following this bands progress in the future. They are on their first world tour and new music is coming. Trust me, this is a band to check out.
Continuing with day three's diversity, on the Monster stage, THE CRYSTAL METHOD, a very popular DJ, pumped the crowd up from behind his funky drum and guitar adorned DJ setup. Once again, I thought it was very cool of the DWP promotors for including this genre in the overall mix of acts, and as a former club DJ myself, I have been a fan of his for years. Truly, a fun set.
From there, it got even weirder, as BABYMETAL, the Japanese band which centers around three young girls, who dance in synchronized moves, sing Japanese J-Pop, and are backed by a gloomy, doomy, metal band. Bizarre yes, but they pleased their fans, who came out in droves, and somehow, knew the words to all the songs. It was a very energetic show and lots of fun for all. Definitely an act to see again!
On the Monster stage, French band GOJIRA blew away their audience with yet another outstanding performance. By now, the sun was shining directly in the bands faces, and the dry festival grounds had become a haven for huge clouds of dust, but the faithful crowd didn't care. They were there to be pummeled by GOJIRA, who opened with the fitting title of "Toxic Garbage Island" and "The Heaviest Matter in the Universe" which was rather appropriate, considering they were without a doubt, the heaviest band of the day.
I ventured to the Capitol stage for a great sludgy set from FU MANCHU, who seem to have been around forever. The stage area was packed. The ripe smell of "natural herbs" filled the air. My "contact high" that followed, got me into the music in a whole new light, and before long I was head banging along with the gathered masses. I hung out so long, that I actually missed a set from CHEVELLE, but I did catch a bit of A DAY TO REMEMBER on the Monster stage.
I've never been a big fan of either their music or performances, but they are very popular. They have a great rapport with their audience, as well as plenty of pyro and more, to keep them entertained. Singer Jeremy McKinnon is in constant motion, and looks like he's having fun, and the band gave their fans a bucket-load of favorites, as well as a few new songs, and even included a tease of headliner TOOL's "Schism" on acoustic guitar. Yes, they have their fans, and they treat them right, but I had other things in site and headed back to the Capitol stage as quickly as I could.
I'm glad I did, because closing out the Capitol stage was the debut performance of DEADLAND RITUAL. They are an "all-star band" consisting of BLACK SABBATH bassist Geezer Butler, former GnR/VELVET REVOLVER drummer Matt Sorum, and guitarist Steve Stevens, from Billy Idol's band. Fronting this ensemble is Franky Perez, who is known for his work with APOCALYPTICA, as well as one of the main members of the charitable "Camp Freddie" shows during the holidays in Hollywood.
The band played a mix that was very heavy on BLACK SABBATH covers "Symptom of the Universe", "Neon Knights", "N.I.B.", "Sweet Leaf" as well as VELVET REVOLVER's "Slither" and Billy Idol's "Rebel Yell". But besides the nods to their other projects, the band played a few originals, and announced that they will be releasing an album in 2020. As you can imagine, the crowd loved every minute. And the band looked very pleased with their performance. After an extended version of the BLACK SABBATH classic "War Pigs" which turned into a crowd sing-along, the band exited the stage and it was time to march on to the main stages for the last two acts of the festival.
Any time KORN plays at a festival as they have before at Aftershock, it's truly a "happening". In other words, they own the stage. With a new album The Nothing just released a few weeks before, the band was energized and on their game. The crowd was electric, as drummer Ray Luzier mounted his massive drum kit and pounded out the intro to "Blind". From the first note, it was chaos. Mosh pits erupted, crowd surfers were flung at the stage from all directions, flashing lights and screams and fog, and strobe lights all quickly bathed the band onstage who went about their business flailing away onstage, swinging their hair and pounding their guitars, while singer Jonathan Davis frantically convulsed with every syllable.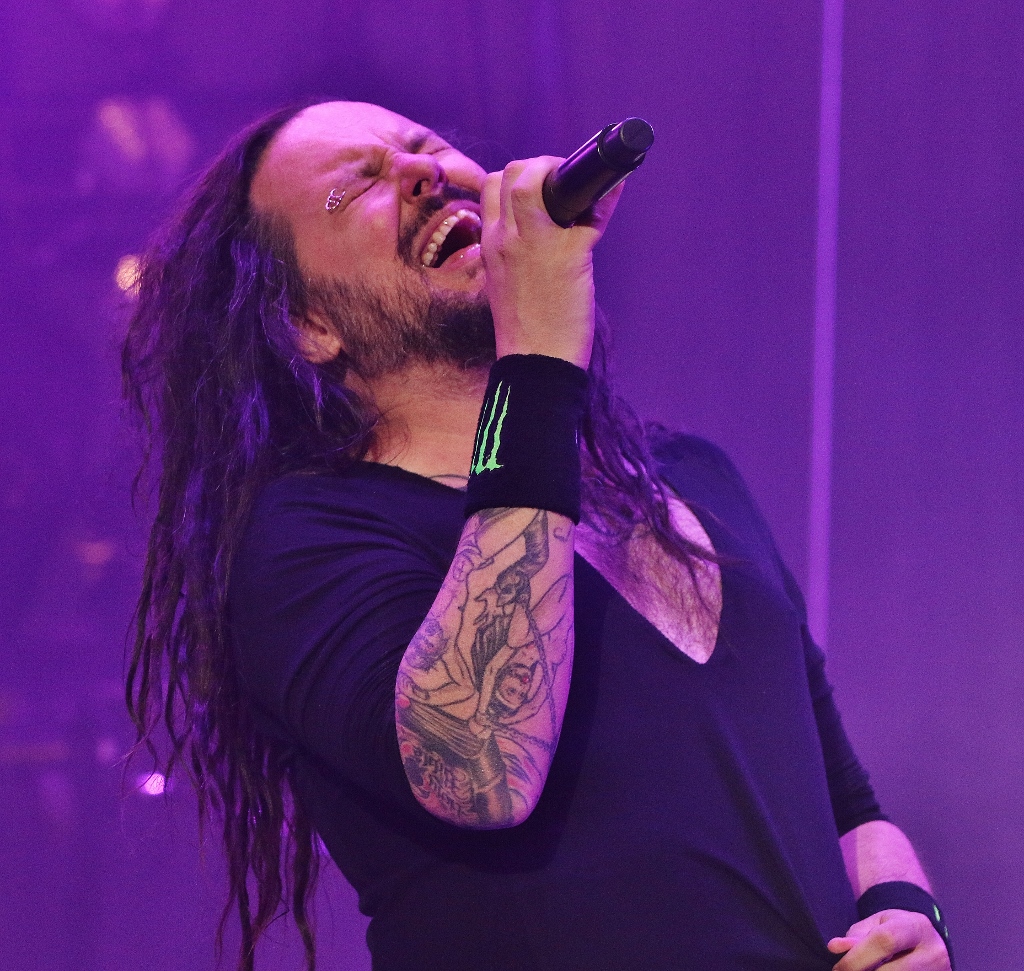 They played a twelve song set with just about every song you would expect from them, such as "Faget", "Here to Stay", "Shoots and Ladders", "Got the Life" and "Freak on A Leash". They also played but one new song, the single "You'll Never Find Me" that was well received by the packed crowd. Using a bit of QUEEN's anthem "We Will Rock You" the band closed out the Kolas Discovery stage with "Coming Undone" and a blistering version of "Falling Away From Me" that mesmerized the audience with its muddy thuds, that made banging one's head in unison almost irresistible.
The final band of the festival was the one that was truly the buzz of the entire weekend. It was the return of TOOL, after a few years of being off the road. They too have a new product, their first in nearly thirteen years, Fear Inoculum, which was released at the end of August and has had mixed reviews from long time TOOL fans. My main concern was, as a photographer, with instructions that I could only photograph the first song, would singer Maynard James Keenan make himself visible to the audience? In past years, he has not, electing to either disguise himself in a costume, or place himself behind drummer Danny Carey's drum riser for most of the performance. I'm happy to report, that he was VERY visible, although towards the back of stage right. Sporting a black mohawk and heavy eye makeup, as well as bright red plaid pants and a black leather jacket, he was almost motionless onstage, hands cupped to the microphone. Opening with the live debut of the new records title track, which clocked in at around ten minutes or so, made for some fine photos I'm glad to say, and they accompany this review, as do the many others that I shot over the weekend.
Guitarist Adam Jones, bassist Justin Chancellor, and drummer Carey treated their audience to a finely crafted ten song set, which spotlighted the music, specifically. Nary a word was spoken, from any of the band members, including singer Keenan, but the visuals which were very intense, the lighting and the songs taken from Tools catalogue made it a memorable way to wrap up an incredible day.
Outstanding performances of "Aenema", "The Pot", "Jambi" and a long version of "Stinkfist" kept the packed crowd truly mesmerized and still. Still the fans sang their hearts out throughout most of the set, and the long instrumental breaks combined with lazer lights that shone off the parks trees gave an eerie effect that was emphasized by a low hanging full moon that arose over the crowd. Truly, a stunning experience, indeed. The band then finished off their set, as well as the festival with the debut live performance of "Pneuma", again from the new release. Speaking for all assembled, it was the perfect capper for the weekend.
To say I had a great time is an understatement. The performances were incredible. The organizers, Danny Wimmer Presents, are to be commended once again, for planning and executing a wonderful event. The press people, made us feel like rock stars as well. The comfort level, and the vibe of the whole affair, make me want to come back again and again. And I plan on it. I hope you do as well. But plan soon. The addition of the mighty METALLICA for two nights at next year's event will guarantee a fast sell out show. My thanks again to all involved. Be sure to visit www.aftershockfestival.com for more information. See you next year!
Check out Junkman's photos from the show at the links below!
Please log in to view RANTS