Photo Credits: Yulia Suslova (portrait photo), Silvius Breitenfeld (live shots)
ARIA have been at the helm of heavy metal in Russia for well over three decades and, despite their popularity in their home country, they never gained more than an underground status in the western world. That was partly because their songs have Russian lyrics, but also because until recently ARIA got hardly any promotion over here. In fact, there were times when it was quite a difficult undertaking to get hold of any their albums in this part of the world and, personally speaking, I once had to beg my then-girlfriend to buy me the now legendary Krov sa Krov (Blood for Blood) album when she embarked on a three-week trip to Moscow in the mid-1990s (I still have the CD, of course).
However, since the release their thirteenth studio album, Curse Of The Seas one year ago, this has finally changed. The album was mixed by Roy Z (Bruce Dickinson) and thanks to excellent promotion work, glowing album reviews started to mushroom in magazines and webzines all over the place. The band came over to Europe to play shows at Germany's traditional Keep It True Festival in April, rocked the Pyrenean Warriors Open Air in France and played club shows in Cologne and Berlin in October.
Less than a year after the release of Curse of the Seas, the Moscow-based five-piece released a titanic live DVD/2 CD package, entitled Guest From The Shadow Kingdom, an overwhelming testimony of ARIA's sheer qualities as a live act and possibly one of the most ambitious productions ever in metal history that has made many a reviewer's jaw drop. In fact, this seems to be only the beginning of ARIA's conquest of the metal scene in this hemisphere and as the quintet are touring Russia on the back of Curse Of The Seas, we can look forward to more shows of the band over here. Also, ARIA will be celebrating their 35th anniversary next year and the party that is being planned will not be a modest one, that's for sure.
So it's about time to get in touch with ARIA's charismatic bass player and one of the main songwriters, Vitaly Dubinin, to talk about Curse Of The Seas, Guest From The Shadow Kingdom, what it was like to be one of the first heavy metal bands in the U.S.S.R. and many other things, both the fan and the writer in me have always wanted to know.
KNAC.COM: Vitaly, ARIA are currently on what appears to be their traditional autumn/winter tour. How is it going?
DUBININ: Hey, Daniel! Yeah, we are currently doing our autumn tour devoted to our latest record, Curse Of The Seas. We have already played more than 50 gigs since February, and I should say every gig went well, fans gave their everything to make every moment special.
KNAC.COM: ARIA have received a lot of acclaim from Western media both for Curse Of The Seas and Guest From The Shadow Kingdom. How does the band feel about the enthusiasm from over here?
DUBININ: That means a lot to us and motivates us to continue doing our job. It is still strange for us because Michael [Shitnyakov] sings in Russian, and that does not correspond to Western standards. Nevertheless, it is our distinguishing feature that we perform our songs in our native language wherever our gigs are.
KNAC.COM: As you say, all your lyrics are in Russian and are written by lyricists and poets, notably by Margarita Pushkina, Alexander Yelin and others. How come you have always worked with external lyricists?
DUBININ: We are not poets, although sometimes we contribute to some of the lyrics. Since the very beginning of ARIA, the group has worked with professional poets, experts in their field. We have set high standards from the very beginning by working with professional poets. It has helped us a lot, but at the same time when we tried to make our own lyrics, we could not reach their level, that is why we could not use those texts.
KNAC.COM: How does the creative process work in ARIA? What comes first, the music or the lyrics?
DUBININ: Every ARIA composer prepares his sketches at home, records a demo, and then brings it to the studio where the track is being finalized. Afterwards, we send our finalized instrumental with a vocal track to our poets, who start working on lyrics. Nevertheless, we work on the arrangements to the last, until all of us are satisfied with the result.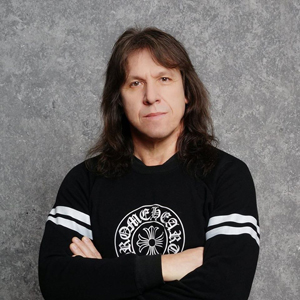 KNAC.COM: Curse Of The Seas was mixed by Roy Z (Bruce Dickinson). How did the collaboration come about?
DUBININ: All our bandmates are fans of IRON MAIDEN and, of course, Bruce Dickinson's discography. It was always a dream for us to sound like them. And, obviously, the sound that he created for Chemical Wedding and Accident of Birth is an unspoken heavy metal standard. I contacted Roy and he was very responsive and with pleasure accepted our offer. Roy appeared to be a very simple man without megalomaniac traits. As soon as we initiated the work process, he began calling me and asking, how do we see, or better, hear, what ideas he had, what sound he could recommend. And it was so cool that he was not acting like a typical sound producer - we did not just exchange emails or messages, we had a real warm conversation on a regular basis. To sum up, I want to say that he is just an awesome guy! I hope to work with him in future again.
KNAC.COM: Curse Of The Seas has a seafaring theme. What was the inspiration for it?
DUBININ: It was not done intentionally. For me personally, the sea theme is very personal as I am a diver and I am drawn to the ocean. It coincided that on this album there were several songs dedicated to the marine topic, including "Varyag". But this is rather a pleasant coincidence, which we managed to conceptually show at the presentation of the album at a Moscow gig.
KNAC.COM: How would you rate Curse Of The Seas in relation to the other ARIA albums?
DUBININ: We cannot judge our own work. According to the fans, opinions differ and that is great because everyone can express htheir opinion. Nevertheless, I consider this album as our best work since Chimera.
KNAC.COM: What's your favourite track on it and why?
DUBININ: Songs - they are like kids for us, you can't love someone more, someone less. Maybe it could be the title song, "Curse of the Seas", just because it turned out to be such a long, diverse and interesting composition.
KNAC.COM: Your latest live DVD/album, Guest From The Shadow Kingdom, is a titanic production. How did you get the idea to put on such an elaborate and huge two-hour show?
DUBININ: All thanks to our producer Yuri Sokolov - that is his achievement. Also, we missed a lot of times when we did those big shows, and we thought that maybe it is a right time to do something big once again. Hopefully, it is not the last time as we have plenty of ideas for bigger shows.
KNAC.COM: How was the concept of the show developed and how long did you work on it?
DUBININ: The show concept was conceived extremely quickly by Yuri. We met with him for a discussion in a cafe, where we instantly started brainstorming. And after nearly 30 minutes he drew an image on a tissue towel of a three-tier stage. And this later was approved as our concept, with nearly no changes at all. And the production process took more than half a year. It all started with concepts, and then endless rehearsals began, during which the show was constantly being refined.
Because of our ambitions, we even had to change the arena, since the total weight of the structures exceeded the norm of the stadium we planned to play at. We never had such a grand show, and we even rented a Mosfilm hangar for a while to practice the show several times. And, of course, we had several dress rehearsals at the VTB Arena, where the concert itself took place. We can say that we had wanted to do a whole tour with this show, but in reality we got one concert – but it was wonderful.
KNAC.COM: Next year ARIA will be celebrating the band's 35th anniversary. What is in your opinion the reason for ARIA's longevity?
DUBININ: This is a part of our life. Of course, we get a little tired of each other from time to time, but this is an absolutely normal thing. As soon as we get home after a tour or recording an album, we are pulled back onto the stage. Plus, we are not just colleagues, we are buddies who know each other very well, so we are pleased to play together, and since there is demand from our fan base, why stop?
KNAC.COM: You first appear on the band's third album Hero Of Asphalt, which is widely regarded as the band's most classic album. What does Hero Of Asphalt mean to you personally?
DUBININ: I love this album. This is where my route for ARIA began. Of course, I consider it one of our best works ever. Every concert we play songs like "Hero of Asphalt" and "Rose Street". Those are hits that even those who don't follow our work know, they are, in fact, our calling cards. Of course, I love this album, but still, we want to play new songs as well.
KNAC.COM: What was it like being a heavy metal band in the U.S.S.R. and what was the metal scene like in those days?
DUBININ: It was a very new and unusual musical phenomenon in the U.S.S.R. at that time. Then, when ARIA began, the music of New Wave was very popular, and ARIA looked like guests from another planet in terms of music and appearance. To the surprise of many venerable musicians of that time, heavy metal began to gain popularity very quickly and the metal bands began to appear one after another. But with no modesty I can say, as I have not been in the group from the very beginning, that ARIA was the #1 band in the U.S.S.R.!
KNAC.COM: In 2001, ARIA collaborated with Udo Dirkschneider, who was featured on "Shtiel" on the Chimera album. How did this collaboration start?
DUBININ: In a concert tour in support of the album Chimera, Udo Dirkschneider and his band U.D.O. took part as a special guest.
Before the tour, Udo arrived in Moscow, we met with his promoter, discussed some stuff, gave him the song "Shtiel" to listen to and wrote an English translation for Udo (that was funny). The next day Udo came to our studio and we managed to record everything quickly. We had an instrumental ready and we just had to put his voice over it. It all went so fast! Such a unique, cool experience!
KNAC.COM: The same song was later covered by RAMMSTEIN. What did you think of RAMMSTEIN's cover?
DUBININ: It is a great honour for us that our friends played one of our songs. Of course, we liked hearing ARIA played by RAMMSTEIN. Although it was a single project of Till Lindemann and Richard Kruspe, and the label with which they had a contract recognized this track as an unofficial pirate release. But, what the hell is the difference, the guys did an excellent job, and we are very grateful.
KNAC.COM: This year, you played the Keep It true Festival in Germany , the Pyrenean Warriors Open Air in France and two shows in Cologne and Berlin, Germany. Do you feel audiences over here are different from the ones in Russia?
DUBININ: Yeah, the thing is that European listeners do not play with their iPhones during the show to record a song to Instagram. They enjoy it and go crazy. That makes us play louder and harder. We love it. I do not want to say that all Russian concerts are not so energetic, but still we like it much more when the audience is in contact with ARIA, not trying to capture it on their phone.
KNAC.COM: Will there be more ARIA shows in the West in the future?
DUBININ: Yes, of course, next month we will have a gig in Tallinn, Estonia and we will soon announce our 2020 gigs. I will not reveal all the cards now, but next year we will play abroad several shows. Stay tuned.
KNAC.COM: You celebrated the band's 30th anniversary with a concert together with a symphony orchestra and AriaFest, a huge show in which some of your former bandmembers appeared, including guitarist Sergey Mavrin and singer Valery Kipelov. Are you in regular contact with them?
DUBININ: Not in a regular contact, but still, we are old buddies, we call each other sometimes to say Happy Birthday and to talk about stuff. And, as time flies, we regularly play with each other. With Mavrin we had several shows this year, including a TV Show on NTV Channel. It went great.
KNAC.COM: What are your plans for the 35th anniversary next year?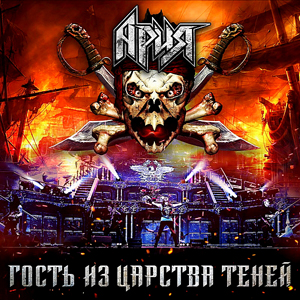 DUBININ: We plan a huge concert tour called "Vicious Circle", which will include the best songs from our long history, in our opinion. In the Fall of 2020, we will be doing a very large-scale show in Moscow at the VTB Arena and we hope in terms of scope it will be at least the same as Guest From The Shadow Kingdom.
KNAC.COM: Is it true that ARIA had to turn down an offer to play with IRON MAIDEN in Moscow next year?
DUBININ: Unfortunately, we had to turn down this offer because we have an arrangement with our concert manager not to perform in Moscow until our Anniversary gig. Maybe next time…
KNAC.COM: If you had to recommend three ARIA albums to anybody who doesn't know the band, which ones would they be?
DUBININ: Hero of Asphalt, Generator of Evil, Curse of The Seas.
KNAC.COM: And finally, if you could take three rock albums to a remote island with you – which ones would you take?
DUBININ: It is tough to choose, but I will try! THE BEATLES - Abbey Road, GRAND FUNK RAILROAD - On Time, DEEP PURPLE - Machine Head.
KNAC.COM: Thank you very much, Vitaly. Hope to see you soon.