Taking The Music Back: An Exclusive Backstage Interview With Anthrax's Scott Ian

By Nina Delfino, Contributor
Tuesday, January 29, 2002 @ 11:52 AM

| | | |
| --- | --- | --- |
| | | An Exclusive Post Show Intervi |
I had the chance to chat with Anthrax's very own Scott Ian after the show in Las Vegas where they kicked off their long awaited and much delayed Operation: Enduring Metal tour. This was my first opportunity to check out John Bush live (on vocals, that is), since the Joey Belladonna days. After seeing the show I decided that John, previously of Armored Saint, indeed has the best vocal match for the band's heavy-riff style to date. It really doesn't matter which Anthrax album/era/singer is your favorite though 'cuz they pretty much cover it all with this set.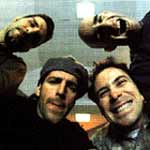 SET LIST:

Among The Living - Among The Living
Time - Persistence Of Time
Fueled - Stomp 442
Inside Out - Vol. 8 – The Threat Is Real
Room For One More - Sound Of White Noise
SuperHero - New
Antisocial - State Of Euphoria
Caught In A Mosh - Among The Living
Bring The Noise - Attack Of The Killer B's
Only - Sound Of White Noise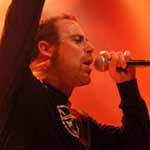 Photo by Scott Harrison



KNAC.COM: Thanks for taking the time to talk with me.
SCOTT: I would just like to say we ARE changing our name to "Basket Full of Puppies!" (Referencing a well publicized October 2001 Anthrax Press Release in which he announces that will be the bands new name)

KNAC.COM: You realize, if you do that, somewhere in America a basket filled to the brim with puppies will meet with a catastrophic and untimely demise?
SCOTT: I've heard that's how they're really going to get to the Americans!

KNAC.COM: Operation: Enduring Metal seems to have been plagued with delays and setbacks. First the 9/11 attacks, then of course the "other Anthrax," how has this affected the band and the outlook for the coming shows?


"This is the most we've ever collaborated. We working together much more on the writing and arranging. It sounds like we're having more fun. Maybe it's because everyone's had more involvement."

SCOTT: This is our first show of the tour. So far it's been going good. All 2 ½ hours of it so far! (Scott goes into detail and seems concerned about some technical difficulties during the show, but I assure him the show kicked ass and any technical problems were completely transparent.)

KNAC.COM: Will Anthrax be recording a live album?
SCOTT: We're going to record the show in Chicago. We really don't know if and/or when it's going to come out. I know that's kind of a strange answer. Originally when the tour was supposed to happen in the fall, we were going to record it back then. If that'd happened it could've been out (around) now. We won't be recording anything until February plus, our studio record won't be out until the summertime. So a Live album wouldn't come out until after that.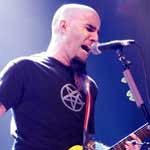 Photo by Scott Harrison



KNAC.COM: Will the Live album be strictly a CD?
SCOTT: There'll probably be a CD and a DVD too.

KNAC.COM: Charlie (Benante) was the principal songwriter on your previous releases. How is this, changing the dynamics of the band, if at all?
SCOTT: As far as the band goes, I think this is the most we've ever collaborated. We working together much more on the writing and arranging. Before, aside from Charlie nobody ever really had anything to do with the vocals. It's really been all of us all the time on this record. I think you can really tell, it almost sounds like we're having more fun. Maybe it's because everyone's had more involvement.

KNAC.COM: Anthrax has been on TV a couple of times. Married With Children in '95 and News Radio in '98. Both of which by the way, were hysterical!! Will the band be making anymore TV appearances in the future?
SCOTT: We have our own VH1 Behind The Music coming up February 10th. We're hoping to get on The Simpsons at some point but they haven't called us…yet.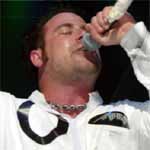 KNAC.COM: I'm sure they will. Regarding your Behind The Music special, there's been some speculation as to why some of the original band members were excluded.
SCOTT: No, they didn't interview everyone that used to be in the band. It's their show. We had everyone's name on the list and they script and decide who they're going to talk to. We were adamant about them talking to the original bass player Danny (Lillker). They just felt that he was well represented by what we said about him. I disagree with that personally. It's not our show. Most people don't know how it works. They do all the interviews and scheduling. They have the budget. We're just keeping our fingers crossed that it's not a big pile of shit, basically.

KNAC.COM: What's next?
SCOTT: We'll finish this tour and go back and complete our new record.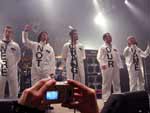 KNAC.COM: When's that coming out?
SCOTT: Hopefully July.

KNAC.COM: Any final thoughts or comments?
SCOTT: Yeah. Stay tuned, we're making a brutal Anthrax record and everyone's gonna' love it!

KNAC.COM: Thanks again Scott. Excellent show!
SCOTT: Thank You.

Top live picture of Scott Ian also taken by Scott Harrison
Please log in to view RANTS