LACUNA COIL will be heading out across north America later this year in honor of their new upcoming album being released in October, Black Anima. KNAC.COM got the chance to speak to Andrea Ferro, the male vocalist and one of the founding members of the Italian gothic metal band to ask a few questions about the upcoming album and overall success before playing at their two sold out shows in New York City at Gramercy Theater.

KNAC.COM: What can you tell us about the new album being released in October and how was the process?

FERRO: So, the new album is called Black Anima and it is coming out on October 11th worldwide, we just literally finished mastering a week ago. It has a total of 11 tracks and there is quite a variety of songs, there are some really heavy tunes but we have also been adding different flavors. So like some songs are heavy and some are mellower so there is definitely a variety of songs. We feel it is a very mature record and there is definitely a mix for everybody.

KNAC.COM: Is there anything you feel differs from this one to your previous albums?
FERRO: Yes, itís definitely an album that we kind of realized thereís a certain maturity and how we were crossing a certain time in our life where we experienced a little bit of different things. So, there has been a lot of reflecting and realizing what life is all about and all the different paths you are going to cross...so thatís why we based a lot of the stories of the songs on our different experiences.
KNAC.COM: Is there a certain song on the album that means more to you than the others?
FERRO: I think there is quite a variation of songs and moods so we have ones with a little more depth and then there are some more of the furious songs, which is more about the energy of the moment and representing a single experience towards fury. There is a song that we are going to first put out called "The Layers Of Time" and itís a song that really portrays all of our worlds and it has a super arrhythmical heavy verse and very epic chorus but itís very layered at the same time. The song is very much in your face but also layered at the same time.
KNAC.COM: What can you tell us about the tarot card box set for the forthcoming album?
FERRO: Yeah, we needed to find an idea on a special edition because the fans didnít really want the simple jewel case anymore, you know? So we decided to do this since we already had an idea to work with the tarot card design and to do the booklet of the album. We decided to design one card for each song off the record to describe the spirit of the songs, and then we used this card in our imaginary concept to communicate with the underworld and the other side. So we have a special edition coming that is going to look like a book completely designed, its going to be very interesting. An artist from Detroit designed the cards.
KNAC.COM: (KNAC) Whatís it like for Christina being a judge on The Voice? Is it difficult for her being able to manage being a judge and being in the band at the same time?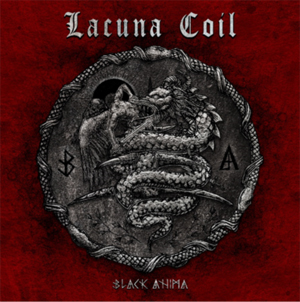 FERRO: She has a lot of fun with the experience and it brought us a lot of attention from people who have never listened to our music, a lot of kids who range from 10 years old watch her on TV and then started listening to rock and metal music due to watching and liking her on TV. Itís a really positive experience all around, I mean she got the experience she needed and we got the extra attention while we also brought on all different types of crowds who had just listened to us for the first time.
KNAC.COM: Would you say there is any key to success the way LACUNA COIL has succeeded with being able to sell over a two million records worldwide?
FERRO: Iíll say that the key to success is obviously something Iíve never expected because we started more as a little underground metal band from Milano, Italy which is a very uncommon place to come out as a metal band. But beyond the record sales, pictures, and signings, itís really going to remain a legacy being able to create with the people along the way. Itís the people that enjoy our songs and find happiness in our songs, and the friendships we make throughout it all. I mean just the way people explain how our songs mean to them and how they affect them in their own personal lives. And thatís the most precious thing we will carry every day. Thatís the biggest key to our success.