Live Photos By Diego Gonzales
URIAH HEEP just wrapped up the second leg of the JUDAS PRIEST Firepower tour of North America, and KNAC.COM caught up with guitarist MICK BOX, who is the sole remaining member of the classic line-up. URIAH HEEP released a brilliant record last fall [2018] on Frontiers Records that was produced by the in demand JAY RUSTON. The album is titled Living The Dream and features stand out cuts like "Grazed By Heaven", "Living The Dream", "Take Away My Soul" and "Knocking At My Door". But wait, after MICK BOX we got a bonus, we got keyboardist PHIL LANZON for a few moments.
Ruben Mosqueda KNAC.COM: When was URIAH HEEP's first visit to America? Was the first trip surreal?
BOX: Our first concert in the U.S. was supporting THREE DOG NIGHT in March 26th, 1971 at the State Fairgrounds Coliseum Indianapolis Indiana. THREE DOG NIGHT at the time were the biggest band in the U.S. but were basically a pop band with great songs and three excellent singers. The venue had approximately 7,000 people in it and it was the biggest audience HEEP had ever played outside of European Festivals. It was an amazing learning curve and we went down incredibly well seeing as we were an out and out rock band. It was both surreal and very real at the same time. After that show we knew we wanted to break America big time.
KNAC.COM: You've wrapped up a tour of North American with JUDAS PRIEST recently. You made the most out of your allotted 60 minutes. How crucial is it for you to select the 'right' setlist?
BOX: We felt that the dynamic of a PRIEST audience was very metal, so we played full on rock songs from the first note to the last, and it went down incredibly well, and we felt that we had won a lot of new fans. We started with "Grazed by Heaven" from our latest album Living the Dreamand ended with the classic "Easy Livin'".
It was a very powerful 60 minutes of 'classic heavy rock'.
KNAC.COM: The new material from Living The Dream went over brilliantly with the classics, I'm sure you received a lot of feedback from fans.
BOX: Yes, we did and it was all positive!
KNAC.COM: How did you select JAY RUSTON to produce Living The Dream? What was the experience like? Would you team up again?
BOX: We had heard some of Jay's work with STONE SOUR, ANTHRAX, STEEL PANTHER, PAUL GILBERT, THE WINERY DOGS, and what I particularly liked with his work is that he kept the character of each band and artist. I think it brought a freshness of sound to their work. That is exactly what I wanted him to do for the HEEP and he did that in bucketloads! Yes, I would work with him again in a heartbeat!
KNAC.COM: How important is it for you to create music? You could go out play shows and play the back catalog.
BOX: It is more important than anyone realizes. To just rely on your old catalogue is soul destroying. You have to keep moving forward and being creative as that is what keeps you going. We are very proud of our history but we are equally proud of our new music too. We describe it as the old songs are 'classics' and our new songs are 'soon to be classics'.
KNAC.COM: Between 1970 and 1980 there were 13 URIAH HEEP albums, explain that. Was it an abundance of material that was left from album to album that lead to this?
BOX: We were being pushed very hard by our management at the time, so we never let our foot off the pedal for a decade! It was a combination of not wanting to lose any ground or success by having a break and in truth, part management greed.
KNAC.COM: "Easy Livin'" is a signature if not the signature song for URIAH HEEP in North America, do you ever tire of perfroming that one? How do you keep it fresh, night in, night out?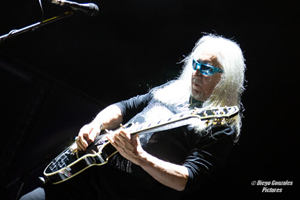 BOX: The audience make it fresh every night. Once we start the keyboard intro and the fists go in the air, that feeds us the adrenaline that makes it feel like it is the first time we have ever played that song.
KNAC.COM: What's your favorite tunes to perform and why?
BOX: I am a Gemini so it will change night after night. [laughs] On the JUDAS PRIEST tour we had a jam piece in the song "Look at Yourself" where we could open out let loose, so that was enjoyable each night. From the newer material, I'd go with either "Grazed by Heaven" or "Take Away My Soul".
KNAC.COM: KEN HENSLEY has been out of the band for a while now, do you keep in touch with him?
BOX: [pause] Ken has a different lifestyle to us now. He is a born again Christian and lives in Spain. He goes out and plays solo shows in Russia or Scandinavia and he has a band called LIVE FIRE that he plays some shows with. Our contact is really down to emails should there be anything historical to discuss.
KNAC.COM: What's the strangest gig you've been a part of?
BOX: Playing an acoustic show in a Salt Mine in Merkers, Germany. It took an hour and a half to get the audience down in the lift shafts. Rumour has it that this is where Hitler stored a lot of gold after or even during the war.
KNAC.COM: What's the best piece of advice that you've received that you still use to this day?
BOX: Oh, that's easy! Treat others as you would like to be treated.
But wait we also got PHIL LANZON too…
KNAC.COM: Phil, you've worked with BERNIE [SHAW] in the past, how far back do you two go?
LANZON: Bernie and I go back to 1978.
KNAC.COM: You stepped in to a role in this band that was filled by KEN HENSLEY, who had been out of the band for a bit before you got the call. I imagine you were a fan of Ken's and of URIAH HEEP's?
LANZON: No, I wasn't a fan at the time, but I respect those early compositions that have stood the test of time.
KNAC.COM: Where would you put Living The Dream amongst URIAH HEEP's back catalog?
LANZON: It's a damn fine record! First!
KNAC.COM: You released an album in 2017, If You Think I'm Crazy. Do you have new solo music on the horizon? If so, what is the status of that?
LANZON: Yes, it's called 48 seconds and is released next week on my website phillanzon.com and distributed through Cargo Records on 2nd August. It follows on from my love of movie soundtracks using a bigger orchestra for some of the songs. The title track "48 Seconds" commemorates the 1906 earthquake in San Francisco.
KNAC.COM: You're also an author and released Curse Of The Mudchalk Devil this past April. What inspired you to write a book? You could have always written some songs or a fantasy concept album.
LANZON: It is a fantasy adventure I was driven to write over many years. Why shouldn't I write a book fantasy book? Am I not allowed to venture into other genres?! [laughs]
KNAC.COM: How long was the book in the works? Would you do it again?
LANZON: The story took many droughts over a period of two decades, until it was ready to be born. I am at the moment writing the sequel which should be ready by the end of this year.
KNAC.COM: What's the strangest gig you've been a part of?
LANZON: At the top of a mountain in minus 20 degrees, wearing gloves, hats and scarves. A huge stage heater nearby that didn't make any difference and seeing people standing at a bar made entirely of ice! [laughs]
KNAC.COM: What's the best piece of advice that you've received that you still use to this day?
LANZON: Do what you love and enjoy, or don't do it at all.
URIAH HEEP Facebook: https://www.facebook.com/uriahheepofficial/
URIAH HEEP Official: http://www.uriah-heep.com/newa/index.php