JUNKMAN Recaps The 2019 SONIC TEMPLE FESTIVAL

By Junkman, On-Air Personality
Monday, June 24, 2019 @ 10:43 AM

| | | |
| --- | --- | --- |
| | | At Mapfre Stadium Columbus, Ohio May 17-19, 2019 |
All Photos By Junkman
"Three days of sun and fun and music, and nothing BUT fun and music." To paraphrase the words of farm owner Max YasgurSonic Temple Festival in Columbus Ohio, this was their quest.
After splitting with their long time partners AEG, and renaming the long-running Rock on the Range festival brand to Sonic Temple Festival, DWP had their work cut out for them. It was promoted as a "Music and Art Festival". Again, on the lines of the original Woodstock fest, but for most including myself, it was all about the music. Scheduled to feature over 60 bands on 3 stages in and outside of Columbus's Mapfre Stadium, the scene of so many years of ROTR, I had done this before many times, and as always, looked forward to Max Yasgur's quest.
Shying away from many of the hard rock bands that had previously played at ROTR, Sonic Temple dipped into different genres for this year's event, and I applaud that. Friday's lineup featured some very interesting sets as diverse as the straight up rock of THE JACKS, the bluesy duo CLEOPATRICK, theatrical euro-rockers AVATAR, and the hip-hop of HO9909 (pronounced "Horror"). The most bizarre set of the day was the infamous Russian band PUSSY RIOT, as their avant-garde performance left mouths agape and silence in between songs, amongst the curious crowd gathered at the "Wave Stage".
The rest of the day and into the evening featured many acts that have played the festival over the previous 12 years during its Rock On the Range phase. Columbus natives BEARTOOTH and Australians PARKWAY DRIVE brought the crowd surfing en masse, with their aggressive sets. BLACK LABEL SOCIETY and their leader, the kilt wearing Viking-like rock god Zakk Wilde, gave their fans just what they were looking for with their powerful brand of doom metal. Guitarist Tom Morello played a set filled with songs from his previous bands RAGE AGAINST THE MACHINE and AUDIOSLAVE, and surprised us all by bringing out SYSTEM OF A DOWN singer Serj Tankian for a serene version of AUDIOSLAVE's 2002 mega hit "Like A Stone".
HALESTORM, always a crowd favorite, amped it up on the Monster Energy main stage as the sun came down, with hit-filled and all too brief 8 song set. Singer Lzzy Hale always goes the extra mile with every performance, and even presented a young fan onstage with one of her signature Epiphone guitars. Her younger brother Arejay Hale started the set with some outstanding drum licks, and as they have done so many times, simply slayed their audience.
MESHUGGAH brought the heaviest set of the day to close out the Echo Stage and it was like a battlefield in the parking lot of Mapfre Stadium where that particular stage is located. Over at the Sirius XM Comedy tent, none other than Henry Rollins headlined a full day of comedy and spoken word performances that gave many festival goers a break from the non-stop onslaught of music on the three stages.
GHOST, even more so than AVATAR, stepped it up as far as theatrics for their performance. A large stage adorned with stained glass gave the appearance of a huge cathedral. As the masked members of the band cranked out GHOST crowd pleasers like the opening 1-2 of "Ashes" and "Rats", all eyes were on front man Cardinal Copia, whose smooth moves and likeable singing voice are almost akin to a latter day David Bowie. "From The Pinnacle to The Pit" and the Grammy award winning "Cirice" were two of the highlights from this observers eyes. This Swedish band is very unique, as well as very entertaining. The large crowd gathered inside Mapfre Stadium roared their approval as they finished their 12 song set with "Square Hammer" from their second EP in 2016.
Day 1 headliners SYSTEM OF A DOWN brought their best to Sonic Temple with a 27 song set that was unfortunately plagued with sound issues for part of it, so much so that singer Serj Tankian asked for a "reboot" drawing an unfavorable response from an obviously tired and disappointed crowd. And reboot they did, as the band played basically every song that one would want to hear from them without a hitch. Finishing the set with an explosive "Toxicity" and finally with the frantic "Sugar" it was a terrific way to end and eclectic day one of the Fest.
I arrived for Day 2 of the festival just in time to see my friends, Columbus retro-rockers BLACK COFFEE, jump-start the Main stage with their boogie and riff style that had their home town crowd moving and groovin' to their funky beat. A great way to start the day! As far as "movements" went, California band MOVEMENTS on the other hand, played a geeky, less than interesting set on the Wave Stage to a smattering of the curious.
Speaking of movements, the exciting FEVER 333 were in motion from the get-go on the main stage. Singer Jason Allon Butler sprinted from the stage up into the stands at Mapfe stadium to the delight of the crowd, but created chaos for the security as well as their stage crew who had to keep an eye on Butler's microphone cord. Yes, CORD. One would think if a singer was going to do the 200 meter dash from the stage to the bleachers, he would prepare with a cordless mic. Nope, not this guy. He also decided to pull up an on-stage carpet as part of his act, and again the stagehands had their hands full. He also dumped out the contents of a full garbage can and wore it, all the while continuing to rap out the band's style of hip hop rock. A very entertaining set to say the least!
GOJIRA cranked up the volume for their set, and even brought out LAMB OF GOD singer Randy Blythe to sing "Backbone". Their onstage pyrotechnics were an interesting touch. That is until a strong gust of wind blew the flames into guitarist Christian Andreu's face. Singer Joe Duplantier did not realize what happened at first. As the flambéed Frenchman Andreu left the stage and got some medical attention, Duplantier asked the crowd to encourage him back onstage, and eventually he returned, and the band incredibly continued their set. "The Show Must Go On" they say, and indeed the guy is a real trooper, but it shows just how dangerous pyro can be. It could easily have been a lot worse. GOJIRA the band is good enough not to need any flames to enhance their show. They kick ass without it.
I was pleasantly surprised by British band ARCHITECTS' set on the Echo stage. Lots of energy and excitement throughout their eight song set. I will have to keep an eye on them in the future. On the Monster main stage, IN THIS MOMENT and their elaborate stage show wowed the crowd and took it to another level. A creepy "Haunted Church" set produced the black robed band and dancers before the appearance of singer Maria Brink, adorned with a golden crown and black robe, began with a bizarre cover of Steve Miller's 1976 hit "Fly Like An Eagle". Numerous costume changes and choreographed moves involving Brink and the dancers followed in the all too brief five song set, and as always, it was very entertaining.
On the Echo stage, KILLSWITCH ENGAGE brought their brand of stripped down heavy rock to a very lively crowd. Singer Jesse Leech was completely amped up and even jumped into the crowd a few times during their ten song set, which culminated with their excellent cover of the DIO classic "Holy Diver". Guitarist Adam Dutkiewicz was his usual dorky self, running around the stage in some colorful short shorts and a headband that spelled BEER. The crowd loved it.
LAMB OF GOD proved once again to be a force in the world of heavy rock. They were one of the most welcome and beloved bands of the entire festival. The energy that they, in particular their front man Randy Blythe, exude is always a treat to witness. The pre-show chants of "LAMB OF GOD, LAMB OF GOD" from the tightly clustered crowd inside Mapre Stadium echoed throughout the festival sight. I could hear it from the media tent. This type of fan generated passion gave fuel to the fire that is LOG and they slayed their fans with a brutal ten song set that was warp speed from the get go.
Blythe, pacing and leaping through a set that included "Walk with Me in Hell", "Engage the Fear Machine" and "512" looked like an escaped lunatic from an asylum. He just has that look of chaos about to happen at any moment. It was nice to see guitarist Willie Adler playing his recently returned ESP Warbird guitar after it had been stolen earlier in the month. After cranking it up and staying at maximum level the entire set, it ended with a killer version of their 2006 release "Redneck". And just like that, it was over and the crowd disbursed. Off to refuel and get ready for the next act.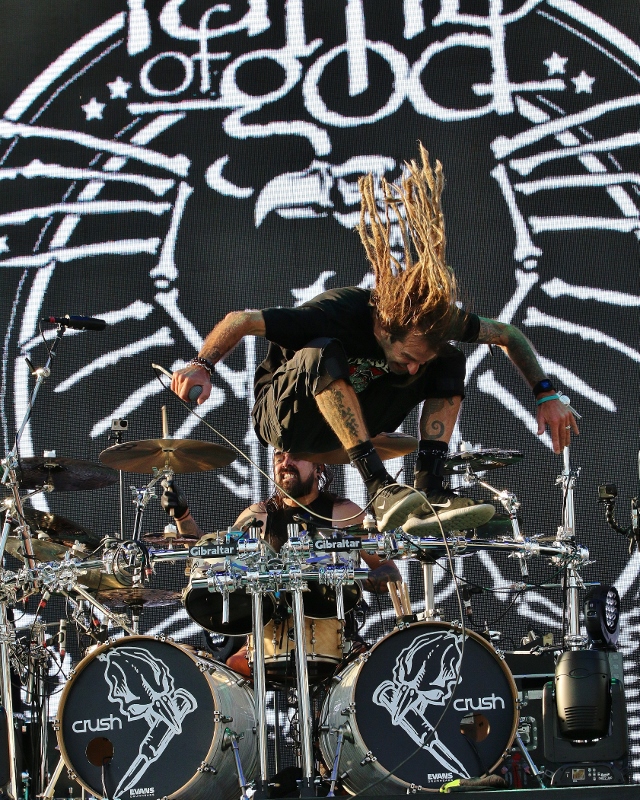 I took a bit of a break myself and grabbed a bite to eat from one of the many vendors that were packed in and around the stadium. Merch booths were doing a brisk business. The "Zippo Sessions" booth on the far side of the grounds had a stage set up and short sets from a variety of the bands that played the bigger stages. They did stripped-down sets throughout the weekend, getting a bit more up close and personal with the fans. On Saturday, FEVER 333, Mark Lonegan and PAPA ROACH singer Jacoby Shaddix appeared and performed to the delight of their fans.
THE CULT then performed a classic set at the Echo stage. I, like many others in the crowd, have loved this band for many years. The songs, like the opening "Sun King" as well as hits like "Fire Woman" and the closing 1-2 of "She Sells Sanctuary" and "Love Removal Machine" were solid. Singer Ian Astbury looks annoyed at all times, like he doesn't want to be bothered. Yes, he's a moody guy and famously has been for many years but it shows when he is onstage, and that's not pleasant to see. His partner in crime however, guitarist Billy Duffy, is always the epitome of cool. He is his generation's Joe Perry. A solid band including the exceptional drummer John Tempesta, bassist Grant Fitzpatrick, and keyboardist Damon Fox make this band cook.
On the Monster Main Stage, PAPA ROACH wowed the crowd with a very up tempo and classic set. The slot was originally supposed to belong to THE PRODIGY, but do to the untimely death of their leader, Keith Flynt in March, PAPA ROACH stepped in and did a fine job. As a tribute to Flynt, drummer Tony Palermo had Flynt's sneering picture on his bass drum head. They even did a cover of PRODIGY's "Firestarter" later in the set. Singer Jacoby Shaddix is a man in constant motion. He is all over the stage, bobbing and weaving, and even jumping into the crowd on occasion, as he did early in the set. All the PAPA ROACH hits were represented, from the opening "Last Resort" to the fist waving "Getting Away With Murder" and 2004's hit song "Scars". IN THIS MOMENT singer Maria Brink even joined the band for "Gravity" as she did on the record when it was released in 2015. Again, a fine set from the guys in PAPA ROACH who really stepped it up when they were needed.
Comedy tent headliner, the legendary Andrew Dice Clay appeared onstage, and did a short bit featuring his old routine of dirty nursery rhymes. This seemed to charge up a few in the audience. It seemed to be mostly fired-up drunken males who bellowed out, from various points of the stadium, punchlines like "What's in da bowl, bitch?" and Clay's patented "OHHH!" To some, it was a nice way to relive the times when Clay was on top of the comedy world. Again, I was there for the music.
Musical headliners DISTURBED closed out the day with a slick set that featured their patented sound and angst ridden lyrical charge. Gone was the pyrotechnics that they have used in the past, perhaps because of the GOJIRA incident early in the day and the fact that the wind had picked up a bit as the evening wore on. In any event, DISTURBED and especially singer David Draiman had the audience's full attention throughout. Draiman has been doing this for quite a while, and his rap with his audience has not changed much over the years. "My brothers and sisters, my blood. SPEAK TO ME!" I have heard him scream this for years, and it still gets a roar out of the crowd every time.
Draiman and his DISTURBED brothers, guitarist Dan Donegan, bassist John Moyer, and drummer Mike Wengren rocked a fourteen song set with all their popular material represented. The opening song "Are You Ready" was the perfect kickstart, and of course the closing number, their first hit "Down With The Sickness" with its stuttering "Wa-a-a-ah" vocal start was not only echoed by most of the crowd, but was exactly what one would expect them to close their set with. Their stirring version of the classic "The Sound Of Silence" near the end of the set was the only time that the crowd was hushed. A fine set from the Chicago-based DISTURBED yet again, and a great way to finish off Day Two of the festival.
Ohio, as most of you know, is "smack dab in the middle" of these here United States, and the weather can get pretty tricky at times. Sunday storms were being predicted as far as a week ahead, but you just never know what you are going to get. With a huge crowd expected for Sunday's event, it seemed the people at DWP were making sure that being safe, was better than being sorry.
After seeing some great sets early on from retro-rockers DIRTY HONEY, the always clever singer/songwriter AMIGO THE DEVIL, and a surprisingly pleasant set from Canadian band PALAYE ROYALE, the word went down that the Wave Stage, and the artists that were to perform on it would be cancelled due to "extreme wind advisory". In other words, the organizers were taking no chances on the weather perhaps causing havoc. Six bands, including SCARS ON BROADWAY and BLACK PISTOL FIRE, who I was looking forward to seeing, suddenly had the day off.
I managed to see a good set from the GLORIOUS SONS on the main stage and another outstanding show from THE STRUTS as the rain started to come down in spurts. After a magnificent set on the Echo stage from THE HIVES, the entire festival went into "Code Red" and was evacuated for the safety of all. Most people retreated to their vehicles. Others, like my friend and his son, who had travelled across the state to attend, simply bailed, tired and disappointed. Main stage acts like the DISTILLERS, CHEVELLE, and BRING ME THE HORIZON had to cancel their performances and were visibly upset backstage. Later on in the evening, the DISTILLERS and REFUSED played a show at a local club, and all proceeds went to a charity called "Women Have Options".
Even though I did not witness anyone reliving the original Woodstock festival "No Rain" chant, eventually the weather let up and JOAN JETT AND THE BLACKHEARTS played a short but rocking 8 song set on the re-opened Echo Stage. Jett has not lost a step and even at 60 years old, this Rock N Roll Hall of Fame honoree can still do what she does best. Opening with "Bad Reputation", it was full throttle for a small but mighty crowd sloshing around in the wet parking lot outside of Mapfre Staium, where the stage is located. Her array of cover songs like Gary Glitter's "Do You Wanna Touch Me (Oh Yeah)" and Tommy James' "Crimson And Clover" were right up there with her hits like THE RUNAWAYS classic "Cherry Bomb" and her mega-hit "I Love Rock n Roll" that had everyone singing along with every chorus. "Not bad for an old broad" I heard someone say.
Festival headliners FOO FIGHTERS were not going to let the weather get in their way of a good time. Comedy stage headliner Pauly Shore, still reeling from the death of his father, comedian Sammy Shore the day before, bravely came out onstage sporting a T-shirt with a picture of his dad on it as well as a Chicago Cubs jersey, and brought out the beloved FOOs.
What followed was a classic seventeen song performance, with no rain I might add. Opening with the charged up "All My Life", Dave Grohl and company gave the people exactly what they wanted with an awesome display by a truly wonderful band. So many FF classics were represented, including "Learn To Fly", "Times Like These" and "Rope". Grohl, clearly having a great time onstage, was everywhere, bashing at his blue guitar and teasing the audience with his over the top impersonation of a death metal singer.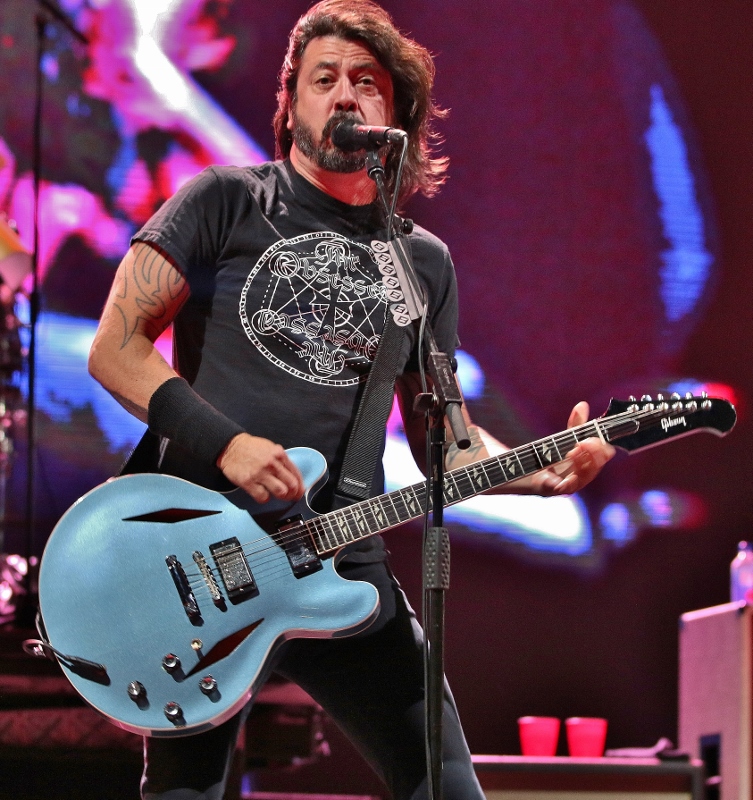 Dedicating "My Hero" to Sammy Shore, and bringing Pauly out again to sing the chorus was a nice touch. Guitarist Pat Smear seemed like he was in his own world throughout the show, especially during a guitar solo that the band broke into bits of the MTV theme song for the 1980's era, and then explained what it was to the crowd, of which many millennials were present and might not have a clue what it was.
Drummer Taylor Hawkins gave up his drum seat to Grohl, and came down front to sing a vocal duet with STRUTS' singer Luke Spiller on the David Bowie/QUEEN classic "Under Pressure". The audience roared its approval. A revved-up version of "Monkey Wrench" followed and the band finished up their set with two of the FOO FIGHTERS' most popular numbers, "Best Of You" and of course, their perennial final song "Everlong". Leave it to the FOO FIGHTERS to make the disappointed fans forget about the weather or anything else as they solidified their spot at the top of today's rock acts with yet another in a long line of terrific shows.
And that, as they say, is a wrap. Although the rain literally did "dampen" things a bit on the last day and I did not see much art, there was the music. And yes Max Yasgur, the fine people at Danny Wimmer Presents are still fulfilling your quest. "We Are Stardust, we are Golden". My thanks to all who made this possible and those that made it possible for me to attend.
Check out some more photos from the festival at the links below!
All Photos By Junkman
Please log in to view RANTS