Live Photos By Larry Petro
KNAC.COM spoke with the mastermind behind the RONNIE JAMES DIO hologram, "I reached out to WENDY [DIO] in 2015 about developing a DIO hologram, I'm a fan just like you. It's been years in the making, as you know we debuted it in Germany at WACKEN in 2016 in front of 75,000 people", says creator JEFF PEZZUTTI and CEO EYELLUSION from New York City. "We reworked a few things, we added more visuals, I think people are going to lose their minds when they see it", says PEZZUTTI proudly. "You really have to be in the room with the hologram to really get it. It's hard to really judge it based on a clip of cell phone footage that someone has uploaded on YOUTUBE. We have made some major improvements not only on the hologram, but the entire show, so it so different than what fans saw at WACKEN and what they saw on the 2017 tour". The DIO DISCIPLES will hit the road on May 31st along with the new and improved RONNIE JAMES DIO hologram for 18 shows branded as the 'DIO RETURNS TOUR'. KNAC.COM also caught up with TIM 'RIPPER' OWENS of DIO DISCIPLES as he got ready for the upcoming 'DIO RETURNS TOUR'. "It's something new, each time it's been done, EYELLUSION have improved it. This will be the second tour, I'm really excited for people to see this, I really think they've learned alot from the first run", says the singer enthusiastically.
KNAC.COM: DIO RETURNS will make its AMERICAN debut in less than four weeks. Are you nervous, at all?
OWENS: [laughs] No, I'm more excited, as a fan of RONNIE's [DIO] I'd be excited if I were someone that had bought a ticket to see this. That really excites me and that I'm a part of something new.
KNAC.COM: I was speaking with JEFF [PEZZUTTI] earlier and he was really excited because of the improvements that have been made to the hologram.
OWENS: I agree, we have had to rehearse a lot and the band needs to practice alongside the hologram to get the timing right. They haven't just refined the hologram but the entire show, the stuff like the feed that's happening in the background, the stuff that is taking place on the side of the stage, you have to see it to believe it. It's amazing! The sky is the limit with this after seeing what EYELLUSION have done, I just see this getting better and better. I've seen the FRANK ZAPPA one that has been touring across America and sounds like it will be heading to Europe shortly. That's been a success! I liken this to any other piece of technology, the next is always better than the first, like with cell phones, remember the old cell phones? Compare those to what we have now.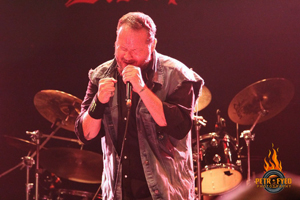 KNAC.COM: So to be clear, this isn't just the hologram on stage, it's a huge production.
OWENS: That's right, people need to know that this IS an entire show, it's a huge production that features his former bandmates and his close friends performing RONNIE's catalog. ONI [LOGAN] and I do some songs then here comes the hologram and does a performance! [laughs] It's kind of crazy, man! [laughs]
KNAC.COM: There's been talk about the DIO hologram being a 'cash grab' and that it's done for the wrong reasons, but I think you'd have to see this once or even twice before you can bash it.
OWENS: [laughs] I know I have heard that too. Listen, if WENDY DIO wants to do a 'cash grab' she would just sit at home because she owns the rights to the music, she can just wait for it to rain money! She's spending a lot of money to make this happen and why is she doing this? She's doing this to make the fans happy.
Listen, I don't think anyone is saying that FREDDIE MERCURY's estate is doing a 'cash grab' since the movie was released [Bohemian Rhapsody]. This is much less of a 'cash grab' than someone forming a QUEEN tribute band, because that's people doing it just for the money! [laughs] If someone is dressing up as FREDDIE MERCURY, I'm not saying it's wrong or something, I'm all for entertainment, but that is for money. What really gets me is when people say stuff like, "Well, RONNIE wouldn't like that". Listen, just because you bought the records, and you sang "Holy Diver" in your bedroom as a kid, doesn't mean that you knew RONNIE DIO.
We are the friends and the family of RONNIE, we feel that RONNIE would have loved this because it is about the fans. RONNIE was always about trying to make the fans happy and I don't know how people are missing that point. The point being, that we're doing just what RONNIE would have done and that is making the fans happy. I understand people may not initially 'like' the idea, I don't like something, but I will gives things a try before I pan it. I personally would love to see a DAVID BOWIE hologram show, I never got a chance to see a BOWIE show and to me that would be exciting. I would love the chance to see a him do ZIGGY STARDUST and all the various phases of his career. I don't use a flip phone, I don't listen to cassettes, I move with the times and this is moving with the times.
KNAC.COM: How much input do you have in the songs in the set that you'll be performing and are there song that you felt strongly about that you had to fight to get into the set?
OWENS: With THE DIO DISCIPLES we have a massive list of song that we can choose from for the set, now with RONNIE [the hologram] doing half of the show, we have less songs to choose from because the hologram is performing them. This time around it's kind of decided by the team putting this together and JEFF [PEZZUTTI]. I'm always a fan of doing new material, in this case new old material that hasn't been in the set before, so I have been a proponent of that. I think it was decided that we should throw in a couple new things into the set for the tour, the final set hasn't come back yet but I hope there's a couple new things in there. So we'll see, but I have to say the guys hate it when I come back with my set list because I always have 4-5 songs that we haven't done before and it's stuff that they'll have to learn or relearn! [laughs]
KNAC.COM: How do you and ONI [LOGAN] determine which songs you're each performing in the set?
OWENS: It's been nice that recently I have been performing the entire set when I've gone out with DIO DISCIPLES, now we'll have ONI back for this tour and we'll have the hologram, so we're splitting everything up. When we split things up like this, I like to take the 'heavier edged' RONNIE stuff and ONI gets the stuff that leaning more towards the 'bluesier' side of things, stuff from RAINBOW. That's one of the things I like about being a part of DIO DISCIPLES is when I get to showcase my ability to sing some of the 'blusier' stuff, I think people often times think I can just do the heavy stuff. In the past we've split "Last In Line" and "Don't Talk To Strangers", I will take the first part and ONI takes the second half of the songs, but on this tour RONNIE will be singing "Last In Line", so ONI will do "Don't Talk To Strangers" on his own.
KNAC.COM: Before I let you go, there was some other stuff that I didn't get a chance to ask you about due to constraints. A NEW REVENGE have released the debut album Enemies And Lovers, I know you've had a busy year with albums from THE THREE TREMORS, SPIRITS OF FIRE and now the THE DIO RETURNS TOUR. I was surprised by your performance with A NEW REVENGE, I say surprised because of how well your voice lends itself to doing a contemporary hard rock album. You've done some of this before on your solo album, but not a complete album like this.
OWENS: Thank you. I have used that 'voice' a lot, it's still me singing, but it's just how the melodies are, the hooks and the catchy choruses. I think that's the difference on this album. You nailed it, I did some of this on my solo album and to some extent on the last CHARRED WALLS OF THE DAMNED album. You can hear some of that with JUDAS PRIEST on something like "Hell Is Home". I think the difference is, the songs and the songwriter, KERI KELLI and I just worked great together and we made a great commercial, hard rock record. It's interesting that heavier stuff like THREE TREMORS or SPIRITS OF FIRE a target audience likes, but A NEW REVENGE everyone seems to like.
KNAC.COM: I spoke with a KERI a while back about the record, he did the bulk of the songwriting but I imagine that you took your liberties on the melodies and the phrasing on the songs?
OWENS: Yes, absolutely. It took us a while to complete this record, about a couple of years. I was recording vocals for someone the other day and I came across some of the files that Keri send me from the PLANET ROCK [former name of A NEW REVENGE] and there are a couple of songs that are totally different than what wound up on the record. I was looking and there were a few of them that we didn't even use, which I hadn't realized. There's different melodies from what the original ideas were, for example "Glorious" has a completely different verse than when we first wrote it. The original almost sounds like a QUEENSRYCHE song! [laughs] KERI is amazing, I really look forward to writing some more songs with him.
KNAC.COM: I love that you brought up "Glorious" because it's a hard rock song that then had this killer, power metal sing-along chorus and the verse it sounds reminiscent of DON HENLEY's "Boys Of Summer".
OWENS: It's really funny you mentioned DON HENLEY because it must have been about a year after we wrote that song, I played it for a friend, he was like, "that sounds like something. That sounds like that DON HENLEY song"! You're right about the songs, but this one in particular builds into this anthem choruses, stuff that you can hold your hand up in the air and sing at a concert.
KNAC.COM: RUDY SARZO [OZZY, WHITESNAKE, QUIET RIOT] laid down the bass tracks on the album, but looks like you have PHIL SOUSSAN [OZZY, BILLY IDOL, VINCE NEIL, LAST IN LINE] on deck? He's in the music videos for "The Way" and "Never Let You Go".
OWENS: Well, we're all busy with various things, so when it came time to shoot the videos to promote the record RUDY couldn't do it because he was swamped with other stuff. So we got PHIL, going forward it probably will be PHIL, of course if RUDY could do some shows if we could line something up that would be great, but who knows? What a pair of bass players to have PHIL and RUDY, you know! [laughs]
KNAC.COM: And there's a link to DIO with both of those guys, SARZO played with RONNIE and PHIL plays in LAST IN LINE with former DIO members and both played in OZZY'S band who RONNIE replaced in BLACK SABBATH...
OWENS: [bursts into laughter] That's right!
KNAC.COM: Has there been any talk of new CHARRED WALLS OF THE DAMNED music?
OWENS: It's funny you mention that, because this morning when I went to the gym CHARRED WALLS OF THE DAMNED came up on my phone while working out. I thinks that's a sign that things will get fired up with CHARRED WALLS soon. I think it's time, we'll see what RICHARD [CHRISTY] says.
https://www.facebook.com/DioDisciples/
https://www.facebook.com/timripperowensofficial/
https://www.ronniejamesdio.com/