KNAC.COM Recaps The 2019 RIDE FOR RONNIE

By Francisco Zamudio, Metal X Candy 2.0
Wednesday, May 22, 2019 @ 6:39 AM

| | | |
| --- | --- | --- |
| | | Held On May 5th, 2019 |
Review And Photos By Diego Gonzalez, Los Angeles Photographer And Director
Ronnie James Dio left this world on May 16th, 2010. He passed fighting the dragon known as gastric cancer. Anyone who ever played one of his songs, sees a performance, or felt his presence knows he was a musician whose talent, charisma, and legend was among the highest of anyone who walked the earth. The man, simply put, is an everlasting icon and Metal music hero. On May 5th, 2019, the Ride For Ronnie was the fifth annual celebration of this true music legend. The following is an account of this tremendous charity event and the magic that it brought.
Accompanied by my counterpart from KNAC.COM, Francisco Z and I met up on a perfect, cool Sunday morning at Harley Davidson of Glendale. We were greeted by the sight of blocks of motorcycles parked in unison ready for a procession of solidarity, remembrance, and reverence for Ronnie and his cause. Brothers and many ladies, wearing various colors and coming from many diverse backgrounds, were admiring each other's bikes, reuniting with old friends, and clearly making new ones. Classic Metal tunes were being played over loudspeakers and police escorts were standing by. Some notable riders were renowned bass player and actor Sean McNabb, Ronnie's doctor Sandeep Kapoor, and Ronnie's widow Wendy Dio. Wendy, leading the ride, was sporting a pink motorcycle jacket and helmet with "Dio" prominently placed on it.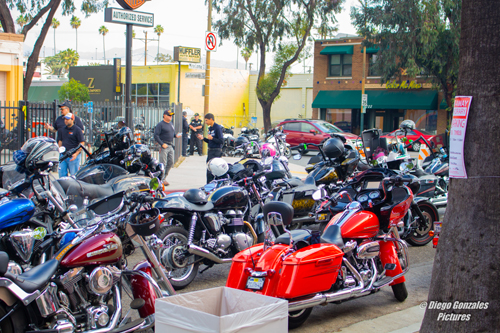 As if with a spark and chain reaction, all of the bikes started their engines and the sound of American muscle began to fill the air. It was an impressive sight to see all of the bikes round the corner and head down the street to cruise LA toward the concert location. Francisco and I took the direct route to see the bikes arrive en masse at Los Encinos Park in Encino. It was amazing to see such a tough looking group of motorcycle enthusiasts and Metal fans wearing such broad smiles. The vibe was almost like a holiday parade. Following the crowd, we came into the park to find a beautiful grass field circled in canopied booths joining the center stage. Artisans, merchants, food trucks, beverage stations, clubs, related charities, a silent auction for the cause, and information booths made up the border circle. I was pleasantly surprised by the fairly priced beverages, food, merch and charity memorabilia. It helped to know that much of what I enthusiastically spent was going toward such a good cause.
As if the smiles and warm manner of everyone attending wasn't enough, the music played there that day was the greatest reward. SADIE & THE TRIBE kicked off the tunes with incredible vocals, rich basslines from standout Gabriel Conner, smooth drums, and fantastic guitar. Sadie Nardini showcased her band with her voice and their instrumental precision shone through. Their animated delivery and clarity in tone won the crowd over.
DIA, a mostly female tribute to Ronnie James Dio's music, brought a brightness and enthusiasm for the songs that everyone most wanted to hear that day. Shannon Moore was on point with the vocals. Eileen Nieto blazed and nailed it on guitar. Liza Sanchez shined on stage with her bass, and Chris "Drumslut" pounded true all the songs that the most loyal of fans were listening so closely to. You couldn't pick a more intimidating crowd to play difficult beloved songs to, but DIA delivered the goods!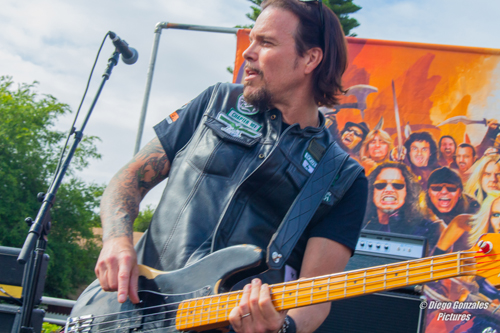 In true form, BUDDERSIDE took the stage and the level of enthusiasm continued to grow. The bands grooves were undeniable. They were a powerhouse and delivered some crushing jams paired with a high energy vibe. Charismatic singer Patrick Stone and awesome drummer Rich Sacco later took a moment to talk with us. They have been a part of the Ride For Ronnie three times. It was clear by the reception and cheers that they had many fans in the audience. They proceeded to win many new ones this go around including myself. BUDDERSIDE was signed by Lemmy himself and they were pumped to inform us of the release date for their new record Spiritual Violence on Sept 27th on Motorhead Music. One would be hard pressed to find musicians so talented act so personable and friendly after their performance. It was clear that they were performing for the cause and believe in it so much.
Master musicians DC4 also rocked the field along with PETTY CASH. PETTY CASH is a tribute to Tom Petty and Johnny Cash, and their songs fit in nicely with the warm mood of all the concertgoers. Talented band poured on top of talented band, BULLETBOYS took the stage and brought the energy to another level. Passion, commitment to performance, and lots of motion come with every BULLETBOYS performance. This was no exception. Always a fan of Anthony Tiny Biuso, I loved to see how he hits the drums so hard and precise. He always puts the best drum face on for all the fans. Marq Torien led some amazing Ronnie James Dio chants during the set, and with all the fun being had, he brought us back to earth for that moment. Marq reminded us why we were really there and who was being honored.
At a somber and victorious moment, Wendy Dio introduced Dr. David Wong from UCLA and Ronnie's own doctor Sandeep Kapoor to the concert. The doctors went on to tell us that gastric cancer is a cancer that has early warnings. If it can be detected, survival rates can be drastically improved. Dr. Wong went on to inform us of the grants received from the Ronnie James Dio Stand Up and Shout Cancer Fund and that they have gone on to actual "clinical fruition" for cancer treatment. Early detection through saliva is becoming a reality and will lead to many lives that can be saved.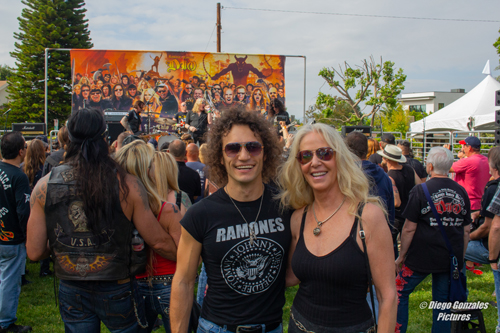 Backstage, Francisco and I ran into iconic actor Robert Patrick of Terminator 2 and Sons of Anarchy fame along with countless feature film and TV credits. He is a true motorcycle enthusiast and was one of the riders that arrived at the concert. I was pleased to discover that he is also a Metal fan. He went on to tell me that his brother Richard Michael Patrick is the lead singer and the founder of FILTER and the original guitarist for NINE INCH NAILS. He is the owner of Harley Davidson of Santa Clarita. His business partner is the owner of Harley Davidson of Glendale, where this year's Ride started. Robert was wearing his colors from his club the Boozefighters. In 1946, just after World War II the club was founded to fill a void in action and adrenaline that motorcycles provided to those that returned. Robert says the Boozefighters is the only motorcycle club in the Harley Davidson museum. I mentioned that I noticed that Sean McNabb was also wearing these colors and he confirmed that Sean is a club brother of his.
Host of the event, Metal historian and major influencer Eddie Trunk also took a moment to speak to us. He has been there for the Ride For Ronnie from the beginning. He accepted the personal request from Wendy to fill the role in its inception and again this year. He spoke of his friendship with Ronnie and his dedication to the cause and his memory. His presence and participation there were proof of the magnitude of importance that the event carries.
Back into the action of the concert, Eddie Trunk's All-Star Band closed out the show. Only to name a few members, Chas West (Westbound, Bonham, Lynch Mob, The Moby Dicks), Jimmy Burkhard (Westbound, Billy Idol), Kelle Rhoads (Randy Rhoads brother), Sean McNabb (Rough Riot, Lynch Mob, Dokken), Jerry Montano (Hellyeah, Danzig), Neil Turbin (Deathriders, Bleed the Hunger, Anthrax), totally moved the entire field. As if that wasn't enough, an "it" guy rolls in. Dave Grohl from THE FOO FIGHTERS, and, oh, yeah, some band named NIRVANA, rocks up and a buzz came over everyone. Rumor has it that he was at a store buying groceries and a staff member from the concert was there on an errand. The staff member told Dave that the Ride For Ronnie was underway and Dave jumped at the chance to come down and lend a hand. Backstage, I personally heard Dave say to someone that he was six blocks away and came down because he heard the concert was for Ronnie. Dave went on to play a couple of tunes, "Jailbreak" from THIN LIZZY and "Bomber" from MOTORHEAD.
I went into the crowd to see things firsthand and smush my camera in between some fans. Something incredible happened. I got to see some magic in the midst of the most talented of countless musicians who played that day. It wasn't that I heard the most amazing fills, or saw some tricks or flash, or heard something unlike what was played, but there was a notable difference with the intensity of how he brought his music to the stage. He hit hard and, as if with all his being, he became the music. Somehow, he brought an expression and shine to the instrument that was remarkable. I snapped away, and as if possessed and compelled by inspiration, I took my shots of him. I paused at times to take the moment in at real time and really appreciate that I was seeing him play. He wasn't expected to be there, but there he was. What he brought was intense and not to be forgotten. Dave Grohl came in support of the Ride For Ronnie and he clearly left his mark on everyone attending. I was not immune to the magic he infused us with. I was blessed to place his gesture along with all the music that everyone brought that day. It was among the finest I have ever experienced, and it was for one of the greatest Metal and music legends that gave us a reason to live and fight, Ronnie James Dio.
It is reported that the #RideForRonnie this year raised $46,000 for the @DioCancerFund! #DioCancerFund
Diego Gonzales, Los Angeles Photographer and Director
Check out the video recap and photo gallery below!
Please log in to view RANTS