Back To Life: An Exclusive Interview With MICHAEL SCHENKER

By Shelly Harris, Chicago Contributor
Wednesday, April 24, 2019 @ 6:12 AM

| | | |
| --- | --- | --- |
| | | On Ted McKenna: "It was a really, really, really indescribable situation because he went into the hospital thinking he was going to walk back out an hour later" |
"I am ready to rock!" Michael Schenker genuinely enthuses, on the line from his current home in Brighton, England.

And there is no question whatsoever that guitarist extraordinaire - and true rock royalty - is a man on a mission once again as he readies for the newest, second American leg of his Michael Schenker Fest Resurrection tour, which he calls the "icing on the cake" of his recent creative output in the form of the second SCHENKER FEST album, Revelation, set to be released on August 23rd via Nuclear Blast.

The current Resurrection tour leg (which just kicked off on the current leg with three nights at Hollywood's Whisky A Go-Go) featuring all three prior MSG vocalists again (Graham Bonnet, Robin McAuley, Gary Barden), along with TEMPLE OF ROCK singer Doogie White, promises to be an encore performance to the other past MICHAEL SCHENKER FEST tours that have demonstrated that the maestro is amazingly at the top of his game in every respect. However, all of it was almost completely derailed in late January this year with the unexpected death of longtime drummer Ted McKenna, right after the new album and tour had been announced on Schenker's 64th birthday earlier in that month.

"Oh, first of all, you probably know about this, but Ted McKenna, our great friend and drummer, passed away on the 19th of January," he explains, detailing events that might have knocked him off course at an earlier time in his career. "It was a really, really, really indescribable situation because he went into the hospital thinking he was going to walk back out an hour later, like Herman Rarebell - he had the same operation. But, Ted never came back. You know, it was such a big shock! And then to figure out how to deal with that was almost an impossible thing. I can only do one thing. But I am sure Ted is watching and is saying, 'Michael, keep on rocking,' and that is how I have to think."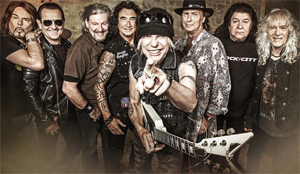 Still, things were a mess logistically, and there was a big time crunch too: "We had to figure out how to carry on," he explains. There were so many songs that we play in America, and finding a drummer who does the album and plays the tour was almost impossible; too many songs to learn in that amount of time that we had left! And so, we invited two."
Schenker is referring to Simon Phillips and Bodo Schopf, and elaborates that "It made it easy to decide who was doing what. Simon, who was the first drummer in the MICHAEL SCHENKER GROUP, who plays with TOTO and Jeff Beck, could do ten songs for the new album, and Bodo, who was with MCCAULEY SCHENKER GROUP, did three songs, on the new album [Bodo will also be the touring drummer]."
"We worked like crazy to get a 150 minute show together," Schenker admits. "Basically, we worked so hard ... but it is really great, and he [Bodo] can read music, so it was very, very helpful that he was able to do that. It helped put everything together. So, basically, we are ready!"
However, Michael did have to make some other adjustments as far as the album production is concerned. "I originally had a big guest list, you know. I wanted to put guests on the album, but I scrapped it because it would have been too time consuming. And, basically I said to Michael Voss, the co-producer, 'Forget about this guest list - we need to get on with it!' And so, we actually had a way to work on the "ALL songs" - the songs where everybody sings - and the fourth one - last time we only had two - and the fourth song became complicated. And Michael [Voss] said, I just worked with a guy - Ronnie Romeo [vocals] from RAINBOW and I can ask him to learn the song so that we can be done with it."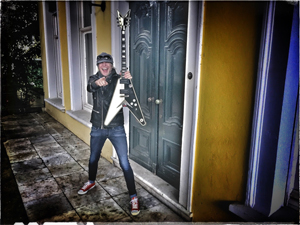 However, MICHAEL SCHENKER FEST won't be playing any songs from the new Revelation album until the end of the tour. "It is still the Resurrection tour," Michael points out. But, he adds, elaborating further about the genesis of that album, "I am inspired, you know! Things have been falling into place. I am ready! So, I just thought, I know I can put this together, and I started writing, and it started last November. For some reason, I ended up with 13 songs this time. I went into the studio, and I said, 'Michael [Voss], Hey, I am ready, and here's the first song!' ... And we then started to design the blueprint for the new album and send it out to the singers, and to the musicians to get used to it and to understand what it was about - and what direction the songs were going." (The other musicians in MICHAEL SCHENKER FEST live and on album include Steve Man on guitar and keyboards and Chris Glen on bass.)
"And then," Michael explains, "everybody put their personality and some additional bits to it, and Michael Voss and I have been working for almost 10 years and he knows what I am going to choose. When the first piece comes out of my guitar, and the first song starts to develop, that's when he starts having ideas. We inspire each other based on what I am putting down. He's very good at programming the drums and I also know which way the drums need to go. In the end, with new circumstances, we always find a way to bring in the fresh elements, to something fresh that we didn't do before."
Summarizing his mindset and motivation in keeping the album production as well and current the tour on track, despite numerous obstacles, Schenker concludes: "This thing is going so well, and we're having fun! I am not going to wait at my age!"
Please log in to view RANTS