JESUS CHRÜSLER SUPERCAR Reveal Lucifer Album

By Larry Petro, News Monkey
Saturday, April 13, 2019 @ 11:18 AM

| | | |
| --- | --- | --- |
| | | |
The furious Swedish Death 'n' Roll infernal machine JESUS CHRÜSLER SUPERCAR has already released in February the EP Holy Chrüst – Horn Alley Live Session featuring four self-interpreted cover songs of MOTORHEAD, DANZIG, MC5 and Bob Dylan in honour of their youth idols as an appetizer. Now they have finished the production of their third album Lücifer with plenty of power under the hood and continue to race at full throttle on the dusty asphalt of the Rock 'n' Roll highway. Led by their axe swinging front man Robban Bergeskans, the Stockholm pack, consisting of drum machine Nicke Forsberg and former REFUSED and THE BONES guitarist Pär Jaktholm, has once again entrenched itself in the legendary Sunlight Studio. With Claes Nordin (MASS WORSHIP) and Peter Hallgren (SORCERER), two well-known Swedish Metal musicians have also left their mark with guest appearances on Lücifer. Nicke's brother Fred Forsberg (MASS WORSHIP, ANCHOR, GUST) and producer legend Tomas Skogsberg (ENTOMBED, THE HELLACOPTERS, AMORPHIS) are jointly responsible for the mix, this time. The mastering has been done by Brad Boatright from Audiosiege (BONVERGE, C.O.C., BLACK TUSK). Lücifer hits the perfect sound between the 90s' dirty rough Rock 'n' Roll and the up to date Death 'n' Roll mace! These are the eleven psalms of Lücifer's playlists:
"Lucifer"
"Flesh 'n' Bones"
"Never Sleep Again"
"High Times For Low Crimes"
"Boogeyman"
"Suck On My Balls"
"Out Of My Head"
"From Death To Dawn"
"Straight To Hell"
"You Can't Spell Diesel Without Die"
"Black Blood"
The result is a malicious, fierce album that merges its various musical influences from dirty Heavy Rock, Doom, Stoner and old school Death Metal into an original diabolical brew. Get ready for the hottest mixture that the European scene has to offer at the moment and not without reason bears the clear title "Lücifer". On the joint European tour with BULLET and SCREAMER last year, the JESUS CHRÜSLER SUPERCAR fans could already convince themselves of the quality of the title track as well as the mangy uptempo rocker "Flesh 'n' Bones" and the skills of the new guitarist Tobbe Engdahl!

JESUS CHRÜSLER SUPERCAR have already caused a worldwide sensation with their brilliant video clips for the singles "Killing Machine", "Pitchfork", "God Gave Me Nothing", "From Hell" and "Let It Roll". This tradition will be followed by Pär Brännström's new music video for the first single release "Lucifer", which will be available on April 26th, 2019.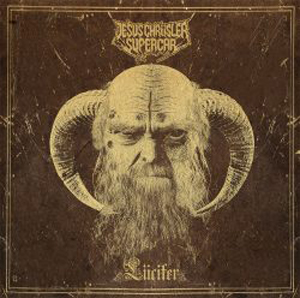 In October JESUS CHRÜSLER SUPERCAR are going to continue their American road cruiser's journey over the local graveyards and will go for the first time on tour with the new songs for almost three weeks. The confirmed dates of the 'Lücifer Over Europe' tour so far are as follows:
05.10.2019 DE-Hannover, Chez Heinz
10.10.2019 DE-Düsseldorf, Pitcher
11.10.2019 DE-Osnabrück, Westwerk
12.10.2019 DE-Neukirchen, Sägewerk
13.10.2019 AT-Salzburg, Rockhouse
14.10.2019 AT-Wien, Viper Room
15.10.2019 SI-Ljubljana, Channel Zero
16.10.2019 DE-Isny, Eberz
18.10.2019 DE-Chemnitz, AJZ
19.10.2019 DE-Fürstenwalde, Club im Park
The brand new album Lücifer, whose devilish artwork was designed by Joshua Michael Wilkinson, can now be pre-ordered as a digisleeve CD, as 180 g gatefold vinyl edition or digitally at one of the following record dealers. Take a seat in the back of the Death 'n' Roll supercar and turn your amp to eleven: Nuclear Blast | Napalm Records | Amazon | Saturn | Media Markt | Buecher.de | Weltbild | Grooves | ExLibris | WOM | JPC | Cede.ch | Flight 13 | Plastic Head | Season Of Mist | Sound Pollution | Bengans | Ginza | CDON | SuperShop.sk | HardMusicBase.cz | VinylDestination.com.au | iTunes | Google Play | iGroove