As Good As Gold (Anniversary): An Exclusive Interview With Guitar Maestro ULI JON ROTH

By Ruben Mosqueda, Contributor
Sunday, March 24, 2019 @ 11:09 AM

| | | |
| --- | --- | --- |
| | | "I donít listen to my back catalog at all. Once Iíve done the album, itís out of my system. I liken it to giving birth, you have your children and they move on and live their own lives." |
ďIíve been doing a marathon of interviews today. Youíre my twelfth of the day! I canít recall a time where Iíve had this much interest,Ē proclaims guitarist ULI JON ROTH from his home in Germany. ďWe had an entire [North American] tour lined-up last year and because of our Visa issues, it had to be postponed. It sucks to do that. I donít know what the issue was because weíve had our work Visas for years and never had any issues. In the old days it was relatively easy. Now? You have to jump through all of these hoops, itís a lengthy process and itís incredibly expensive...itís beyond ridiculous in many respects. In the past, the Visas came through either the day before or the day we were supposed to fly out, this time it didnít. We did everything on time, paid the right fees, filled out the proper forms, it was so frustrating,Ē sighs Roth. ďI was never given an explanation as to why we didnít get our Visas on time. We ultimately got them, a couple of weeks later, but it was too late, the tour was postponed and refunds were issued to fans that bought tickets. I understand this process exists to catch criminals and terrorists, but itís so frustrating for me, because Iím neither of those. Iím a friend of America.Ē ULI JON ROTH is taking another shot and making good on the tour that was postponed in 2018, heís back in North America on his Triple Anniversary Tour starting on March 20th, 2019 in Hollywood, California and will end on May 10th, 2019 in San Antonio, Texas.

KNAC.COM: Would it be accurate to say that when you toured behind the Scorpions Revisited album in North America, that it generated more interest in your music and your work with SCORPIONS?

ROTH: Absolutely, weíre doing longer tours, playing bigger venues, I think itís a nice development, because I love playing North America. We have come to North America every year except for last year, because of our Visa issues.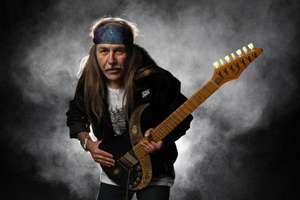 KNAC.COM: Uli, youíre coming back to North America after have a little bit of a setback last year. What stalled the tour in 2018?
ROTH: Yeah, you know, Iím so glad to be coming back. They say things happen for a reason and Iím glad itís happening now. Weíre moving forward, in spite of the authorities making it difficult for us. Another surprise is that theyíve [U.S. Government] denied our tax waiver, what that means is that theyíre withholding 30% of our fees, until a year after, meaning that the cash flow will be harder for us on this tour than any tour before. I feel for some of these European bands because theyíre not going to be able to make it, this is just an added level of difficulty and stress that just came out of nowhere. I donít like the process at all, but I love the fans and I love America.
KNAC.COM: You released Scorpions Revisited in 2015, which is nod to your history and your work with SCORPIONS. You treated the fans to not only one disc, but two discs of reinterpreted SCOPRIONS classics. How did you select which songs would make the cut for that release?
ROTH: Oh yes, back to the good stuff! [laughs] You know, it wasnít all that difficult for me to decide, I just picked up all the SCORPIONS records and started to look through the sleeves. As I looked through the albums, the song titles just said, ďHey, Iím yoursĒ and thatís what wound up on the record. So, as I went through the albums I drew up a list, there were certain songs that I had even forgotten about. I picked the songs that I felt would be the most gratifying for me to record, I wanted to bring them back to life and maybe even make them better than the way we used to do them in SCORPIONS.
KNAC.COM: Uli, ďSteamrock FeverĒ didnít make the Scorpions Revisited album, was there a reason for that?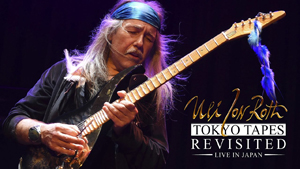 ROTH: [pause] Yeah, you know that is the one that I didnít want to do! [laughs] Itís a very commercial song, I never liked the lyrics and I feel that itís too Ďpoppyí for my taste. Iím just not too keen on that one. I donít think you could have gotten me to include that on Scorpions Revisited. I know there are quite a few people out there that feel like you do and they love that song, donít get me wrong, itís a cool piece, but itís just not for me.
KNAC.COM: You recorded a show in Japan on the Scorpions Revisited tour, you recreated the Tokyo Tapes set did the finished product turn out how you envisioned it?
ROTH: My initial plan was to do it all in one. By that I mean, I wanted to record the Scorpions Revisited album and record a live concert of Tokyo Tapes. It didnít pan out. When we did the tour in North America, I wasnít happy with the visuals and we didnít have the right camera to shoot it properly. The music sounded incredible, but the visuals didnít work, so we didnít do the DVD. I forget who thought it was a better idea to do the Scorpions Revisited album first, then do the DVD when the time was right, so thatís what we did. So we decided to shoot the show in Tokyo, Japan and we had an incredible show and thatís what you see on the Tokyo Tapes Revisited. I think doing the two projects separately turned out to be the best thing, because both were standalone releases and it gave them both their own identity.
KNAC.COM: Uli, when you went back and were drawing up a list of songs to re-cut for Scorpions Revisited, did you reference the original recordings at all?
ROTH: Yes, but not much. There were a couple of songs that I might have forgotten about. ďCrying DaysĒ, that was a song by RUDOLPH [SCHENKER] and KLAUS [MEINE], so I had to revisit that. I vaguely remember recording that because we hadnít ever done that live when I was with SCORPIONS. I played around with the arrangement a little bit but we never did that because we couldnít. Now we could because we have three guitar players, keyboards and harmony vocals. With SCORPIONS we couldnít do a song like that justice live because we had one lead guitar player and one rhythm guitar player.
KNAC.COM: Did you get any feedback from your former bandmates on their thoughts on Scorpions Revisited?
ROTH: Yeah, KLAUS thought that it was excellent. RUDOLPH was very happy with what we did recently with the SCORPIONS material.
KNAC.COM: If youíre driving and one of your songs comes on the radio, do you listen to it?
ROTH: If Iím driving and a song comes on, I would probably listen to it, sure. I donít listen to my back catalog at all. Once Iíve done the album, itís out of my system. I liken it to giving birth, you have your children and they move on and live their own lives. Theyíre not yours anymore, they belong to the audience. Like I said earlier, there are certain things that I will go back and listen to if I have to. The Metamorphosis album is one that I recorded in 2003 that is a guitar concerto based on VIVALDIís Four Seasons. Weíre doing that for our VIPs on this tour, so I had to take time to listen to that again, as we prepared for this tour. I had to relearn it. In my opinion, that is one of the best things that I have done to date. Let me give you an idea; I have never heard the entire Tokyo Tapes album all the way through.
KNAC.COM: Do you seek out new music? Does discovering new artists interest you?
ROTH: I donít seek it out. I discover new music usually while on the road, if it comes on the radio or if I heard a band, but I donít seek out new music. Now when I get home, itís silence! [laughs] I stopped listening, many, many years ago. Thereís two types of artists, those that are always listening to music, theyíre in tune with what is going on musically, then thereís people like myself, who donít have the desire to listen to music. I love music...a lot, but playing it is enough for me, I donít need to hear something and have that become an influence and then start copying it. I learned my craft by copying other people when I was a kid, I copied JIMI [HENDRIX], FRYDERYK [CHOPIN] and BEETHOVEN. Then there came a point where I found my own root and way of discovery and it became much more exciting for me.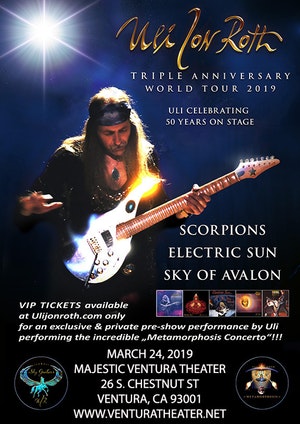 KNAC.COM: You have this North American tour which begins on March 20th, in Hollywood, California and runs through May 10th. At what point do you begin to think about new music?
ROTH: I have written an entire studio albumís worth of material at least. I think it might be more like 1Ĺ records. My problem is at this time to find the time to get a chunk of time to be able to record it. Iím very slow in the studio, I donít believe in rushing through the recording process. Itís always been a problem for me in the past. [laughs] After this tour, I do think that I have to look at the rest of the year and set aside a chunk of time to get that album recorded. Thereís so many things that I have, that I have never recorded over the years, maybe that's good or bad, I donít know? [laughs] I know I should be putting out more music, but it takes me a long time to get it where Iím satisfied with it. I will say that we did record our 30th Anniversary Japanese tour so there will be DVD and we have RUDOLF SCHENKER as our special guest, as well as PHIL X from BON JOVI, what a great player and singer. I also want to record an acoustic album, itís just finding the time! [laughs]
KNAC.COM: Uli does it seem like time passes quicker as you get older? I say because it seems like Scorpions Revisited was released in 2015 and Tokyo Tapes Revisited was released in 2016 and it seems like their a year or two old.
ROTH: [laughs] Youíre right! [laughs] Thatís absolutely true! [laughs] No imagine what itís like when youíre on tour all the time? The years just fly by! One tour ends and another begins and then another and another! [laughs]
Facebook: https://www.facebook.com/ulijonrothofficial/
Official Website: www.ulijonroth.com/
Please log in to view RANTS