KNAC.COM caught up with [guitarist/vocalist] GIUSEPPE SBRANA and [drummer] ALESSANDRA SBRANA of SKINFLINT on February 15th as the band geared up to join the SOULFLY from February 19th-26th. SKINFLINT is an up and coming trio from Africa which includes bassist KEBONYE NIKOLOSO. SKINFLINT issued their latest self-titled effort in June of 2018. Please check out the links below, as KNAC.COM has been a supporter since the release of the latest album.

KNAC.COM: What Ďmetalí band was your first discovery?

GIUSEPPE: I actually first got into the blues. I first discovered HOWLINí WOLF, MUDDY WATERS and all the blues greats. That really appealed to me, then I discovered BLACK SABBATH and I got into metal. TONY IOMMI changed my life, I heard the song ďParanoidĒ and that was it for me! I was hooked! [laughs]

ALESSANDRA: I would say BLACK SABBATH was the band for me too, but I wasnít much of a metal fan. I used to play drums in alternative rock bands and thatís what I was really into.

KNAC.COM: Youíre a three piece, but make quite a ruckus. I hear a lot of doom, indie rock and tribal beats in the music. How would you describe what youíre doing sonically?

GIUSEPPE: Like you said, itís definitely metal, but we do add some African rhythms and African dance beats and war chants.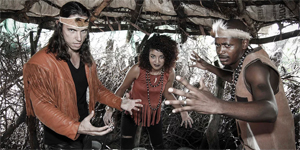 ALESSANDRA: I agree with what Guiseppe said, I donít think we set out to be a Ďmetal bandí, we just sound like we sound when the three of us play together.
KNAC.COM: How important is it for you to incorporate cultural influences and rhythms into your music?
ALESSANDRA: Pride in our country and the cultural influences are important to us, we didnít plan it out that way, but naturally they came out in our music and Iím pleased that you can hear that in our music.
KNAC.COM: Did you consider assimilating into a more Ďcontemporaryí metal sound?
GIUSEPPE: I donít think that ever occurred to us. Thatís not to say that we donít like some of that music, because we like a lot of music from various genres.
KNAC.COM: How much does it mean to you to be on this tour, supporting SOULFLY? I imagine youíre a fan? How much of an influence is SEPULTURA and SOULFLY?
GIUSEPPE: Oh, we love MAX CAVALERA and SEPULTURA and SOULFLY. What he did with both those bands and incorporated the Brazilian tribal music is amazing. It was an influence and an inspiration for us, coming from Africa and injecting our musical heritage into what we do.
ALESSANDRA: What MAX CAVALERA is doing is a true inspiration. The thought of supporting SOULFLY on some of these dates is going to be amazing.
KNAC.COM: Youíre toured Europe in the past, whatís your expectations of this run across the United States with SOULFLY?
ALESSANDRA: Well, SOULFLY have been touring the U.S. for a while now. Itís a big deal for us to be here, getting this opportunity to tour the U.S. I hope some doors are opened after we do these tour dates, weíve had quite a bit of press coverage, which we are really thankful for.
KNAC.COM: How is metal music perceived in Africa?
GIUSEPPE: Metal music in Africa is mostly underground, itís not one of the mainstream genres. We donít have any promoters or venues for that matter that are willing to work with our kind of music. We have found when youíre a metal band from Africa, you have to do everything yourself! We promote our shows, we sort out all the logistics, itís quite challenging actually. The media in general isnít that supportive. We do it because weíre passionate about the music and for the fans who are likewise passionate about the music. While, itís a lot of work, itís worth it in the end.
KNAC.COM: Whatís the backstory behind the name of the band? Whatís the significance?
ALESSANDRA: [laughs] Thereís actually no significance to the name! [laughs] The truth is we were 15-16 years old and we were sitting around, thinking of names for the band and that sounded good! [laughs]
GIUSEPPE: Kind of like when you come up with a really good riff! [laughs] SKINFLINT just felt right and we went with it.
KNAC.COM: Whatís the best career advice youíve received to date?
ALESSANDRA: For me it was to never give up on your dream, the music business is really, really challenging. I think itís especially challenging playing the music we play and coming from the area of the world that we are from. Itís like wall after wall after wall. If youíre passionate about something, keep doing it. If thereís no monetary gain, youíll still feel fulfilled because youíre expressing yourself and youíre fulfilling your art. Thatís what makes me happy, I say keep pursuing your passion.
GIUSEPPE: I think we all have a calling, this is mine. I have been told that I must answer my calling. Performing music gives meaning and purpose to my life. I would agree with Alessandra, you feel so fulfilled being up there on that stage. I feel alive! It just feels so right!
Official Skinflint online: https://www.skinflintmetal.com/
Official Skinflint Facebook: https://www.facebook.com/SKINFLINTMETAL/