THE WILDHEARTS have released "Dislocated", the first song from their forthcoming album Renaissance Men. Listen to the cathartic "Dislocated" below.

On 3rd May Renaissance Men, THE WILDHEARTS' first full-length studio album in 10 years is released by Graphite Records.

THE WILDHEARTS' classic line up of Ginger, CJ, Ritchie and Danny, recorded the energetic and diverse Renaissance Men at the Treehouse Studio. Produced by Jim Pinder, Renaissance Men finds THE WILDHEARTS at their full creative tilt delivering hard-hitting, retooled classic rock with a modern twist. Bristling riffs and jagged, riotous hooks are their poison and the 10 songs are the perfect manifestation of the band's immutable wit, charm and righteous anger.

The album cover for Renaissance Men was painted by Eliran Kantor (TESTAMENT, ICED EARTH, SODOM).

The honest and irresistible Renaissance Men is an unequivocal triumph, which encapsulates and distills perfectly THE WILDHEARTS' live energy.

To pre order Renaissance Men and stream "Dislocated" go to: http://smarturl.it/RenaissanceMen

The album is available to pre-order in usual CD and vinyl, with T-Shirt bundles available, plus in exclusive limited edition transparent red vinyl and orange tape cassette formats.

iTunes preorders will receive "Dislocated" as an instant track download.

Renaissance Men track listing
"Dislocated"
"Let 'Em Go"
"The Renaissance Men"
"Fine Art of Deception"
"Diagnosis"
"My Kinda Movie"
"Little Flower"
"Emergency (Fentanyl Babylon)"
"My Side Of The Bed"
"Pilo Erection"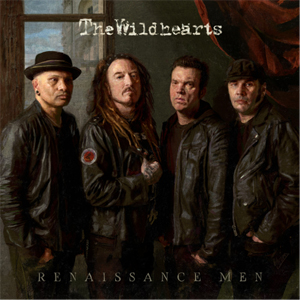 To coincide with the release of Renaissance Men, THE WILDHEARTS play an 8 date UK tour. This intimate tour will start in Manchester at the Academy 2 on Friday 3rd May and concludes at the Riverside in Newcastle on Sunday 12th May.

"Well fuck me it's only been 10 years since our last release and we have a monster album on its way. Danny is back in the band and we hit the road in May, playing new tunes and all the old hits. Can't wait and I know the boys are super bloody excited for this. ROCK!" - CJ Wildheart

Before the Renaissance Men UK tour, THE WILDHEARTS play 2 festivals: the Winters End 2019 in Chepstow and Great British Alternative Festival in Minehead, plus a special warm up show at the Exeter Cavern on Friday 8th March, which is sold out.

Creatively brilliant, THE WILDHEARTS play a distinctive fusion of hard rock, perfectly complimented by contemporary melodies. With a career spanning 30 years THE WILDHEARTS helped change the landscape of British rock through the 90's, and to this day they haven't shown any sign of slowing down. Miss these shows at your peril.

THE WILDHEARTS tour dates
3.8 - Exeter - Cavern - SOLD OUT
3.9 - Winters End 2019
3.10 - Minehead - Great Brit Alternative Fest
The Renaissance Men UK Tour dates
5.3 - Manchester - Academy 2
5.4 - Edinburgh - Liquid Room
5.6 - Cardiff - Tramshed
5.7 - Bristol - SWX
5.9 - London - Brixton Electric
5.10 - Norwich - Waterfront
5.11 - Leeds - Stylus
5.12 - Newcastle - Riverside
Tickets are available at: https://www.omerch.eu/shop/thewildhearts

THE WILDHEARTS are also playing:
5.23 - Blackpool, Waterloo Music Bar - SOLD OUT
5.24 - Derbyshire, Bearded Theory's Spring Gathering
5.25 - Lincoln, Call of the Wild Festival
5.26 - Sudbury, LeeStock Music Festival
7.19 - Ramblin' Man Fair