"KNAC was so supportive of us back in the day, they played "Feel The Shake" and "Damned Nation" which were in regular rotation. We're so grateful for it. Hopefully we get the same response for the new album Born To Fly," says JETBOY guitarist BILLY ROWE. JETBOY has a a new album Born To Fly due on January 25th, 2019 via FRONTIERS RECORDS. "We're on THE MONSTERS OF ROCK CRUISE this year, we're so excited about that. We're doing 4 new songs in the set and we look forward to performing on the cruise. We were hoping to get on the cruise last year, but this worked out great because we'll have a new record." ROWE also works for ROCK AND ROLL RELICS which makes guitars that look vintage, and he'll be at Winter NAMM plugging the company.

KNAC.COM: Last time we spoke it was in the Spring of 2017 and ROCK CANDY RECORDS was set to reissue Feel The Shake. What your thoughts on the finished product?

ROWE: I think it's great! I saw the liner notes and they're killer! Believe it or not, I have heard the remastered audio. I have read people's feedback on the album and they're phenomenal.

It was well put together, as everything is that they do. I love ROCK CANDY [RECORDS].

KNAC.COM: Any talk of having Damnation getting the deluxe/remaster treatment?

ROWE: When we were working on the interviews used for the expanded liners for Feel The Shake, I pitched it to them! I said, "Hey guys, how about we do the same with the second record?" They were interested, but nothing has been confirmed, we'll see what happens moving forward. I'd love to do a remaster of Damnation as well. Who knows? Maybe, with a little more exposure with our new album coming out, we might move up on the priority list.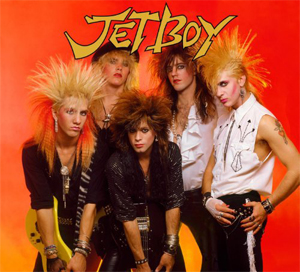 KNAC.COM: Thoughts on Damnation now? It was a more produced incarnation of the band.
ROWE: Yeah, that record...I wouldn't say we were polished, but more focused as a band. I think at that point we knew what we were and want we wanted to become as a band. Thinking back, I think we had the sound of the band locked in. There's no question that we had grown a lot between Feel The Shake and Damnation. I think the production was a little grittier, there was more dirt and meat in it. I think that's more of what we wanted Feel The Shake to sound like.
KNAC.COM: Who suggested you work with DUANE BARRON and JOHN PURDELL on Damnation?
ROWE: While we were between records, management had us listen to records that were out at the time and look at the production credits and let them know who we would possibly want to work with. So when it came time to work on the second record we started meeting with a few people and discuss the record, we also met with DUANE and JOHN and we were familiar with their work. We really hit it off with them, they had their own history individually but they were up and coming as a team. We had the best time working with those guys. Unfortunately, JOHN PURDELL passed a few years ago, but what a thrill it was to work with them. I really think our work during the making of Damnation is what shaped the JETBOY sound. We learned so much in terms of working in the studio and songwriting.
KNAC.COM: I was reading some blurb on another site where they stated that Born To Fly is the follow up to Damnation. The first thing I thought, wait you forgot about Off Your Rocker. That one might be overlooked because it was more of an EP featuring four studio tracks and two live recordings. Thoughts on Off Your Rocker?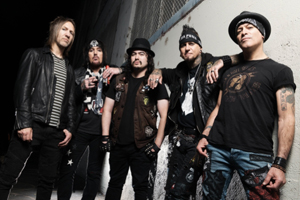 ROWE: Yeah, that was the first thing we did right after we got back together after some 8-9 years. The musical climate had shifted and the way people listened and purchased music had changed as well. It was the first batch of songs that we had sat down together to write in a long, long time. We just did it like we did in the old days, we just got together and wrote like it was the old days. We bounced ideas and riffs off one another and wrote a handful of songs for the EP. We did an EP because it was now the digital age and we had been away for a while and wanted to test the waters. I think Off Your Rocker really captured what we are, an old school 70s rock influenced band. We really lean heavily on 70s rock, I've said that before about our guitar tones and the production on those 70s albums is just the best! They're organic, they're warm sounding, I think you can say that about Off Your Rocker---it came out great!
KNAC.COM: Hey, did JETBOY ever contemplate going for a more 'contemporary' sound at any point? There's a lot of bands that came before JETBOY, tried, it didn't work then alienated their fanbase.
ROWE: We just moved forward with what JETBOY really is. We've always stayed true to what we are, this is what the band is known for and this is what we are. That's not to say that we don't love bands outside of our core influences, MICK [FINN], FERN [ROD] and I have different influences but when we come together we know what the JETBOY sound is and that's what comes out of us.
KNAC.COM: How much of an influence has punk rock been on the band? I totally hear the 70s classic rock, you mentioned for sure.
ROWE: I think it has, MICK he's the guy that was really versed in the British punk scene, he was into THE EXPLOITED, G.B.H. and stuff like that. Then there was The [SEX] PISTOLS and THE RAMONES, GENERATION X, I was a huge fan of THE SEX PISTOLS, I know FERN was as well. Oh, and THE DEAD BOYS! I can't forget THE DEAD BOYS! I think you're right there was always a little bit of a punk element for sure.
KNAC.COM: Which leads us to the new album, the 3rd full-length album Born To Fly, out on FRONTIERS RECORDS on January 25th. A lot of bands frown on the idea of putting out new record because of the frustration of how people consume music.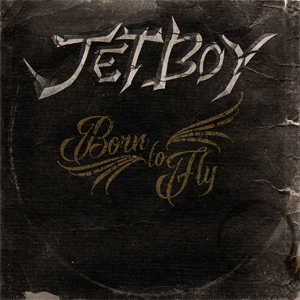 ROWE: We've wanted to do an new record, as you said we've done an EP. We could have done another, but I think the door swung open when FRONTIERS made us an offer to make a new record. They contacted our agent who relayed the message, we were like of course, let's make a record! The opportunity dropped on our lap and we went for it. I loved the process of making this record, it brought us closer together as bandmates, friends and we're just so much tighter as a band. It was just the timing for us.
KNAC.COM: All brand new material on the new record?
ROWE: No archival stuff on this record, it's all brand new material. We wrote some stuff in 2018, the bulk was written in 2017. All fresh stuff on this one.
KNAC.COM: You released a video clip to launch the new album, the tile track "Born To Fly". That one rips from the beat, the riff the chorus, the attitude...
ROWE: I wrote the music to that one, MICK wrote the melodies, we had gone into recording and I sat down, wrote and arranged the song. VERN came in and put his parts in, MICK wrote to it and that's what we got! [laughs] It's a pretty stripped down, rock & roll song. I love that style of song and I love the challenge of that kind of song. [laughs] We started looking at different titles for the album and I said, "You know what? Born To Fly". JETBOY Born To Fly, let's keep it positive.