JUNKMAN Recaps The 2018 AFTERSHOCK Festival

By Junkman, On-Air Personality
Monday, December 3, 2018 @ 10:11 AM

| | | |
| --- | --- | --- |
| | | Sacramento, California October 13-14 |
All Photos By Junkman
Since 2012, every October I take the short flight up to California's capitol city of Sacramento to attend the Monster Energy Aftershock Festival. Produced by Danny Wimmer Presents and Monster Energy Drink, and located in downtown Sacramento's comfy Discovery Park, Aftershock is a two day event that is not only California's largest rock festival, but I can attest, that it is my favorite one to attend for many reasons. Mostly for the music, obviously, but the setting its self is very enjoyable.
Situated amongst the trees and paths of the park, alongside the Sacramento river and the 5 freeway, it is a nice little oasis, that once a year, is invaded with roughly 80,000 attendees, 3 stages of today's best and loudest bands, lots of food and drink, and plenty of swag vendors and more. This year they even expanded the already spacious VIP area, and added even more comfortable sightlines for the main stage. And, as always, it was completely sold out.
I like to get to the event as early as possible, mostly to check out the newer bands that perform. Over the years at many festivals that I have attended, my favorite acts have been the ones on the small stages. It is always great to watch a band grow and eventually headline larger stages as their career and popularity progress. Today, it would be the early acts on the main stages that would get my attention. Two Los Angeles based bands did just that to start Day One of the festival.
VIZA, on the "Discovery Stage", played an interesting mix of ethnic Greek/Armenian and rock music that blended well as the still arriving crowd looked on. Singer Andrew Kzirian was very animated onstage, and the band's music brought to mind early SYSTEM OF A DOWN (headlining Day 2 of the Festival). VIZA incidentally are managed by SOAD singer Serj Tankian.
DIRTY HONEY, first up on the "Monster Main Stage", cranked out the old-school rock that brought to mind BLACK CROWES and yes, younger retro bands like GRETA VAN FLEET. As I approached the stage to get a closer look, I told my girlfriend that they sounded a little like AEROSMITH. Almost immediately, the band launched into a cover of "Last Child" an AEROSMITH song from the Rocks LP of 1976. I stayed for their entire set. I think I have found yet another young band to look into a bit further.
RED SUN RISING, another young band from Ohio, has been doing lots of touring and getting a lot of airplay on rock radio as of late. Great songs and an exciting live performance is what that takes, and this band has both. Their 6 song set was full of chiming choruses like the radio hit "The Otherside" and the jumpy, set-closing "Deathwish". Singer/guitarist Mike Protich is a future star, IMHO. You can see and hear more from them at www.redsunrisingmusic.com.
By far, the most emotional part of the festival was the tribute to Vinnie Paul Abbott. Originally slotted for his band HELLYEAH to perform, Paul's tragic and unexpected passing recently brought out the best in his friends to honor him. His red HELLYEAH drum kit stood center stage, and Sirius XM Satellite radio DJ Jose Mangin organized an all-star cast of friends to perform Vinnie and his late brother Dimebag Darrell's music from DAMAGEPLAN as well as PANTERA.
Starting with a taped tribute that played on the huge screens adorning each side of the stage, and included thoughts from such friends as Ozzy Osbourne, Cory Taylor, Sammy Hagar, as well as well as Phil Anselmo and others, it was time to rock. Filling Vinnie's drum kit was KYNG drummer Pepe Clarke. Launching into DAMAGEPLAN's "Save Me", it featured HELLYEAH bassist Kyle Sanders (who played the entire set) as well as SEVENDUST guitarists John Connolly and Clint Lowery. The crowd went wild, and continued to do so as Mangin, sporting a shaved head ala Anselmo, took lead vocals on PANTERA's "A New Life" and did a pretty good job I must say.
"Mouth for War" featured Blothar and Pustulus Maximus from GWAR on vocals and guitar, respectively. The intensity followed with the set ending performance of arguably PANTERA's most popular song, "Walk", which featured GODSMACK vocalist Sully Erna dueting with Jonathan Davis of KORN as well as GODSMACK guitarist Tony Rombola and SHINEDOWN guitarist Zack Myers doing their best tributes to Dimebag. Even "Dimbag's Hag" Rita Haney and Vinnies girlfriend Chelsey joined the entire cast to sing the chorus. Quite a tribute to the Abbott brothers, who were indeed great friends to all in the metal community, and kudo's to all that made this happen.
SEVENDUST and ASKING ALEXANDRIA blasted out some hard core grooves with their respective sets. Both bands have highly charismatic singers who have been doing this a long time, as well as a solid groove of loud thundering metal from their bandmates that have been thrilling their fans for ages. SEVENDUST singer LaJon "LJ" Witherspoon stalks the stage like a predator, then perches behind his microphone, and literally explodes. Bassist Vince Hornsby is like a cheerleader as he jumps from stage right to stage left, and beckons their always enthused fans to unload their energy back towards the band.
ASKING ALEXANDRIA singer Danny Worsnop was having a good day behind the microphone. I have seen them when he was not, and today he was on his game. Opening with "Into The Fire" from their 2017 release that was a celebration of sorts of Worsnop's return to the band after exploring other avenues for a few years, their fans were out in full force and thoroughly enjoyed themselves throughout the set. The ballad "Someone Somewhere" was the only real change in the onslaught, and was dedicated to members of the military.
KORN singer Jonathan Davis, still reeling emotionally after the recent death of his wife, performed a particularly brooding, moody set that featured mostly music from his latest solo recording Black Labyrinth and featured the thundering drums of his KORN bandmate Ray Luzier. Many different tempo's were explored during the nine-song set, which ended with the unlikely titled "Happiness". Needless to say, it's always interesting to see Davis onstage. He is always entertaining.
UNDEROATH, a band that always seems to be having a good time creating onstage havoc, really tore it up on the "Discovery Stage". Singer Spencer Chamberlain, still slightly hobbled from a recent foot injury, is still a lightning bolt onstage and the band gave their fans the kind of brutal assault they have come to expect. I caught a bit of EMMURE on the "Capitol Stage" and was impressed by what I saw, but I needed a break and retreated to the food area for some tasty Creole jambalaya, and to the "Belching Beaver" beer tent for my favorite beer of the moment, "Phantom Bride" IPA, a collaboration between the Vista California brewery and the DEFTONES. Best of the fest!
While I was enjoying my late lunch, ACTION BRONSON was doing their thing on the "Monster Energy" stage. I am not much of a hip-hop fan, especially in a live atmosphere, but ACTION BRONSON got the crowd fired up in a lot of ways, even freely smoking fat joints onstage as he and DJ "The Alchemist" fired up their blend of rap and hip-hop to the younger part of the crowd and had them pumped up throughout their set. Always cool to see the folks at DWP mixing things up, and this act fit well with the Saturday afternoon vibe.
SHINEDOWN rocked the Discovery Stage as they do, just like every show they play in every venue. This is a band of seasoned veterans who have been on the road for years, thrilling their fans with great performances of terrific material each time out. Today would be no different. Singer Brent Smith is always the focus, and I have said before that he has the strongest vocal pipes in the business. He cleaned himself up a number of years ago and is in great shape. He regularly jumps into the pit and takes laps through the crowd to greet his fans face to face as he did during "Cut The Cord" and the band, due to time restraints, played a brief 11 song set. The typical "Bully" and "Second Chance" were highlights, as well as their cover of fellow Jacksonville Florida legends LYNYRD SKYNYRD's classic "Simple Man", which takes it to another level due to Smith's powerful vocals.
I ran to catch part of the MONSTER MAGNET set on the Capitol Stage, which was clear on the other side of the grounds butting up against the 5 freeway. As always, this band just kicks major ass. 6 songs were just not enough. My only complaint was that they were not on one of the largest stages, but they seemed comfortable enough, blasting out their newest tune "When the Hammer Comes Down" to a rabid audience before slaying them with two of their classics, "Negasonic Teenage Warhead" and "Space Lord". (I must note that I have to mutter, "Motha Motha" after listing that song, every time. Don't ask, just let me do it…)
Over the years, I have always wanted to see the band 311 perform live, and for some reason I never have. Today I got my chance. Even though they are not really a "heavy rock" band, so to speak, they fit right in with the comfortable vibe of the festival, and put on one of my favorite sets of the day. This band has a lot of influences, one of them a reggae feel to many of their songs mixed in with some grungy feel as well as smooth, overly reverbed vocals, with a signature snare drum sound from percussionist Chad Sexton. A perfect example is the song "Beautiful Disaster", maybe their most popular number, in which guitarists Nick Hexum and Tim Mahoney spotlight their chiming guitar harmonies. Hexum is a great singer as well, and showed off his vocals on the fun "Come Original" and the grungy "Down" which closed the set. I enjoyed them, was feeling good, and I was off to the next stage, for a completely different performance altogether.
GWAR is back, after the death a few years ago of leader Dave Brockie (aka Oderus Urungus) they have regrouped, wearing their outrageous costumes and putting on their even more outrageous stage show, literally slayed the crowd at the Capitol stage. Plenty of fake blood and alien semen doused those within range of the band. Decapitating the pope was the first order, and front man Blothar, lead guitarist Pustulus Maximus and company were just getting warmed up. During "El Presidente" Donald Trump was stabbed, cut up and strangled with his own intestines. Hard to describe the carnage, but it was all in good fun and the crowd and band seemed to be enjoying every second of the performance. That's really what matters most, right?
Back at the Discovery Stage, crowd favorites GODSMACK did their thing. They came roaring out of the gate with the appropriately titled songs "When Legends Rise" and "1000 hp" as their fans hung on to every moment throughout their 11 song set. As a photographer, this band is always a difficult to shoot. I take it as a challenge of my skills. It's literally a "cat and mouse game" to get a quality shot. The first three songs standard band shoot with GODSMACK always involves the dreaded combination of low or red tinged lighting, bright flashing strobes and back lighting, as well as lead singer Sully Erna's penchant for literally hiding behind not one, but two microphones, and turning his back to the audience for extended periods. Before I sound like I'm "Crying Like a Bitch", to quote one of their songs, I must say how impressed I was with the consistency of their performance. This band flat out kills! Great songs and tons of energy, from the moody "Voodoo" to the set ending, crowd pleasing anthem, "I Stand Alone". As always, it was an outstanding performance from a great band.
Today was about hometown heroes DEFTONES, who closed out the Monster Main Stage and gave their fans exactly what they had waited for. As the band appeared onstage amidst tons of fog (another photographer's nightmare, just sayin'…) the crowd erupted as DEFTONES launched into "Rocket Skates" from their 2010 release Diamond Eyes and it was on. What followed was a loud, moody, spastic performance from a band that has hit their peak many times.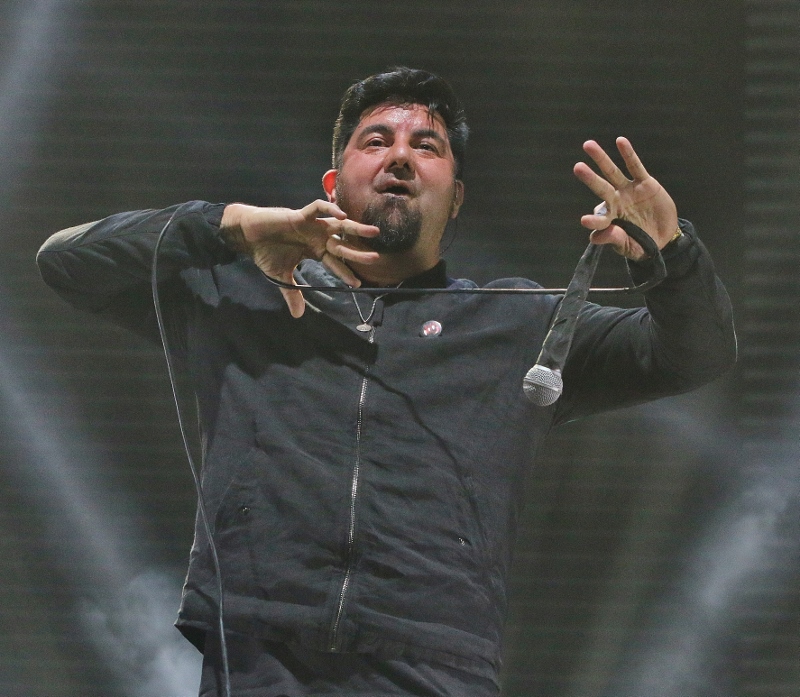 Lead singer Chino Moreno, who is the most quiet, mellow guy you would ever want to meet offstage, just explodes into fits of rage during songs like "Be Quiet and Drive (Far Away)" and especially during the following "My Own Summer (Shove It)". Guitarist Stephan Carpenter is in constant head bobbing mode as he thrashes out chord after chord, and was even joined by Moreno on guitar during "Swerve City". I watched as people in the crowd were mesmerized by the band and seemed to know every lyric to every song as they displayed their loyalty to this band that has been around for close to 30 years. It was overpowering to watch them sing along with the band during "Change (In the House of Flies)". Just seeing an entire festival crowd screaming their lungs out in unison is just a beautiful thing to watch and listen to. Finishing up with an "Old school" DEFTONES track "Headup", the band had conquered their hometown audience yet again and showed why they are still one of the most popular bands on the scene today. We all trudged down the hill and across the bridge over the Sacramento River, exhausted and pleased. Day One of the festival was in the books.
The early part of the day featured stage sets by an interesting array of bands that I was not familiar with. I tried to catch as much as I could of each band but found myself running ragged to the point of just chilling in the media tent and hoping to find some time with the band members themselves. Early sets by LAW and THE JACKS kept the early risers entertained. AMIGO THE DEVIL performed solo on banjo and acoustic guitar. His humorous lyrics reminded me of TENACIOUS D, and it was a nice change from the loud bands that dominated the festival.
DOROTHY rocked the Monster Stage. It was my first time seeing them on a large stage and I loved every minute. Yeah, I'm a fan. Singer Dorothy Martin is a first rate howler as well as stunningly beautiful with great stage presence,and her band is a solid backup. Guitarist Nick Maybury just seems to have the perfect answer to whatever Dorothy is singing and the band performed a short set which spotlighted their latest release 28 Days In The Valley. Go see this band when they come to your town. Their range in styles will please most music lovers.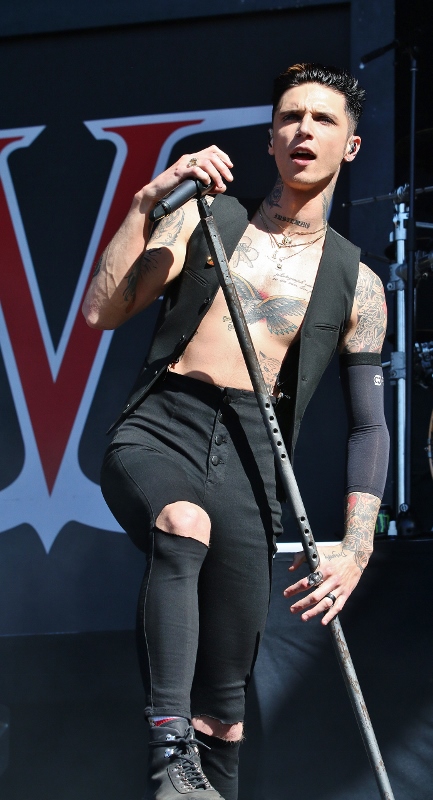 BLACK VEIL BRIDES and BULLET FOR MY VALENTINE both brought the energy to the afternoon as both of these bands are seasoned road warriors and have graced many festivals stages in their young careers. BVB have a classic "gothic, 80's metal" look to them and their dueling guitars, sing-along choruses and onstage posing made their fans happy. BFMV is much more technical and I noticed many "air guitarists' thrashing around in the mosh pit, which is always entertaining. Guitarists Michael Paget and Matthew Tuck kept them busy all set.
Once again SEETHER gave an uninspired performance on the Discovery Stage. I will never understand this band. They have great songs but absolutely no stage show to go with it. They just look bored and slogged through a nine song set featuring the appropriately-titled "Let You Down" and "Fake It" as well as the terrific "Rise Above This", a song that can lift anyone's spirits during an uninspired show. On the other hand, PLAGUE VENDOR, on the Capitol Stage, delivered a blistering, punk inspired set that was one of the most entertaining sets of the day. Their energy, youthful exuberance and use of the stage as a trampoline was anything but boring. Uninspired acts take notice!
AT THE DRIVE IN delivered a quirky, angst driven set on the Monster Stage that focused on the antics of lead singer Cedric Bixler-Zavala as he thrashed about and created chaos onstage while delivering his screechy vocals to a hardcore backing. Everything within Bixler-Zavala's reach was a target onstage, including his mic stand, his drummer's cymbal stand and various amps in which he hurled himself into and jumped from. After opening up for SYSTEM OF A DOWN the day before, he teased the Sacramento faithful with "San Bernardino sucked, you guys have to do better" and the band kicked in to "Governed by Nations" in which the crowd reacted by intensifying the mosh pit, pleasing Bixler-Zavala, his plea answered accordingly.
SLASH FEATURING MYLES KENNEDY AND THE CONSPIRATORS performed the most solid and tight set of the day. Spotlighting their latest release Livin' the Dream, they came out of the gates with "Call of the Wild", the first track. Slash's blistering guitar tone is accompanied by Myles Kennedy's dynamic vocal range, and is a perfect match. The band is well rehearsed and the thirteen song set was performed like a locomotive as Slash dipped into a variety of his past projects, like 2010's "Back From Cali" as well as all three recordings from THE CONSPIRATORS.
Speaking of THE CONSPIRATORS, they are totally locked in. Bassist Todd Kerns and drummer Brent Fitz are a solid rhythm section, and guitarist Frank Sidoris and Kennedy on guitars as well, round out the sound. The songs are some of my personal favorites the last few years, "Wicked Stone" and "World on Fire" went over well with this crowd, and they even dipped into the GUNS N' ROSES catalogue with "Nightrain" before finishing the set with an absolutely outstanding take on "Anastasia" from 2012's Apocalyptic Love record that brought the band to another level. The sold out crowd let their appreciation be known as the band left the stage to a huge roar.
INCUBUS, one of the most popular bands on the bill, brought their brand of catchy pop rock to the Monster Stage and gave their fans a delightful, 14 song set. This band has no problems with extended jamming on even their most popular songs, like the set opening "Privilege" as well as the hit "Nice to Know You" and "Wish You Were Here", which segued into a cover of the PINK FLOYD classic of the same name. All eyes were on singer Brandon Boyd, who floundered around the stage, belting out song after song with conviction and passion, thrilling his fans, especially the females, who seemed to scream at his every move.
INCUBUS played to the crowd, teasing them with a nice cover of INXS's "Need You Tonight" as well as throwing in a bit of Snoop Dogg's "Gin and Juice" during "Are You In?" before a spirited, sing along rocking version of their hit "Drive" finished up the set. It was a nice change, once again from the sonic pounding of most of the bands during the weekend and again, the crowd roared their approval.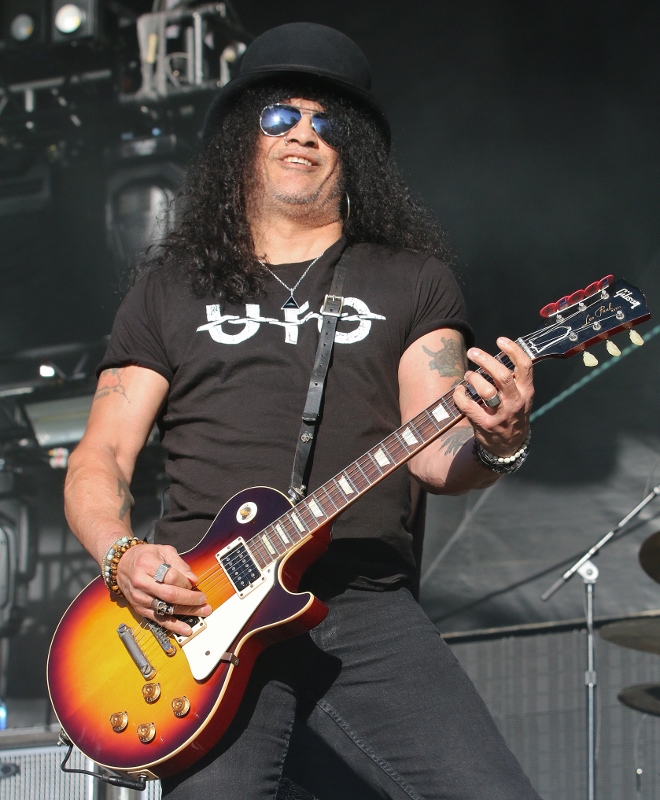 One of the things that I enjoyed about the festival was watching the people that perform sign language while perched on a platform stage left during all performances. This is yet another detail that the people at DWP provide to make sure that EVERYONE can enjoy the festival, no matter what physical handicaps they may have. Coming from a family of speech pathologists, I was particularly impressed with not only the performance of, but the preparation that they took to read and understand each bands material. And if that isn't enough to understand, imagine "Signing" to an aggressive metal band like SLAYER, or today like SYSTEM OF A DOWN and ALICE IN CHAINS.
Speaking of AIC, they were next up on the Discovery Stage. Opening with the droning sound of "Check My Brain" and the song's chorus of "California alright, somebody check my brain" seemed to be well thought out ahead of the show. "Again", which followed, is one of my AIC favorites, and the song's rolling drum beat kept the crowd pumped up with the shot of adrenaline it needed after such a long day. As a long-time fan of the band, I can honestly say that we ALL miss their late vocalist Layne Staley, but now three releases in, current lead vocalist William DuVall and guitarist/vocalist Jerry Cantrell have become their own entity while adding new dynamics to the classic ALICE IN CHAINS sound.
DuVall seemed very comfortable with the crowd of "die hard" fans who screamed out requests throughout the set, and their pleas for the most part were answered. Heavy classics from their catalogue like "Them Bones", "Dam That River" and the meaty "We Die Young" were performed as well as some new material like "Never Fade", which was the only track performed from their latest release Ranier Fog. Bassist Mike Inez and drummer Sean Kinney were locked in, solidly supplying the killer bottom end all show, especially during "Man In The Box" and "Would?" before the band closed it out with an emotionally charged "Rooster" which slayed all in attendance.
After patiently waiting over three years, fans of SYSTEM OF A DOWN finally got a US show from their heroes. Immediately embracing their breakthrough record Toxicity with the thrash of "Prison Song", it was a lengthy, twenty-two song trip through the spastic catalogue of this great band that followed. The sold out Aftershock crowd was beaten to a pulp in the pits, moshing wildly to the band's frantic stops and starts to songs like "B.Y.O.B.", "Chop Suey" and "Cigaro". Singer Serj Tankian sounded terrific and was clearly enjoying himself, watching his fans erupt in chaotic ecstasy with every song played. Guitarist Daron Malakian and bassist Shavo Odadjian were a tour de force as they provided the meat and potatoes of this classic Armenian metallic dish. Drummer John Dolmayan is like a machine and showed his chops on every beat like it was his last ever performance. By the time the band finished their set with the 1-2 knockout punch of "Toxicity" and "Sugar" the ground was literally shaking and yes, plenty of "Aftershocks" were happening throughout Discovery Park and the Monster Stage in particular. A triumphant return for one of the best bands to ever grace the stage, and the survivors of the pummeled crowd still wanted more. But alas, it was not to be. I was an incredible way to end yet another Aftershock Festival. I again applaud not only the performers, but the staff and organizers for truly giving us all a wonderful experience. This has become a "must see" for me and many others every October and it's the perfect wrap-up to the festival season as well. Danny Wimmer Presents, Monster Energy, and all that made this festival possible for me to attend, I salute you.
Check out some more photos from the festival at the photo galleries below!
Please log in to view RANTS