JUNKMAN Recaps The 2018 SURF CITY BLITZ

By Junkman, On-Air Personality
Tuesday, November 13, 2018 @ 6:37 AM

| | | |
| --- | --- | --- |
| | | Huntington Beach California Oct 27-28, 2018 |
All Photos By Junkman
"I hope I die before I get old." That line, sung so long ago by THE WHO's Roger Daltrey, has become such an ideology of sorts for many people. Live in the moment. Embrace youth. Forget about tomorrow, let's have fun today and fuck anybody that questions you, or stands in your way. "Fuck Authority" their peers would sing. Seek and destroy, smash it up, take what you want, it's yours. An attitude like that, and the years it takes to develop it, are what has given many in the punk rock community decades of musical statements, from a variety of youthful, aggressive standpoints.
But, what happens with the inevitable? Age. Growing up. Kids, mortgages, college etc. Will these same kids who thrive on chaos be able to survive as adults or will they make the words of "My Generation" hold true? When I moved to Huntington Beach California in the early 1980's it was the center of surfing, skateboarding, and west-coast punk rock. I am proud to say that it still is. The ideals that I listed above have been passed down from generation to generation. Not just mine.
You see them everywhere. Old punk rockers with new punk rockers. There's the 50 something guy, tattooed from head to toe, riding a beach cruiser on a major street, surfboard under one arm, his pitbull running beside him. He had his driver's license taken away many years ago, so the bike and his skateboard are his means of transportation. There's the lady standing in line at Costco. Multi layers of colors dyed into her graying hair, vintage dress and glasses, plenty of tats and piercings, with a pair of army boots. And it's the middle of July. Her grandson, sporting a faux-hawk, and a leather jacket with a worn-out painting of the band EXPLOITED on the back of it, stands beside her, playing a game on his iPhone.
This is part of today's life for older punk rockers. Many have made it a priority, and kept the attitude as well as the look. Some have decided on one or the other. Some have abandoned it all together. Many have passed it on to the next in line. Then there are the bands, as well as the skaters, and surfers and bikers, and the lovers of the whole scene. All of these ideals and more were on display at Huntington State Beach recently at the first Surf City Blitz.
This area of the beach is massive, and there were many events, all going on at the same time. On one side of the beach bike path, there was a track set up in the parking lot, for motorcycles and all sorts of vehicles performing tricks and wheelies, as well as a lot of vendor booths. There were various competitions throughout the weekend in a variety of areas. There was even a little kids electric BMX style race, with huge trophy's for the winners.
Off the coast, there was a surfing competition. On the beach there was a track set up with a dirt bike competition. A path led attendees through a huge display of custom motorcycles, as well as the latest from some of the major manufacturers such as Indian and Yamaha. From there, the path led to various vendor booths with lots of punk rock t-shirts, flannels and accessories. Plenty of food and drink booths as well, naturally, as the event sold out both days and it was estimated that over 40,000 attended.
Surf City Blitz partners include: 95.5 KLOS FM, Rockstar Energy Drink, Yachak, Cupcake Vineyards, Sailor Jerry, Deep Eddy Vodka, Don Julio, Golden Road Brewing, Stella Artois, Corona, Black Feather Whisky, Health-Ade, Cosmic Fog, Layrite, Dixxon Flannel Co., SPY, Body Glove, Wienerschnitzel, Screaming Images, Musician's Institute, Gringo Bandito, BMW Motorcycles, Indian Motorcycles, Hurley, Dunlop, Ducati, Motul, Husqvarna, Law Tigers, Kawasaki, West Coast Board Riders, Yamaha, Geico Motorcycle, Super Hooligan, Bell, Motul, K&N, SOKFY, Cycle Zombie and Fast Surfboards.
For me and most of the attendees, the real appeal of the festival was the music. It featured, over the two days, one of the greatest lineups of punk rock classic bands as well as new breaking bands, ever assembled. A huge stage, facing the beautiful Pacific Ocean, was the place for some memorable performances, and the crowd was uncharacteristically well behaved throughout. It wasn't until midway through FEAR's set, that one rogue guy got through security, jumped onstage, and suddenly realized that he had nowhere to go. Stage-diving into the crowd from the giant stage was out of the question, it dawned on him, and he meekly crawled off, with help by security, eliciting a combination of boos and laughter by the fun loving crowd.
Saturday's highlights included great up-tempo early sets from Britain's SHARP/SHOCK, the infectious horns of VOODOO GLOW SKULLS and MAD CADDIES solid sets. Local legends T.S.O.L. thrilled the crowd with a ten song set punctuated with their brand of political punk rock. Singer Jack Grisham looked resplendent, in a bright red jacket, adorned with "TSOL RULES" and a red devil on the back of it, was clearly having a great time "in his own backyard" as he exclaimed. He smiled, again uncharacteristically, throughout, clearly enjoying himself in the warm October sunshine. I spoke with him afterwards, and he was excited to tell me that he has new music recorded.
The afore-mentioned punk legends FEAR put on my personal favorite set of the day. Singer Lee Ving was joined by his awesome drummer Spit Stix and company for a long set of FEAR favorites that included the opening "Fuck You Lets Rodeo" that set the tone. A punk rock icon, now white haired and strumming a guitar, Ving is always quotable. "What's your favorite lunch meat?" he asked the crowd before tearing into his warp-speed signature count-in "1-2-3-4-5-6" as the band ripped "Beef Bologna" at its original late 70's pace. One sign of the times that we are now in the 21st century, was during "I Believe I'll Have Another Beer" when only one $14 beer was tossed at the band from the crowd, as opposed to the hundreds that used to pelt the band in days of yore. A fun cover of THE ANIMALS' hit "We've Gotta Get Out Of This Place" preceded the set closing "More Beer" but it's lack of a good dousing from the crowd again reminded me that it was not 1981 anymore.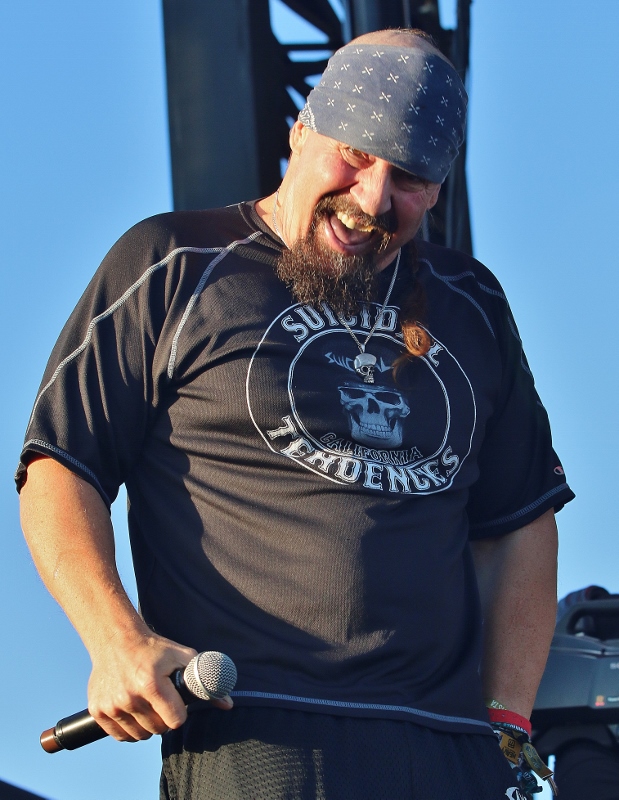 Total chaos is the only way to describe SUICIDAL TENDENCIES' set. From the opening note of "Suicide's an Alternative" to the closing notes of "Pledge Your Allegiance" mosh pits and crowd surfers stormed the area during the weekends rowdiest set. Singer Mike Muir is clearly the focus, as he stalks and runs around the stage with the prowess of a boxer in training, powered by the insanely frenetic pace of former SLAYER drummer Dave Lombardo. The only time the tempo slowed down was during sing-alongs to the mid-tempo "I Saw Your Mommy" and part of the classic punk anthem "Institutionalized". The crowd chanted "ST" all set long and Muir jumped into the pit to greet his adoring fans, during "Pledge Your Allegience" after which most of the crowd retreated to the beverage booths for a much needed rest and refuel.
More fun with the crowd favorites PENNYWISE followed. "Fuck Authority" had the entire place screaming at the top of their lungs, youthful angst arisen, at least for the duration of the show. A tongue in cheek cover of the BEASTIE BOYS 1987 party anthem "(You Gotta) Fight for Your Right (To Party)" had even the people in the huge VIP area singing and dancing along, like it was a frat party. A great thing happened when members of local punk legends THE VANDALS joined the band and did their popular song "Urban Struggle" with PENNYWISE guitarist Fletcher Dragge grinning from ear to ear, having fun jamming with his friends.
Fletcher and singer Jim Lindberg brought the pace down a bit as they addressed the beach crowd and asked them to join in a "campfire sing-along" which turned out to be the bands version of the Ben E King classic "Stand By Me". And, just like every PENNYWISE show, the highlight followed as the band was joined onstage by literally 100 friends and family of all ages, to sing their hit "Bro Hymn" and the entire crowd joined in, clearly having a communal experience. As always, a great way to end an uplifting energetic set.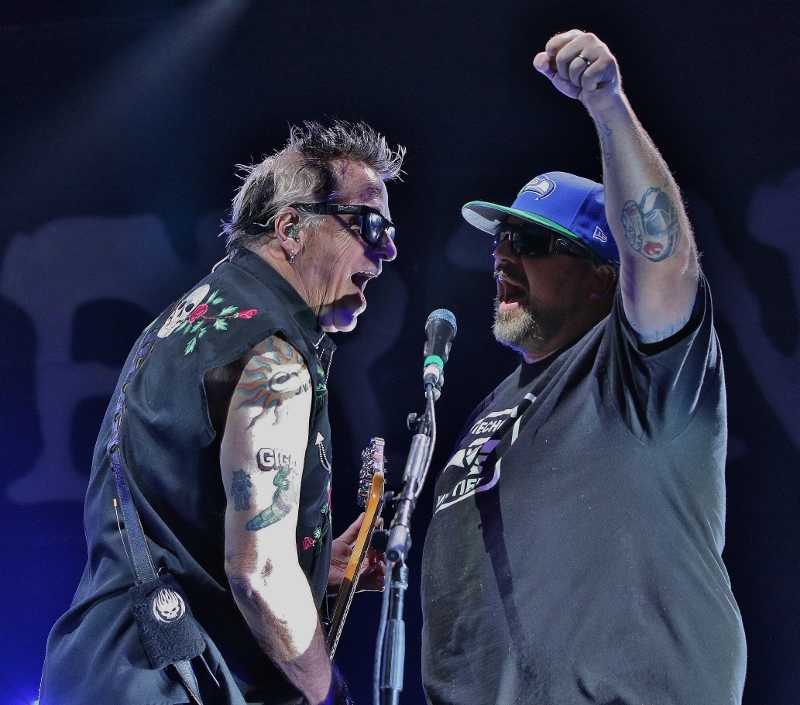 Closing out Day One of the festival was Huntington Beach's own THE OFFSPRING, who brought their fans a terrific seventeen song set that had a bit of a rough start, but finished strong. After opening with a version of the TWISTED SISTER song "We're Not Gonna Take It" the band was off and running. Speaking of running, a guy ran out onstage during the intro to their mega-hit "Come Out and Play" and was immediately tackled by security. He turned out to be the guy who originally sang the "You gotta keep 'em separated" line in the song and who is a friend of OFFSPRING guitarist Kevin "Noodles" Wasserman, who laughed it off and let him finish the song with the band and introduced him at the song's end.
"This is the greatest thing to happen to Huntington Beach since the 1986 Op Pro riot" exclaimed an excited Wasserman, as he surveyed the huge crowd on his home beach and alluded to that fateful day when mobs of chaotic kids stormed the police during a surf competition and burned police cars and a lifeguard building way back when. The band then burned up the beach as well as they tore into all their hits, one after another, including "Want You Bad", "Bad Habit", "Gone Away", "Pretty Fly (For a White Guy)" and the set closing "Self Esteem", which had the band members, especially singer Dexter Holland, beaming as they were at one with their conquered home town crowd, which included so many family and friends.
Day Two of the festival started out much more on the mellow side, as the Sunday revelers took their time to make their way in. During Aaron Lee Tasjan's set, SOCIAL DISTORTION leader Mike Ness surprised many by appearing onstage and thanking all for coming out to enjoy themselves. LA band THE WRECKS took a millennial take on JET's 2003 "Are You Gonna Be My Girl" that was interesting. Ska pop band THE INTERRUPTERS performed a perky retro styled set that featured their adorable singer Aimee Allen (Interrupter) who bounced around and waved at the crowd all set long while her black suited bandmates posed and played some fun British style ska ala THE SPECIALS or early NO DOUBT.
Things took a left turn when BLACK REBEL MOTORCYCLE CLUB took the stage. They performed a bluesy, moody, downtuned set that completely changed the mood from up-tempo to slow and introspective. A cool band, but seemed out of their element during their mid-afternoon time slot. In other words, they just looked bored.
Things picked up considerably when BAD RELIGION hit the stage. This band is beloved and for good reason. They have been around a long time, and their songs are a mixture of youthful angst, and attitude, just like I alluded to before. They are loyal to their punk roots, but have aged gracefully. Songs like the opening "Recipe For Hate" and "Fuck You" are anthems to older punk rockers, and are delivered almost note for note to the original recordings. Singer Greg Graffin is a great front man and is at one with his crowd, joking about the lament of the Los Angeles Dodgers, among other things.
The pace of the songs are more like a gallup, double-timed and perfect for moshing and crowd surfing. Although today the crowd was more in a mellow mood it seemed, and content with just drinking beer, eating a snack, and enjoying songs like the triple combination of their biggest hits "21st Century (Digital Boy)", "Sorrow" and "Infected" towards the end of the set. As the sun set on Huntington Beach, there was a terrific vibe going on at this punk rock beach party, and I can't recall a more comfortable time at a BAD RELIGION show, and I have attended many.
RANCID was quite the surprise, as they took the stage. Singer guitarist Tim Armstrong is no longer the spikey, mohawked, punk rock poster boy. He's now shaven headed, and bearded, sporting a bald head that was capped with a tilted old-style hat and rocking a beat-up hollow body guitar, thrashed about wildly all over the stage as their fans went wild over RANCID's brand of trashy, ska-laced punk.
This band is all over the place musically, but deeply rooted in ska and their song "Roots Radicals" and "Time Bomb" stretch the limits of that particular genre considerably. "Old Friend" was dedicated to their friends in SOCIAL DISTORTION who would follow. RANCID then reached into their arsenal and fired up the crowd for good with their set-closing hit from the early 90's "Ruby Soho".
This day BELONGED to Orange County favorites SOCIAL DISTORTION. Their merch sales were off the hook, and their fans started arriving in droves as the sun set on the sands of Huntington Beach. Awards for the various races on the dirt tracks and surf were given out onstage, as well as a new motorcycle and guitar giveaway. KLOS morning radio hosts "Frosty, Heidi, and Frank" made a drunken appearance, and I'm guessing that they had no idea who was even onstage. The crowd made it clear to them and everyone else that they wanted SOCIAL D.
Opening with a rip-roaring version of "Reach For The Sky" the band performed a classic 15 song set, with a stage that was filled with all kinds of stuff that would make the guys on the TV show American Pickers drool. Lots of old gas station and jail signs, a large statue of a dog, and even various state license plates that spelled the band's name adorned their equipment.
Singer guitarist Mike Ness confessed to the crowd "What a way to come home after a long summer of touring. You guys look beautiful." He even spoke of not believing that 40 some odd years of starting this band would he ever think that he would be performing after all that time on the beach that he played on as a kid would be possible. He then followed with the appropriate tale of "Story of My Life" and "Mommy's Little Monster", two classics from the SOCIAL D catalogue. A pink rose adorned Ness's Gibson Gold Top guitar head, and the band wound up the set with the fan favorites "Ball and Chain" as well as their take on the Johnny Cash classic "Ring of Fire" that seemed very appropriate here amongst the beach campfire rings that the State of California had tried to outlaw a few years ago. And just like that, the fires went out on a wonderful festival, and the weekend punkers were back to reality. After all, tomorrow is Monday, and many would be off to work.
I give the organizers of this festival a lot of credit. They put on a well-paced comfortable festival. Quality acts that at one time could have brought a lot of chaos to the area and has. Not this weekend. I saw no acts of violence at all. In fact, I cannot recall a festival that I felt more safe and sound. Security were all friendly and had a grip on everything. Everyone seemed to be having a blast, from the athletes to the fans to the performers, to people of all ages. It looks to me like you CAN grow old and be a punk and be happy. The best line I heard all weekend was from TSOL front man Jack Grisham, who told the crowd "This isn't my second childhood. I never grew up the FIRST time!" Well said. Well done Surf City Blitz. Thank you to all that made it possible.
Check out some more photos from the show in the photo gallery HERE.
Please log in to view RANTS