Live Photos By Duane Vickers
80's Rockers NIGHT RANGER recently announced a show at the Genesee Theater in Waukengan, IL where they'll be playing both of their first two albums (Dawn Patrol and Midnight Madness) in their entirety for the first time in the band's 35 plus year career. I caught up with lead guitarist and founding member Brad Gillis to discuss this "Dawn of Madness" show and all things NIGHT RANGER.
KNAC.COM: Hey Brad long time no see, how's it going?
GILLIS: Yeah what's it been about a week? (Laughs) Doing good man, just trying to get ready for this double album show and we're trying to get everything together and it's looking good.
KNAC.COM: You guys have a big week coming up with this show in Waukegan, IL where you're pulling out the "Dawn of Madness" doing the first two albums, Dawn Patrol and Midnight Madness in their entirety. I know I can't wait to see some of these songs that I've never seen played live, this is pretty much every hardcore NIGHT RANGER fan's dream show. Why did you guys finally pull the trigger on making this shappen?
GILLIS: Well, you know when you've been doing this for so long at some point you have to try and pull something new out of the bag. It was actually mentioned by the drummer in KANSAS saying that they ended up doing their big record in its entirety and they played all of these different songs that they'd never played before and they came in and did a little acoustic thing too with it and he said they had an overwhelming response with that show and the next thing you know their attendance went up 30% from just word of mouth and Facebook and people talking about it because they were trying something new.
So we banged this idea around a couple months ago and decided to throw it out there and see how it sticks and so our first one is next week and basically everyone is getting their end together and we've rehearsed a few of these songs at soundchecks and it's starting to sound real good and we're pretty excited about it ourselves doing new material and we're actually going into the hall in Waukegan, the Genesee Theater a day early and rehearsing next Wednesday before Thursday's show. So we're pretty excited about it, a couple of other cities have come in to do it also and the Japanese came in, they want to pull this "Dawn of Madness" show idea to Tokyo and Osaka for next year so things are looking good.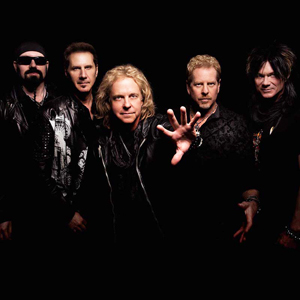 KNAC.COM: That was my next question is how much rehearsal times goes into a show like this because for yourself, Jack (Blades) and Kelly (Keagy) you haven't done a lot of these songs in a long time and Keri (Kelli) and Eric (Levy) have never done them basically.
GILLIS: Exactly, we've been doing a lot of the songs in soundcheck and also before the shows with a couple of acoustic guitars backstage, going over different vocal parts so we've got a handle on everything. Then we're going to figure out exactly how we want to run the set for next Thursday night but everybody gets their end together with the few days off we have each week in between shows and when we get together we'll pull this all together. Like I said we're pretty excited about it and if it flies we'll be doing a lot more and especially next year too.
KNAC.COM: So I guess this Waukegan show is kind of a proving ground to see how things go, I see you've added Denver. Is it going to be a maybe a show here and a show there or do you think you guys would do a full on tour?
GILLIS: Well we're not sure yet, our test market is next week and we do have a few more shows that have been booked but we think it's gonna fly and it's pretty exciting for us just to do new material. So I think we'll be doing a lot more next year. Now as far as a tour, this band really doesn't 'tour', we do the weekend warrior gigs where we're out on Thursday, play Friday and Saturday but a full blown tour, I don't think that's gonna happen. But we will do spot markets with the "Dawn of Madness" show with both records so we're trying to figure that out now. So we're doing the test market next week and trying to get all of the material together and the thing is we're all fired up about it and that's a good thing. I mean there's some of these songs I don't think we've ever played live because after we did the first record we were pretty much playing everything off of Dawn Patrol so then when we came out with Midnight Madness we had to pull stuff from Dawn Patrol and Midnight Madness so I think there were a few tracks on there that we never played live. So it's kind of exciting to do everything off of both records and Keri (Kelli) and I have had a blast learning and relearning all of these harmonies and stuff from the past. We're gonna make the best of it man, we're excited about it.
KNAC.COM: I was talking to a buddy of mine about the show and we were trying to remember if you guys played "Chippin' Away" at the Midnight Madness show. I mean it's been 34-35 years ago, we couldn't remember but I guess we'll hear it next week so I'm looking forward to it.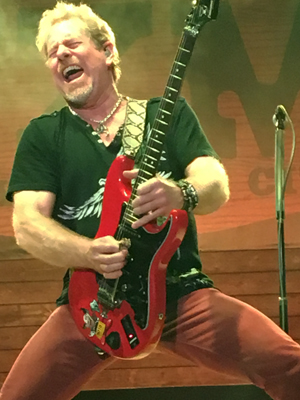 GILLIS: Yeah I don't think we've ever played that song live, but the luxury is we have enough songs to be able to choose from and redo and relearn and play and see how it comes across from the crowd and you know any diehard fan that grew up with these two records, they're gonna love this show. You know music's all about bringing back memories, the songs are the soundtrack to your youth, driving around in your car on a Friday night, cranking your stereo. It just brings back those great memories for people our age that grew up in the 80s. It was such a great decade of decadence. The whole idea of why classic rock is doing so well right now is the people that were 80s rock fans that went and saw these shows, their kids are grown up and maybe out of the house, now they can come back relive some old memories.
KNAC.COM: Do you think going forward you guys will start putting more deep tracks into the live sets and maybe touch on some of the other albums that you don't play a whole lot off of like 7 Wishes, Big Life and Man in Motion?
GILLIS: We're kinda kicking other songs around that we might be throwing in acoustically in between these two records for next week. That's what we're doing now, I don't want to give any songs away but the plan is to possibly do maybe three or four acoustic tunes in between both records to kind of break it down in the middle of the show where we'd be throwing some stuff from other albums into that acoustic set so we've got some ideas. We've already gone thru a few things and dude believe me this is really cool. It's really fun to try and pick songs from these other records which are Big Life, Man in Motion, all that stuff we're trying to figure that out but right now. We're overwhelmed with material with doing the first two records and these three or four songs we're going to do acoustically. But it's a great thing to know that we have so many songs on so many records to choose from and we're our own boss on this thing, so we just pretty much decide what we want to do, go in and rehearse it and check it out and see if it's happening and if so we'll throw it in. And also just by learning all of these songs that we haven't learned off the first two records when we do our regular show we'll probably be throwing a song or two in from those records too that we haven't played just to tighten it up and keep things fresh.
KNAC.COM: As we're getting closer to the end of another year, you guys released Don't Let Up last year actually. Are you looking to get into new album mode in 2019?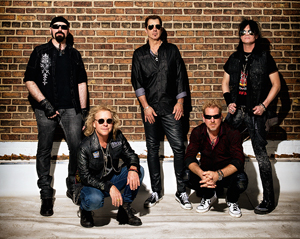 GILLIS: Yeah we've been talking about it already but mainly first things at hand. We usually do a record every year and half or two years so it's coming up to where we'll start kicking ideas around but the focus right now is this double record show and getting it done and testing that market and seeing how that flies, but yes, we have been talking about doing a new record and once we get in the groove of doing this "Dawn of Madness" show maybe early next year Jack, Kelly and me will get together and throw down some ideas and get moving. It's always great releasing a record with Frontiers because they release in some thirteen or fourteen countries in Europe and to the States and Japan so we always have a semi-worldwide release on our records and sales have been good and it's been a blast doing our records. We try to stick with same format that made NIGHT RANGER big, which is the big three part harmony choruses, with Jack and Kelly trading off on lead vocals, twin guitar harmonies and all the things that made this band big we throw in to each record we do to try and keep that continuity.
KNAC.COM: You guys keep delivering what your fans want. They wanted a live album, you did that with 35 Years And A Night In Chicago in 2016 and fans have been asking for you to play Dawn Patrol or Midnight Madness and you're doing both with the "Dawn of Madness" so how about a collection of some of your older unreleased tracks, live stuff and demos?
GILLIS: We talked about checking out some of these demos we did in like 1980 and I think they're on like 8 track half inch tape (laughs) and I think Kelly has the tapes and who knows what that would sound like. It's so funny, we actually did our first demo at Gary Pihl's house in Santa Rosa, CA. Gary Pihl played guitar with Sammy Hagar and he plays with BOSTON right now, and we were thinking about maybe checking out those old demos but that's reaching way back and they're just demos, they're going to sound like demos. We've pretty much pulled a lot of the live stuff out doing the live records in Japan and the live record in Chicago we did a while back and the acoustic 24 Strings And A Drummer, so we've been hitting all avenues but mainly right now we're going to concentrate on the double record show and early next year write new songs for a new CD.
KNAC.COM: Is there a particular song off of either of the first two records that you're looking forward to playing live or one that's really challenging for you?
GILLIS: Well "Why Does Love Have To Change", that's a great one, it's got all of those great guitar harmonies and stuff and it's up tempo, that's a fun one. "At Night She Sleeps", that was always a fun one to play and just going back to the ones we have played, just not lately like "Rumors In The Air" and "Passion Play" and stuff like that. We threw the song "Night Ranger" in our set months back and we're pretty much playing that every night now and that's a fun one to play. But we're excited about doing some of these songs we've never really touched on and mainly just getting the reaction from the crowd and see what people are diggin'. If you're a diehard NIGHT RANGER fan you'll get it, you'll know 'em all and you'll love it.
KNAC.COM: What about a Brad Gillis solo? What are your thoughts about you and Keri maybe doing some dueling solo stuff here and there in future sets?
GILLIS: We fiddled with that. We fiddled with it when Joel Hoekstra was in the band for a while. To me it's just wanking, there's no reason for that only because we solo enough in every song as it is right now. I think from the audience standpoint, guitar and drum solos, that's when they want to go get a beer (Laughs).
KNAC.COM: You've been working on the solo record, how's that coming?
GILLIS: It's actually coming really good. I've got a few more songs that are finished, it's just getting the right singers on it and right now a couple things are looking real good that might come down in the next few weeks and if it goes as planned, dude basically I've got all the music, I've got melodies, choruses everything. It's just finding the right singers on it so that's what I'm working on and I don't want to give anything away but if it comes down to the way I want it to happen, I'm hopefully going to have this thing done by the end of the year and hopefully get it out on Frontiers for a worldwide release. I'm real excited about it because I've been sitting on these songs for quite a few years and I've got a couple of new ones happening which leaves me to be able to flush out anything from the past that I don't think is viable or not as good as the newer stuff. So basically I'm on it dude, I'm on it.