Live Photo By Halo
To say Iím excited to be able to interview a member from AMARANTHE again is an understatement. Iíve been fortunate enough to speak to the band about three album releases. This Swedish band is easily one of my favorites in the metal music scene. I want to give a huge thank you to Olaf for chatting with me about Helix, their fifth studio album.
KNAC.COM: Helix is the fifth studio album ó how does it differ most from the four that preceded it?
MORCK: The previous albums were all experiments and case studies in different directions the AMARANTHE sound could be taken, whereas Helix consciously combines all those directions and ideas into a unified whole, while also treading a lot of new ground. We really wanted a sound that felt 100% AMARANTHE on this album, and I think we really succeeded with that. We really went all in on all fronts with this album, it was very important for us that it did not feel like "yet another album", but something truly special.
KNAC.COM: I read that it was written in two months and recorded in two months as well? Is that fast or normal for an AMARANTHE album?
MORCK: We usually do not take a long time to compose and record and album, but this one was fast even for us! We felt already from the first songs that we had a momentum, and although there was theoretically some pressure to get things done in time, we did not feel it. Worst case scenario, we could have pushed the scheduled album recording, but we really felt that we had a great idea in what direction the album was heading, and when we entered the studio we had quite more ideas and songs then we actually needed.
KNAC.COM: How do you feel this album fits your catalog to date?
MORCK: It is both a natural succession and a new direction at the same time. We are never content with going down the same path for each album. With the first album, from 2011, we released something that was really quite new in the metal scene, and I think people have come to expect innovation and even a certain degree of controversy to our music, and we would hate to disappoint.
KNAC.COM: Tell us about Nils, the newest official member of AMARANTHE. What do we need to know besides how he sounds?
MORCK: Nils is first of all, as you say, a great singer. However, he is also a fantastic and charismatic live performer, and also someone who fits the other personalities of the band perfectly. It only took a few months between when he performed his first show with us until he joined permanently, and we have not looked back since. But yes, most of all this guy loves to sing: On albums, live, in karaoke, in the dressing room, at parties - you name it.
KNAC.COM: Who wrote the lyrics for "Unified"? Itís probably one of my favorites, which leads me into my next question. This album has huge crossover potential in my opinion. How do you feel about being considered a group that can cross over?
MORCK: Thank you! It was me and Elize who wrote those lyrics, I think they are very genuine and heartfelt for a ballad type song.
I think the crossover element and potential has been there from the very first album, and while we do occasionally tread into non-metal realms, I think we are first and foremost a metal band. We play metal festivals, we tour with other metal bands, appear in metal magazines, and so on, and that is where we are most comfortable. Other opportunities we take as they come.
KNAC.COM: I have always considered AMARANTHE more than a metal group. You are so much more. Do you ever worry that metal fans and fans of past albums will not see or even accept your vision and your music?
MORCK: There will always be the haters, and especially when you are trying to do something new. It is not something that has bothered us particularly. At the end of the day, we have a ton of hard core metal fans coming out to the shows and watching us at festivals, and I think that is really the voice you should listen to. If the majority of the scene would be ignoring us, that would have been much greater reason to worry, but as things stand now, we are very comfortable with our position.
KNAC.COM: Who chooses the first single to be released? What is that process like?
MORCK: Generally it is a conversation between the band members, the management and the record label. Typically, there are always a few standard tracks that everyone involved believe in a bit extra, but choosing the very first single is not always easy. For example, you might have a very catchy and "radio friendly" song, but that song might not represent the album as a whole. So in the end, you need to strike a balance between a lot of different factors, so there is a lot of gut-feeling involved here.
KNAC.COM: In the video for "Countdown", Elize steps into a blood-filled bathtub? That's pretty cool but whose idea was it? The directors?
MORCK: The concept for the video was mainly Elize's idea, who also wrote the majority of the lyrics for the song. Patric Ullaeus, the director, worked on it from there and came up with a lot of great angles on the theme. It is a lot like working with a great music producer: You lay all the essential groundwork, and then you have an expert in the field elaborating on said ideas to create a great whole. We have recorded over 10 music videos with Patric, so we are really comfortable working together.
KNAC.COM: Does Elize do her own looks/outfits/costumes for video shoots?
MORCK: Elize sometimes works with makeup artists for videos and promo shoots, but the great majority of her outfits and stage wear are her own ideas. For live shows she almost always does her own makeup, but as the band grows that might potentially change.
KNAC.COM: Please describe Helix using only three words.
MORCK: Massive, catchy and diverse.
KNAC.COM: Can we expect to see anything new at your live shows with this album?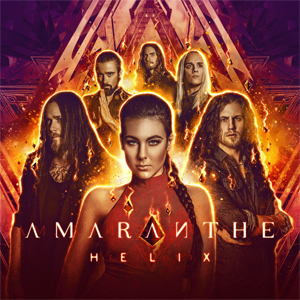 MORCK: With every single album, we try to grow a lot as a live band, both as performers and with the stage show itself: Stage setup, lights, setlists, there are a lot of elements that you can constantly evolve. We are just finalising those elements for our upcoming world tour, and I greatly encourage anyone reading to come and check out what we have been working on.
KNAC.COM: What is your favorite song on Helix and why?
MORCK: I think "Helix", the title track, is my absolute favorite. It is massive and heavy, and a bit darker than your typical AMARANTHE song, but naturally there is a huge and catchy chorus in there too. Sometimes things just fall into place perfectly on every level of a song, and "Helix" is truly an example of the perfect storm.
KNAC.COM: When can we expect to see you on tour in the US? Specifically Texas?
MORCK: All I can say right now, is 'soon'! It is no secret that we love touring the US, we have done six full tours and several single shows there. Texas has one of our favourite club stages in the world, the Gas Monkey Bar and Grill: We always have a phenomenal time there, and even if it is not the hugest stage, the atmosphere is fantastic, the fans are awesome and the food and drinks are great! So, we really hope to see you in Texas soon!