Live Photos By Travis Failey/Rocket Sports & Entertainment
Band Photo Credit: Alysse Gafkjen
I recently had the awesome opportunity to interview yet another band member of one of San Antonio, Texas' pride and joy, bassist Daniel Oliver of the Texas bred band, NOTHING MORE. My first KNAC.COM interview was with lead vocalist, Jonny Hawkins way back in 2014 just as folks were starting to recognize their talents right at the point when the band started to explode. Since then, NOTHING MORE has toured the world over again and released a few music videos including "Jenny", a video about the struggles of dealing with mental illness, "Here's To The Heartache", a video about a broken relationship, "Don't Stop" (feat. PAPA ROACH lead vocalist, Jacoby Shaddix), a video about life's challenges and pushing forward, plus a few others, along with their new album The Stories We Tell Ourselves. Add those accomplishments to their 2018 Grammy nominations for Best Rock Song, Best Rock Album and Best Rock Performance, and you too will quickly realize that NOTHING MORE has a lot to offer and that they're here to stay! Daniel and I chatted about the new album and we also dug just a bit under the surface from his beginning days with NOTHING MORE to some of the things that he is thankful for so read away and enjoy!
KNAC.COM: I'd love to start with a quick back story of how you first started with NOTHING MORE?
OLIVER: I met Jonny when I was a sophomore in high school. We both went to the same private Christian school, I'm 3 years older than him though. But anyway, I inherited the bass playing gig for the praise band — if you will, from my older brother. And Jonny was...I just met him at the audition for the band, and it was supposed to be a high school band, but he was such a good drummer that they recruited him from the middle school. That's how I got to know him. Then we actually played in (laughing) the same church too, and I inherited this other gig from my older brother at that church, and Jonny got that same gig. So, we were in 2 bands together back when he was in middle school. A couple of years after that is when he started NOTHING MORE with Mark (Vollelunga) and a couple of other guys that he was friends with. So, it's kinda funny because I got to...I saw the beginnings of it, but I wasn't in the band — and they asked me a bunch if I wanted to join at the time. It's kind of weird sounding but I felt like they were kinda too committed to it. (both laughing) Every weekend they would spend the night at each other's houses, and it was like all they did and I..I respected them for doing it. It was just kind of a weird time for me because I was graduating high school at that point, and stuff like that but yeah, I always respected them.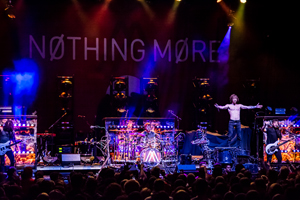 When I was 20, I kind of went crazy and didn't want to do music anymore and I wanted to drop out of college so I just rode my motorcycle to Durango, Colorado and pitched a tent in the woods and got a gig as a Whitewater Rap Scat for summer. Anyway, so doing all that I was around all of these very passion driven people, people that sacrificed money and directing normal life to live in natural splendor if you will and do whatever they wanted to do. And when it came time for the summer to be over, they offered me a gig to be a dog sled guide for the winter, which is pretty cool (both laughing) but something in me told me that I needed to go back to San Antonio. And so I moved back and I actually moved in with Mark and I got to see the band again firsthand and I really liked what they were writing and at that point I saw their commitment and it all kinda made sense to me so that was right when I joined. I kind of convinced everyone that that was our shot then to take it seriously, to drop out of college and to just really give it a shape. If you're going to love something like you don't have a plan B, just go for it! So, that was back in the beginning of 2005, and we've all committed to the vision then and never really turned our back to it which is really kinda crazy but, yeah that's how I joined! It's a little long winded but...
KNAC.COM: So, I know that you went to a college for music, did you graduate or is that the school you dropped out of and went back to San Antonio for?
OLIVER: Yeah, Yeah! Well, when I was 18, I spent my first year in Nashville. I studied Music and Music Business at Belmont University, it was a private school and I realized then that I'm not really interested in "the music business" quote-unquote, I wanted to be in a band. And I was just paying too much to learn something that nobody...nobody has to have a degree to be in the music industry. So yeah, I did not graduate from there.
KNAC.COM: Is the bass your instrument of choice? I read that you also play piano. Are there any other instruments that you play as well?
OLIVER: No, that's about it. I grew up playing piano, I did the piano playing lesson thing as a kid, but it never really stuck. My dad's a very accomplished guitar player, piano, my dad can play everything, so can my older brother. One day I was watching my older brother play bass at a talent show and it just all clicked and I fell in love with the instrument right then and it's just kind of stayed the same ever since. So, yeah bass is pretty much the only thing I play.
KNAC.COM: NOTHING MORE was nominated for a Grammy award for Best Album for The Stories We Tell Ourselves and the Best Rock Song for "Go to War" and Best Performance. How did it feel to finally be recognized by The Recording Academy's voting members and your peers?
OLIVER: (long pause) Yeah, it was, it was mind-blowing! You know as your career builds, it's like you kind of get use to things, and things start to move more slowly, like the shows get bigger, but that's just this one thing that hits you like a freight train. You're either nominated for a Grammy or multiple Grammys or you're not, and to just be thrown into that world when we weren't even...that was the last thing on my mind. I don't know when was the last time the word Grammy came out of my mouth (both laughing). Then to just get a call while we're in Eastern Europe that we've got 3 Grammy nominations, it just kind of blew us all away - I think we all cried a little that day. It definitely justifies all of the hard work we've put in and I think another huge thing that means a lot to us is that it meant a lot to our families, you know these people that have supported us forever and we kind of get to give it to them if you will, you know what I mean?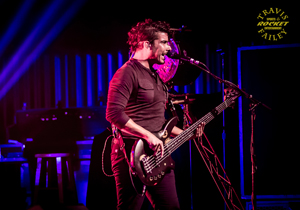 KNAC.COM: Yeah, well congrats y'all definitely deserve it!
OLIVER: Yeah, well thank you!
KNAC.COM: So, before heading into the recording studio for The Stories We Tell Ourselves, did you have the lyrics and music written or is that something that was done in the recording studio together?
OLIVER: I'd say before we break ground on a song and go to the studio, things are probably about 75 percent done. The label let us self-produce this album which is awesome and that's what we've done the last 2 records. Fortunately the only thing we have to shell out a bunch of money for is a big official studio to record all of the drums in. Everything has to be like 75 percent there before we break ground, and then we're able to fudge some things a little bit but it just depends. Some songs are more done than others. In the middle of the whole recording process, I think Mark and I spent like one whole week literally 40 hours going through and finishing all of the lyrics to each song. We just tend to leave these little holes and its like "I can't think of the right line, we'll get to it later!" Yeah, that's how we roll, we're kind of weird in that way!
KNAC.COM: I've interviewed Jonny before and of course we've talked to y'all several times, and I know that you guys are somewhat perfectionist. I think that is why your music comes off sounding the way that it does. I mean it's just really, really tight.
OLIVER: Yeah, well thank you! I can't tell you how often we re-write things. Some songs go through 100 different re-writes before it's all done — just trying to get it right!
KNAC.COM: So, what is The Stories We Tell Ourselves about, and especially the song "Go To War"?
OLIVER: The album on the whole is just, I don't know, it's hard to pinpoint exactly what it's about, it's about introspection. It's about what you think about the world, and what you think about yourself, and whether you choose to change or progress or hold onto anger. All of that is just kind of based on literally the story you tell yourself about life. The story you tell yourself about yourself or about others. And a lot of times we feel like psychologically if you can get into the guts of that you can really make some changes to better yourself. Anything like anger or depression or lack of self-esteem things like that. But "Go To War" specifically is about allowing yourself within a relationship to safely go to war with another person out of love. It's not a negative thing trying to tear another person down it's just describing the back and forth of 2 people that love each other but it's a war. (both laughing) You know at the end of the day you love them, but in those moments, you absolutely hate them! And it's kind of funny that those same emotions can exist in the same breath.
KNAC.COM: So, what is a typical day in the studio like for y'all?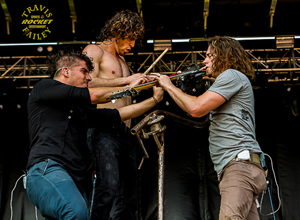 OLIVER: In the studio for doing drums, it's mainly all of us playing together about 10 times, play through a song, go into the control room where we can listen back just to make sure it's exactly the parts we want and all of that jazz. And then we watch Ben (Anderson, NM drummer) perform the song about another 100 times by himself and call it a day! But you know, our studio process is very weird because it is an in-house affair — meaning that once the drums are done, literally everything else is done in these home-built studios in our apartments or houses. So, Jonny's head of all programming as far as any sort of electronic accessory instruments you might hear — that's all him! He also does most of his own vocal tracking. Every now and again we'll pull someone in to help him out. And then Mark and Ben really head up all the instrumentation of all the editing and all of the background harmonies and things like that. I'm actually not a studio guy so once my parts are done, I split off and go into the garage and weld the stuff you see on stage like Scorpion Tail, Drumtron and the bass stand and all that!
KNAC.COM: That was my next question! Speaking from the standpoint of Best Performance, let's talk about that ginormous stage contraption that Jonny rocks out on during your shows.
OLIVER: Yeah, Scorpion Tail. Basically in my head what I wanted to do is build the world's first "dubstep machine" if you will, or at least dubstep performance machine, meaning the band's playing and just for that song, we pipe all the instruments through the computer and I built that huge steel structure to send the electronic MIDI signals to the computer to allow Jonny to either pitch Ben stuff or chop it and screw it, and give it this big tremolo effect and really the idea behind it is if you watch a DJ do his thing, it's kind of boring and you can't really tell what's happening. But, what I wanted with this was for...you know the audience hears the guitar pitching up or pitching down and with this, they actually get to see it happen! Jonny gets to wrestle this huge piece of steel 8 feet above the stage, sometimes 15 feet above the crowd, and they literally see him bending the thing over and slamming a lever and that's what they hear too if you will. And you know there's buttons on it too and as he pounds them all of the instruments stutter, it's like just dat, dat, dat, dat, da! It's like he literally takes control of our instruments with that machine, so that's "The Scorpion Tail!"
KNAC.COM: How long did it take for you to build it and do you have an official name for it or is that "The Scorpion Tail"?
OLIVER: Yeah, the official name is "The Scorpion Tail". Our previous drummer actually named it. But, how long did it take to build? Uh, at least a 1000 hours I would say! There's like a catapult that lifts Jonny up into the air on his drums, that's kind of the heart of it too, that took, it took a long time, at least 1000 hours I'd say — a lot of trial and error and towards the end, I had to hire a couple of friends to just help me because I was running out of time! So to help me with some of the wiring and then a lot of the welding and cutting, I even flew a good friend of mine in from Florida to help me for two weeks, and there's a lot of things! His name is Taylor Peterson and he's been with me since the beginning when it comes to welding stuff. I trust him because I had to build that bass contraption that you see on stage and at first he was like 'you're crazy!' But then I told him that I bought a welder and he came over and we both kind of taught ourselves together. And since then, he's been a partner of mine that I try to involve as often as I can, so we did design "The Scorpion Tail" together and he built a large portion of it and he lives in Florida now and so I don't get to work with him very often but when I do it's awesome!
KNAC.COM: The first thing that y'all had was kind of smaller and all 3 of you would get up there. What was that thing and who built that?
OLIVER: Yeah, that was what we called "The Bassinator", that's kind of a stupid name (laughing) but it fits the stand that I put a bass guitar on, and it's so that I can play the bass like a piano. And so, I'm doing a tapping solo and then Mark comes up and then plays along with me and then for the grand finale, it unlocks on this hinge that's kind of up towards the headstock of it and I'm able to spin the thing around to where it does like a 540 and locks upside down and then Jonny comes out and plays it with drumsticks while Mark and I fret the neck!
KNAC.COM: What song is it that you bring "The Scorpion" out on?
OLIVER: We do a cover of SKRILLEX. "First Of The Year" is the name of the song.
KNAC.COM: So, now that NOTHING MORE's stage performances have been elevated to its current level, do you have any current plans to build an even bigger more advanced "Scorpion Tail"?
OLIVER: (laughing) Yeah, I do actually! I'm in the design phase right now, just kind of doing some sketches and talking with some different people. I'm actually consulting with some engineers too, some actual mechanical engineers to see if what I wanna do is actually possible. But, over the next year or two people will probably see the show progress a little bit. I have some small stage designs that I'm going to be implementing before the end of the tour cycle. But there is a big one involving a lot of drums that I'm hoping to kind of break ground on early next year. I have a welder out on the road with me and I have a bunch of tools but I just don't have the space really to work or to store anything and so all of that kind of stuff has to be done in the workshop at home. Yeah, there will be more - I'm not out of ideas yet (laughing)!
KNAC.COM: So, the last time I interviewed NOTHING MORE back in 2014, you were in Europe on tour with FIVE FINGER DEATH PUNCH and HELLYEAH, and I've heard that nearly everyone who toured with HELLYEAH has experienced at least one of Vinnie Paul Abbott's famous BBQ band and crew cook-outs. Were you and the guys lucky enough to experience one?
OLIVER: Yeah, yeah we did and it was awesome, it was super cool! I think it was in Lubbock, Texas? Sorry, I totally forgot what I going to say. But, that band in general was always fun, they had a lot of spirit — everyone was just all super fun, and everyone was super nice andVinnie Paul Abbott obviously was just an insanely warm and caring fellow. It was an honor to be around him the little bit of time we got to spend with him!
KNAC.COM: So, you had a chance to really bond with him and the guys while you were on tour then?
OLIVER: Yeah, yeah, not a ton, but enough! And he just loved it you know? He had such a unique experience from the music industry from the popularity of PANTERA to the fact that his brother was shot and killed onstage! His story was insane! And just the fact that he just still loved music and he was always like "This is what Dimebag wants me to be doing, and this is what I love doing and so, I'm gonna do it, there's no stopping me!" It's really rare that you meet somebody that's just that on fire for something and that genuine and honest and open. So, he was definitely a blessing in a lot of people's lives.
KNAC.COM: Yeah, he was! Is there any special moment or memory that you'd like to share with us about him now that he's passed away?
OLIVER: (long pause) Yeah, you know I don't have anything too specific. I probably hung out with him the least, but he was such a legend in my head that when I was around him, I more or less kind of soaked it in. To be in a room with him was enough (nervously laughing) and I never wanted to overstay my welcome or anything. But to be able to walk down the hallway, and get a high-five from someone like that was enough of a story for me (laughing)!
KNAC.COM: Well, you know you guys have Texas in common right?
OLIVER: Yeah, that's true, that's true!
KNAC.COM: What is NOTHING MORE currently up to? Are there any plans to do like a live recording soon and if so, when?
OLIVER: We talk about that a lot, I don't think it's going to happen on this record, I think probably with the next record. So we'll see, we've also thrown around the idea of making like an acoustic set, kind of rearranging all of the songs to make it very interesting and kind of custom and if we did that, we'd probably do a live recording of it and put it out on an album.
KNAC.COM: I remember you guys doing a SiriusXM deal where the band did an acoustic set, weren't you guys supposed to be putting that out?
OLIVER: There were, but it wasn't enough songs really. It was like 3 or 4 songs, that was all we really did with them. And back then we went above and beyond with a lot of the acoustic stuff to where we made it quote-unquote "acoustic", but it was very electronic as well with tons of effects and our drummer was playing an electric drum set. It was awesome, like the "This Is The Time" "acoustic version" quote-unquote that we did then, it was crazy! So if we do something acoustic, we really want to aim for something like that — something unique and different. A lot of bands will do acoustic or make their songs "acoustic" quote-unquote and all they're doing is playing the song exactly the same but with an acoustic guitar. And we all think that's kind of stupid (laughing)! And so we really want to change it up! (laughing) It's like hearing "Hotel California" versus "Hotel California" off the Hell Freezes Over live album. I don't know if you know what I'm referencing, but that acoustic version of that song is beautiful!
KNAC.COM: Oh yeah, I definitely know what you're talking about! In fact, I just saw THE EAGLES in concert not too long ago while they were in Houston.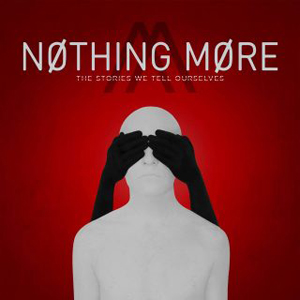 OLIVER: Oh wow, they're definitely a bucket List band for me!
KNAC.COM: What has been your favorite part of touring, and what has been your favorite fan experience?
OLIVER: Hmmm, that's tough! I think the best part of touring is the camaraderie on the road. Whether it's in your camp or the camaraderie and friendship that you make with other people. You know it's like being at summer camp basically. We're all adults and we're all on these big fancy tour busses, but I live in a bunk bed with a guy above me and a grown man below me as well, and it's fun! I don't know, it's just when you're around the right group of people, they're just able to uplift you and there's just jokes constantly happening. You know, to walk into catering and to now have all of these new friends like in these other bands too, it's just fun — there's this energy happening everyday that you rarely experience at home! Ummm, let me think, favorite fan experience? Oh man, there are so many! What I hate is that somebody's done something insanely…I don't know, I think our favorite...this is incredible, and I'll just say this. We have an amazing Street Team. They're constantly supporting us, you know they promote us online and all of that jazz but even more than that, pretty much every city we go to somebody from the Street Team makes us this gigantic dinner — like a home cooked meal! And that...that means a lot to us!
KNAC.COM: Oh wow, that's awesome!
OLIVER: Yeah, to know that somebody cares that much and then to also just have a taste of home too, and know that somebody cared enough about it to go out of their way to feed 20 people, you know, it's pretty incredible! Doing this you get to see...you really get to see the generosity of people in general and it's really mind-blowing!
KNAC.COM: NOTHING MORE previously supported Suicide Prevention by donating some of your tour and merch proceeds from "Jenny". Are you still supporting that charity or any other charities that you would like to share the information for with your fans?
OLIVER: Right now we're in between, but there's a Self-Help Festival in Detroit, MI that we're getting with A DAY TO REMEMBER and that's in September that's our next big charitable event. I can't remember the specifics of what the proceeds are and exactly what organizations are going to work, but that's really the only thing on the radar at the moment.
KNAC.COM: Do you have any parting words before we go for your fans?
OLIVER: Yeah, just "thank you, thank you, thank you" for all the support! Without you guys we wouldn't get to do what we love, and everyday is a blessings and we don't know where we'd be without you!
Social Media:
Facebook: Nothing More
Instagram: @nothingmoremusic
Twitter: @nothingmorerock
Website: www.nothingmore.net