KNAC.COM Recaps The Inaugural INKCARCERATION FESTIVAL

By Geoff Ketler, Cleveland Contributor
Saturday, August 25, 2018 @ 8:14 AM

| | | |
| --- | --- | --- |
| | | At The Old Mansfield Reformatory |
All Photos By Geoff Ketler/Aces High Photography
Two months removed and 70 miles away from the prestigious Rock On The Range, the inaugural INKCARCERATION FESTIVAL brought an eclectic - yet stellar lineup to the grounds of the old Mansfield Reformatory – site of the filming of The Shawshank Redemption. The freshly minted festival boasted 2 stages of non-stop action, a stacked food truck smorgasbord dubbed "food truck city", tattoo vendors and curiosities all set to the backdrop of the daunting prison. From OUR LADY PEACE to DEVILDRIVER it was an array of talent performing over three days in the humid Ohio heat, leaving the hordes of concertgoers exhausted and satisfied.
DAY 1
Being a weekday, the first night of Inkcarceration Fest kicked into gear around 3pm, with a meager swarm of an audience bouncing between the two stages. Up first was the LA-based metalcore band BAD OMENS with a very ominous and dark set – much like their namesake. I managed to also catch an exuberant performance from the on and off again group LIFE OF AGONY. By this time, the crowd had really grown and all eyes were on the recently transformed Mina Caputo. The last time I saw LIFE OF AGONY was on the original Gigantour headlined by MEGADETH and since then, Mina (formerly known as Keith) had gone on to have the gender-reassignment and came out as transgender. As you can imagine, this may be inspirational to many, but there were plenty of gawkers and confused looks coming from the crowd. Regardless, Mina sounded great on vocals – something that cannot be denied or taken away and the band as a whole projected a ton of energy on the sun-soaked stage.
OF MICE AND MEN - another group plagued with uncertainty following the departure of original vocalist Austin Carlile, riled up the main stage as the heaviest act on the bill for Friday. Taking over for Austin was bassist Aaron Pauley, who pulled it off with excellence. It was an extreme and aggressive set that really began stirring the pit for the first time. Shortly after OF MICE AND MEN wrapped things up, it was time for the headliner of the second stage, LIT. What a nostalgia sensory overload. Curiously opening with a TOM PETTY cover, LIT proved again that 90s alternative rock was still cool, highlighting their set with the always recognizable "My Own Worst Enemy".
The final two performances of Day 1 brought everyone to the main stage, which was picturesque with the sun setting behind the performers and the prison in full view stage-left. All up the hillside were drink vendors, merch booths, ATMs and port-a-johns. The always fun A DAY TO REMEMBER quickly jolted the crowd into moshing positions with an array of confetti, toilet paper and at one point, asking audience members to crowd surf on top of another person. In other words…to crowd surf a crowd surfer. Would you consider ADTR as metalcore or pop punk? The truth is – likely somewhere in between. The formula for pop punk is there, but there are times when the double kick comes in and vocalist Jeremy McKinnon lets out a blood-curdling scream and you have to ask yourself, what am I hearing? One thing is for certain, this combination makes for a fantastic live show.
The oft-political RISE AGAINST finished off the night. Although their set was less emphatic and less crowd-driven than A DAY TO REMEMBER, it sort of encapsulated the day as a whole – combining elements of punk rock and hardcore into a power-driven performance. It was a good way to call it a day and head home to rest up for day two.
DAY 2
The second day presented some interesting artists and some real head-scratchers. Maybe it is just me, but Friday's performers really kicked off the festival right and then Saturday it just kind of fell flat. Much of the badassery and momentum was lost with the much more mellow and sophisticated lineup. Save a handful of surprises, '68, LIVING COLOUR and THROUGH FIRE, it was less like a rock festival and more like a hippie fest. I struggled to keep my eyes open during the set from ALL ABOUT A BUBBLE and OUR LADY PEACE belonged elsewhere with much of their selections focused around acoustic jams. That all said, there were some diamonds in the rough. First and foremost, the surprise of the weekend was '68. Just two dudes in black suits and neckties absolutely going ballistic on stage. It bordered somewhere between CODE ORANGE and noise, but was absolutely fascinating to watch. Niko Yamada beat the living hell out of his classic drum kit and guitarist/vocalist Josh Scogin was chaotic and charming simultaneous. "We are… METALLICA", he quipped.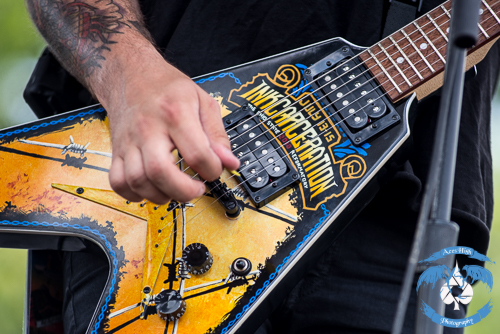 In addition to '68, THROUGH FIRE dazzled on the main stage with their brand of soulful heavy rock followed by a nostalgic set from Tony Hawk's Pro Skater mainstays ALIEN ANT FARM which tugged on my junior high school heartstrings with hits like "Courage", "Movies" and of course the Michael Jackson cover of "Smooth Criminal". Headlining the second stage was the always enjoyable LIVING COLOUR. It didn't matter that it was merely late afternoon on a sweltering day, Corey Glover, Vernon Reid and Co brought it. Corey sounded fantastic. His pipes only seem to get better and Vernon was phenomenal on guitar, often ad-libbing and extending solos. It was fantastic set that made me feel like they belonged on the main stage.
Quickly all of the attention turned to the mainstage after LIVING COLOUR's set ended and as mentioned before, OUR LADY PEACE was a bit of a snoozer, opting to lean heavily on the acoustic ballads instead of rocking with the majority of the weekend lineup. Luckily, BUSH saved the day with an epic nightcap of hit-laden performances accompanied by fantastic production. "Machinehead" started it all as I was escorted into the photo pit. Guitarist/vocalist Gavin Rossdale was charismatic as a frontman. He only addressed the audience a handful of times, but his stage antics fed the frenzy of fans that had re-awoken. The sounds of 90's popular rock radio filled the night air as the hits kept coming. It was a great way to save an otherwise downer of a day and sent me home giddy about the abusive lineup that awaited on Sunday.
DAY 3
For metalheads like myself, Sunday was the day to be there. I am guessing that with many of the artists splitting the weekend with Rock Fest in Cadott, WI; the set times and allotted days were predestined forcing the daily lineups into what they were. Although Saturday seemed a little light on talent, Sunday was going to freakin' bring rain. Although there were a few bands early on, my day began with ADELITAS WAY on the main stage. ADELITAS WAY can always be counted on for an excellent powerful set sonically and energetically. Like a fine wine, this group seems to get better with age. Both lyrically and musically, Rick DeJesus' vocals are always on point. It was a great way to kick off the day.
Quickly I was back up the hill just in time to watch the Chicago product SOIL really kick start the pit. It was a barrage of down and dirty grooves that shook the foundation of the Mansfield Penitentiary. Ryan McCombs and crew performed like it was 10PM on the main stage instead of Sunday afternoon on the second stage. From there, I was as giddy as a schoolgirl to check out DEVILDRIVER on the mainstage. Just days removed from releasing Outlaws 'til The End, Vol 1., a very metal take on classic outlaw country hits, DEVILDRIVER unleashed hell on the now packed lawn of the prison. Dez Farfara was in mid-tour form, panning to the crowd and sprinting from stage-left to stage-right. You would have never guessed that this was a quickie weekend string of dates before the real tour kicked off. None of the new album made it into the live show, which was a disappointment itself, but the performance as whole did not disappoint.
Back at the second stage, CORROSION OF CONFORMITY rocked like clockwork. Their timeless, groovy and gritty blue collar brand of metal went over so well with the dense second stage audience. Having seen several incarnations of the band over the years, it was nice to see guitarist/vocalist PEPPER KEENAN back once again, bringing a sort of unity to the group. Meanwhile, another seemingly timeless band, SEVENDUST was ready to get "Dirty" with the first single off of their 2018 release All I See Is War. I freaking love this band. Great dudes in a great band, playing great riffs and sounding...great. You get the point. That is SEVENDUST in a nutshell and for any drummer, Morgan Rose is an inspiration to all that will leave you awestruck every, single, time.
I would have never thought that I would see the day that I would find myself at a SUICIDAL TENDENCIES gig, but today was that day. Although the only remaining original member is vocalist Mike Muir, the same intensity and fury that evolved into this crossover thrash band is still burning inside of each and every member today. The on-again, off-again Venice, CA product opened the gates with "You Can't Bring Me Down". Although he is now in his mid-50's, Mikey was as crazed and and intense as ever. I had to catch my breath before I made it to the headliner of the second stage, HATEBREED.
Often thought of as one of the busiest guys in metal, Jamey Jasta trotted out on stage and immediately started shaking the earth with "To The Threshold". It was a typical HATEBREED set; no frills, just metalcore and tiny backdrop. As everyone packed in for the ride, it was difficult to get back to the main stage for the balance of the evening. First off, CLUTCH really made things groovy for a while. Guitarist/vocalist/harmonica/keys/you name it frontman Neil Fallon was unrelenting in his quest for audience participation. Like a contemporary ZZ TOP, CLUTCH rocked a bluesy, swingy groove that would make the coldest hearted person want to get up and dance. The highlight was "Electric Worry", but entire set blended together like a great big barroom boogie.
Bringing the festival home was the almighty BLACK LABEL SOCIETY. This was the group's second trip to the area within the year, so I have had plenty of BLS in my life and that is a good thing. As always Zakk Wylde perched up on his monitors, hair in his face, in his signature kilt melting faces left and right. Zakk rarely takes time to address the audience, he gets straight into it holding his guitar up to the night sky and beating his chest once in a while to a sea of denim and chains. The fan favorites "Bleed For Me", "Concrete Jungle" and naturally, "Stillborn" all made their usual appearances, with several selections off of the group's latest effort Grimmest Hits also making the cut. It was a perfect way to end a long weekend of ups and downs, highs and lows. Regardless of musical taste and selection, the Inkcarceration Festival itself was run as smooth as hair on a frog with no hiccups, issues or delays to speak of. There was not a single second of overlap between the two stages and the bands were timely without a hitch. I really hope to see this festival grow and continue to diversify now that its first successful year it under its belt. For anyone wondering, it is worth the trip, wherever you are, so be on the lookout for Inkcarceration Festival 2019.
Check out more photos from the festival at the links below!
All Photos By Geoff Ketler/Aces High Photography
Photo Gallery 1
Photo Gallery 2
Please log in to view RANTS