The Coroner's Report - Delve Deep Into The World Of Death, Black & Thrash Metal

By Peter Atkinson, Contributor
Sunday, March 14, 2004 @ 12:49 AM

| | | |
| --- | --- | --- |
| | | Peter Atkinson Gives KNAC.COM |
If it's spring training time for baseball — welcome to the Yankees, A-Rod. Woo hoo! — it must also mean the metal festival season is kicking off as well. And this year, along with the annual March Metal Meltdown in New Jersey, a new festival debuted in Florida.

Sun n' Steel, the First Annual Florida Metalfest, was held March 6-7 in Pinellas Park, Fla. Among the headline attractions were rapper Ice-T's metal band Body Count, Testament and reformed death metal legends Obituary. One band that didn't play was Hell On Earth — the industrial metal idiots who were prevented from having someone commit suicide onstage at a show last year. This time they were talking about doing some sort of live cannibalism thing – obviously inspired by that bizarro recent court case in Germany - but were dropped from the festival bill. With of all their stupid attention-grabbing gimmicks you can almost be certain they suck.

March Metal Meltdown 6, which looks to be a scaled down from years past, convened March 12-13, at the Cricket Club in Irvington, N.J. Bands this year included: Testament, Symphony X, Vital Remains (fronted by Deicide's Glen Benton), etc. There were autograph sessions with select bands and a Vendorville Marketplace full of CDs, t-shirts, and other memorabilia, autograph signings with the performing artists, and a food court.

Later this spring, Killswitch Engage and Iced Earth will headline the sixth New England Metal and Hardcore Festival. Other names of note on the festival bill are Arch Enemy, Machine Head, God Forbid, Children of Bodom, Six Feet Under, Soilent Green and Kataklysm. The New England Metal and Hardcore Festival will be held at the Palladium in Worcester, Mass., April 30 and May 1. As always, come early and bring the kids.

GORGOROTH OUTRAGE, PART 1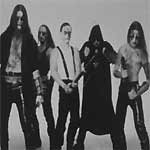 Outrage. You want outrage! Forget Janet Jackson's star-spangled Super Bowl tittie — yawn! Norwegian black metallers Gorgoroth put on a Super Bowl Sunday show in Poland that freaked out the whole country – and with good reason.
The band's DVD shoot stunt at a Krakow soundstage went well beyond some contrived "wardrobe malfunction" that showed next to nothing. Gorgoroth's stage set featured the following: Four crucified and naked models (two women and two men – totally buck-ass naked, too, no strategically placed silver stars), covered in sheep's blood, more than 100 sheep heads — and gallons of more sheep's blood on stage, because you can never have too much. A few minutes into the show, things got too intense for one of the female models who fainted and had to be taken down from her cross.
With frontman Gaahl beginning a prison sentence soon for an assault conviction in Noway, apparently the band wanted to leave an impression that would linger. As soon as the gig was over, the police arrived and confiscated the recordings. And when word got out about the show, the news was all over the front pages of Polish newspapers for days.
Gorgoroth ended up high-tailing it out of Poland ahead of accusations of blasphemy, heresy, moral turpitude and overall bad taste, and Polish authorities threatening legal action. A Polish prosecutor launched an investigation into whether the concert breached the country's law protecting religion. There was even talk of asking Norwegian authorities for help in questioning Gorgoroth. No, this show that won't be forgotten in the pope's home country for quite some time.
If you want to see what all the fuss is about, one web site had a ton of pictures showing just about every atrocity. If the site's still up, check 'em out at: http://www.teppah.prv.pl/

CANNIBAL CORPSE KILLING SPREE CONTINUES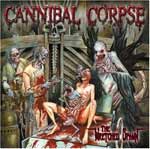 Speaking of outrage, Florida's Cannibal Corpse have generated more than their share as they set the standard for death metal depravity over the past decade. Intermittent bannings – the band still can't play certain material in places like Germany – censored cover art and ire of appalled politicians like Sen. Joseph Lieberman and former Sen. Bob Dole - who can't grasp the poetic subtleties of songs like "Addicted To Vaginal Skin" - have been a fact of life for the band. Yet each time out, Cannibal refuses to bow to dictates of the conservative will, commercial acceptability or general good taste. It's no different this time, with the band's ninth studio album, The Wretched Spawn, which shows Cannibal still more than up to that task of pushing the envelope.
The album's cover art is another splatter-ific masterpiece by evil genius painter Vincent Locke, with a trio of "Alien"-like critters erupting from the body of a hapless woman as a gaggle of gore-soaked ghouls look on. Chances are you probably won't be seeing it on display at any but the most liberal mom-and-pop stores.
And the material inside is Cannibal's usual blend of conventional brutality — "Cyanide Assassin" and "Frantic Disembowelment" — and tracks like "Severed Head Stoning" and "Rotted Body Landslide" that are so uniquely grotesque one wonders whether these guys — vocalist George "Corpsegrinder" Fisher, guitarists Jack Owen and Pat O'Brien, bassist Alex Webster and drummer Paul Mazurkiewicz — are just fiendishly clever, or genuinely demented.
"We're not consumed by horror and killing or anything like that," Mazurkiewicz said. "Maybe we're more desensitized than other people, but we still see stuff on the news that grosses us out. We're just normal, everyday people ... who play in a death metal band." "Sometimes we surprise ourselves with the stuff we come up with. Usually it's just a matter of brainstorming and imagination. We'll sit around and come up with sick concepts. It starts with the title, and goes from there."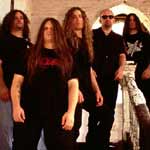 "'Severed Head Stoning' is about someone being stoned to death with the severed heads of his family. 'Rotted Body Landslide' is about someone who's been buried alive under a mountain of dead bodies. Those songs are a bit of a different take, because usually our songs are about maniac killers and that sort of thing."
2003 was a landmark year for Cannibal Corpse. The band sold its millionth album. And despite the fact that it marked combined sales of eight studio and one live release, it's still an amazing achievement for a band that continues to play the most brutal music imaginable, with zero commercial potential.
The quintet also was named the biggest-selling death metal band of the Soundscan era last year, and is still the only death metal band to crack the Billboard Top 200. Staying sick has allowed Cannibal to stick around for the 15-Year Killing Spree their recent retrospective box set boasts of and survive under circumstances — like the departure of revered singer Chris Barnes after 1994's The Bleeding — that would have killed most other bands.
And though record sales have slowed of late, which band members maintain is a result of Internet downloading, Cannibal maintains one of the most rabid, dedicated audiences in an genre.
"The fans know it's from the heart and they know what to expect from us," Mazurkiewicz said. "They are fiercely loyal to us because of that. I know what it's been like to have a favorite band put out something completely different from what made them great in the first place. What a let down. We never wanted to be one of those bands, we wanted to be a band you can count on."
Cannibal Corpse is just wrapping up a U.S. tour with Hypocrisy (now boasting ex-Immortal drummer Horgh) Exhumed, Vile and Macabre and no doubt will be making a return trip later this year.

GOD FORBID, SETTING THE STANDARD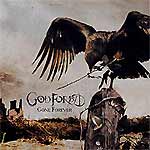 If good things to come to those who wait, then obviously New Jersey metal-core extremists God Forbid have been waiting long enough.
Things have taken a dramatic turn for the better during the past six months the band, which has been toiling in relative obscurity for nearly a decade. In just the past few weeks, God Forbid signed on as a second stage act on this summer's Ozzfest (which with Slayer, the reformed Judas Priest, Dimmu Borgir, etc., boasts the best line-up in years), got added to a string of dates on the upcoming Jagermeister Tour with Slipknot and Fear Factory, and lined up an opening slot on Machine Head and Arch Enemy's April-May tour.
This all coincided with the release of the band's fantastic new album Gone Forever, an album that almost lived up to its name as drummer Corey Pierce said it "almost put an end to the band."
Rewind to the fall of last year and God Forbid — metal's most integrated band with four African-Americans and one white guy made up of sibling guitarists Doc and Dallas Coyle, frontman Byron Davis and bassist John Outcalt that has been around since 1996 — had finished work on Gone Forever only to wonder if they were going to endure the same crap they went through with their 2001 Century Media debut Determination. Despite constant touring with Cradle of Filth, Arch Enemy, Darkest Hour, Mushroomhead, etc., God Forbid has remarkably little progress to show for the effort.
"It was like, 'oh god, what have we done,'" Pierce said. "When you tour for that long without getting anywhere, it's frustrating."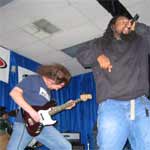 But hope arrived soon after from a most unlikely source — MTV, actually MTV2, which resurrected Headbanger's Ball in a much more underground-friendly form. It also put together a tour under that banner at the end of 2003 with some of metal's most cutting-edge acts: Shadows Fall, Lamb of God, Killswitch Engage and God Forbid. The tour was a huge success and significantly raised the profile of each band on the bill — Lamb Of God even signed with Epic. "It was awesome. The shows were great, tons of kids came out and there was a lot of enthusiasm," Pierce said.
Around the same time, God Forbid got back the final mix of Gone Forever, which was produced by hardcore veteran Eric Rachel and mixed by grindcore guru Colin Richardson. "You couldn't help but smile, it made everything all worthwhile, it gave us all a whole new outlook," Pierce said.
The dramatic sonic improvement of Gone Forever is matched by more confident, cohesive songwriting that weaves together thrash, hardcore and traditional metal with equal parts ferocity and accessibility.
"This is the first record [the band's fourth overall] where we were able to cover all the bases, yet do something that was totally us," Pierce enthuses. "We want to go out and set a standard, and I think with this album we do. We're confident now that we're gonna make headway. It's our time to move forward. People are ready for the band we've become."
I concur.

SATYRICON FINALLY UNLEASHES ITS VOLCANO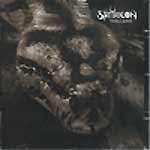 The latest album from ground-breaking Norwegian black metal veterans Satyricon, Volcano, will finally see the light of day in the U.S. April 13, thanks to the band's new deal with System of A Down guitarist Daron Malakian's label eatURmusic, which is distributed by RED Ink/Columbia— a year after it was issued in Europe, where it did quite well, debuting at No. 2 on the Norwegian album charts.
In fact, the album has received the Norwegian Grammy for "Best Metal Album," Alarm awards as "Metal Album of the Year" and "Song of the Year" for "Fuel For Hatred" and The Oslo Award for "Best Overall Album." Not a bad haul.
The band — led by frontman Satyr and longtime partner/drummer Frost — also kicks off its first U.S. tour since a brief stint with Immortal four years ago April 13 with Morbid Angel and Suffocation – who's first new album in years is imminent.
But is Volcano worth all the hooha and the long wait? Hell yeah it is. Venomous and vicious — and without all the orchestral trappings that have become so de rigeur — Volcano has an old school black metal rawness and misanthropy backed by contemporary muscle. There's nothing pretty or delicate about this album. And while there are some female vocals, they're there to lend some eerieness to "Angstridden" and epic album closer "Black Lava."
Despite near constant line-up turnover, and occasional periods of inactivity, Satyricon has been able to maintain its sophistication and might over the years. And with a more aggressive approach than on its last album, 1999's Rebel Extravaganza, and a filthier, angrier mood on the part of songwriter/frontman Satyr, Volcano is that much more intense and imposing.
The spine-ripping, hardcore-tinged "Fuel For Hatred" and "Repined Bastard Nation" are magnificently brutal and satisfy in a way that no 40-piece orchestra or choir possibly can.

REVIEW McNUGGETS


The mailman's been busy delivering the usual pile of new releases over the last couple months. And while it's tough to get to them all — and a lot just aren't worth the time — here are some of the more noteworthy newish underground metal albums, taken in alphabetical order.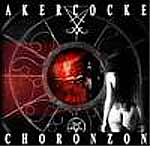 ¨ AKERCOCKE — Choronzon (Earache) Kind of a gentlemanly version of Cradle of Filth — opting for jackets and ties instead of leather and corpsepaint — England's Akercocke nevertheless are a fairly formidable black/death/satanic metal band. Certainly as ostentatious and pretentious as Cradle can be with their grandiose arrangements, orchestration and high-concept flair, Akercocke still are feral and wicked in an old school black metal way the Filth-meisters have all but abandoned. The shrieking vocals and blast-beat fueled, hyperspeed mayhem of "Enraptured By Evil" or the chilling "Valley of the Crucified" are as raw and pure as anything from Emperor's landmark In The Nightside Eclipse. B+
¨ CENTINEX — Decadence – Prophecies of Cosmic Chaos (Candlelight) This veteran Swedish death/thrash metal quintet has wallowed in obscurity and suffered its fair share of line-up changes since forming in 1990. But what hasn't killed certainly has made it stronger. The band follows up 2001's menacing Diabolical Desolation with the equally formidable Decadence. The band's ragged, technically adept "Gothenburg-sound" style thrash is tight as a drum and mean as Barry Bonds on 'roid withdrawal. B+
¨ DECAPITATED – The Negation (Earache/Wicked World) Poland's Decapitated, on the other hand, are death metal all the way. The band's third album opens with "The Fury," which is a fairly apt description of the approach here. Unbridled and unrelenting, the band rip and tear like nobody's business, yet inject plenty of crushing hooks and crisp solos to keep things interesting. Clever and corrosive, The Negation makes for a visceral half-hour that'll leave you wanting more. B+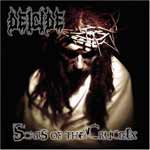 ¨ DEICIDE — Scars of the Crucifix (Earache) Re-armed and re-energized after mailing their last album, In Torment In Hell, to settle contractual obligations with a disinterested Roadrunner, Florida bible-bashers Deicide return with what will likely be the satanic death metal album of 2004. Scars is Deicide's Reign In Blood, an impeccably scripted, ruthlessly performed nine-track behemoth that, even though it clocks in at a measly 26:45, you won't care. The pieces fit together so perfectly here, from Glen Benton's Exorcist-inspired vocals and blasphemous diatribes to the band's merciless performance and Neil Kernon's sterling production, that anything extra might have spoiled it. Ironically, Scars was released a day before the headline-hogging film The Passion of Christ and drew nary a whisper of notice despite such Christian-baiting tracks as "Fuck Your God." Great album, awful timing. A
¨ DIABOLIC — Infinity Through Purification (Olympic/Century Media) An absolutely masterful melding of full-on death metal brutality, technical mastery and progressive aspirations. Complex, often epic, but always vicious, Tampa's underrated Diabolic are just that on their fourth album. Fiendishly precise, spectacularly executed and deftly produced by Neil Kernon is an undiscovered treasure that demands, and deserves, attention. A
¨ KRISIUN — Works of Carnage (Century Media) The huge buzz that greeted Krisiun's American debut, 2000's Conquerors of Armageddon, may have worn off, but the Brazilian trio continues to deliver the death metal goods. Carnage is a marked improvement over the too-raw Ageless Venomous, with beefier production that regains the power lost on Venomous. Krisiun's bone-sawing death metal rages unabated, buoyed by Moyses Kolesne's spectacular guitarwork and brother Max's Gatling gun drum fusillade. The band also tears through a rendition of Venom's "In League With Satan" like Godzilla marching through Tokyo, which scores big bonus points. Carnage kills. A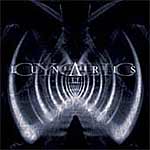 ¨ LUNARIS – Cyclic (Earache) Though quite obscure, these Norwegian black/death metallers were able to line-up quite a who's who of guests on their latest effort. Testament/Dragonlord guitarist Eric Peterson, hired gun bassist Steve DiGiorgio and Arcturus/Covenant keyboardist Steinar Sverd Johnsen all lend a hand on an album that mixes flame-throwing Marduk-like black metal insanity with flight-of-fancy prog-rocky passages that sound like Fates Warning. Makes for a weird contrast that doesn't always work. Still, it's pretty wild stuff, and the musicianship is phenomenal — if that's your thing. B-
¨ MONSTROSITY — Rise To Power (Conquest Music) These long-standing Florida death metallers sadly still are known best as "Cannibal Corpse frontman George 'Corpsegrinder' Fisher's old band." Yet Monstrosity remain a quite capable band in their own right. Though offering trademark Florida death metal fare, Monstrosity give it some flair with mean-ass guitar solos, complex arrangements and some rather unexpected melodic splashes. Rise To Power, the band's fifth album, is as crafty as it is apocalyptic and definitely worth tracking down. A-
¨ MY DYING BRIDE — Songs of Darkness Words of Light (Peaceville) Perhaps because they've been getting beaten rather badly at their own game of late by Sweden's Opeth, English doomsters My Dying Bride seem more morose and miserable than usual this time out. And that's a good thing. The band's recent work lacked focus as they seemed to struggle for a sense of direction, when what they had been doing all along was fine. And with Darkness, apparently they've come to accept that. Grim, ponderously slow and slit-your-wrist somber, it's what made My Dying Bride great in the first place, and it's what makes them great again here. A-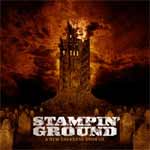 ¨ STAMPIN' GROUND — A New Darkness Upon Us (Century Media) These U.K. imports can't decide who they'd rather rip off, Slayer or Pantera. So they borrow liberally from both bands' bag of tricks to dress up their metal-core histrionics. Their super-tight synchronized riffing, stampeding tempos and ferocity are right out of the Reign In Blood/South of Heaven song book while their gut-punch hooks have Vulgar Display of Power written all over them. Hatebreed's probably guilty of the same sort of idol worship, but the hardcore personality and threatening tone they project is all their own. Here, everything sounds and feels like someone else. D
¨ UPHILL BATTLE — Wreck of Nerves (Relapse) San Diego's Uphill Battle really up the metal-core ante with their second full-length. They take the usual snub-nosed blast and thrash, give it a grindcore going over then put it through a math-metal blender where tempos turn on a dime and songs dissolve into discordant chaos. It's kind of like Dillinger Escape Plan and Brutal Truth all rolled into one. Depending on your personal taste, it's either fucking brilliant or utterly unlistenable. Put me down for "fucking brilliant." A
¨ VADER — Blood/Reign Forever World (Metal Blade) This 16-song combination of a 2003 EP (Blood) and a 2000 compilation (Reign Forever World) features live tracks, covers, odds and ends and some new material from Poland's speed metal champions. The covers — Destruction's "Total Desaster," Judas Priest's "Rapid Fire" and Mayhem's ghoulish "Freezing Moon"— are inspired and nicely executed. The live tracks rip and both new and old original tracks are surprisingly strong. I've never been all that impressed by Vader, but this collection's rock solid. B+

ALTERNATIVE PRESS PICKS TOP 25 METAL BANDS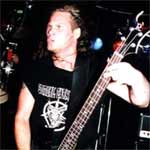 A few years back, Rolling Stone threw a much-ballyhooed bone to underground metal and named its top 10 most metal important bands — which included Soilent Green, Candiria and Morbid Angel. And then metal essentially fell off the mainstream media radar – unless your name was Ozzy Osbourne.
Well in its April issue, Alternative Press, which too be fair at least dedicates some ink each issue to metal, does Rolling Stone a few better, naming its "25 Most Important Bands in Metal." Morbid Angel is the only band to make a repeat appearance, and also is the oldest band on the far-ranging and pretty right on list, which runs the gamut from stoner bands like Khanate and Isis to black metal stalwarts Cradle of Filth and Dimmu Borgir.
Scandinavia is well represented with Arch Enemy, Soilwork, Children of Bodom, In Flames, Opeth, Meshuggah, The Haunted and the aforementioned Dimmu Borgir. Relapse Records also did rather well, with six of its bands making the list: Dillinger Escape Plan, Mastadon, High on Fire, Neurosis, Nile and the gnarly Pig Destroyer, easily the most obscure act on the Top 25.

GORGOROTH OUTRAGE, PART 2



Back to Gorgoroth, again, the band figured prominently in a recent photo exhibit that was held at Brooklyn's Riviera Gallery. Among the work featured there from photographer Peter Beste were 25 prints of a "Norwegian Black Metal" series he shot during the past couple years. Some of Norwegian's most notable and notorious characters are included, with Gorgoroth, Carpathian Forest and Mayhem given prominence. Darkthrone, Satyricon and Sweden's Marduk also are featured.
The exhibit only ran from Feb. 5-22, but the 46-picture black metal series is currently available on Beste's web site, www.peterbeste.com. It's definitely worth checking out, if only for some of its surreal, black-metal-meets-real-life juxtapositions — Dimmu Borgir's Silenoz standing before a backyard clothesline, Gorgoroth's Kvitrafn in full black metal regalia on the streets of Bergen drawing puzzled stares from passersby.
Some photos shot in the Norwegian forests are quite beautiful. Others, such as Mayhem's backstage bloodbath or the myriad corpse-painted scowls are little more than the usual black metal cliches.

LIBRARY CORNER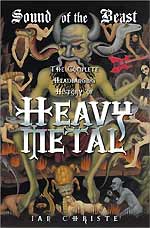 If you haven't read Ian Christie's excellent book, "Sound of the Beast: The Complete Headbanging History of Heavy Metal," shame on you. It's the best, most knowledgeable and all-encompassing book you're likely to find on the subject.
As advertised, "Beast" provides a complete picture of metal's origins and evolution instead of just focusing on the usual suspects — Led Zeppelin, Black Sabbath, Judas Priest, Metallica, etc. You get everything from hair metal to black metal from an insider's perspective that paints a vivid picture and avoids the usual clichés.
And if the hardcover's price is what's been scaring you away, fear not, "Sound of the Beast" just came out in paperback. Even better, it's revised and expanded with new material on metalcore, power metal and the rise of metal in the Muslim world. This is essential reading, so if you can't find it at your local megastore, jump on Amazon.com or www.soundofthebeast.com. It's more than worth the $7 cover price, trust me.

And the folks who brought us the landmark black metal expose "Lords of Chaos" will soon have what might also prove a worthwhile read if extreme metal is your thing. Feral House Books will release "Choosing Death: The Improbable History of Death Metal & Grindcore," written by Albert Mudrian, this fall.
According to a release, the book will trace "the history of this underground art form through interviews with some of the most esteemed names in these musical genres, from musicians to producers to label heads." It promises to "revisit critical moments in the genres' developments ... and serve as an invaluable reference piece."
"The enduring impact of death metal can been seen in much of today's heavier music," Mudrian said in the release. "Countless bands owe a sizable debt to the work of Napalm Death, Morbid Angel and Carcass. It's time those groundbreaking influences were properly acknowledged." Amen to that.
Please log in to view RANTS