KNAC.COM Recaps The 2018 FORT ROCK Festival

By Travis Failey, Planet Earth Contributor
Wednesday, May 23, 2018 @ 9:43 AM

| | | |
| --- | --- | --- |
| | | |
All Photos By Travis Failey/Rocket Sports & Entertainment
Additional Article Contributions By Christine Stone
Day 1
After 5 years in Fort Myers, Monster Energy Fort Rock moved to its new venue in Sunrise, Florida's Markum Park. Danny Wimmer Presents with AEG Presents determined that South Florida's Biggest Rock Experience outgrew its old digs in Fort Myers and moved the April 28th and 29th, 2018 Festival to the expanded capacity venue.
This year's lineup included a wide range of genres, from the Prince of Darkness, Ozzy, to hip hop rock, HOLLYWOOD UNDEAD, metal thrashers, TRIVIUM and HATEBREED, to today's hottest rock bands: SHINEDOWN, GODSMACK, HALESTORM, STONE SOUR, FIVE FINGER DEATH PUNCH, SEVENDUST and SEETHER. The early bands had 35 minute sets, HALESTORM had 50 minutes to give us a little mayhem, and the last three bands had 70 minutes each.
Day One was a hot, breezy, not a cloud in the sky kinda day. It rained the night before, so I was worried that the park would be muddy, but luckily that was not the case. Markum Park is a spacious park, with a lake and two stages, right next to each other (same basic set up as last year), and three huge video screens. For a few extra bucks, you could purchase a VIP pass, which benefits included a VIP only entrance lane into the park, large tented viewing area, with seating/tables, and a VIP lounge area with dedicated bar, beverage and food venders. While the food prices were a little on the high side ($15 for a cheese steak), there were lots of options for every budget.
We arrived at Markum Park just in time to hear BAD WOLVES play the CRANBERRIES cover, "Zombie". Apparently BAD WOLVES' "Zombie" is the first "heavy metal song" to make it to #1 on iTunes. After acknowledging Dolores O'Riordan's tragic and ill-timed passing, BAD WOLVES' vocalist, Tommy Vext, announced that all the proceeds from the song go to Dolores' three kids. You may recall that O'Riordan was found dead on the very day (January 15, 2018) she was scheduled to record her vocal tracks for the remake. The early crowd in attendance cheered, and added their own vocals when they sang along with Vext.
Georgia noise punk band, '68, was up next on this now blistering hot day. If you're not familiar with this 2 man show, you might be surprised at the sound that comes out of this singer/guitarist and drummer. And believe it or not, these guys were playing some super heavy rock! At one point '68's singer, Josh Scogin, threw his guitar straight up into the rafters and caught it! Another thing I've never seen before, Josh took down the set and drum kit, bit by bit, until everything on stage was gone, leaving his drummer, Niko Yamada, with only his sticks. These guys are out on the festival tour, so get there early and check out this duo of talented musicians.
TEXAS HIPPIE COALITION was up next. The band is fronted by Big Dad Ritch and THC brought their own sound that they describe as Red Dirt Metal to this year's Fort Rock. It's a combination of outlaw country, toss in a dash of Southern-fried classic rock and mix it with some potent Texas power grooves. Never hearing or seeing THC perform before, I was pleasantly surprised with their set. Big Dad Ritch controls the stage like a maestro while his young buck backing band gets out on the front line to put on a full on show for the fans and especially the ladies. Guitarists Cord Pool and Nevada Romo not only have perfect stage names, but their lead riffs are impressive and original. TEXAS HIPPIE COALITION are out promoting Dark Side Of Black on a U.S. tour that runs through June 16th.
Another first for me was 2017 Loudwire's Metal Song of the Year winner POWER TRIP. The band took home the Hand of Doom for their song "Executioner's Tax (Swing of the Axe)". The five-piece from Texas is a no-frills, all substance metal/thrash band that took the stage while SLAYER was potted down at the soundboard. I was thinking that they had some balls coming out using SLAYER as their bumper music, but damn they pulled it off.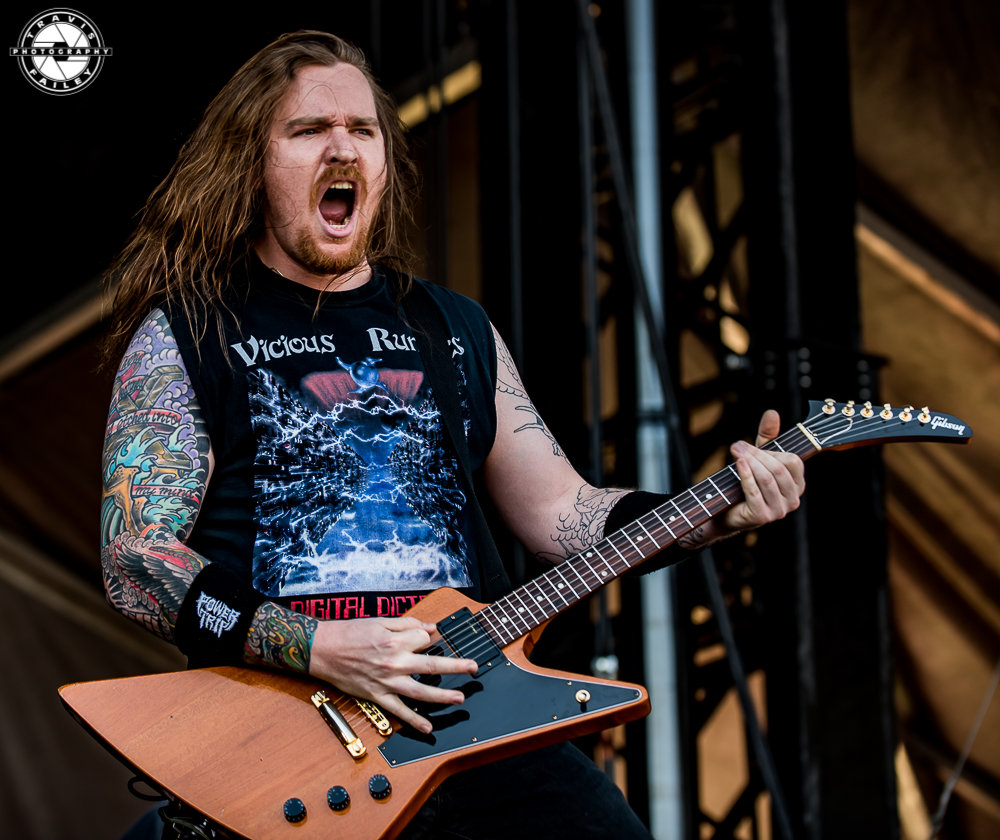 Vocalist Riley Gale doesn't care about his apparel but neither do his fans. Old-schoolers and new appreciate POWER TRIP carrying the torch for thrash metal and how well they do it. The dual guitar attack of Blake "Rossover" Ibanez and Nick Stewart switched out leads and were very impressive throughout their hard hitting and exhausting 7 song set. There was also more headbanging during POWER TRIP's set than any other through the weekend.
A veteran of the World's Loudest Month, TRIVIUM, and founding member Matt Heafy put on another memorable performance at Fort Rock. These guys always give 100%, no matter where they are slotted during the festival. Opening with the title track from their release The Sin And The Sentence, TRIVIUM then followed up with one of the heavier songs of the weekend with fan favorite "Throes Of Perdition". TRIVIUM's been around since 2003, but is now getting the recognition it deserves with a help from Sirius/XM Octane and Liquid Metal. TRIVIUM's recent single, "The Heart From Your Hate", has gained the band a new fans who were happy to help Heafy sing the chorus throughout Markham Park. While TRIVIUM has experimented with their sound a bit to appeal to the "mainstream", they have stayed true to their sound that they have had since the onset of their career.
The always-smiling Sirius/XM's Jose Mangin hit the Fort Rock's Yellow Stage and introduced the next band, Jamey Jasta's HATEBREED. Formed in Connecticut in 1994, HATEBREED has survived multiple lineup changes with Jasta and bassist Chris Beattie being the remaining founding members. HATEBREED is on the World's Loudest Month festival circuit in support of The Concrete Confessional on the 20 Years of Desire & 15 Years of Perseverance tour. Jasta commanded the crowd and his band through a brutal ten song set that included "Through The Threshold" and "Beholder of Justice".
UNDEROATH was the last hardcore aggressive band before the transition to the rock hitmaker's portion of Saturday's lineup. UNDEROATH has an interesting band lineup with two drummers and a keyboardist thrashing while he crushed the black and the white keys. The combination of lead vocalist Spencer Chamberlain along with founding member and drummer, Aaron Gillespie, gave the now-packed Markham Park their own version of metalcore Christian based themed originals, "In Regards to Myself", and the song that has been getting a lot of airplay on Sirius/XM's Octane, "Rapture". "Rapture" also distinguishes itself from the rest of UNDEROATH's set by being more melodic than aggressive, as they also try to capture a broader audience.
Next up was the only female fronted band in this year's Fort Rock lineup, HALESTORM. Lzzy and the guys stormed the stage, and Lzzy proceeded to put on possibly her best performance ever, showcasing her unbelievable vocal range. HALESTORM, as they like to do, opened their set with the new song, "Black Vultures" off their upcoming album that's due to come out in a couple of months. HALESTORM treated the crowd to "Apocalyptic", "It's Not You" and "I Get Off". Drummer and Lzzy's little brother, Arejay, busted out the big sticks for during his mandatory drum solo. Lzzy killed it while she screamed her way into the crowd's HALESTORM virgins' hearts. I saw more than one nod of approval from the male dominated crowd as the show went on.
BULLET FOR MY VALENTINE once again brought the "Fever" to Fort Rock along with "Your Betrayal", but unfortunately left out one of their biggest hits, "Scream Aim Fire" during their Fort Rock set. The Fort Rock festival veterans sported a multi-colored winged backdrop with singer and guitarist Matt Tuck and the boys transitioning to a more mature release in their recent single, "Over It". BFMV also included their previous hit in "Waking The Demon" in their limited set timeframe.
Brent Smith, and the guys from SHINEDOWN are out promoting their newly released album, Attention Attention. They got the tired crowd going with "Sound of Madness" then "Bully", "Simple Man" and closed their set with the new single, "Devil". Brent looked and sounded great, and although it was still light outside, the pyro was impressive. Brent is a talker, so he addressed the crowd and asked everyone to look to their right and left and introduce themselves to their "neighbor", reminding the crowd that rock and roll is not a genre, it's a life style.
A visibly heavier Ivan and FIVE FINGER DEATH PUNCH hit the stage just as the day was beginning to wind down. Ivan looked healthy, angry and sported a new head tattoo. 5FDP got the crowd going with "Under And Over It", and "Wash It All Away". The band has always supported our troops, and true to form, Ivan thanked all the veterans in attendance prior to performing their cover of "Bad Company". After a couple recent setbacks due to internal health issues, FFDP has a renewed purpose and will be out on tour this summer with BREAKING BENJAMIN, BAD WOLVES and NOTHING MORE.
GODSMACK, Saturday's headliner, took the stage promptly at 9:40. Markum Park has an 11:00 curfew. As they often do, GODSMACK put on a solid show and impressive pyro display. At one point, the pyro was accompanied by four heart beat skipping booms. GODSMACK just released their new album the day before on April 27th. Front man Sully Erna said that the crowd looked one dimensional and ordered the ladies to get up on their man's shoulder so it would look like a rock show. The audience complied. Like the pyro, GODSMACK kept the hits coming with "Crying Like a Bitch", "Voodoo" and "I Stand Alone", and ended with GODSMACK's latest release, "Bulletproof".
The day went off without a hitch, until we got to our cars. While the show may have been over at 10:50, most of the fans didn't get out of Markum Park until after midnight. It seems that there was only one way out of the Park for the 30,000 fans. It was all fun and games until the concertgoers, many who had been there for eleven hours or more in the hot Florida sun, sat motionless in their cars for an hour. The two lanes out turned into three as tempers started to rise. If this event is to return to this venue, the parking and exiting of Markum Park must be addressed. Other than the parking debacle, the day was a perfect one for South Florida's biggest rock festival.
Day 2
Day Two of Monster Energy's Fort Rock on Sunday was a beautiful but hot, partly cloudy afternoon with a nice breeze that kept things tolerable. Today's lineup provided a much "softer" sound, with bands like RED SUN RISING, SEVENDUST, POP EVIL and STONE SOUR, with Ozzy closing the weekend out.
After TYLER BRYANT AND THE SHAKEDOWN and TOOTHGRINDER finished with the day's opening sets, Mike Protich and RED SUN RISING started off a bit weary. Protich addressed the early rising and obviously a bit spent crowd by asking for some help energy wise because they aren't used to getting up that early. The crowd obliged as RED SUN RISING opened with their soon to be released single, "Push" off their new album, Thread. They followed up with their other well known sing-along song, "The Otherside" and "Amnesia". "Amnesia" was also the funkiest song of the weekend at Fort Rock. RED SUN RISING followed up with "Emotionless", which hit the number one spot on the mainstream rock chart, and closed their set with "Deathwish".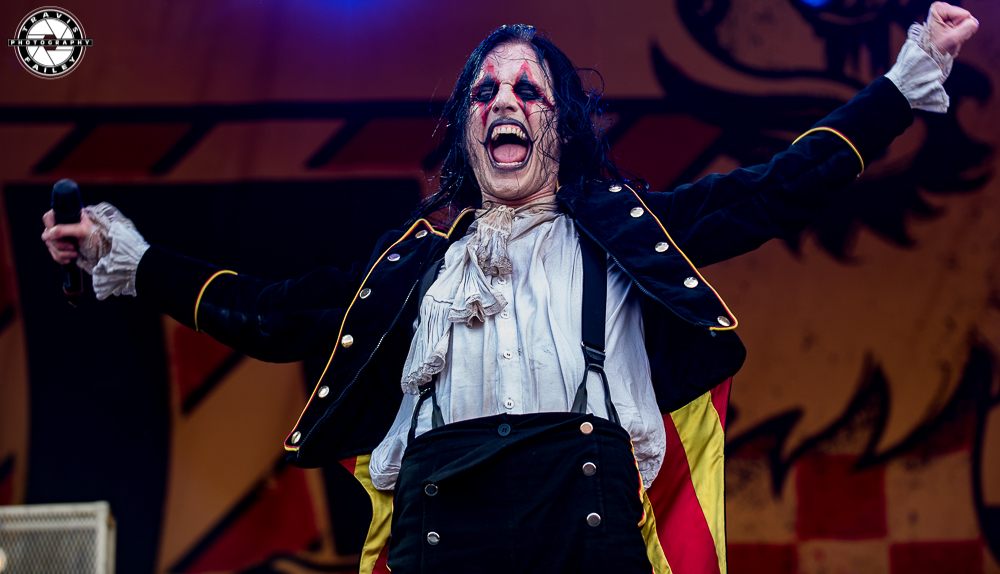 RED SUN RISING got the early crowd ready for the most theatric and heaviest band of the day, AVATAR. Sweden's AVATAR, the 2017 winner of Metal Hammer Golden Gods' Breakthrough Band, is out promoting their new album, Avatar Country, which was released last January. They opened the show with "A Statue Of The King" which featured a fully dressed king on his thrown, guitarist Jonas "Kungen" Jarlsby.
After opening with "A Statue of A King" vocalist Johannes Eckerström stated that "their attire was made for a more Nordic climate" as sweat dripped from his forehead. AVATAR treated the crowd to a theatric performance, complete with synchronized head banging/twirling, as they played "Let it Burn", "Bloody Angel", "Smells Like a Freakshow" and closed the show with "Hail The Apocalypse". AVATAR continues to put on must see performances at festivals but I also suggest seeing these guys in a club setting when they can play their full set.
Festival veterans, SEVENDUST, pounced on the stage after "Black Friday" by MEGADETH was potted down by the soundman. It was a high energy six-song-set by Lajon and the boys. SEVENDUST started with "Dirty", the first release from their new album, All I See Is War, due to be released on May 11, 2018.
The always grateful, Lajon, thanked the fans for coming out and supporting SEVENDUST throughout the years, and talked about how much he enjoys the festival season because he gets to hang out with the guys in other bands that are usually continents away. A rock star family reunion, if you will. He also thanked the security guards and the photographers in the pit which was much appreciated.
I will always remember the first time that I saw SEVENDUST at the 1998 Ozzfest in South Florida. It's hard to believe that that was 20 years ago, but here we were, in Sunrise, with SEVENDUST playing once again with Ozzy. They are still the humble group of guys that they were back then and SEVENDUST continues to attain new fans as well as keep the ones that have been with them since the beginning.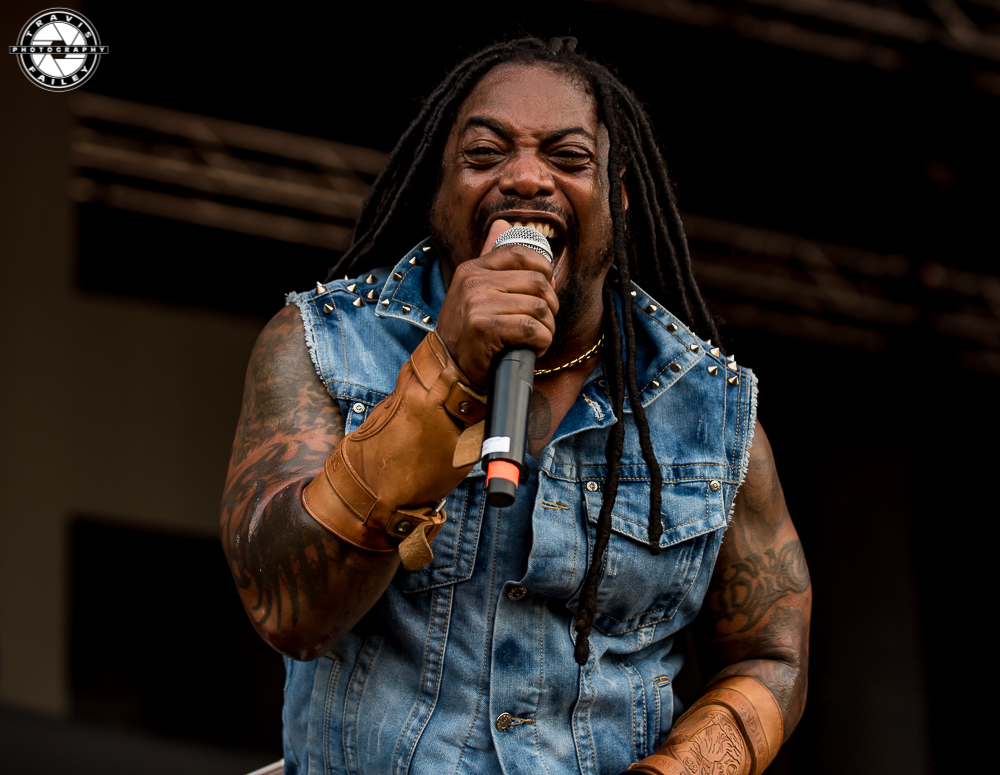 It's been ten years since I first heard POP EVIL's "Hero" for the first time and since then, it's been a chart topping ride for POP EVIL. The band is out promoting their fifth studio, self-titled album, which was released last February. Singer Leigh Kakaty strutted onto the stage as drummer Hayley Cramer hit the kit. Cramer is the most recent addition to POP EVIL and joined the band just prior to the World Loudest Month two years ago, replacing Chachi Riot. Cramer is a solid drummer and she puts on a hell of a show with backline partner and bassist, Matt Dirito. After opening with "Deal With The Devil", POP EVIL moved through their eight song set with a rollercoaster of energy that was highlighted by the songs "Waking Lions", "Torn To Pieces" and the finale, "Trenches".
The Fort Rock crowd was then treated to a different flavor of sounds as HOLLYWOOD UNDEAD brought their masks and their beats to Markum Park. The Los Angeles based band features multiple vocalists and instrumentalists and shy away from "formula" rock and blend multiple genres of rap and rock to provide a party-like energy-filled atmosphere. Out promoting their October 2017 release, Five, B>HOLLYWOOD UNDEAD kicked off their set with "Whatever It Takes" and then "UnDead".
The band removed their masks after the first couple of songs and brought a shirtless little boy on stage and asked him what he wanted to hear, to which he replied, "Comin' In Hot". The youngster stayed on stage (one hand on his belly and the other throwing horns) with the band throughout the song and then was escorted off by Sunrise PD to help him get back to his parents. HOLLYWOOD UNDEAD then turned Markham Park into a trampoline as bodies bounced up and down throughout "War Child" and closed their set with "Day Of The Dead".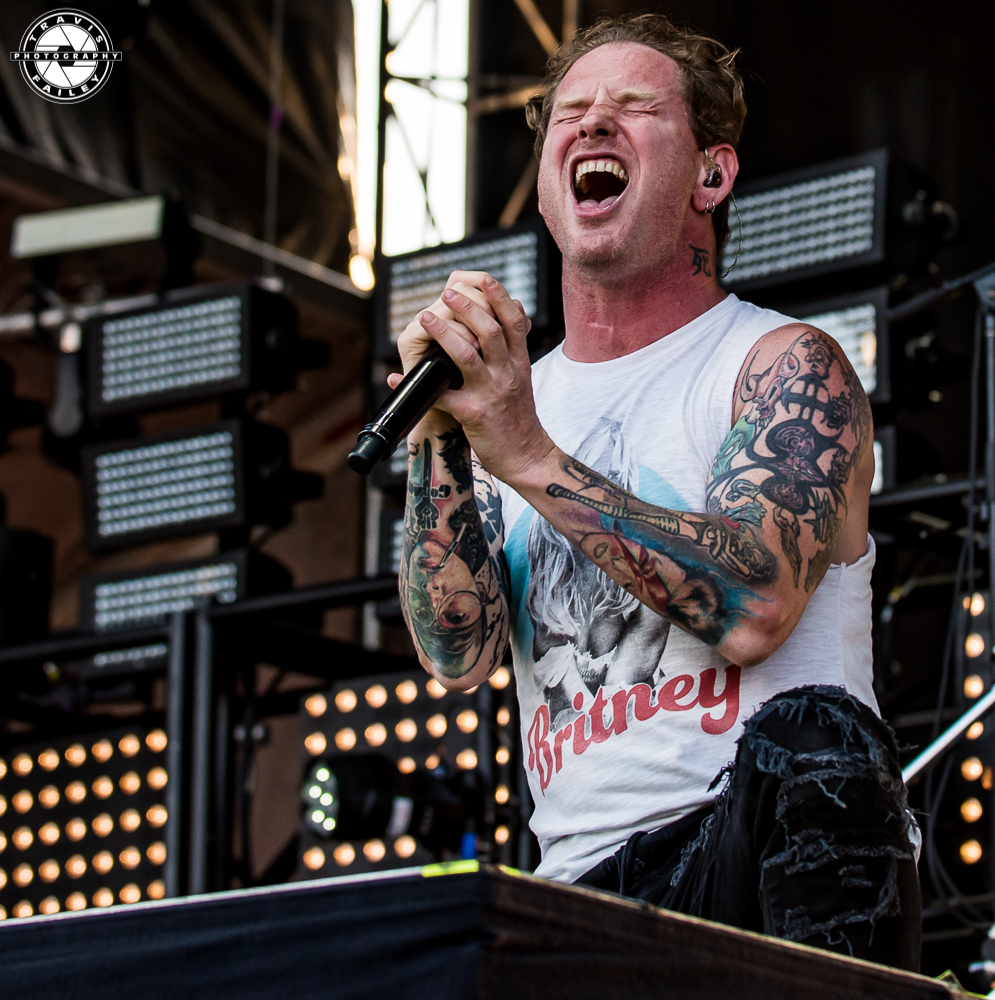 One of the most talked about bands on Sunday prior to their set was a renewed STONE TEMPLE PILOTS. Founding members, brothers Robert and Dean DeLeo, and drummer Eric Kretz, were joined by new vocalist, Jeff Gutt. Gutt was a former The X Factor contestant and has been their new singer since November 2017. With the focus being on him, Jeff Gutt did a great job singing the STP classics, "Wicked Garden", "Vaseline" and "Plush". His stage swagger was evident and the band looked like they were having fun again on stage during their new single "Meadow", "Dead and Bloated" and "Sex Type Thing". STP is now looking forward to continuing their legacy in a positive fashion that has been unfortunately tarnished by tragedy.
Sometimes superstars come in small packages. Thankfully for the rock world, one of them is Corey Taylor, the front-man for not only SLIPKNOT, but also a Fort Rock veteran band, STONE SOUR. Founded by Taylor in 1992, STONE SOUR has been on fire with hit records and singles since 2005's Come What(ever) May. Taylor came out to a fevered crowd in a Brittany Spears shirt and doused the crowd with water bottles while confetti was shot out of cannons. STONE SOUR's eleven song set included Taylor's solo performance of "Through Glass" while the rest of the guys took a break backstage. The crowd was happy to help Corey out with the chorus and Taylor smiled in appreciation.
As the sun started to set on day two of Fort Rock, BREAKING BENJAMIN took stage to a celestial eyeball backdrop and proceeded to take their fans on a memorable auditory journey. Founding member and singer Benjamin Burnley commanded the crowd with venom and vigor like I haven't seen from him before. BREAKING BENJAMIN opened with their new single "Red Cold River" and continued with their mainstream rock chart topping hits, "I Will Not Bow", "Angels Fall" and closed with "The Diary of Jane". A big highlight of the day and of their set was a mash up of "The Imperial March", "Schism", "Smells Like Teen Spirit" and "Walk", which then lead to a drum solo.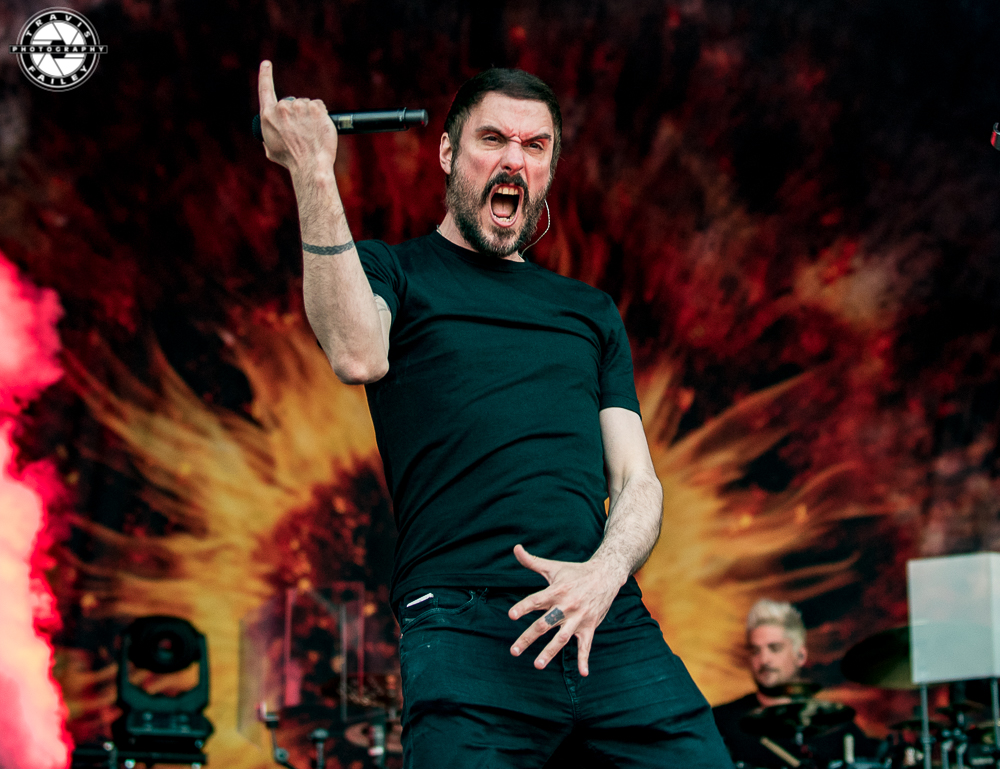 BREAKING BENJAMIN, with their softer sound may not be loved by all the metal fans, but what they do, they do to perfection, and the band has a solid fan base and albums sales to back it up. BREAKING BENJAMIN will be going out on one of the bigger summer tours with FIVE FINGER DEATH PUNCH, NOTHING MORE and BAD WOLVES.
It a was perfect ending for Monster Energy's Fort Rock in Markham Park when OZZY OSBOURNE and his amazing band took the main stage. Thousands of people gathered to see Ozzy perform under a full moon for possibly the last time in South Florida. As Zakk Wylde strummed the first notes of "Bark At The Moon", the crowd howled with delight and in turn, was treated to a collection of tracks from Ozzy's solo material as well as songs from his BLACK SABBATH catalogue.
With a huge burning cross as a backdrop, Ozzy looked a bit heavier than in the past, but healthy. He didn't seem to have any obvious vocal issues and if there were any, his band covered it up. Zakk, Rob and Tommy have been with Ozzy for years now and always put on an amazing show themselves. Zakk went into the crowd for his solo during "War Pigs" and they did a four song instrumental medley that included "Miracle Man", "Crazy Babies", "Desire", and "Perry Mason". It was great seeing Ozzy again as you never know when it may be the end for the legend.
This year's Monster Energy's Fort Rock was a huge success. I only witnessed one arrest as the local police used discretion in regard to making mass arrests due to marijuana use. The security team was also amazing. They handled the mosh pits and crowd surfers with care and extreme tactfulness. The food options were plentiful with a few bargains to be found, and both day's lineups and schedules seemed to go off without a hitch.
As fans, we also need to thank Danny Wimmer and his team at Danny Wimmer Presents and AEGLive. They continue to provide us with the World's Loudest Mouth Festivals that are well run and cater to the rock and metal community, and I for one, am already looking forward to next year.
Check out some more photos from Fort Rock at the following links.
All Photos By Travis Failey/Rocket Sports & Entertainment
Photo Gallery 1
Photo Gallery 2
Please log in to view RANTS