Live Photos By Geoff Ketler/Aces High Photography
Perhaps the greatest and most powerful aspect of music Ė particularly Rock & Metal Ė is its ability to bring people together from all walks of life, all corners of the earth, and unite complete strangers in an enduring bond that supersedes barriers of language and locality. Over the course of the last five decades there are very, very few bands who have sustained this enveloping bond with its fans at the highest level across the globe as successfully as the legendary JUDAS PRIEST. Throughout their entire epic career they have sustained a humble connection with their fans that has inspired the introduction of newer generations to this bonding phenomenon and resulted in a persistent shared admiration of the band at both the intimate & global family levels. Riding high on their best slab of material since Painkiller with the release of their latest album Firepower, JUDAS PRIEST has once again proven why they deserve the reverent admiration heaped upon them by their fans throughout the years. It is because of all this that JUDAS PRIEST will forever be considered the pinnacle of pure enduring Heavy Metal, and it is with considerable pride that KNAC.COM brings you our exclusive conversation with the legendary and ever-humble Mr. Ian Hill:
KNAC.COM: Hello Ian, how are you sir?
HILL: Iím fine thanks, and yourself?
KNAC.COM: Iím doing pretty well Ė when I started doing all this writing several years ago I never imagined Iíd have the honor of talking to you so this is a great moment for me.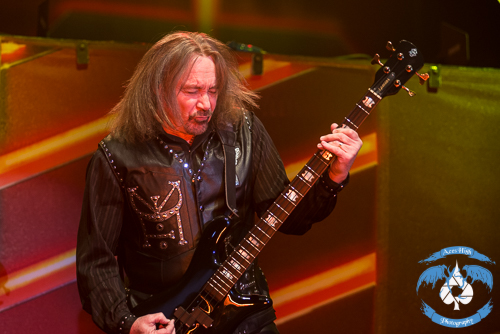 HILL: Alright, keep talking! (laughs)
KNAC.COM: So howís the touring going?
HILL: Itís going really well, thanks; itís going really, really well. Weíre really happy with the attendance weíve been getting, itís quite an achievement in this day and age really to fill these types of venues.
KNAC.COM: I was actually thinking about that Ė you guys are the iconic old Rockers that donít quit, you just keep coming back; but whereas some of the other legends like ZZ TOP are relegated to a lot smaller venues now, people still come out in droves to hear JUDAS PRIEST.
HILL: Well we are a bit as well to be honest, weíre not filling big domes like we used to in any case; nobody is really these days. Thereís so much competition for peopleís leisure time these days itís unbelievable so itís not surprising really. It is quite the testament though that thereís a live act situation and people are still wanting that, and like I said weíre doing this about as well as anybody really. Itís great that after 50 years weíre still pulling people in and weíre still relevant enough, you know itís a great feeling really.
KNAC.COM: Yeah thatís great. And I was wondering Ė you started JUDAS PRIEST in 1970 with K. K. [Downing], did you fathom even a fraction of what JUDAS PRIEST was going to be for you in your life, such a major piece for such a long time?
HILL: Well no, when we started out we were doing it for fun, you know? We loved the music and we were all obviously learning our trade, if you know what I mean. And we were just working at that, I assume thatís about how everyone starts in any form of entertainment Ė you start by messing around and really we were just glad to make it to the end of the week. (laughing) You didnít think about 50 years, the whole concept of still fucking around being as old as we are just didnít exist. In the 1960ís and 70ís with the old Rock & Rollers they were still only in their 40ís with the exception of BILL HALEY, but the thought of a 60-something year old fucking prancing around the stage didnít exist. (laughs)
KNAC.COM: Youíre kind of a new breed in that sense.
HILL: Yeah.
KNAC.COM: I was reading that pretty early on you were dating Rob Halfordís sister and then were married for several years. In the Rock & Roll world it seems like a lot of rifts that are caused involve a woman; did the fact that she was Robís sister ever cause any friction?
HILL: Not really, no; I mean for Sue and I it was really for the best that we split at the end of the day. I mean in those days - youíre talking the 80ís here, or the early 80ís Ė and it was ďalbum, tour, album, tour, album, tourĒ every year and it gets old after a few months. I mean of course it was necessary and everyone was getting their living out of it, but I do regret missing my boy growing up Ė or at least the first part of his life Ė I missed most of that you know, and I do regret that. But it was a necessary thing, we travel for a living and itís true for anyone who travels for a living Ė it doesnít matter if youíre a truck driver or actor or whatever Ė everybody goes through a similar sort of thing.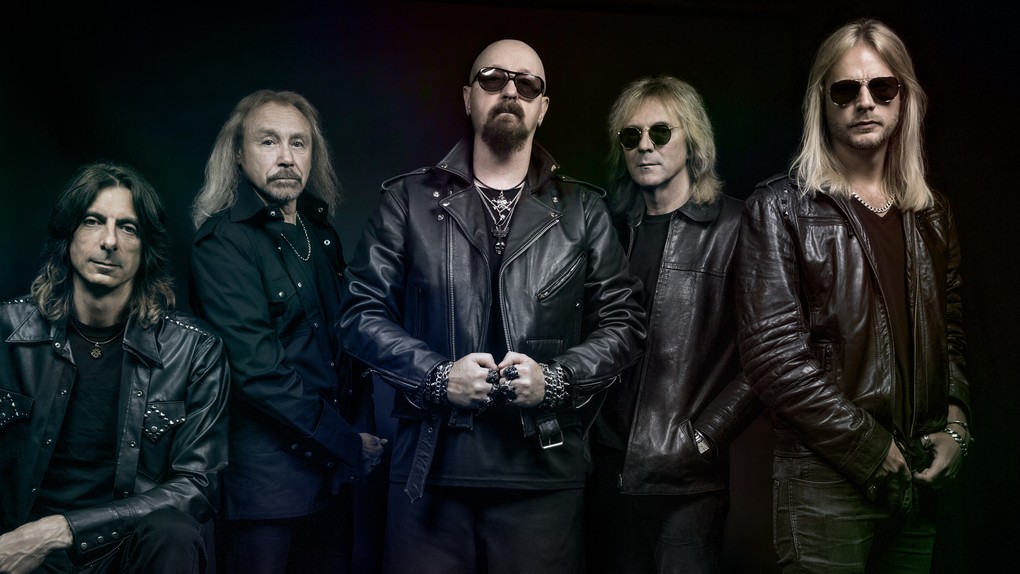 KNAC.COM: Thatís kind of the penance for the honor to be in a successful band like that, thereís definitely a down side in that especially when it comes to your family.
HILL: Yeah but itís been immensely enjoyable, all of it really, even the nights of sleeping in a van was sort of enjoyable if you know what I mean; but there are regrets along the way.
KNAC.COM: Sure. So I was wondering if you could tell us as far as Glenn [Tipton]ís health Ė I know he was able to help write and record the album but will he be able to tour and write anymore or could Firepower be his swan song?
HILL: Heís doing that as we speak! (laughs) You know Glennís trouble is - Parkinsonís is a horrible disease and unfortunately unless some kind of cure comes along he wonít be able to go on tour anymore; heís going to come out when he can, there were a couple of shows he came out to where he came onstage during the encores and it was great. We just canít promise, you know we canít have people buying tickets counting on that. Heíll get onstage when he can, thereís medication that helps with his strength and to take care of the shaking that happens with Parkinsonís, but thereís just no way he could get onstage and do a full show. It was a tough moment when we were in band rehearsal and he had to admit to himself that his body wasnít going to let him do what he wanted it to do, what he loved to do more than anything else. It was quite a sad moment. But heís a fighter, heís nothing if not a fighter, and heíll be there whenever he feels that he can, but as to when I canít say.
KNAC.COM: Thatís fantastic. And I really feel a heavy presence of Glennís style on the new Firepower album; I think this is some fantastic material it takes me back to the Screaming For Vengeance days. Itís awe-inspiring to see a band 50 years into their career that is still able to come out with such a solid slab of material.
HILL: Oh yeah, the material is really strong. As soon as I heard it I knew it was going to be strong; we had a really strong production team as well with Tim Allom and Andy Sneap, and once we got that going it all fell into place. I mean, itís my favorite album. You know when people ask you what your favorite album is youíre always supposed to say the new one because youíve just spent three years of your life on it, but in this case I think it might be true. (laughs)
KNAC.COM: I can see that, honestly; it has the classic feel to it and Iíve been really impressed, Iíve been listening to it on repeat in my car. (laughs) Was there anything different, is there anything you can attribute as to why this album came out the way it did?
HILL: No, we approached this music the exact same way we approach any album, we didnít do anything different in the writing and production but we had two producers and I think that always makes a difference. You know sometimes youíll get tunnel vision, you get the blinkers on and you see to the end of the tunnel but you donít see whatís going on to either side. Itís good to have somebody who can also stand back and see the whole thing and know when to make changes here or there. They really did just a tremendous job on the production and I think the sound on the album is really all attributable to them.
KNAC.COM: The album was #1 in Sweden & Czechoslovakia and Europe has always been absolutely maniacal when it comes to JUDAS PRIEST. Can you name one or more of your favorite places that really stand out for you and every time you go on tour you look forward to returning to a specific spot?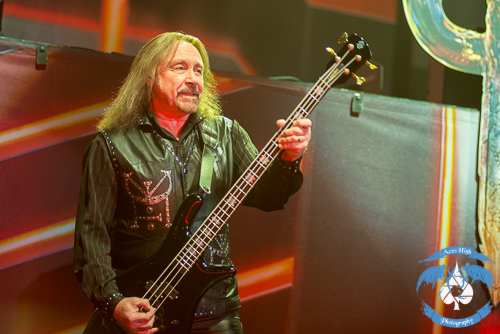 HILL: Not really, weíre really fortunate to haveÖyou know our fans are just as mad as the other, just like you are, we just get great responses from all over the place. I do love coming here to the States, I really do Ė weíve been coming here for a long time and all of America has a big place in our hearts, we love coming over here. There are other places too that are beautiful Ė and places that are not so beautiful Ė but at the end of the day going up on stage and those wonderful fans are thereÖevery day I wake up and feel honored and humbled really still being able to do it after all these years, you know? Itís been a great way to earn a living.
KNAC.COM: And to have been around as long as you guys have Ė I mean the band itself is eight years older than me Ė so to have all these fans that have been there since the beginning and for them to have this great soundtrack of your music throughout their lives and theyíve had the constancy of being able to follow you on this path, I think thereís this intimate connection between you and the fans, itís a long time connection.
HILL: Yeah thatís right, I mean sometimes you see people that are not just with their kids but with their grandkids, you know? Itís great, I donít know what we do why weíve lasted so long. I think basically we try to stay current and we try to move forward with every project we have, we always take that step forward and we try to learn things every day and I think thatís kept us going for all these years.
KNAC.COM: And you seem to have stayed humble, which keeps your expectations where they should be.
HILL: Yeah I mean we were just down to earth, working class lads at the end of the day and we still are.