Return of the (Rock) Kings - A Look at NAMM

By Diana DeVille, Rock Goddess
Friday, February 13, 2004 @ 12:00 AM

| | | |
| --- | --- | --- |
| | | Diana DeVille Scopes out the 2 |
Once a year, it's the return to Southern California, the buzz in the air and the crowds gathering around to see what's happening. No, it's not the return of the swallows to San Juan Capistrano, but rather the musical conglomeration known as NAMM (the International Music Products Association, formerly known as the National Association of Music Merchandisers). NAMM is the annual Southern California music convention showcasing every musical product you could imagine, and probably some you haven't. There is always a buzz of excitement, both from the new ways to make this thing we call music, and the people who do just that.

Many of the people in attendance described the experience of being at NAMM as "overwhelming" with an all-time new record of 1,340 companies exhibiting at this year's NAMM Show at the Anaheim Convention Center. It's almost impossible to get to see everything covered in the show, so one generally picks out the main points of interest and branches out from there. That's not to say the convention hasn't managed to get more streamlined over the years. Drum Workshop's Mike Budano noticed that "the vibe of the convention is overall very nice; they've got it controlled very good. I haven't been for probably about five or six years, and I think they've toned it down and calmed it down a little more. They have more control, the people." On crowd attendance, he estimated, "There's about the same amount of people as last year, a very good crowd. It's always big here."

Warwick Bass parent company Dana B Goods head Dana Teague expanded on this, observing that, "[This year's attendance is] a dramatic improvement from 2003. There was a lot of concern and a lot of hesitation at last year's show that was reflected in orders as well as in attendance. We've had the strongest Thursday [this year] that we've ever had. The buyers that came in were upbeat about the future. They were upbeat about the products they were carrying and purchasing, and it's been that way the whole show. We know most of the people who stop in to see us, and we've met some new ones. The products we have out are well received, and they're enthusiastic and the conversion rate. As an owner I'm very happy!"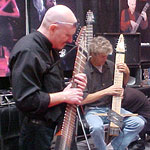 In fact, the music companies on hand were very enthusiastic and optimistic about the convention vibe. Dean Markley's David Lienhart stated, "It's overwhelming. It's all about the sales of course, why we're all here. People like Ronnie [James Dio] or anybody come here, and it's great for them to come here, because it gives our sales staff tools to get the extra sales and sell the strings and all that. We have a lot of planning to get people to see the people that we work with." Mark Hunter of B.C. Rich echoed the sentiment, saying that, "There's nothing like the LA NAMM show! It's the biggest, most unique music trade show in the US and this year is no exception."

Budano went on to show that the excitement shown by the musicians when it comes to checking out new gear is shared by all: "In the old days, they had more booths to go in and play and do stuff, not just for the artists but also for the guys like me – the nobodies (laughs), the guys who keep these guys in business, who spend the money…I've seen a lot of cool things. As far as my favorite cool things, they are DW Drums and Zildjian cymbals, and this is the first year for my son Anthony to be here as well."

For many, it was about the buzz of actually being in the building rather than any specific needs. Deftones guitarist Steph Carpenter, who did a signing at ESP Guitars, commented,"This is my fourth time [attending NAMM], and I've never explored because I've been so busy – plus it'd just drive me crazy. I don't know how any guy comes in here and walks out of there normally; there's just so many gadgets everywhere." Vince Neil guitarist Jason Hook agreed. "NAMM is busy and it's crowded and it's wonderful!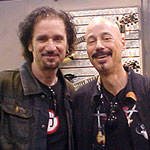 Former KISS guitarist Bruce Kulick, who came with his brother, famed producer/guitarist Bob Kulick, looked forward to seeing friends and fans at the convention. "I just walked in here and saw a nice picture of me on the wall at ESP guitars, so I'm happy. For me it's not as much about the gear, although sometimes every year there will be a standout item or two. It's more about just greeting all the fans and all the people who helped me through my career, the people and the companies. So it's more like a social event in some ways. I'll always hear about the gear by reading the magazines, so I stay pretty much on top of it. I think of [NAMM] more as a social event."

Ex-Quiet Riot drummer Frankie Banali saw NAMM as an effort to scratch backs: "My main purpose in coming down to NAMM is obviously to support all the companies that supported me over the last twenty years: Ludwig, Sabian, Vic Firth, but more so to do a meet and greet for the fans who don't normally get to see a musician playing out on the road, especially when you're staying off the road and recording stuff, so it's really a labor of love. It's about the companies that support us and about the fans that support us, and that's my main reason for being here at NAMM. It's not a "hang" for me." In the wake of Quiet Riot's recent breakup, Banali commented that he's currently working on the forthcoming W.A.S.P. double CD, and fans can check out his website, www.frankiebanali.com.

Ratt's Bobby Blotzer described this year's NAMM as a "great time. All my friends, all of our musician buddies and fans are out here, and for everybody I met out here today, thank you for the comments. We love you!" Meanwhile bandmate Warren DeMartini admitted, "I've been so busy catching up with all my old friends that I haven't had a chance to look at the products [yet]."

For Judas Priest drummer Scott Travis, seeing the new items offered was just as good a reason for attending the convention as seeing fellow NAMM-goers: "As usual I see lots of new equipment, and that is what NAMM is all about, but you also meet a lot of cool people. Everyone is networking and trying to see who's playing in town and the various clubs. Someone asked me earlier what the difference is between this NAMM and the previous ones and I said, "They keep getting louder." (laughs) and I think that's a good thing overall. You walk around, and there's only so much they can do with drum heads and cymbals, but it amazes me that they do come up with new ideas and new configurations of things, so it's fun. It's like a kid in a candy store."


Addressing the topic of 2004 for Judas Priest now that Rob Halford has re-joined the lineup, Travis said, "The album is going good. We're working on it now and we'll also start touring in June starting in Europe, which of course anyone can check the dates on www.judaspriest.com or www.pollstar.com, and we're hoping to come to the States in July and August for the summer tour."

As for musician wish lists, Carpenter offered, "I just want the basics. I just want a nice blown out Protools rig, all the spare parts I can use. I don't want millions of guitars; I've got plenty of guitars. I've got a drum kit, I've got a bass, I've got a keyboard, pedals. I'm good – I'm not looking around for anything." Kulick also showed some restraint in the purchasing arena: "I will go window shopping and see what's new, though, but I'm doing NAMM light this year because I'm trying not to go too crazy walking around for other reasons (I think most of my fans know why), but I'm doing better, I'm doing fine."

Hook noted that, "I'm pretty well hooked up with the big components, but I'm looking for little things, studio things. I'm recording right now, doing a solo record, so I'm looking for studio gear." He said of the solo record, "It's going to be a nasty shredding groove record. I may sing; I don't know yet – I don't wanna wreck the record! (Laughs). I'm hoping to get that out before the summer tour when I go out with Vince. I think it's going to be a package with Cinderella, Vince and two other bands. The target would be to have that done before I leave on the road for the summer, so I can push that on the website (www.jasonhook.net) while on tour."


For future plans for Vince, Hook revealed that new music could be just around the corner. "We talked about getting in the studio with Vince, and we're pushing hard for it, but we just have to get it done in between touring. We do a lot of touring, and then he's supposedly gearing up to do Motley in 2005 early I think, so I hope we can squeeze a new record out before then. I'm pushing for it anyway."

Travis summed it up best. "You always want the new stuff. It's all good." Fellow drummer Blotzer had an opinion as well. "The best products are Yamaha, Promart, Paiste and Remo!"


You were bound to find someone you wanted to see in the myriad of rockers dropping by to do signing for the various companies. Dean Markley had Ronnie James Dio (along with bandmates Craig Goldy and Simon Wright taking a break out from writing their new record, due in summer 2004), Jason Newsted (Voivod, ex-Metallica), Van Halen's Michael Anthony, Goldfinger, Dick Dale, Melissa Etheridge, and Ty Pennington from Trading Spaces. Lienhard mentioned, "I just went to see if he would use our strings (on the side he has his own studios), and he said, 'I'd love to be a part of it.' It's a great bunch of people we have."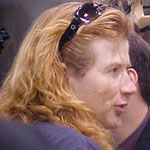 ESP Guitars featured Queensryche's Michael Wilton, George Lynch, Dave Mustaine, Carpenter, Kulick as well as Slayer's Tom Araya. Over at the B.C. Rich booth Static-X/Murderdolls guitarist Tripp Eisen signed autographs with some of the other Murderdolls, Kerry King of Slayer and Robert Marcello. B.C. Rich's Hunter added, "We're just trying to make it as exciting as we can." Warwick Bass offered Jennifer Oroyo (Kittie) and Doug Ardito (Puddle of Mudd), while Ibanez visitors were treated to appearances by Andy Timmons (Danger Danger) and Paul Gilbert (Mr. Big, Racer X). Anthrax's Scott Ian and Disturbed's Dan Donegan dropped by the Randall booth to sign autographs, and Hoshino hosted Morgan Rose (Sevendust), John Dolmayan and Daron Malakian (System of a Down), Joe Satriani and Steve Vai. KISS's Paul Stanley made an appearance in full makeup at the Silvertone booth to promote his new signature guitar.


So you're looking for some new gear? Many of the exhibitors were more than happy to list some of 2004's must-haves. Lienhard suggested Dean Markley's Micro Amplifiers, their new pickups, their guitar polish and the towels that go with it, and their Alchemy acoustic strings, which are coated acoustic. Hunter ecstatically proclaimed," We're fortunate that there is a lot of interest in our new products, and we have several additions to the B.C. Rich line including a new signature guitar from Kerry King of Slayer and Tripp Eisen of Static-X, along with a lot of new models and new colors and we just try to keep it interesting. So far there's been a great response. Also we have a variation on a real popular guitar called the Virgin. This variation is called the Virgo, and we've got a real good response to that."


Mike Budano, Drum Workshop stated, "This year we're pushing DW Drums. They're my favorite drums -- the way they are constructed, the quality that goes into them I think surpasses all other companies. Also again, Zildjian cymbals again – I just found out that they are one of the oldest companies in the world. They started making cymbals back in the day to bang together to scare the horses when they went to war, so that's a little history I found out."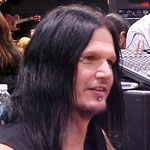 Teague had plenty of suggestions for the bassist and his band needs: "We have a new member of the Rock Bass family called the Fortress which is a body style which has been retired for five years. We're bringing it back in the Rock Bass line. We have a whole line of chrome-finished instruments called Chrometone that are both chrome and a ripple type of finish. We have several new basses in the Warwick line. We have the Quintana, which is available in four-string or five-string in a variety of finishes. We have a new limited edition FNA with small dash back, ebony fingerboard, mother of pearl inlay, and we have several new instruments in the Framus guitar line also with the chrome finish. We have a new product called the Rock N Roller Multicart, which every musician needs to have. It's a combination hand truck and platform dolly that converts into any of eight configurations with just a couple of clicks. Once a musician uses it, he'll never give it up. It's a must-have kind of product. Then of course we have a bag for every musical instrument ever made, we also have a case for them, and we have our multiple guitar stands, our gig boards, and we have thousands and thousands of products. Check them out at www.danabgoods.com.

For more information on upcoming NAMM conventions, check out www.namm.com.

Please log in to view RANTS