Live Photos By Geoff Ketler & Petr Maur
Variety is indeed the spice of life if one is to abide by the lengthy career of BLACK STAR RIDERS frontman Ricky Warwick. Take one half of a musical background steeped in country/roots, another half steeped in punk and metal, and a voracious yet passionate appetite for getting as much out of life as one possibly can, mix well and the ingredients just all seem to come together as part of the perfect recipe for superstardom! Get your just desserts as I chat with Ricky on the eve of his March 25 Ottawa show with JUDAS PRIEST and SAXON about how BSR began, touring, sports, side projects involving some unlikely covers - and the drumming legend known as Stumpy!
KNAC.COM: First off, I just wanted to congratulate you because you are coming up to a recent milestone as it was 30 years ago today, more or less, that you formed your first band THE ALMIGHTY.
WARWICK: Yeah, incredible. I mean I would've been happy if we'd just got to make a record. The fact that I'm sitting here talking to you 30 years down the road and I've never had a proper job since is pretty cool.
KNAC.COM: At the time I think when I moved to Europe, that's when I started hearing about you guys.
WARWICK: I think we never seemed to get much of a break in North America, unfortunately, but Europe was very good to THE ALMIGHTY and Japan and the Far East….we did 8 or 9 really really good years.
KNAC.COM: So how did that particular formation just come about or did you just happen to be at the right place at the right time when THE ALMIGHTY came about?
WARWICK: No, we went to school together. I moved over from Belfast to Glasgow when I was about 15, so I was the new guy in high school. It was a small school and rumor got around that I just got an electric guitar before I moved. And of course, y'know, the guy who had the drumkit and the guy who had the bass gravitated towards me and the other guitar player, and word gets 'round, "there's a new guy and he's got an electric guitar, and he likes certain bands like THIN LIZZY and SEX PISTOLS, so let's go". So, instantly, I found myself with these other guys and about two weeks after moving, we were in somebody's front room, rehearsing, trying to work out chords and trying to learn songs, and y'know, one thing led to another. And it was a case of "well, who's gonna sing?". And, honestly, nobody wanted to sing because no one ever does. And I said "I tell you what, I'll do it until we find someone." And 30 years later, we're still looking for a singer as far as I'm concerned.
KNAC.COM: (laughing)
WARWICK: And that was it. We formed our little band, we were playing school discos, y'know, youth clubs and stuff like that, and places around where we grew up in this little village in Scotland. And then, we got a break opening for a band called NEW MODEL ARMY, who I was a big fan of. Their singer knew that I was a fan of the band and we did a couple of shows and it went really well. And he said that they were looking for a guitar player, he offered me the gig, and I spent the whole of 1987 being a member of NEW MODEL ARMY and touring the world. That finished, then we went back into the studio and I had the whole idea at that time about THE ALMIGHTY, forming the band, and I went back to Strathaven in Scotland where we were from, contacted my old school buddies, from Stumpy the drummer to Floyd the bass player, and we started rehearsing, and things went really, really quickly, and within 12 gigs we were signed to Polydor and, y'know, the rest is history.
KNAC.COM: I just had to ask though – how did your drummer get the name Stumpy?
WARWICK: Um…he's quite a stumpy kinda guy, y'know, he's got stumpy fingers and he's quite well-built, and it was just his nickname. I can't even remember, even before I knew him, that was his nickname. It was just one of those names, people called him that since he was ten years old, and it stuck.
KNAC.COM: Originally, your musical background was heavily steeped in country/folk and a lot of the early greats of the genre such as Johnny Cash and Bob Dylan before you started progressing more into the heavier stuff such as THIN LIZZY, THE SEX PISTOLS, MOTORHEAD and MC5. And at one point you had also played and toured with STIFF LITTLE FINGERS. Has the balance between both those genres been relatively easy throughout your career or was this a balance that needed to be worked on and nurtured over time?
WARWICK: It's actually a case of what you like and what you love. I mean, my dad really got me into music because every Saturday night he'd have his buddies over and they'd play cards and they'd drink, and I'd get to be the DJ and put on the records and those records were like Johnny Cash, Patsy Cline, Frank Sinatra, Waylon Jennings, all that kinda cool stuff. So those were the first records that I was hearing, so I just naturally started gravitating towards that. And then, when I got a little money when I started getting older, I started buying my own records and started off buying SLADE and SWEET and T REX, and then when punk came along, it blew my mind, so that really sort of opened the doors. Then I really wanted to start playing myself. I feel like I got quite the eclectic taste – I mean, I like everything from Northern Soul to Discharge and everything in between. I'm just a fan of great songs and great songwriting and great playing.
KNAC.COM: Fair enough. Did you also feel that much of the same way keeping that balance helped you with the transition when you were playing in the later version of THIN LIZZY before it morphed into BLACK STAR RIDERS?
WARWICK: Yeah, I think you just gotta have a really open mind if you're a musician, I think you've gotta listen to everything and be influenced by everything and be a sponge and soak it up. And you never stop learning. In life they say you never stop learning when you're a musician and, I mean, the time for me being in THIN LIZZY is, probably I think, the best musical education I ever had. And I mean this in the nicest possible way: I had never learned so much from a dead man in my life. Studying Phil Lynott – his music, his words, his poetry, everything about the man was a great education for me as a singer, as a writer, as a performer, as a frontman. So there you go.
KNAC.COM: I gotta be honest with you in that the first time I had heard the BLACK STAR RIDERS was probably when THIN LIZZY were pretty much about to wrap it up in this case – that of course was with you and Scott Gorham in the band too, but I was a bit skeptical about how that tour would fare over here in North America – I mean, as popular as THIN LIZZY were, not so much in North America as they were in Europe – so I'd just assumed that the setlist would just be THIN LIZZY songs. But then I'd heard "Kingdom Of The Lost" and I have to say that that song just resonated with me. It was just so simple but simple in a good way because it was honest and, to tell you the truth, I think I enjoyed the video where you were driving all over southern California. Was all of it just kinda spontaneous, considering that you'd just moved to the US – you'd been in the US for some time anyway, having moved from Northern Ireland – but did all of that come out from the video or was it just spontaneously planned?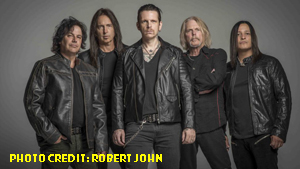 WARWICK: No, we had the idea. The video was shot by two Irishmen, two good friends of mine I call Michael Beattie and Sam Robinson, and they came over and the concept was just to explore the countryside where the Irish would've maybe gone and settled when they moved to America looking for work, y'know, following the Irish dream to the American dream, kind of, and that was it. *pausing* Going back to what you said, BLACK STAR RIDERS aren't THIN LIZZY. We've never been THIN LIZZY. We're BLACK STAR RIDERS. And even from the start, we'd only had one record out, so when we toured with the first record out, we had to make the setlist, so we had to play more LIZZY songs to play for an hour and a half. The intention always was to play our own material. When we tour in Europe and the rest of the world, we usually just play one THIN LIZZY song just as a nod to where the band came from and stuff like that. But there was no way we were ever gonna go on this tour and play all THIN LIZZY songs because we're not THIN LIZZY. BLACK STAR RIDERS is six years old, we've had three albums out. People just need to accept the fact that we started our own band, and when they see the band live, they get it. So, this is a great tour for us because we've not really had an opportunity to tour North America and in Canada before. We'd been waiting to get on the right bill and PRIEST have been so gracious and so supportive of BLACK STAR RIDERS and given us this opportunity, so, Europe, yes, we've got a head start there because LIZZY were known, THE ALMIGHTY were known and people knew about us, all that kinda stuff, but we want to try and get North America catching up with the rest of Europe, which is what we're here trying to do.
KNAC.COM: Well, you definitely got a fan in me because, again, that was like my first exposure pretty much to BLACK STAR RIDERS strictly through that song.
WARWICK: Thank you. We'll always have that spirit of THIN LIZZY because we got Scott Gorham.
KNAC.COM: Of course!
WARWICK: You know, the way he plays and who he is, we love that and we want to retain that, keep that. We're very proud of our heritage and where we came from. I mean, LIZZY are my favorite band of all time and I'm just as much of a fan now than I ever was even though I got a chance to sing those wonderful songs. But I can't emphasize enough that BLACK STAR RIDERS...we're about to make our fourth record, we're a very stand-alone band with our own identity.
KNAC.COM: You really are a busy person indeed, especially with a lot of side projects. There was a recent side project that you've done called THE FIGHTING HEARTS – well, it's called RICKY WARWICK AND THE FIGHTING HEARTS, and you focused mostly on your previous influences such as country and punk. I actually caught a listen to some of your songs as well, such as "When Patsy Cline Was Crazy" – that was a good song – but I had to ask about the Britney Spears cover that you did.
WARWICK: (laughing)
KNAC.COM: Because that was, to me, Britney Spears as I'd never heard her before – good and without Autotune! How'd that come about?
WARWICK: Y'know, it's funny, I've played that song in a biker bar and it's the funniest thing I've ever seen, y'know, 200 bikers singing along to "Oops! I Did It Again".
KNAC.COM: (laughing) Oh my God!
WARWICK: It was a joke. I started doing some cover versions for bonus tracks and stuff like that and my daughter loved that song at the time, I learned it and we used to play it and we'd sing it together. I just thought "what the hell, I'll just do a version". But it's a good song, I like it, why not?
KNAC.COM: I just thought it was a very spontaneous cover.
WARWICK: Eh, it was all tongue in cheek, y'know, it was a bit of fun, it wasn't meant to be taken too seriously.
KNAC.COM: Are THE FIGHTING HEARTS planning on doing any more covers?
WARWICK: Well, THE FIGHTING HEARTS never played on it, that was just me solo. THE FIGHTING HEARTS are my solo touring band. I always record solo just as Ricky Warwick. We did a lot of stuff, quite a few tours in 2016 and I'm gonna do a new solo record at the end of this year. Everything has to work around BLACK STAR RIDERS, so that all depends what the schedule is with BLACK STAR RIDERS when I can do the other stuff with FIGHTING HEARTS. But, yeah, there'll be some more at some point.
KNAC.COM: I'll be looking forward to that. And another thing that I've noticed is that you've had almost as much success as a solo performer as you've had as a member of a band because I've noticed in one of your repertoire as I was doing some research is that you've toured with quite a lot of the greats – Bob Dylan, Sheryl Crow as well. I think that was at around 2004, 2005 or something like that. That was around the time you were recording one of your solo albums, I believe. Is that correct?
WARWICK: Before I'd gotten the gig in THIN LIZZY in 2010, I'd been playing solo for 8 years, and I was lucky enough to tour with DEF LEPPARD, Bryan Adams, CHEAP TRICK, and like you said, I did shows with Sheryl Crow, did a show with Bob Dylan, did some dates with LYNYRD SKYNYRD...it was great, y'know? The great thing about being solo is that it's just you and an acoustic guitar, so it's very appealing for a lot of acts because they don't have to deal with a band and all the changeover and stuff like that. And it's a very cheap way to tour as well. It's a lot of fun, I really enjoyed it. I like the band thing more, I like being in a band with my buddies and making a racket, but I'm very blessed to be able to do both. I mean, being solo is great, because there's not the hype behind it and you've gotta be on your game and basically have your shit together, and I think that's good practice for everything else that you do in music.
KNAC.COM: And it also helps as well that you've also had the same interests, too. You always want the best outcome for your band. Another thing that I'd also noticed as well is that you're starting to break into acting as of late.
WARWICK: No, no, this is the bane of my life, this thing. This comes up in friggin' Google and Wikipedia. This guy asked us to do a movie a few years ago and he got myself and Joey Santiago from THE PIXIES and Joe Elliott from DEF LEPPARD, and a couple of other famous musicians. And it was great, he wanted to do a crowd funder to get this movie to happen. We did some press for it.
KNAC.COM: It was called The Bridge, I believe.
WARWICK: Yeah, it kinda went a little bit south, it never really happened, and it still comes up. I have no aspirations to be an actor.
KNAC.COM: That's a shame.
WARWICK: I just did it because it was fun. I'm mates with Joe Elliott. "Do you wanna be in a movie? Sounds like fun, let's have a laugh." It never happened, no big loss.
KNAC.COM: Kinda curious about The Bridge because it was the actual name of that Danish series I'd been watching.
WARWICK: Right, right.
KNAC.COM: So it probably would've had issues anyway, I would imagine, with the name.
WARWICK: Probably. Like I said, I was asked to do it, I thought it was gonna be fun, but lots of things didn't happen, and that's it, you move on.
KNAC.COM: Well, I guess we can still keep the conversation to movies but probably music-related movies. What would you say would be the best music-related movie that would define BLACK STAR RIDERS, if you could think of one?
WARWICK: Best music movie defined? *pauses* Wow….I don't know…The Last Waltz with the Band is probably one of my favorite music movies as well. I mean, our tastes are so diverse, you've got everything. Y'know, with me coming from a punk background, Damon Johnston on lead guitar, Southern rock, obviously Scott….that's why BLACK STAR RIDERS works is that it's such an eclectic and diverse mix of influences and tastes and makes us different from every other band that's out there.
KNAC.COM: Another thing I wanted to touch on is that you've got a huge influence in sports. There's actually a team back in Northern Ireland called Glenmorden-
WARWICK: (correcting my pronounciation) Glentoran.
KNAC.COM: Glentoran! Sorry. I guess for any like-minded music and sports enthusiast, you did a bit of crowd funding as well to keep that team alive. How'd that go about?
WARWICK: Like everything, it's tough out there and the club got into some financial trouble a few years ago, and a group of supporters banded together to raise some money just to basically pay the bills and keep the lights on, which we were able to do until the club found an investor, and I'm happy to say that the club's in great shape. But every year, I do a charity gig back home in Belfast for the club and it provides money for the kids, for the under-12's, for boots, strips, for soccer balls, all that kind of stuff and it goes back into the community. We give a percentage of that to local charities as well, and it's a real community football club, it's in east Belfast and I've supported the club my whole life, y'know, whenever I'm home, I go and see them play and it's just great to be involved. My daughter was mascot at the big game there at Christmas and it was a very proud moment for me.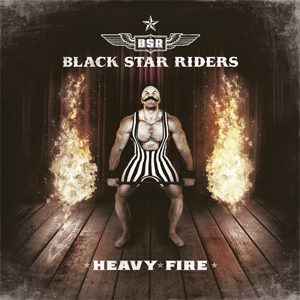 KNAC.COM: And I imagine for her, too.
WARWICK: Yeah, absolutely. It's part of the community, so we raise money and it goes back into the schools to help. Soccer's great for kids to go in and play, it brings kids together...obviously, Northern Ireland's had a bit of a checkered past with religion and the Troubles and stuff like that, so we try to help both sides of the community.
KNAC.COM: It's like how in North America for example, we usually promote a lot about keeping music in schools. Not too long ago, I saw FOREIGNER on a Friday night (March 23) and they actually invited members of a local high school choir to sing on the last song.
WARWICK: That's great.
KNAC.COM: So this is like a bit of the same thing.
WARWICK: Yeah, it's just a passion, y'know, I'm very lucky to do what I do, and if I'm able to help with the team that's helped me to have so much enjoyment all over the years – sometimes it's not enjoyable if they're playing pretty badly – but it's nice to be able to do something to help out.
KNAC.COM: Definitely team support applies to sports teams as much as it does to bands.
WARWICK: Absolutely.