Japan's LOUDNESS are back with a new record titled Rise To Glory, which is a heavy, edgy, heavy metal record. The U.S. pressing features a second disc of re-recorded material from the band's early days. The second disc, Samsara Flight was previously issued as an import only in 2016. KNAC.COM caught up with frontman Minoru Niihara for a chat as he did press for the new album. As you might know by now, LOUDNESS was not permitted entry into the United States and resulted in a cancellation for the Monsters Of Rock Cruise earlier this month.

KNAC.COM: The Sun Will Rise Again was released in 2015 in North America. It was remixed from the original version that was issued in Japan in 2014. Was this a label request or was it a band decision?

NIIHARA: Originally we were proceeding with this project based on the opinions from our U.S. staff. We wanted to release it rather than keeping it unreleased.

KNAC.COM: The new album Rise To Glory was just released a week ago. Were these fresh songs that made up the album or was there some material that been left over from subsequent records?

NIIHARA: All of the songs were newly written for this album.

KNAC.COM: Being that English is your second language; how hard was it to make the transition from writing lyrics or song ideas to English?

NIIHARA: If you can imagine that you're trying to sing in Japanese, that's what itís like! (laughs)
KNAC.COM: Do you think that rock Ďn' roll must be sung in English? I ask because I have heard this in the past in speaking to international acts. One made mention that even SCORPIONS, an international act, chose to perform songs in English rather than their native German.
NIIHARA: As rock was born from the sound of English, it sounds natural when sung in English. Having said that, I don't care about language so much, as long as it sounds cool.
KNAC.COM: You guys have been around for a few years, no question you've had some challenging times. What tours did you encounter some friction as a support act? How did you persevere?
NIIHARA: The hardest time we had was when we lost Munetaka Higuchi. No, we didn't have any problem as a support band so we didn't have to persevere anything. I guess we have been fortunate in that regard.
KNAC.COM: What has been one of the highlights of touring North America?
NIIHARA: The tour with MOTLEY CRUE, which was our first arena tour, must have been our highlight. It was a precious experience that we played for tens of thousands people every night.
KNAC.COM: LOUDNESS encountered visa issues that resulted in the cancellation of the last North American tour. Has that all been resolved at this point? How has the United States government made it more difficult for international acts to get the proper paperwork to come to America? How much did that cancellation hurt LOUDNESSí reputation in the United States?
NIIHARA: To be precise, the problem hasn't been solved yet. It's not the government's problem. We didnít have enough understanding about Visa and didn't proceed with it properly. If we had applied Visa properly, we must have had no problem. I'm sure the cancellation hurt our reputation and credit. We apologize to our fans and promoters. We are very sorry about it.
KNAC.COM: I assume LOUDNESS will be booking dates for a North America tour? Are you looking at perhaps a headlining tour or a possible package?
NIIHARA: I heard that it might be a package tour. I can't say yet but KNAC.COM will be amongst the first to know.
KNAC.COM: Getting back to Rise To Glory, what inspires LOUDNESS to write and record new music? LOUDNESS could easily tour and perform the back catalog without releasing new music.
NIIHARA: Creating songs itself is a motivation for a rock band. It's like the nature of an artist. Actually, sometimes our setlist contains only classics like playing an old album in its entirety, etc. It's fun to play with varied setlists for a band like us who have been together for a long time. As we already have more than 400 songs, it's not easy to pick the songs out of them and also we have to keep remembering all of those songs...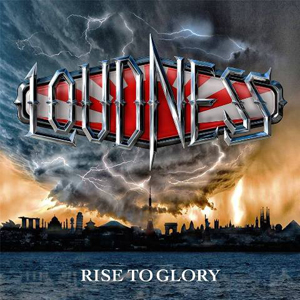 KNAC.COM: LOUDNESS has taken part in M3 and the Monsters Of Rock Cruise over the years. Generally speaking, most of the bands that take part in those events are 80s glam bands. Did you initially have to think twice before accepting these offers? How did you come down to the decision to accept?
NIIHARA: To begin with, it looked fun. Also, we are a band from the 80s and we love glam bands. Meeting our friends from the 80s is big fun, too.
KNAC.COM: In closing, give me a song from the LOUDNESS catalog that you never tire of performing, one that you don't think you perform enough in the set and a song that is mandatory for you to have in the set.
NIIHARA: Songs that I never tire of performing are "Crazy Nights", "Like Hell" and "Heavy Chains".
As for a one that we don't perform enough in the set? There's a few, I think. I would say "Who Knows" and "Complicated" from Lightning Strikes. I would also add "In This World Beyond" and "Hungry Hunter" from Hurricane Eyes.
The mandatory song that we need to have in the set? It's "Crazy Nights". I would hate to find out what would happen if that wasn't in our set! (laughs)