KNAC Staff Top 10 Albums of 2003 With Commentaries

By Sefany Jones, Contributing Editor
Tuesday, December 9, 2003 @ 12:53 AM

| | | |
| --- | --- | --- |
| | | Here Is A List of The Staff's |
Well, some of our staff have more to say on their Top 10 albums! Here are the commentaries! Be sure to click on an album cover to see if there is an accompanying review.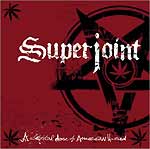 1.) Superjoint Ritual A Lethal Dose of American Hatred (Sanctuary)
2.) Anthrax We've Come For You All (Sanctuary)
3.) Strapping Young Lad SYL (Century Media)
4.) Black Label Society The Blessed Hellride (Spitfire)
5.) Six Feet Under Bringer of Blood (Metal Blade)
6.) Mastodon Remission Limited Edition (Relapse)
7.) Tomahawk Mit Gas (Ipecac)
8.) A Perfect Circle Thirteenth Step (Virgin)
9.) Alice Cooper The Eyes of Alice (Eagle/Spitfire)
10.) Iron Maiden Dance of Death (Columbia/Sony)
Noteworthy: Sepultura, Ministry, Type O Negative, Marilyn Manson, Godsmack, Overkill, Arch Enemy, Lynch/Pilson, Agent Steel, Dimmu Borgir and Devin Townsend Band.
Looking forward to some Damageplan next year!

Diana DeVille, Rock Goddess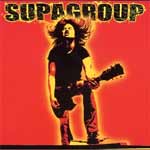 1. Supagroup Supagroup (Foodchain)
Kick ass barroom rockin' from the Big Easy. I liked the record enough to review it for the site earlier this year. To see these guys live is to witness a heck of a show. "One Better" from the rest.
2. The Darkness Permission to Land (Lava/Atlantic)
Glam rock is alive and well with this band out of merry ole England. Justin Hawkins' vocals set the band apart from all the rest, and love 'em or hate 'em, you'll definitely remember them!
3. Alice Cooper The Eyes of Alice Cooper (Spitfire)
Alice is back to rocking the house down like he did in the glory years. With the boys from Glamnation backing him up, this record is a sure winner.
4. Bret Michaels Songs of Life (Poor Boy)
Bret steps out on his own and presents us with a well-written storytelling record straight from his own point of view. He writes about what he knows about and puts it out there straight and simple.
5. Lynch Pilson Wicked Underground (Spitfire)
George and Jeff back together again. The backbone of Dokken is back for the attack with great songs, great riffs and Pilson's vocal showcasing. This one is a must-have for your collection of great works.
6. Iron Maiden Dance of Death (Columbia)
You can't have a top 10 metal list and not have Iron Maiden on it. 'Nuff said. Dance of Death is a typical Iron Maiden presentation with well-crafted masterpieces.
7. Fireball Ministry The Second Great Awakening (Nuclear Blast)
I stumbled on this record out of the blue, and was blown away. Proof that church and rock CAN mix, with the Rev. James A. Rota II preachin' the word at full volume.
8. WWIII When God Turned Away (Reality/Sony)
This has some great tunes on it, including a remake of Warrior's "Fighting for the Earth". Great riffs that will draw you in, with Mandy Lion's hypnotic vocals. Lion is one of those larger than life presences that doesn't fit a label, he just IS metal in all its forms.
9. Anthrax We've Come For You All (Sanctuary)
Two words: John Bush. The energizer bunny of metal just keeping going…and going…and going. This record kicks serious ass and it has its poignant moments too, as witnessed in "Safe Home." Just an all around excellent metal record. Gotta have it.
10. Static-X Shadow Zone (Warner Bros.)
Static-X. The Ultimate Hair Band! Metal, industrial, dance, nu-age. All of these things apply to the Statics, and their 3rd release has a little something for everyone. One to be played at full volume any time of the day or night.
1. A Perfect Circle Thirteenth Step (Virgin Records)
A musical masterpiece, plain and simple. Beautiful melody, subtle but superior musicianship, smart instrument arrangement, and another incredible round of chilling vocals and insightful lyrics by the industry's most talented singer. With more effort put into the musical structure and lyrical composition than most bands put into their entire careers, APC takes a gigantic step ahead of their previous incarnation and show an unparalleled evolution in sound and approach, creating an absolutely over the top record and an easy #1.
2. Opeth Damnation (Koch Records)
A complete departure from the signature heavy elements of the past, Mikael Akerfeldt and Co. give a painfully beautiful look into the tragedy and sorrow of life with the usual amazing song structure and nothing but the most heartfelt and moving vocals. A one-shot effort that confirms the fact that Opeth cannot be confined to the limiting strictures of a specific musical style.
3. Morbid Angel Heretic (Earache Records)
One of the most brilliant Extreme Metal albums in years. Perfect production, an overload of super groovy and technical riffs, a great evolution in the singing department, more superior drumming by the great Pete Sandoval and the usual brilliant virtuoso solos of Trey Azagthoth make Heretic the best metal album of the year, re-cementing the band as one of the most elite in the biz.
4. God Dethroned Into The Lungs Of Hell (Metal Blade Records)
Definitely one of the best Death Metal bands of today, these Dutch metal masters take a slightly different course with this album, forsaking some of the speed for some super-hooky, groovy riffs that create a Thrashy/Death masterpiece. Songs like "Warcult", "Enemy Of The State" and "The Tombstone", are just crushing with their rolling rhythms and amazing drum beats. Perhaps the most underrated release of the year.
5. Amon Amarth Vs. The World (Metal Blade Records)
Albums released at the beginning of the year tend to be overlooked by Top 10's come December. This album was released way back in January, but that makes it all the more worthy of being on this list-one of the first out the gate in 2003, and still standing tall as one of the best albums of the year. Their unique style of Viking Metal creates a visual world of warriors and myths enveloped by some very tight musicianship, presenting both memorable, heavy riffs and drumming as well as some truly brilliant guitar melody. Another band to keep a sharp eye on-they just get better as they go.
6. Overkill Killbox 13 (Spitfire Records)
Some legends die out, other legends abandon their history altogether (*ahem Metallica ahem*), but some embrace their roots, grow stronger and refuse to go away. No matter who the axe wielders are, Bobby "Blitz" Ellsworth and D.D. Verni always ensure that they are gonna put out some superb thrash metal as only these legends can. Featuring yet another round of new guitarists in Derek Tailer and Dave Linsk, Killbox 13 is the best Overkill album to be released in several years. Going back to their roots with a more old-school style sound and some killer solo work by Mr. Linsk, Overkill prove that they are metal to the bone and the wrecking crew is here to stay.
7. Grave Back From The Grave (Century Media Records)
An astounding comeback from one of Sweden's greatest and longest running Death/Grind acts in history. Not missing a beat, Ola and the rest of Grave pick up right where they left off with more grinding, churning, crunchy Death in the unique style that they've perfected. Including instant metal classics like "Rise" and "Thorn To Pieces", Back From The Grav proves that these veterans have lost none of the old aggression or sound, providing yet another must have album for any true Death fan.
8. Zyklon Aeon (Candlelight Records)
My #1 album of the year in 2001, Zyklon's first album, World Ov Worms introduced an all new brand of death metal to the masses, incorporating some wicked vocals and industrial elements to deliver something new and utterly brutal. Their second release, Aeon, takes the sound to the next step, becoming less straight-forward but more technical and still incredibly sound in production and composition. The new vocalist doesn't quite compare to the original, this album gets its hooks into you and refuses to let go. Although not quite on par with their debut, the album is still a superb effort by the band and definitely proves that they're much more than just another short- lived super band collaboration.
9. Vital Remains Dechristianize (Olympic Records)
Satanic? Absolutely. With Deicide's infamous frontman Glen Benton manning the mic, how could you expect anything else? But beneath the unrelenting blasphemous lyrics is some absolutely stunning musicianship and sheer, utter brutality. Apart from the guest appearance by Mr. Benton, Vital Remains consists of just two guys and a shitload of talent. With Tony Lazaro on guitars and Dave Suzuki tackling drums, bass, and lead guitars with an absolute vengeance, this album is more than your average Death Metal. Containing epic songs in the range of 8:00 each and ranging from furious, speed laden drums and riffs to some truly moving, beautiful melodies, this album just has something extra. Completely merciless, Dechristianize will leave your ears burning and your head spinning.
10. Shinedown Leave A Whisper (Atlantic Records)
This one is a real rarity. What's a mainstream rock album doing in an Extreme Metal fan's top 10? Well, sometimes something good actually makes its way through the corporate meat grinder, and this is one example. The vocals are entirely what sell me on this album-there's just something there that most mainstream singers don't have-and that something is called talent. Lead singer Brent Smith delivers some moving lyrics and impressive vocal range to make some otherwise standard music into something a little extra. With a true handle on melody and a moderate amount of heaviness, Leave A Whisper is a few and far between mainstream success with actual solid content. Definitely the surprise album of the year.
1.) BLACK LABEL SOCIETY The Blessed Hellride (Spitfire)
A lumbering, smoke-spewing bulldozer of a record, and you get to ride in the cab and look down on all the destruction. Best track: "Funeral Bell"
2.) OVERKILL Killbox 13 (Spitfire)
Snarling, spitting thrash legends return, as pissed-off and proficient as ever. Best track: "The One"
3.) SYMPHONY X The Odyssey (Inside Out)
Technical, epic. Symphonic. Prog. All these words apply, and as such, I had grave misgivings. This one (released late last year) surprised the shit out of me by being not just palatable, but generally highly enjoyable as well. Best track: "King of Terrors"
4.) AMON AMARTH Vs. The World (Metal Blade)
Evil Scandinavian sword-waggling metal. Grooves galore and more solos than you can swing a spiked club at. Best track: "Bloodshed"
5.) IRON MAIDEN Dance of Death (Columbia/Sony)
A rejuvenated Maiden returns once again with their second album after the return of Bruce Dickinson. More focused than the last effort effort, but a bout equal in terms of quality. Best track: "Paschendale"
6.) ANTHRAX We've Come For You All (Sanctuary)
Not the Anthrax of old, and not the Second Coming of metal, but a heavy, grooving, catchy ride. Best track: "Any Place But Here"
7.) MOJO RIB Mojo Rib (Nuthing Sacred)
In a year noticeably short on good, fun rock 'n' roll, these guys enter the ring, and bring about a million neat little tricks and twists with them. Best track: "Kalifornia Kingsnake"
8.) THE GODZ 25 Moore Years (Outlaw Entertainment)
A damn fine compilation from these '70's cult-biker-rock heroes, with their more classic '70's materail interspersed with the more badass '80's stuff, and various live and rare cuts too. Best track: "Criminal Mind"
9.) NUCLEAR ASSAULT Alive Again (SPV/Steamhammer)
Semi-obscure thrash heroes offer up a brief but satisfying (and well-produced!) live effort. Extra points for capturing the atmosphere and live feel of the gig. Best track: "Critical Mass"
10.) GEORGE THOROGOOD AND THE DESTROYERS Ride 'Til I Die (Eagle)
Is George going soft in his old age? Not exactly, but the music isn't as loud and reckless as classics like Maverick, and George even tries actually singing rather than growling, but the rest is pure Thorogood bluesy swagger. And of course a drinking song or two. Best track: "Greedy Man"
Next year, looking forward to new offerings by Iced Earth, Tesla, Exodus, and, if we're lucky, Judas Priest.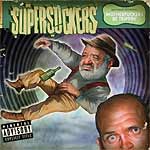 1. Supersuckers Motherfuckers Be Trippin' (Mid-Fi Recordings)
Any band that comes up with a title like this automatically gets #1. Even better is the whole damn thing ROCKS. Also one of the best live bands in the biz.
2. Richie Scarlet Live, Stage to Stage (Poptown Records)
One of 3 live records in my Top 10 this year, a rarity. However, Richie Scarlet is one of Rock's true undiscovered treasures. Not only that, but he's an amazing guitar player and performer. Also, I accidentally left last year's amazing studio effort, Insanity of Life, off my 2002 list, which should not have happened. Grab both if possible!
3. Turbonegro Scandinavian Leather (Epitaph)
Great band, great songs and great live show. Plus, the singer looks like he's combo of Alice Cooper and King Diamond. Gotta love that! Glad these guys came back to inject some fire into Rock 'n' Roll.
4. 40 Grit Nothing To Remember (Metal Blade)
Quite simply the most underrated disc released this year from the boys of the SF Bay Area. This disc showed unusual depth and maturity for a 2nd record, and deserves a chance to be heard. There's some amazing tunes here!
5. KISS KISS Symphony: Alive 4 (Sanctuary)
I know I'm gonna get flack for this one, and yeah, Ace Frehley isn't on it, which really sucks. But still, the inclusion of such rarely heard songs as "Great Expectations", "Goin' Blind" and "Sure Know Something", among others, makes this worthy. I wish the set list during the KISS / Aerosmith Tour had looked more like this, instead of the same old tunes. Now if only Ace and Gene would quit feuding...
6. (tie) Skid Row Thickskin (Skid Row Records)/ Andrew WK The Wolf (Island)
Nice to see the Skids bounce back with a good record, and AWK channels the spirit of 80's rock from which the Skids were spawned, although without the big hair. Both write tunes with great hooks, and rock it live, so why worry--Let's Party!
7. Cradle of Filth Damnation and a Day (Red Ink/Epic)
These guys are poised to pick up where Marilyn Manson seems to have dropped off, mining the territory of goth/rock crossover. A challenging listen, but well worth the sonic journey into darkness...
8. American Heartbreak You Will Not be Getting Paid (Perris Records)
The 5 live tunes were recorded on tour in Europe, where AH has a strong underground buzz after 3 extensive tours. There's some acoustic tracks, including a cover of Cheap Trick's "Come on, Come on", and the inclusion of the remixed/remastered What You Deserve EP makes this a good value.
9. Streetwalkin' Cheetahs Gainsville (Triple X)
The Cheetahs rule. Simple as that. Can't wait 'til they get back on the stage, because they bring it full force live, and the tunes are awesome.
10. Jane's Addiction Strays
A fine return by the semi-legendary LA rockers, produced by uber-producer Bob Ezrin. Plus, it's good that Lollapalooza, the granddaddy of Summer Festival Tours, is back as well. Let's hope both continue!
Other Random stuff from '03 that rocked: Led Zeppelin's Live DVD (Atlantic); MTV 2 bringing back "Headbanger's Ball"; Body Count's surprise live set at the Warped Tour stop in San Francisco; A band from Dublin called Nero (visit nero-official.com) who came to the US, rocked out, and got the attention of legendary producer Jack Douglas; and bassist/vocalist Janis Tanaka showing her versatility by performing both with pop-rocker Pink and Metal moshers Fireball Ministry (check out their cd on Nuclear Blast)...



Jeff "The Great" Kerby, Resident Jackass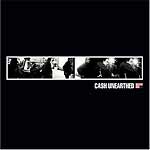 1. Johnny Cash Unearthed (American/Lost Highway)
Yeah, yeah, you can take all your scary pseudo-Satanic horsecrap, your masturbatory meaningless guitar solos, '80s hair that should have been relieved of duty twenty years ago, and you would still never even have one percent of the coolness that is the Man in Black. Quite simply, he was the source of which all things good originated.
2. Ludacris Chicken-N-Beer (Disturbing Tha Peace/Def Jam South)
"Watch out for the medallion, my diamonds are reckless--feels like I got a midget hangin' from my necklace."
3. Dio Stand Up and Shout: The Anthology (Rhino/WB)
…speaking of midgets. Plenty of dragons and crap to satisfy the inner hobbit in all of you.
4. Led Zeppelin How The West Was Won (Atlantic)
Yet another example of why this band was one of the greatest that ever existed. Real danger and immediacy in a performance that many of the old corporate rock whores of today wish they could truly possess. Too bad they can't buy it.
5. Kings Of Leon Youth and Young Manhood (RCA)
A little Pabst Blue Ribbon, a trailer, and some good beef jerky is bound to get you in the properlike rural frame of mind to enjoy this disc. They do dress kinda fruity though.
6. Udo Live (AFM)
Udo was the lead singer of Accept. Accept was great. Udo proves he still is. Not sure if he's still out "plugging bombs in everyone's ass" though. Don't know if I want to know either.
7. Alkaline Trio Good Mourning (Vagrant)
It sounds good to me. Who cares if you like it?
8. The Datsuns Self-titled (V2)
This record sounds better after seeing them live. Most of the Cradle of Filth fans hated them on Ozzfest, so they must be pretty great.
9. Supersuckers Mutherfuckers Be Trippin' (Mid-Fi Recordings)
Worth it for "Pretty Fucked Up" alone. Much admiration should go to this band for their work ethic too. It truly is a lifestyle—pick up their country album sometime as well if you get a chance.
10. Black Rebel Motorcycle Club Take Them On, On Your Own (Virgin)
Best young band out there—period.

David Glessner, Austin Correspondent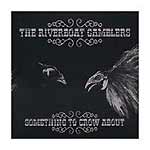 1. Riverboat Gamblers Something to Crow About (Gearhead)
As volatile and drunk as their brink-of-disaster live shows, this album comes frighteningly close to capturing the Gamblers' meth-fueled onstage abandon.
2. The Dragons Sin Salvation (Gearhead)
Marinated in Jack-and-Coke, this barroom brawling shout-along is a fine follow-up to The Dragons' previously released must-have, "Rock 'N' Roll Kamikaze." Woo-hoo!
3. Supagroup Supagroup (Foodchain)
The blues-based heirs to Bon Scott's bar tab, these New Orleans hooligans can smolder like a morning-after cigarette (sometimes) or slam like AC/DC at Mardi Gras (almost always).
4. Black Label Society The Blessed Hellride (Spitfire)
A better metal guitarist does not exist. Zakk Wylde punishes like never before and lands alongside Michael Schenker, Randy Rhoads and Tony Iommi for sheer jaw-dropping ability.
5. Motorhead Stone Deaf Forever (Sanctuary)
Crank this beautifully packaged 5-disc box set and your neighbor's lawn will die. Lemmy, on the other hand, cannot be killed.
6. Rancid Indestructible (Hellcat)
Finally, an overdue slur-along melodic punk platter that rivals the band's masterwork, And Out Come the Wolves.
7. Anthrax We've Come For You All (Sanctuary)
Driven hard by the superhuman drumming of Charlie Benante, John Bush and company deliver the album we've been waiting for. You'll mosh, you'll marvel, you'll sell you drum kit.
8. Dirty Power Dirty Power (Dead Teenager)
Dirty and powerful as the name implies without a hint of the Pansy Division from which it blossomed.
9. Streetwalkin' Cheetahs Gainesville (Triple XXX)
More than a spotty odds-and-sods collection from the hibernating Cheetahs, this mixed bag features echoes of the Beatles and Stones along with dive-bombing riffage a la the Foo Fighters and MC5. Another Motor City hit and run by way of Hollywood
10. The Star Spangles Bazooka (Capitol)
The Strokes comparisons will reach wrist-slashing levels, but these young turks pack enough punk and swagger to make Dee Dee Ramone and Johnny Thunders smile from beyond.
Honorable Mention: Kings of Leon, Audioslave, Voivod.
Please log in to view RANTS