JUNKMAN Recaps The 2017 LOUDER THAN LIFE Festival

By Junkman, On-Air Personality
Friday, October 20, 2017 @ 7:18 AM

| | | |
| --- | --- | --- |
| | | In Louisville, KY-9/3—10/1, 2017 |
All Photos By Junkman
The Louder Than Life festival returned to Louisville Kentucky's Champions Park, once again, and it was a down right blast. An estimated 60,000 or so people attended and all agreed. Produced by Danny Wimmer Presents, it featured two full days of music on three stages, as well as some of the best food and drink offerings that I have ever seen, all centrally located just outside downtown Louisville. To say that it was a weekend in heaven for me would not be enough. But the combination of all my favorite things in an early fall setting amongst some of the friendliest people you can imagine in such a serene atmosphere makes the trip one of my favorite destinations.
Food wise it cannot be topped. Dozens of BBQ stands, featuring everything from pig carcasses on a grill, to whole chickens, turkey legs and tri-tip and brisket were on display. The portions were huge and affordable. Lots of other stuff to chow down on, including some of my favorite southern style and Creole favorites like jambalaya, red beans and rice, HUGE crab cakes and loaded mac and cheese, were available to all. Just about every kind of tasty food you can think of, including pizza, Asian noodles, burgers, and hot dogs were in plentiful supply throughout the festival.
As far as drinks, it was the same, with a huge selection of local craft beer brewers, among the domestic's like the festivals sponsor, Miller Lite. "West 6th Brewing" and "New Albanian Brewery" were my beers of choice, although there were plenty of others. As far as Kentucky bourbon was concerned, this was like "Fantasy Land" for fans of that particular elixir. A huge "Bourbon World" tent, featuring local bourbons like "Angels Envy" and "Rebel Yell", as well as favorites "Makers Mark" and "Jim Beam" wetted the palates of festival attendees, and primed them for some interesting new blends.
Plenty of other enticements were available, such as deserts, full bars, soft drinks, and lots of room to move about, with picnic tables, scattered amongst the trees and surrounding woods. This year, in addition to the huge VIP tent was a raised grandstand just outside for a terrific view of the two main stages. Inside the tent were lots of couches and tables, full bars, and a large TV screen that broadcast all the action onstage throughout the weekend.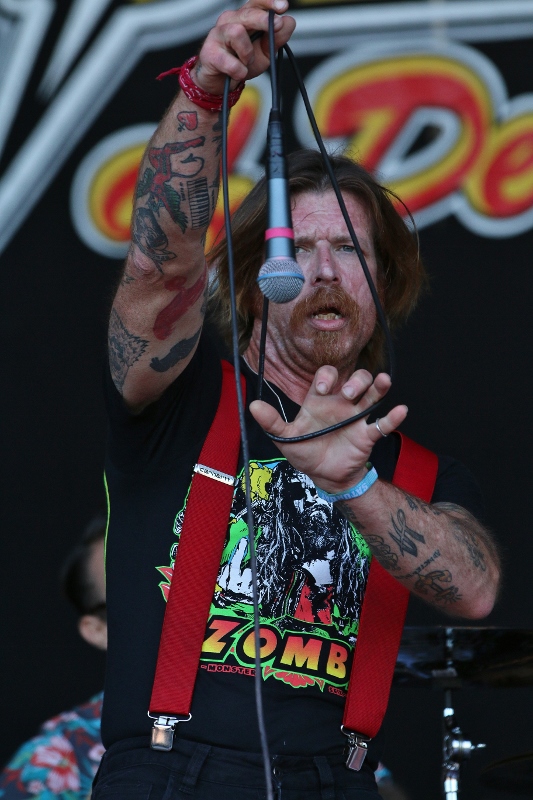 And yes, lots of action indeed on the three stages. Among the highlights on Day 1 of the festival was a very happy up-tempo set for EAGLES OF DEATH METAL, which featured, at least for the first song "I Only Want You", MASTODON guitarist Brent Hinds, as well as a great version of David Bowie's "Moonage Daydream". Singer Jessie Hughes, sporting some bright red suspenders, seemed to be having the time of his life and really set the tone for a fun weekend to come.
GOJIRA, again the heaviest band on the bill, brought their brand of massive metal to the Louisville fans with a devastating, eight song set that included "The Heaviest Matter Of The Universe" and "Flying Whales", two songs that are among my GOJIRA favorites, and metaphors for the crowd surfers in the audience who were everywhere it seemed. This band continues to win new fans every time I see them, and their stage show is indeed "Louder Than Life."
HALESTORM is always great to see, and they brought out their best to the "Monster Energy" stage. Opening with their hit "Love Bites (So Do I)" singer/guitarist Lzzy Hale, sporting an adorable "pixie" haircut and dressed in black leather, is one of my favorite front-people in the business. She is a passionate performer with a terrific voice and stage presence. HALESTORM fans were out in full force, singing along to every word of favorites like "I Get Off" and "Freak Like Me", which led into yet another terrific drum solo by Lzzy's incredible brother AreJay Hale. This guy is someone to admire. What a performer! Again, HALESTORM gave the crowd what they came to see, and the LTL faithful roared their approval.
MASTODON hit the "Loudmouth" stage and simply destroyed! Their brand of contemporary progressive pounding metal was exactly what this crowd was waiting for. Opening with the first track "Sultans Curse" from their latest release Emperor Of Sand, it was a riff-oriented, low-end heavy, ten song set of pure metal smack in the head. Bodies were flying everywhere in the crowd. The band was on fire. Bassist Troy Sanders was all over the stage, while guitarists Brent Hinds and Bill Kelliher were content to simply stand onstage and blast the crowd in submission with their monster guitar assault. Just about as exhilarating as a rock show can get in every way. MASTODON was true highlight for Day One of the festival.
ROB ZOMBIE, fittingly appeared on the "Monster Stage" and was all show. He is in constant motion, and wearing a bright leather suit with huge fringes, he looks like a tornado as he leaps about and waves his arms. He cranked out an interesting and spooky 14 song set, featuring his terrific band. Guitarist John 5, in his ever-present frock and now sporting an L.E.D. light-up guitar and some sort of L.E.D. device in his mouth, is one of the most talented guitarists in rock. Hit after hit like "Living Dead Girl" and WHITE ZOMBIE favorites "More Human Than Human" and "Thunder Kiss '65" were among the songs performed, as well as the interestingly titled "Well, Everybody's Fucking In A U.F.O." It's always a fascinating show to see, and the crowd was enthralled from the get-go. Some great cover songs were performed, like ALICE COOPER's classic "School's Out" and the RAMONES "Blitzkrieg Bop" before ending the set with the Zombie staple "Dragula" that really kicked the audience's collective asses.
FIVE FINGER DEATH PUNCH is a band that loves their fans, and especially loves the military members, as well as kids. They are always represented onstage as this heavy band from Chicago blasts them with an interesting mix of thrash and ballads. The opening "Lift Me Up" and "Never Enough" feature the antics of prowling, grimacing singer Ivan Moody, who tonight was sporting an imprint of a red handprint over one eye. Moody is like a cheerleader more than a singer, and always looks like someone pissed in his beer. He chastised bassist Chris Kale, who had made a feeble attempt to show sympathy to the Louisville faithful about the recent scandal concerning the coach of the UL basketball squad. But Moody got down to business, praising military members and dedicating their cover of BAD COMPANY's 1973 hit "Bad Company" to them. He also invited fans onstage with them, and is terrific at getting the crowd to sing along. This band is very well loved.
Headliner OZZY OSBOURNE brought out the crowds for his first visit to Louisville in a while. It had been even longer since guitarist Zakk Wylde had been in his band, and tonight was what they had all been waiting for. And Ozzy and company delivered. He gave the fans everything that they expected, from the opening riff of "Bark At The Moon" to Wylde's incredible guitar prowess on "I Don't Know" to the 11 song set ending "Crazy Train", it was typical Ozzy. Despite the fact that there were voice problems and some technical issues, it was "The Prince of Darkness" doing what he does to an adoring crowd and they all loved it. Ladies, gentlemen, kids of all ages, everyone loves OZZY OSBVOURNE. I was disappointed that I was not allowed to photograph him, but it's always a great festival when Ozzy and company are around. With a lot of the older rock stars seemingly dropping like flies lately, it's good to see Ozzy up onstage where he belongs.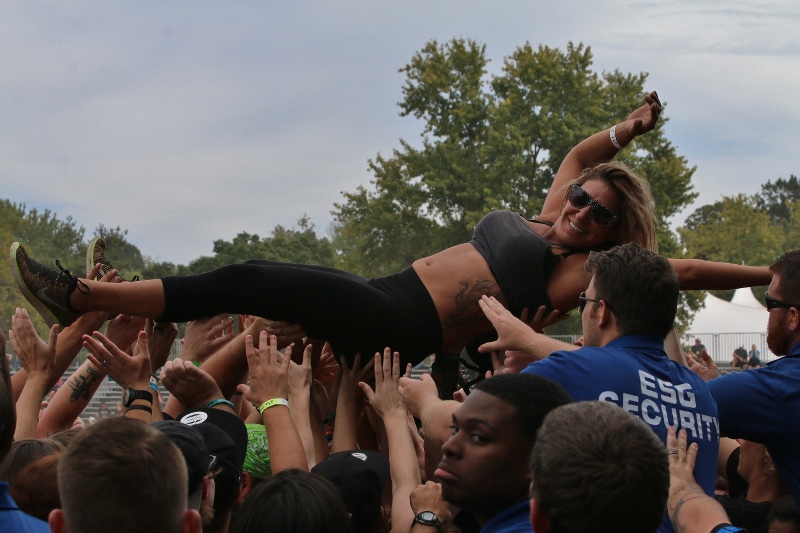 Day Two of the festival again, started off with a bang. I love seeing young bands that I have never seen before, and today was a great day once again for that. This was first time seeing GRETA VAN FLEET, and I was completely blown away. A very young, almost androgynous looking band, (I honestly had to take a second look…) who sound like a mixture of vintage LED ZEPPELIN, and any number of early 1970's style bluesy, hard rock. Brothers Jake, Sam and Josh Kiszka prove to be a real family affair as well as a very tight unit. Their brief, five song set kept many of us wanting more, but still, it was a terrific way to start the day. I will definitely be seeing them again.
BEARTOOTH, who followed on the "Monster Energy" stage, woke up the crowd surfers from their early hibernation. Opening with "Body Bag", it was a great metaphor for all the surfers being pitched over the barrier, wild looks of excitement on their faces as they were herded back into the crowd by an aggressive and busy security crew. Singer Caleb Shomo grinned and grimaced throughout BEARTOOTH's set of metalcore and madness, thoroughly enjoying the chaos he and his bandmates helped create. "Rock Is Dead" was like an anti-anthem from this band from Ohio, and their fans reacted positively, to everything that was dealt their way.
Some mid-afternoon sets from NOTHING MORE and FALLING IN REVERSE were well received and both bands feature very intense lead vocalists. NOTHING MORE vocalist Jonny Hawkins I have described as a latter day Jim Morrison. His shrill vocals sound nothing like "The Lizard King" but his frantic stage presence and his Adonis-like muscle tone make him a must see. His bandmates are all very accomplished musicians, and their stage props and drums are a sight to see, but all eyes are really on Hawkins throughout the set.
FALLING IN REVERSE vocalist Ronnie Radke is a maniac and prowls the stage like an animal hunting its prey. "Raised By Wolves" midway through the set was a perfect title for Radke to perform, and FIR and their frantic fans were pleased with their seven song set. After missing most of the bands on the "Zorn Stage", which was on the other side of the festival, I decided to make may way over there, indulge in some of the fantastic food offerings and check out the faces in the crowd. Speaking of crowd, Day 2 seemed to be a bit less crowded than Day One of the festival, but by late afternoon, it seemed to fill up considerably.
Naturally, since I was 'in the neighborhood," I decided to check out sets from two of the best female-fronted acts on the circuit, LACUNA COIL and IN THIS MOMENT. The "Zorn Stage" crowd packed in to see Italy's LACUNA COIL who, bedecked in white outfits smeared with blood and messages rocked their fans with a brilliant, but brief six song set. Lead vocalists Andrea Ferro and the lovely Christina Scabia are a very entertaining duo. They balance and take turns on the vocals of their style of "Gothic Metal" and focused on their latest release, 2016's Delirium, of which four of the six songs in the set were from. Highlights for me and other fans, included an excellent version of "Blood, Tears, Dust" as well as the set closing "The House Of Shame".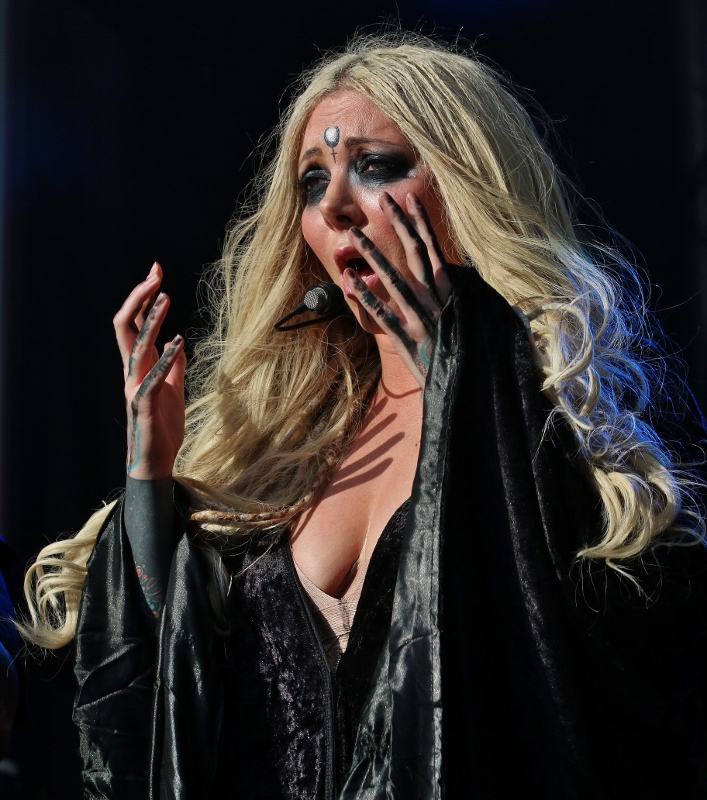 IN THIS MOMENT and their elaborate stage set followed. The stage techs worked like a fine Swiss watch, and most of the acts throughout the weekend on all three stages were right on time. As the sun started to set, ITM's curtain dropped and, clouded in fog was a large podium bedecked by two backup dancer/singers draped in black robes and sporting whiteface with large black crosses adorning them as well. Through a curtain glided the sultry singer Maria Brink, also sporting a black robe as well as a golden crown. She crooned her way through a set that started with "Salvation", the opening track from their new release Ritual and the crowd ate it up. Plenty of costume changes and theatrics are the norm for this band, as well as scary makeup and stage props. Ending their set with "Whore", IN THIS MOMENT was a great choice to finish things up on the "Zorn Stage" for the weekend.
STONE SOUR just explodes onstage. With the cover art from their new release Hydrograd as a backdrop, they came out smoking on the "Loudmouth Stage" and blasted out the first three tracks, "YSIF", "Taipei Person/Allah Tea" and "Knievel Has Landed" like they were showing off new toys that they got for Christmas. They fire as a unit collectively. Singer Cory Taylor is the main focus and he is everywhere, even jumping onto the adjoining "Monster Stage" at times, a ball of energy and emotion, clearly having the time of his life. Bassist Johnny Chow is the backbone, thumping out the heavy low end and providing the sonic thud that the rest of the band, guitarists Christian Martucci and Josh Rand, and the extraordinary drummer Roy Mayorga, build upon and bring to a boil.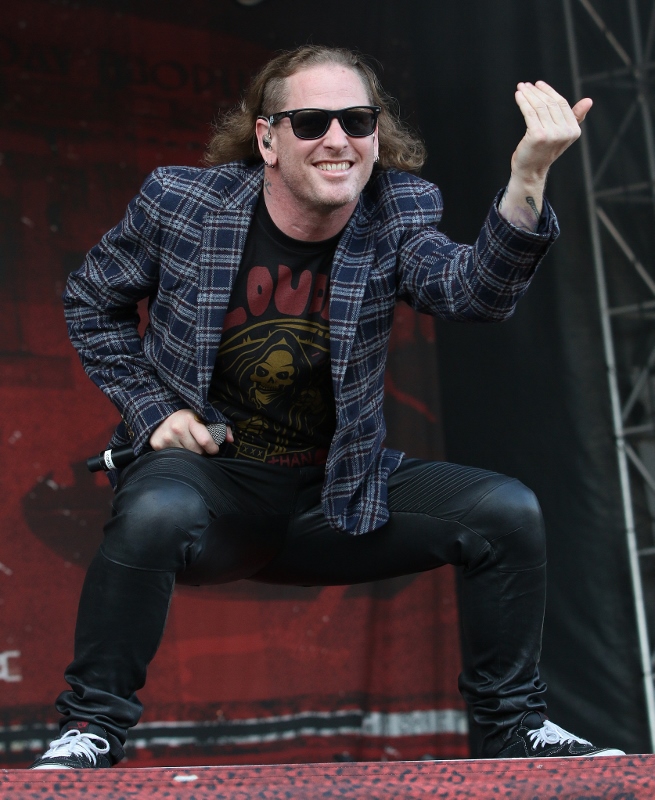 STONE SOUR's nine song set could have gone on all night as far as I and many in the crowd were concerned, it was that enjoyable. The entire audience at the festival were psyched and enthralled as they were pummeled again and again. Taylor is at one with his fans. It's as though he is making eye contact with every one of them. He truly has that gift. By the time STONE SOUR ended their set with "Fabuless". I was exhausted from the amount of adrenaline I had overdosed on. Truly, a great performance from a great band.
And the adrenaline kept flowing as RISE AGAINST followed with a brilliant set. Opening with my favorite song of theirs "Ready To Fall", it was "On like Donkey Kong" as the say, with an extremely up-tempo and pleasing set. Band members spent the set moving about the stage, switching microphones and mugging for the crowd as they rocked their fathful fans. Singer/guitarist Tim McIlrath even jumped offstage onto the barrier to get closer to the fans, much to the chagrin of the security crew, who obviously had their hands full all weekend. They finished the set with probably their biggest hit "Savior", which the weary but still lively crowd loved and happily sang and danced to.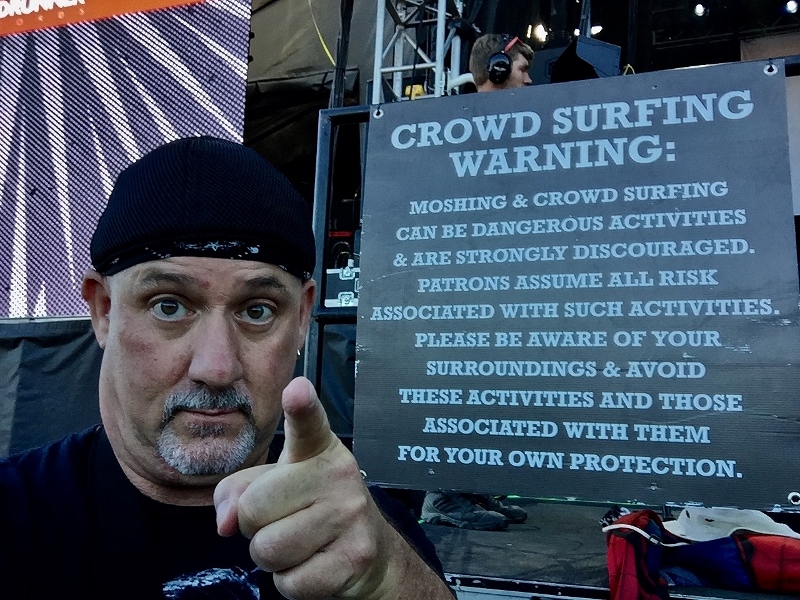 INCUBUS, up next on the "Loudmouth Stage," was like the after effects of a few bong hits after a constant adrenaline rush all weekend. Their spacy blend of rock and ballads put a new spin on things with a handful of hits including radio staples "Pardon Me", "Drive" and "Nice To Know You" and the lighters came out and the crowd surfers rested for sing-along songs like "Stellar" and "Wish You Were Here" which included a nod to the PINK FLOYD classic of the same name. Singer Brandon Boyd looks at all times like he is in a trance, and with INCUBUS' stoney-edgy style of rock, it's easy to be in that frame of mind. As I looked around the crowd, I noticed that he was not alone in this particular state of consciousness.
The final act of the weekend was the Hip-Hop rock "Supergroup" PROPHETS OF RAGE, who basically stomped on the mellow stoner groove of the pervious band and kicked it right in the nuts. A combination of three members of RAGE AGAINST THE MACHINE (guitarist Tom Morello, bassist Tim Commerford and drummer Brad Wilk) as well as PUBLIC ENEMY voice Chuck D and CYPRESS HILL member B-Real fired up the crowd immediately, with RATM classics like "Testify" and "Take The Power Back" as well as PUBLIC ENEMY's "Prophets Of Rage" which opened the show. It was a lot of fist pumping, "fuck dis, fuck dat" bravado going on, just like many hip-hop shows, but this time backed by a great band. Morello provided as much power as the two rappers onstage with his dive-bombing style of guitar prowess. And interesting turn was the inclusion of the band's tribute to Morello's AUDIOSLAVE band member, the late singer Chris Cornell, with an instrumental version of "Like A Stone" that the fired up LTL crowd sang.
POR then brought out RISE AGAINST members Tim and Zack to help out with the classic MC5 number "Kick Out The Jams" before gliding into some classic CYPRESS HILL and RAGE AGAINST THE MACHINE numbers like "How Could I Just Kill A Man" and the always awaited "Killing In The Name Of" that blew the roof off the place. And that was a great rowdy way to finish off a great weekend. Plenty of diverse acts, food, and drink. People from all over coming together in this beautiful setting to enjoy a few days of fun and music. "And nothing BUT fun and music." Sound familiar, Woodstock fans? I look forward to next year's event. My thanks to Danny Wimmer presents, and all that made this great event possible.
Check out some more photos from the show!
All Photos By Junkman
Please log in to view RANTS