Far Beyond Metal #2: Shadows Fall, Cradle of Filth, Life of Agony

By Chris Hawkins, Contributor
Wednesday, October 29, 2003 @ 1:40 PM

| | | |
| --- | --- | --- |
| | | Something Old, Something New, |
In the Pit with Shadows Fall and Sworn Enemy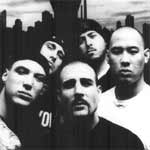 Since the last edition of my Heavy Metal-induced ranting, much has happened in the world of mosh pits and hearing loss. There have been some amazing shows this summer as well as new releases, making this an extremely important time for fans and bands alike. Strapping Young Lad, Lamb of God Lacuna Coil, Hatebreed, and so many more decimated stages across the country while Nu Metal has-beens with corporate sponsors pretended they were still "cool." The road warriors of the summer definitely had to be Shadows Fall. On June 21st I got a chance to see New England's Kings of Metal with Sworn Enemy in Raleigh, NC. First, let it be known that Sworn Enemy delivered a pummeling set showcasing the fine art of New York Hardcore. In the tradition of Agnostic Front, Biohazard, and countless others before them, the band ravaged the audience with an intense performance of rage-filled breakdowns and blast beats. Sworn Enemy proved that simplicity is often best. The audience never escaped from their grasp, incited by their musical call to arms. It was futile to avoid the pit. It would become your home! Their closer, "Sworn Enemy," caught the best response from the crowd as they joined the band in chanting its namesake while playing Pantera's mosh-moment, "Domination." (See below for live Sworn Enemy photos!)
Enter Shadows Fall. I literally bumped into lead singer Brian Fair before they were to take the stage. He informed me that they would be playing without their bassist, Paul Romanko who was ill. Such tenacity is what being in this community is all about, and bands would do well to take note of Shadows Fall's dedication to their fans. Their set was not hindered by the lack of bottom end. Though it was audibly noticeable the bass was absent, the remaining four members played on 10 both in energy and musicianship. It is nothing short of amazing to witness the dueling guitarists perform classics like "Crushing Belial" and soon-to-be classics like "Stepping Outside the Circle." While the band shredded though most of their catalog, singer Brian Fair led the audience to sing, mosh, and band their heads along. It was truly a night of energy for all to witness. What could have resulted in a cancellation, proved to be a success. (See below for live Shadows Fall photos!)

Cradle of Filth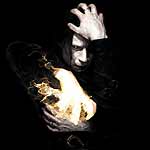 As the summer has begun to wind down to make way for fall, the Metal has not stopped yet! The proposition of a Cradle of Filth headlining show in the area was met with much anticipation. I must admit that Damnation and a Day has remained one of the year's best to me due to its infectious blend of a more aggressive Cradle of Filth returning to their darker roots. The show was to be held in Wilmington, NC at Marrz Theatre, one day before the Ozzfest show in Charlotte. Sworn Enemy, Killswitch Engage and Shadows Fall were slated to open, setting the night up for a potentially killer show. Upon arriving at the club, I was met with a sign on the door stating that the "Cradle of Filth show has been cancelled… Band a bunch of dicks." Though it was still early, many fans were already turning out, rightfully dismayed at missing NC's first chance to see Cradle of Filth. Some had forfeited the next day's Ozzfest in order to see a showcase of the more extreme bands hopefully playing longer sets. The general atmosphere was definitely shattered with disappointment at the lack of explanation, and more so, the lack of Metal. Luckily, I was able to meet up with Cradle of Filth later on, and it must be said that they too were extremely disappointed that the show did not happen. Guitarist, Paul Allender graciously welcomed us aboard the Filth bus where we chatted about all things Metal and Filth. As can be expected, the first matter to be addressed was what happened with the show scheduled for this evening. Paul provided a full explanation: "We signed a contract with the club that it could accommodate 750 people. When we got there and unloaded all of our equipment, we could barely fit. The sign on the wall read, 'Fire Capacity: 299.' There was no way we could risk the safety of our fans. We all know what happened with Great White. In this place, people would have been crushed, however many would have actually been able to fit. The fire marshal would have shut the place down, and any catastrophe would have been on our shoulders. We apologize to those who missed us and hopefully we'll be seeing them soon." It must be noted that all who purchased a ticket were given a refund (over 700 had purchased tickets in advance!). It seems that all parties lost in this situation.
Moving on to Damnation and a Day, an album that has been out for just a few months, it must be said that the guitarist is still quite happy with the results. Upon first listen, I noticed the album was closer in atmosphere and arrangement to Dusk and her Embrace than any of their recent works. Paul agrees, "That was intentional... completely. I wanted a heavier record, and a darker record. I actually wrote Vempire and Dusk and her Embrace before leaving the band. Originally, they were one complete album." Midian contained some killer tracks, but did not have the fluidity of past efforts. According to Paul, "I wanted that darkness back. It definitely is more riff-oriented, and we wanted the songs to flow through the album. Martin actually wrote four or so of the songs." With the tracks flowing seamlessly together, Damnation and a Day flourishes with a cinematic-like quality as if the motion picture industry and Black/Death Metal were strangely coupled together. Aiding in the success of the album is a killer guitar tone, once that is immensely saturated in Black Metal fury yet polished with sophisticated clarity. As others, namely Zakk Wylde have proven, simplicity can often offer the best results, "I just plug straight into a Mesa Boogie Dual Rectifier. There are no hidden gadgets or racks of effects doing it. It's just the amp." The formula definitely worked for Damnation and a Day turned into 2003's blackened soundtrack for the apocalypse! Cradle of Filth has always subscribed to the British tradition of twin guitar player bands. Like Maiden and Priest before them, their metallic strength has always been enhanced by utilizing two heads instead of one. Though they have had numerous lineup changes for the heralded position, they have continuously forged on without sacrificing quality. Paul, having been in the band during their formative years and returning a couple full-lengths ago, is focused on the future yet ready to see who will be the final selection for his band. Currently, they are on the road with a session player who may gain that spot. Paul comments that, "He's a great player, but we still have yet to see how he writes. That is such an important part of being in the band. All of us contribute and write, and I think it works better that way. We'll see what happens." Regardless of the circumstances, Cradle of Filth, as always, stay hard at work. Paul, in fact, has a mini-studio that accompanies him on the road. While fans should be pleased at the media blitz, a high-profile trip with Ozzfest and the "Mannequin" video premiering on the Metal video shows, there is now officially even more to look forward to. A new DVD is in the works to be released later this year or early next year. In the live arena, Cradle of Filth will be returning to American shores soon for one of their most anticipated tours yet, a trek with Type O Negative this fall. As with their recent tour, they will be playing selections from all their albums.
Many bands with such a long tenure seem to redirect themselves to newer material (newer material often commercially watered-down or "artistically" confusing), but not Cradle: "We like to play it all. The older stuff is still as exciting as when we wrote it." This is evidenced by the next day's performance at Ozzfest. The band saved the best for last with their rendition of "Cruelty Brought Thee Orchids," a track that never tires and has remained a crowd favorite. Without too much negativity toward some of Cradle's more commercial touring partners on the Ozzfest, the band stood out from the rest, delivering the most energetic and bludgeoning performance of the day. The chaos of everything going on during their performance (dancers, acrobats, etc.) was reinforced by a band tightly rehearsed in replicating their Metal live. "Ebony Dressed for Sunset" signaled what was to come, closing the second stage with their classic from The Principle of Evil Made Flesh, "The Forest Whispers My Name." As Dani beckoned the females in attendance to throw him their bras, the band commenced into pure Black Metal mayhem shredding through the most fitting closer and burning their infernal imprint upon the masses that were finally granted the chance to see them live. It was definitely a Metal highlight to meet and witness the live show of Cradle of Filth. Though a headline show failed to transpire due to an altogether unprofessional deal on the club's part, Cradle of Filth stands tall above the controversy as five guys who simply want to deliver their Metal to the masses. Be sure to look out for their dates with Type O Negative coming soon as the band will surely kick ass during the upcoming autumn months of cold air, dying leaves, and Metal!!!!!

Essential Old School

Life of Agony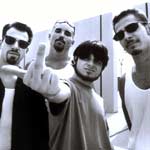 Having been silent for quite some time now, it's good to hear Life of Agony has returned as its original self. After the replacement of frontman Keith Caputo by Ugly Kid Whitfield Crane, LOA seemed to fizzle out with members going on to various other projects. Some may question labeling this as "essential," but hear me out. River Runs Red came out in '93, and propelled Hardcore/Metal/Crossover/Whatever-you-want-to-call-it to new levels. Is it any surprise, though, that such a band should come from Brooklyn, home of Biohazard, Cro-Mags, Carnivore, and countless others? Perhaps not, but these four guys managed to blend the heaviness, urgency, and aggression of said style with emotional lyrics, songs that demanded attention and reverence. Life of Agony returned earlier this year for a pair of sold-out shows at Irving Plaza in NYC where their new 2-disc set, River Runs Again: Live 2003 was recorded. Production-wise, the 2 discs reflect a true live show. Mistakes are few, but audible and welcome, reminding us that this is truly "live." The excitement of the opener, "River Runs Red" (perhaps their most memorable track to date), is hard to ignore. Joey (guitar), Alan (bass), and Sal (drums) blaze through the song, while Keith recreates the magic of it all vocally: "As I bleed on through the night… I'm supposed to be dead by the morning light." A fitting follower also comes from their debut (and strongest) album, by way of "This Time." There are parts, however, where the old tactic of handing the mic to the crowd is used, making me question whether Keith is simply out of breath or just not sure of his vocal range. Disc 1 captures many of the bands musical highlights, the strongest of course being from "River Runs Red." "Method of Groove" featuring Biohazard was definitely a surprise, and one can only imagine how much chaos ensued in the pit!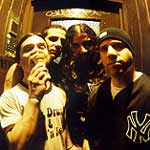 Disc 2 continues on, showcasing a band not tired, but feeding upon the energy of a sold-out crowd. A moment of silence to those affected by 9/11 is the perfect intro to "Lost at 22." The momentum dies for a bit toward the middle where we see Keith Caputo performing "Let's Pretend" acoustically. I'm sure some enjoy(ed) it as you can hear the song being sung by the crowd with him, but it just slows things down a bit too much for my taste. The last three tracks, "Underground," "My Eyes" and "Through and Through" regain the energy from earlier in the show and end it on a perfect note. Though it's clear that Keith's vocals are suffering from an 18-song set by the end, Life of Agony gave the fans everything they wanted to hear. The 2 discs feature almost all of LOA's better material, though some parts tend to drag. The inclusion of certain songs from their last album, "Soul Searching Sun" seems to contrast starkly to the more aggressive nature of their earlier material. River Runs Again… is definitely recommended, though, for fans of LOA, and fans of Heavy music in general. In fact, much of the emo(tional) core that has flooded the scene as of late would not exist were it not for LOA. They brought emotion to the groove of Hardcore long before many of these bands graduated high school! The question left burning in my mind, though, is where will Life of Agony go now? Hopefully, this wasn't a one-time reunion, and hopefully, they will stay true to "River Runs Red." That's my two cents.

Turning Heads

Grimfist
It was with great sadness that I heard of Immortal's demise. Immortal was a band that always stayed true to its roots, yet somehow managed to redefine their heaviness with each progressive album. All hope is not lost, though, for Immortal's drummer, Horgh has teamed up with vocalist Frediablo (of Gorelord and Wurdulak) and guitarist Ole Walaunet(of Deride) to form Grimfist. Add producer (and Hypocrisy front man) Peter Tagtgren, and the result is a violent Scandinavian attack on the senses as evidenced by their debut "Ghouls of Grandeur," soon to be out in the U.S. through Candlelight Records. The production truly allows the band to shine with the guitar being fatter than most of Black Metal's razor thin efforts. It is always a mark of good production as well, when the bass drum causes your speakers to crackle! The pure speed of their roots has been coupled with a newfound, dare I say, groove??!!?? Such a thought would have been scoffed at a few years back as Black Metal and Death Metal musicians seemed to stay as far apart from each other as possible, but it's a new century. Grimfist exemplify Metal's highest moments alternating between early Slayer's Thrash aggression, and the pure genius of early '90s Black and Death Metal. It is truly an enjoyable ride throughout the disc as songs like "A World of Wrath," "Obsession" and the title track conjure thoughts of days gone by such as first listening to Sepultura's "Arise" or Entombed's "Left Hand Path." What was old is new again, and such is the way with Metal. Grimfist achieve their ghoulish grandeur by molding their extreme sound with a strong foundation of Old School tribute. The end result is a disc that will be more accessible to those less familiar with the Norwegian scene, and at the same time, a beer-raising toast for those who have long followed Immortal, Emperor, and the like.

Mastodon

One of the hardest working bands around is definitely Mastodon. Hailing from Atlanta, this quartet has toured virtually nonstop across the world since its first full-length, Remission, was released in May of last year. Drummer Brann Dailor gave me a ring recently to fill me in on the latest with the band.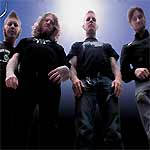 Some may recognize Brann and Mastodon's guitarist, Bill Kelliher from their former band, Today is the Day. While the band wants to remain a distinct identity in the underground scene, their former band is not a bad reference to have! Brann states, "I'm definitely proud of the stuff I did with Today is the Day… I don't really talk to Steve [Austin, guitarist/vocalist/mastermind of Today is the Day] much anymore, which is really a shame, but if Today is the Day is an avenue for people to get into our band, I welcome it." While the music is definitely more accessible, even listen-able than their former project, Mastodon is definitely not commercial. "We definitely write with a Progressive Rock mindset, but we want to fill it with the more Rock stuff, the meat and potatoes." That Pure Rock vibe comes across throughout Remission. As parts of the album hit full force on 11 with intricate time changes juxtaposed to expertly-crafted chords, others meander into the melodic sublime. The end result is the peaks and valleys of an original recording full of life and energy. Perhaps that end result can be accredited to four like-minded individuals with similar tastes, and a similar ambition to explore the sonic realm. Brann offers, "When we got together… it was Neurosis, The Melvins, Judas Priest, Iron Maiden, Black Sabbath, The Jesus Lizard… we were all into those bands."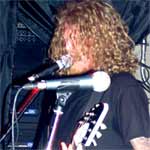 One key element to the originality of Mastodon is Brann Dailor's unique drumming style. "I started out when I was 5 or 6 years old," the drummer states. "My stepfather and uncle were both drummers… then when I was 15, one of my friends played guitar so you can see where that's going. We started playing Thrash Metal and it just went from there." It is definitely hard to pigeon-hole his style, though. While some drummers seem to constantly rely upon the predictable bass/snare formula, Brann functions as both "rock drummer" and "percussionist" keenly knowing when to venture off into experimental excess and when to keep it in the pocket. "I've always wanted to be a drummer that's recognizable. I like Phil Collins' stuff in early Genesis, Bill Bruford with King Crimson, and of course Dave Lombardo. You always know when it's Dave. That's what I'm going for. I try to play something different every time I play these songs." Brann plays on Fiber drums, a company out of Austin, Texas, and is anxiously awaiting his new custom kit, "I'm getting Randy Rhoads drums! They're black with white polka dots. Randy Rhoads' face is going to be painted on the bass drum." Mastodon is definitely generating a sizeable buzz around the Metal community. Touring non-stop is the formula this band subscribes to: "We take the old Metallica approach, to just tour." It seems they are aptly following in Metallica's footsteps for they have been everywhere from the U.S. to Japan, to…Iceland? "Iceland was great. There are glaciers, geysers, volcanoes… it's like a different world. The whole country only has like 300,000 people, and the capitol we played, Reykjavik, is only 80,000. The kids there had such a hunger for it. They just wanted to be entertained." In order not to be "snobbish rock stars," Mastodon makes it a point to meet and greet fans at all the shows. "We did a record signing at this record store in Memphis. They had a bunch of CDs to give away, and they were playing us the whole time. As soon as we got there, I called it. This was going to be Spinal Tap [laughs]. Sure enough, 8 people showed up. Why would the kids go to the record store 2 hours early, though, when they knew they could chat with us at the show anyway? We'll drink beer with the last of the fans every night until the place shuts down. We don't want to be one of those bands that just stay in their dressing room and are whisked away to some hotel. That's not us." It's always a plus to be able to do what you truly love, "We prefer to play. This is our job. It's not like we have awesome jobs that would keep us home." The question is, though, how are Mastodon able to come up with songs filled with so many different elements yet tied together by the common thread of Metal? My theory was a result of a band that loves to simply jam. Brann replies, "A lot of people say that. Some songs come from that. Others, I write or Bill writes. It's not one formula. We all love to just play." That is truly what it's all about. For those of you who still haven't picked up a copy of the bands latest, Remission, Relapse is set to re-issue the disc with a bonus DVD of live tracks. Also, be sure to check out Mastodon on the upcoming MTV 2-disc Headbanger's Ball sampler. The band is currently in the studio writing the next record, Leviathan, an album that Brann promises will outshine the last. There is much to look forward to on the horizon for Mastodon as this band will continue to cut new paths out of this genre and dazzle the senses in the process! Here are some photos (by Chris Hawkins):

Sworn Enemy

Shadows Fall
Please log in to view RANTS