This may well be the comeback of the year. THUNDERSTICK's new album Something Wicked This Way Comes has been showered upon with outstandingly good reviews and the band's main man, Thunderstick himself – NWOBHM legend, ex-IRON MAIDEN and SAMSON drummer as well as solo artist in his own right – has been busy giving interviews to rock media all around the world.

Barry Graham Purkis, that's the name of the artist behind the mask, was IRON MAIDEN's drummer from 1977 to 1978, at a time when the band was still in the process of finding itself. As the masked drummer Thunderstick he became the faceless "New Face of Heavy Metal", as the British magazine Sounds called him in the December 1979 issue. Together with bandleader and guitar legend Paul Samson, bassist Chris Aylmer and singer Bruce Bruce (none other than Bruce Dickinson), he was at the very epicentre of the movement that would be called the New Wave of British Heavy Metal. After leaving SAMSON, he founded his own band THUNDERSTICK, which went through several metamorphoses until 1988. The artitistic concept of the band was inspired by acts like Rocky Horror, Alice Cooper and the like and is based on the timeless aesthetics of the beautiful and the beastly.

All this is reason enough to phone up the man behind Thunderstick's mask, Barry Graham Purkis, and ask him about his band, the new album, the days of the NWOBHM, rehearsing with Steve Harris, the legendary SAMSON and the possibility of hitting the road in 2018.
KNAC.COM: You've been busy giving interviews and have been receiving outstanding reviews of your album. You must be very pleased.
PURKIS: Hi Daniel, to be honest, I am overwhelmed. The positive feedback has been enormous, it has exceeded all our expectations. I have just seen we received nine out of ten on a website called Bravewords and another outstanding review on Hotmetalonline. The reaction we're getting is very, very humbling. This is really touching and I mean it.
KNAC.COM: Something Wicked This Way Comes is the first full-length THUNDERSTICK album in 33 years. What made you record it?
PURKIS: Well, last year I received notification from the States that my one time partner and vocalist in THUNDERSTICK throughout the eighties, Jodee Valentine, had died at the age of 55; it was not just that she had died but I was informed that she had been living in an assisted care home for 5 years suffering from early-onset Alzheimer's. The guy that told me this was a musician himself volunteering at these homes. When he found out about her past with me, he bought the remastered album that I put out in 2011, Echoes From The Analogue Asylum (this album being a retrospective look at the material that I had recorded with Jodee). He played it to her and according to him she didn't recognise her own voice. That really upset me…. it started me thinking about the material that I had written back then that had never seen the light of day. These tracks had been part of the live set and had been recorded as demos but had never had official release. The more that I thought it over the more I thought that it would be a fitting 'homage' to Jodee. The die was cast.
KNAC.COM: How did you find your new singer, Lucie V?
PURKIS: Lucie came to me via a guy at the studio we were going to record at. He, on my asking, let different record shops and music stores know that I was on the lookout for a vocalist. I was doing the self-same thing around my immediate area. Then one day he phoned me up and said: "I've been approached by this young lady who was in a music shop at the same time my guy had called to tell them about my search for a singer." She then auditioned for me. I had a list of three potentials and what I found pleasing about Lucie was that she didn't sound like Jodee. I didn't want to take on a carbon copy of Jodee because Jodee had been the voice of THUNDERSTICK throughout the eighties and this was a project for now, so someone that has a different voice fitted perfectly. Lucie has a smoky blues voice and it's been perfect for the new THUNDERSTICK material.
KNAC.COM: And how did you find the other musicians on that album? Had you worked with them before?
PURKIS: With Dave Kilford I had. Dave was with me in 1987 and likewise for him, he had played the material on numerous occasions but had never actually been with me to record and put it out. So it was great thing for him I was able to phone him up and say, look, after all this time, we are gonna put it out. We're gonna put it down and we're gonna release it! And Martin [Shellard], the other guitarist, came through a friend of mine. He was living in Wales and he has done a hell of a lot. He mainly does tab writing, which is where a guitarist will take various bands' material and will translate it into guitar music, so that anybody else can pick it up and be able to play it. The bass player [Rex Thunderbolt] came about in a very strange way. Steve Harris was out with BRITISH LION, his side project from IRON MAIDEN, he played local to where I live and the following day I received a Facebook message from a guy saying: "I was standing behind you at the bar yesterday when we went out and saw Steve Harris." I got on to his Facebook page and I saw that he was holding a bass guitar. We started talking, one thing led to another, we had a play together and that was it, I had the band.
KNAC.COM: You played with Steve Harris yourself in IRON MAIDEN from 1977 to 1978. What was the band like in those days, what was the music like?
PURKIS: The music was exactly as the material on the first two albums. I mean we would be doing stuff like "Sanctuary", "Charlotte The Harlot", "Transylvania", "Prowler" and other songs. The band was still trying to find itself and by that I mean that Steve had not really formulated the definitive line-up he wanted. In actual fact, when I was with IRON MAIDEN, we also had a keyboard player. It was very much work in progress. The things that stood out for me about Steve was that I had quite obviously been used to rehearsing with bands in getting a band ready for gigs, etc. But I had never just worked out purely the bass and drums and that's what Steve used to do. He used to come to my house where the kit was and we would run through bass and drum parts and make them really tight and precise. And that was the first time I had ever come across that kind of working and I would imagine that's very much the way that he and Nicko work these days.
KNAC.COM: There's a YouTube channel called The Legacy Project where people can listen to snippets and bits of IRON MAIDEN's rehearsal recordings. It says that you are the owner of these recordings. How much material is there actually?
PURKIS: There is a reel-to-reel and I would say there are twelve songs on it. Obviously, it's not something that I could ever release. Although I own the tape and I own my performance on it, I don't own everybody else's performance on it. I've had IRON MAIDEN aficionados and collectors who think it's an IRON MAIDEN Holy Grail [laughs] and perhaps it is but it's not something I could ever put out, unless Steve Harris wants to buy it off me. That would be great. Or I could sell it at an auction as a rock memorabilia. But it's funny because for many, many years MAIDEN maintained the earliest recordings of IRON MAIDEN were The Soundhouse Tapes, but obviously I completely disproved that by the fact that I have this reel-to-reel tape recorded in 1977.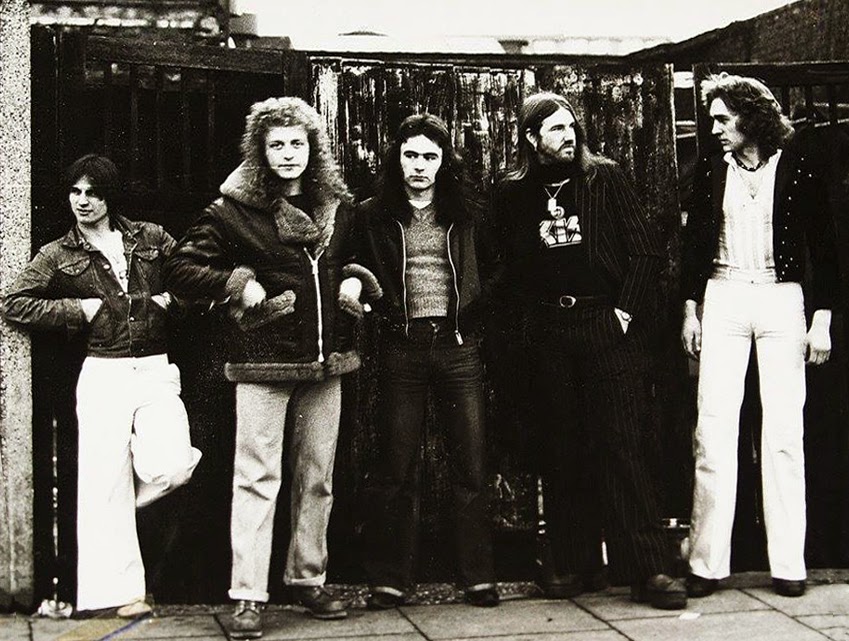 KNAC.COM: Are you still in touch with Steve Harris?
PURKIS: Erm … no [laughs]. Well, I said no but it was a pleasure to go and see him. He played down here where I live just before Christmas last year and it was really nice to see him again and he was somewhat gobsmacked when I walked through the door, he went "oh my God!!!" It was quite nice. But the world he moves in is very, very different from my world. It would be great to say yeah, but I don't think that many of the ex-IRON MAIDEN members are bosom buddies with Steve. I mean, it's all because of circumstances, you know, it all moves in a different area.
KNAC.COM: When did you turn into Thunderstick and what was the idea behind the creation of your masked persona?
PURKIS: Well, back in the day, when I first started playing, there was no social media, there were no DVDs, there were no CDs, there were very few VHS, as a matter of fact, there was no MTV or anything such as like. The only thing that music followers could get would be music publications. Some of them were very much like newspapers and would come out weekly and then there were others that were like a fanzine type of thing with a nice glossy coloured poster of the band in the middle. And that poster would show the guitarist up the front, strutting his stuff alongside the singer and then you could see at the back of picture a row of cymbals and a lot of hardware and the top of somebody's head. And that what how most of the record-buying public perceived drummers to be within a band. Obviously, there were exceptions to the rule, I mean Keith Moon and John Bonham and people like that. But for the most part the drummer was a faceless entity within a band. The more I thought about it, the more I wanted to create a faceless drummer and that's what I did. I couldn't give him a name using my own name, Barry Graham Purkis, it would have been a bit strange, and so I came up with the name Thunderstick, which was also symptomatic of the way I would play, so there you have it. And the next step was for me to play inside a cage, which is where most drummers should be [laughs].
KNAC.COM: You ended up on the December 1979 issue of the British magazine Sounds. How did people react to this and how did people react to seeing a masked drummer in a cage live?
PURKIS: It's strange, there are two stories I could tell you about that. One of which is that there was a guy who used to come and see SAMSON regularly and I got to talk to him way back and he said, you know, the only thing I found really frightening about your image was the fact that IRON MAIDEN's Eddie didn't exist, Eddie was a fictitious character, whereas the Thunderstick thing was a lot more in the face and a lot more horrific due to the fact that it was a living, breathing person. And of course, on stage we would play up to it as well. We had a section where I would break out of the cage and all the lights would go out leaving three strobe lights and I'd run down to the front of the audience. They really did recoil back because it was something really quite scary for them, pretty full on having this masked lunatic baring down on you whilst illuminated by strobes.
The other story is slightly more sinister and for the moment, best left in the past - but will be included in my book! The Thunderstick character was never formulated with the intention of belittling or undermining anyone in any capacity. He was/is, something that is larger than life. There was nothing dangerous about him at all.
KNAC.COM: Talking about SAMSON, the early days with Bruce, were you actually aware that you were in the very centre of something called the New Wave of British Heavy Metal that would have such an impact on generations of bands and fans alike? Were you aware that you were writing music history?
PURKIS: Yes and no. Yes in as much as that immediately prior to the emergence of the New Wave of British Heavy Metal we had punk. Punk had taken hold of virtually everything in this country – fashion, record companies were signing punk bands. Then there were the bands themselves, the promoters would just only book in punk bands – and so for many years whilst punk was at its height, there were a lot of bands that were really sort of pushed underground, that couldn't get gigs or anything like that. And these were the bands that learnt how to play. I'm not being disrespectful to punk cause the ones that survived were ultimately the ones that had learnt how to play their instruments but there was an awful amount of bands that were quite terrible as well, that really just thought all they needed to do was get on stage, make a noise and spit on people. But a lot of the rock musicians really took themselves seriously because they had grown up listening to prog rock and stuff like that, so they had learnt to play their instruments. As this emergence of all these different bands from all over the country started happening, we were aware that there was a movement there, definitely. But in no way did we ever think that it would be looked back upon with reverence as it is these days. It is quite incredible that, you know, that era has been spoken and written about so much now. It was a special time.
KNAC.COM: Have you got a favourite SAMSON song?
PURKIS: Well, I like different songs for different reasons. I think the one that has lasted the longest was probably "Vice Versa", because it's different, it's not in 4/4, it's in 6/8 and it gave me a chance to show my flamboyancy in the arrangement. But then again I like simple stuff like "Earth Mother" and stuff that's really different. I like them for different reasons.
KNAC.COM: I found that one track on your new album, "Don't Touch I'll Scream" has a very similar feel to "Vice Versa" because it's also in 6/8. Did you have "Vice Versa" in mind when you were writing it?
PURKIS: Yeah, I did. I liked playing that because it's a nice time to play in, that's exactly the reason why I did come up with it. I wanted my own "Vice Versa" and "Don't Touch I'll Scream" was just that.
KNAC.COM: It's been 17 years since the last SAMSON show ever, which was at the Wacken Open Air in 2000, which was huge. Do you often think back to this show?
PURKIS: Yes, it was huge. At the time it was just something special well because it was an amalgamation of two SAMSON styles meeting, if you forgive the pun, head on. After Bruce and I had left one after another and in different ways, Paul drafted in Nicky Moore and the band became far more blues-orientated in their arrangements whereas with Bruce and me it was more of a sort of flamboyant band. It didn't actually rely upon a specific style. We had all kinds of things thrown in. When I left and when Bruce left, Paul found his own niche and he was very happy with that line-up. It was a line-up that was very secure in their own identity and what have you. So when we did get together to play Wacken as I said, it was a mixture of those two styles. There were tracks that we were doing that Nicky had never sung before and then obviously there was material that I had never drummed on before, so it was really special. And for the fans that came up to us after we played and said "you know what, I've waited so many years to see this band" it was very pleasing.
KNAC.COM: Coming back to your current band and your new album, are the any plans to on tour with your new line up to promote the album live?
PURKIS: I dearly want to, yes. There are two things that are obviously quite important. One of them is finance. With THUNDERSTICK as it existed in the 80s, I tried to put on as much of a show as I could and I still would want that within this band because it just cries out for that, the kind of 'beauty and the beast', having a female vocalist, which was quite different. When I did put then band together and included a female vocalist, there certainly weren't many bands around that were doing that. Yes, there were females in rock but they had their own bands. There was ROCK GODDESS and GIRLSCHOOL and VIXEN and that sort of band but there weren't many male bands with a female vocalist. So yes, I would love to put that sort of show on and I think what would be perfect for THUNDERSTICK would be to get a support for a largish band but it's all down to finances. We know that buy-ons do exist. It's not a great rock 'n' roll world where everything is given to you if you're good. So it is all down to finance more than anything else but I will endeavour to put it together though not this year we are far too late but 2018 beckons. With the reviews I'm getting on this album we really do need to get out there to thank everyone for their support – THUNDERSTICK is once more very much alive and kickin'.
KNAC.COM: Thank you for your time, Barry.
PURKIS: That's great, thank you, Daniel.
THUNDERSTICK's album Something Wicked This Way Comes can be ordered HERE.