Exclusive! DJ Will's Interview With The Spookmaster Himself, Rob Zombie

By DJ WILL, KNAC.COM Personality
Wednesday, October 15, 2003 @ 1:31 PM

| | | |
| --- | --- | --- |
| | | DJ Will Speaks On-Air With The |
There is no more appropriate way to kick off the Halloween season than with an interview with Mr. Spooky himself: Rob Zombie. In a recent on-air interview, Rob gave DJ Will the scoop on his sequel to House of Corpses, as well as his latest release, a double-disc with bonus CD package entitled Past, Present & Future, which encompasses the best from his White Zombie days and his solo discs, as well as two brand spanking new tracks! Here is the transcription from that on-air interview, for the latest and greatest on all Zombie happenings! Enjoy…
KNAC.COM: Alright, without further adieu, right now this is lead singer and creator of so many different releases and images, and of course, House of 1000 Corpses, the director of… who is on the phone with me now, and currently has a 2-disc set called Past, Present & Future, it's 19 digitally-remastered selections, including two new recordings and a DVD of 10 music videos… and we'll talk a little about that… Joining me on the phone: Mr. Rob Zombie! ZOMBIE: Hey, how ya doin' there? KNAC.COM: Good, good. The Pure Rock faithful are listening in, so we'll get right into it. ZOMBIE: Sure, sure. KNAC.COM: So, what have you been up to – not so much since the movie but since last Ozzfest and the last tour you did…has everything sort of taken a hiatus and [you're] just sort of concentrating on the movie side of things…? ZOMBIE: Well, yeah, I mean since Ozzfest, which was last summer I guess, I was concentrating on the movie, 'cause of the release of that movie and getting that together and… since that movie, I've been concentrating on the next one. KNAC.COM: Right… so the sequel to the House of 1000 Corpses-- that's in the works, or a different project in the meantime? ZOMBIE: Nope, it's the sequel – that's what I'm working on right now. KNAC.COM: Okay, cool. I felt it was a cool homage to The Hills Have Eyes and Last House on the Left, and some minor things, like People Under the Stairs, so… pretty cool. So, figure… it'll start right where it left off, the cops come to investigate the disappearance of the sheriff… ZOMBIE: I'm not exactly sure – it starts like a couple weeks later, where the last one left off, and goes and goes from there…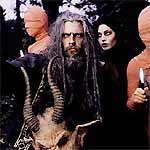 KNAC.COM: Sweet, sweet. So this movie now that you're working on… as far as concert footage that I'm sure you've collected over the years, other than the DVD that's out now with the videos, any plans to do anything with the live footage? ZOMBIE: Um, not at the moment. I mean, on the DVD that's coming out now with the record, there's some live stuff that was shot and edited down, but no plans at the moment to do like a concert video or anything like that. KNAC.COM: That's something further down the line? ZOMBIE: I really haven't even thought about it – so it's very far down the line. KNAC.COM: Full plate… On the phone with me now is Rob Zombie, promoting his Past Present & Future release coming out, if you don't already have it – featuring all kinds of goodies. Also, Rob after the headache you had with Universal's refusal to put out the movie, do you feel sort of vindicated since it was released through Lion's Gate, and now that you have a little more staying power, so to speak? ZOMBIE: Oh, yeah, totally – it's great. It was a long road, of course, but it worked out—worked out great so… you know, as soon as something turns around, I don't even think about the troubles anymore, they just seem so far in the past. KNAC.COM: So, the comic book I recall from La Sexicisto, I remember the headache you had with that release – will that ever see the light of day? ZOMBIE: Well… are you talking about the comic that was in Hellbilly [Deluxe]?
KNAC.COM: Well, yeah it was in Hellbilly, but it was initially -- as I recall it -- was going to be in La Sexorcisto, is that correct?
ZOMBIE: No… I'm not sure exactly what you're talking about, but there was something called "Spookshow International" that was advertised in Hellbilly, and that is in the works now – the first issue comes out in October, so that will be hitting stores then. KNAC.COM: So the videos shot on the DVD – a lot of them shot in the Valley warehouse? Where were they shot mostly? ZOMBIE: They were shot all over the place… I don't remember exactly, you know. Some are—I guess, predominately all shot in somewhere in California – I don't even remember! KNAC.COM: [Laughs] It's a blur, eh… ZOMBIE: Things like that become a blur – shot at some soundstage, somewhere – that's as much as I can remember. KNAC.COM: Two new songs, "Two-Lane Blacktop" and "Girl on Fire" were recorded in July with you're whole crew there? Riggs, [Rob] Blasco and Johnny [Tempesta]? ZOMBIE: No, they were recorded with some different people. [Break to "Two Lane Blacktop"] KNAC.COM: So with this impeding release, what else do you have going on, in terms of-- not so much, we already talked about the movie, the sequel you've been working on – but what else do you have going on at the moment? ZOMBIE: Umm… like we said, the comic book project and finishing up the merch that's coming out related to the movie – you know, they've got the action figures for House of 1000 Corpses, they hit stores in October, and the Halloween masks, and… all that stuff… it's pretty funny, the kids can go with it for Halloween now. KNAC.COM: I figure that's a timely tie-in, of course, you have like… the baby figure and got the Satan... and so and so on a so forth… ZOMBIE: Yep! Fun for the whole family…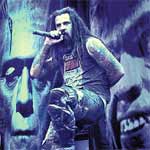 KNAC.COM: Cool! Who will be distributing the toys? Like McFarlane, or are you doing your own thing? ZOMBIE: No, no… we've got a company called Stevenson toys – they do… what are they doing now? They're doing the Pink Floyd 'The Wall" toys, they do the Metallica stuff and uh… you know… they're a good company. KNAC.COM: Yeah, I've seen down at the San Diego [ComiCon]. So… long way from design school and big head honcho these days, huh? ZOMBIE: Yeah, yeah I guess so… [Laughs] KNAC.COM: Really happy for you mainly 'cause it took so long to really get to this point… ZOMBIE: Yeah, it's been a long trip, but it's all good… KNAC.COM: All the artistic endeavors, and here you are… So, band's on hiatus, working on different projects… um… one topic, might be rehashed, but just curious – the whole [The] Crow III… was that a rejected script, or was that a scheduling conflict? ZOMBIE: It was neither actually… it was me bailing on the project because it just seemed to be going nowhere, and… I just got bored with it. It was a project that—the company just kept— it was in turnaround forever and they just didn't seem to know what they wanted and, which is fine, I just didn't want to get caught up in their sort of indecision.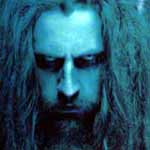 KNAC.COM: I hear ya… On the phone with me is Rob Zombie, and we currently have a selection from Past, Present & Future [ready to play for you on air] and before I cut ya loose, thanks for calling in… ZOMBIE: Sure, no problem! KNAC.COM: And Pure Rockers, if you want more information on this release as well as House of 1000 Corpses, which is available on VHS and DVD, visit RobZombie.com and that will give you all pertinent information… ZOMBIE: Everything you need to know… KNAC.COM: Alright, gonna close out with "Feel So Numb," and again, Rob I want to thank you for calling in, I know this is a barrage, an onslaught, of press you're doing for us, so thank you for taking the time… ZOMBIE: No problem! (All Photos Courtesy of RobZombie.com)
Please log in to view RANTS